Bathroom Tile Ideas In The Powder Room
Last Updated on September 27, 2023
Seriously, how are we halfway through this challenge already? I'm exhausted and not even doing the heavy lifting. My poor contractor is dealing with my, "let's customize everything in the smallest amount of time mind frame"…oh, and hey Gerry, I also need you to fix a basement and yet another bathroom makeover. Can we all take a pause and give Gerry and his crew a hug? Poor guy didn't know what he was getting himself into with me.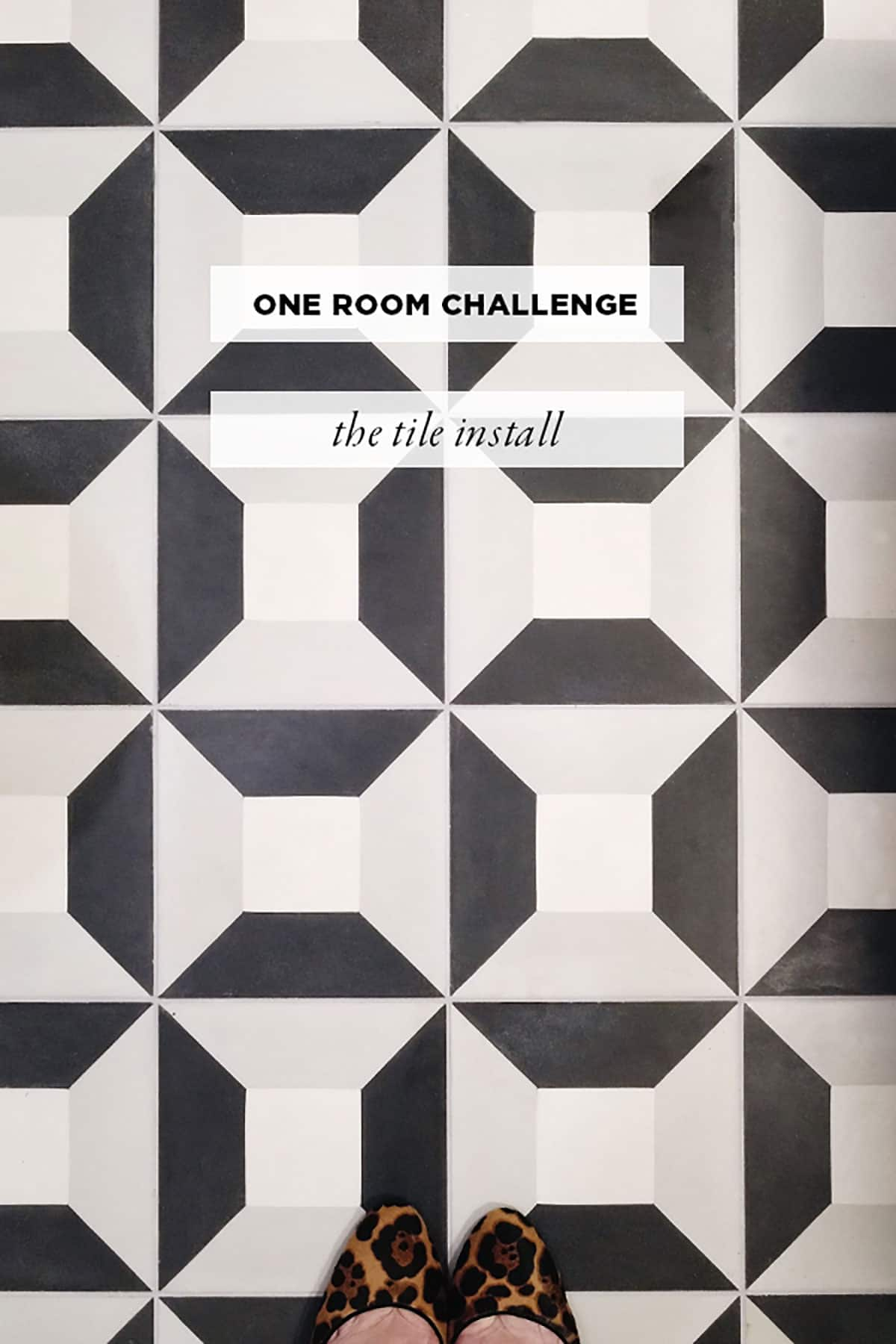 The Woes Of A Bathroom Renovation
Unlike The Boy, he's actually taking it like a champ and pushing through all the obstacles. However, I think my husband has reached his breaking point. Today he pulled me into his office to have a "chat". Prior to using his words, he closed his eyes and did his breathing exercises on his Mindful app. Uh-oh, I'm in trouble. In my head I know limits are being pushed and drama has the potential to insue, but I just gave him a hug and said, "it's all under control." Sometimes he wishes I was a much simpler, low-maintenance gal. But seriously, so there's a toilet in your foyer? It's not THAT big of a deal, is it? Also, don't mind my daughter's pink tutu.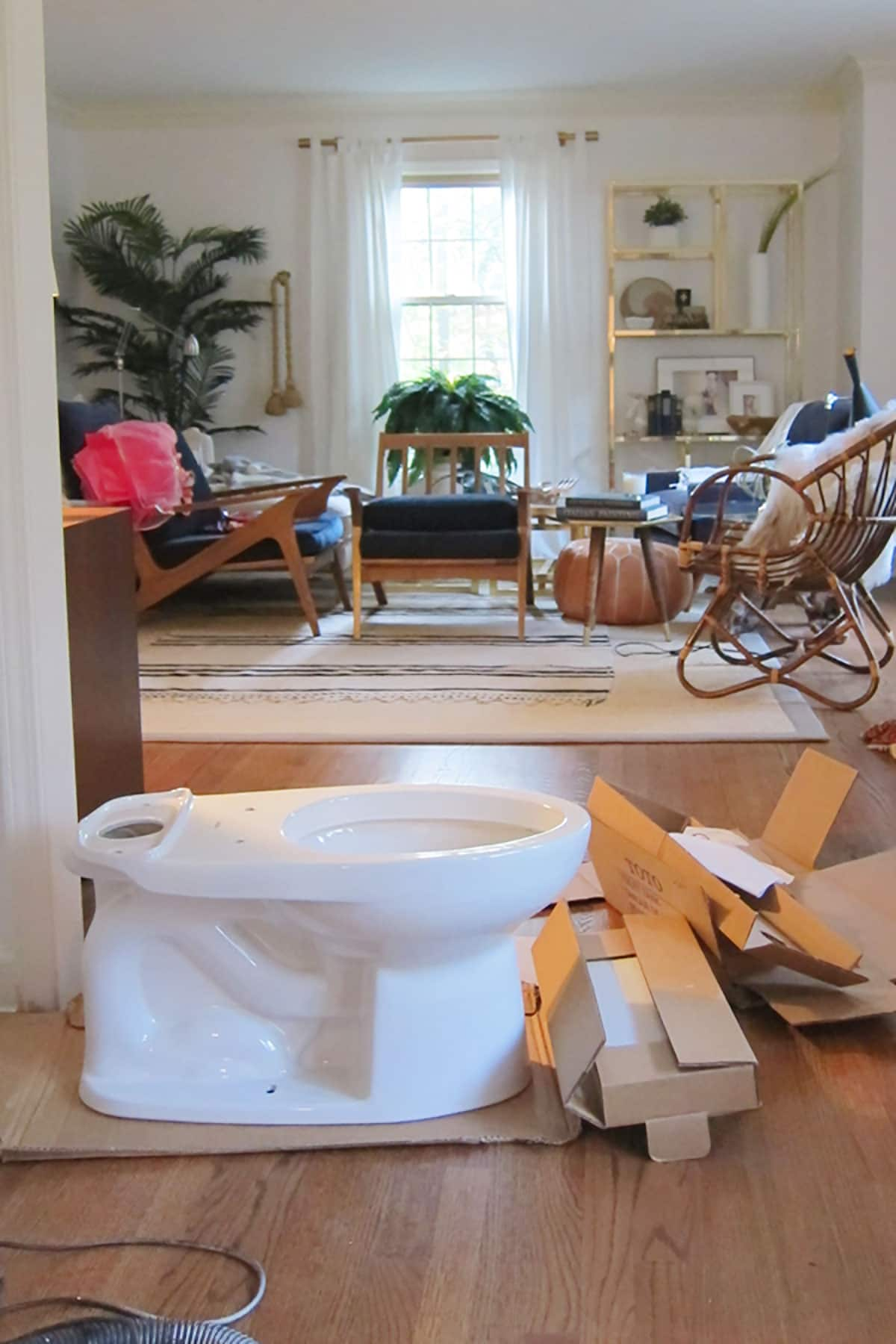 I'm sure it didn't help that on that particular day there was another crew of guys in the house replacing the sliding glass door and windows in the family room because every time it rained, the door leaked water into the basement. All the furniture from the family room was in the living room, oh and we live in a bubble to keep the dust minimal. And no one could go into the basement where all the kids' toys were stored so for the past couple of month my children stare at him and say, "I'm bored." The Boy with his Type-A personality, love of quiet, alone time, and OCD was at his wit's end. His entire body screamed, "Serenity now!"

During our "chat", The Boy informed me there was a home improvement store down the street where I could buy all sorts of faucets and sinks and vanities and countertops and wallpaper and paint and tile and toilets and toilet paper holders and save tons of time…NO! REALLY? You don't say! Insert eye roll emoji here. Dude! This is the One Room Challenge! Are you kidding me??? Did you not read last week's post? We can't slay with builder-grade! This is balls-out, go big or go home. You've been through this before son. Slap that helmet on and buckle down the chin strap. No one is taking the easy way out.
So what's been happening? Lemme get you up-to-date if you don't want to read Week 1 or Week 2's posts. We finally picked flooring — Clé Tile Cubicon for the win. After ripping out the old tile, Gerry discovered a slow leak from the old toilet tank. Nothing major (phew!), but we had to let the subfloor dry. He came back a couple of days later after his crew put up new drywall to lay the self-leveling floor.
Bathroom Tile Ideas – Picking a Pattern

Once the tile arrived, we picked a pattern and we were off to the races. Of course, I picked the more eclectic of the two. Giddy up. Insert my Go Gerry Go dance here.

After a long hard day, the floor looked like this, and I was dying over the Clé Tile Cubicon pattern. Yahtzee! Gerry my man, you slay like Bey.

Screaming emoji right here, "SERIOUSLY! I LIVE HERE!" In fact, I might actually sleep here.
Gerry worked extra super hard and installed the Clé white subway tile on the walls shortly after. BTDubs, he isn't sponsoring this project one bit, I'm just extra super happy with his work and attention to detail. A good contractor can be hard to find. Especially one who puts up with someone as crazy and eclectic and picky as me. So, if you have a project on your plate and live in the Chicagoland area…give him a buzz. He won't disappoint.

Suddenly, the house was being put back together. The light at the end of the tunnel could be seen. No longer was there a toilet living in my foyer.

Gerry finished off the tile with brass edging and it looks slick.
Bathroom Tile Ideas – Schluter Trim For Edging

Next up is the sink. And lemme tell you how thrilled The Boy is about helping me DIY our new vanity from an antique cabinet I found at an estate sale. It's in pretty rough shape. I'm also frantically looking for faucets and sinks to be dropped into the vanity. Wish me and Gerry luck, and please pray for serenity now for The Boy.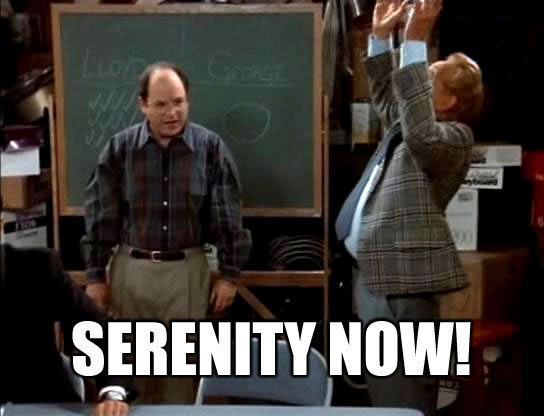 Be sure to check out all the other participants in the One Room Challenge. All the makeovers have been so much fun to watch.

Discover More Home Renovation Inspiration On House Of Hipsters
If you loved this bathroom home improvement post, check out my black and white modern bathroom makeover happening in the basement. If you've already checked out the reveal, make sure to pop over and see the before photos of this bathroom renovation. The transformation is unbelievable.
The One Room Challenge can be a beast. The first time I participated, I was all in on a home office makeover in the old house.
If you're looking for new lighting that adds texture to your space, don't miss this epic rattan and cane lighting round up. But be warned, after reading, you'll want to makeover every room in your home.
Looking to zhush up your home with a few classic pieces? I've rounded up some seriously stylish home decor from Serena and Lily, and some of it is on sale now!