One Room Challenge – Office Makeover
Last Updated on September 19, 2023
Patience is not a virtue of mine. Albeit convenient, online shopping lacks immediate gratification. And when you're in a time crunch like the One Room Challenge where you pick one room to transform from hot mess to hallelujah and only have 6 weeks to do so, well, waiting a week for deliveries was probably not my smartest move. I'm now thinking instead of napping last Sunday, I really should have driven my lazy bum to West Elm, but instead, I chose to buy them off the interwebs and sleep. Now, I pay the price and pace like a caged animal. I also have to apologize upfront. My lighting acted up while shooting, so you'll have to excuse the mediocre iPhone imagery in this post. Hopefully, I'll get this snafoo repaired before next week's shoot. Hey! One Room Challenge! You're kicking my anxiety into overdrive!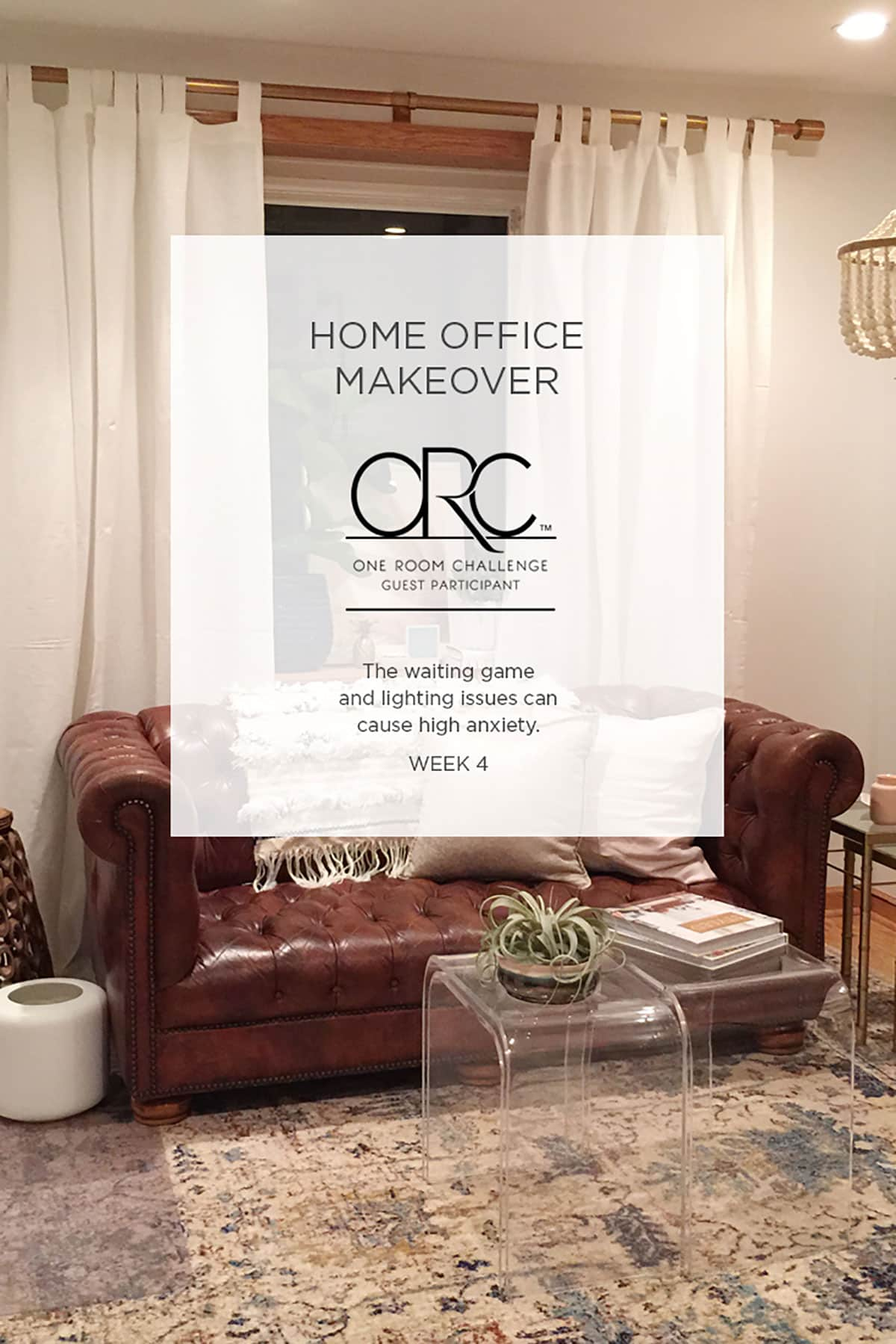 As a trade-off for poor lighting with a yellowish tinge, the universe balanced itself out, and the delivery gods pulled a rabbit outta their hat. Last Thursday afternoon, I received the call…you know, THE call I'd been waiting for. The chair was ready for delivery and would be arriving Saturday afternoon. I must say, it's gorgeous online, but in person, it's even more cha-cha cool. It's soft, elegant, glam, feminine…it's like my fairy godmother took a Disney Princess and turned her into a chair. If you remember, I was a tad bit nervous about how the chair would look with the Loloi Anastasia rug. I kinda just pictured it all in my head and went for it. As you can see, it's like peanut butter and jelly.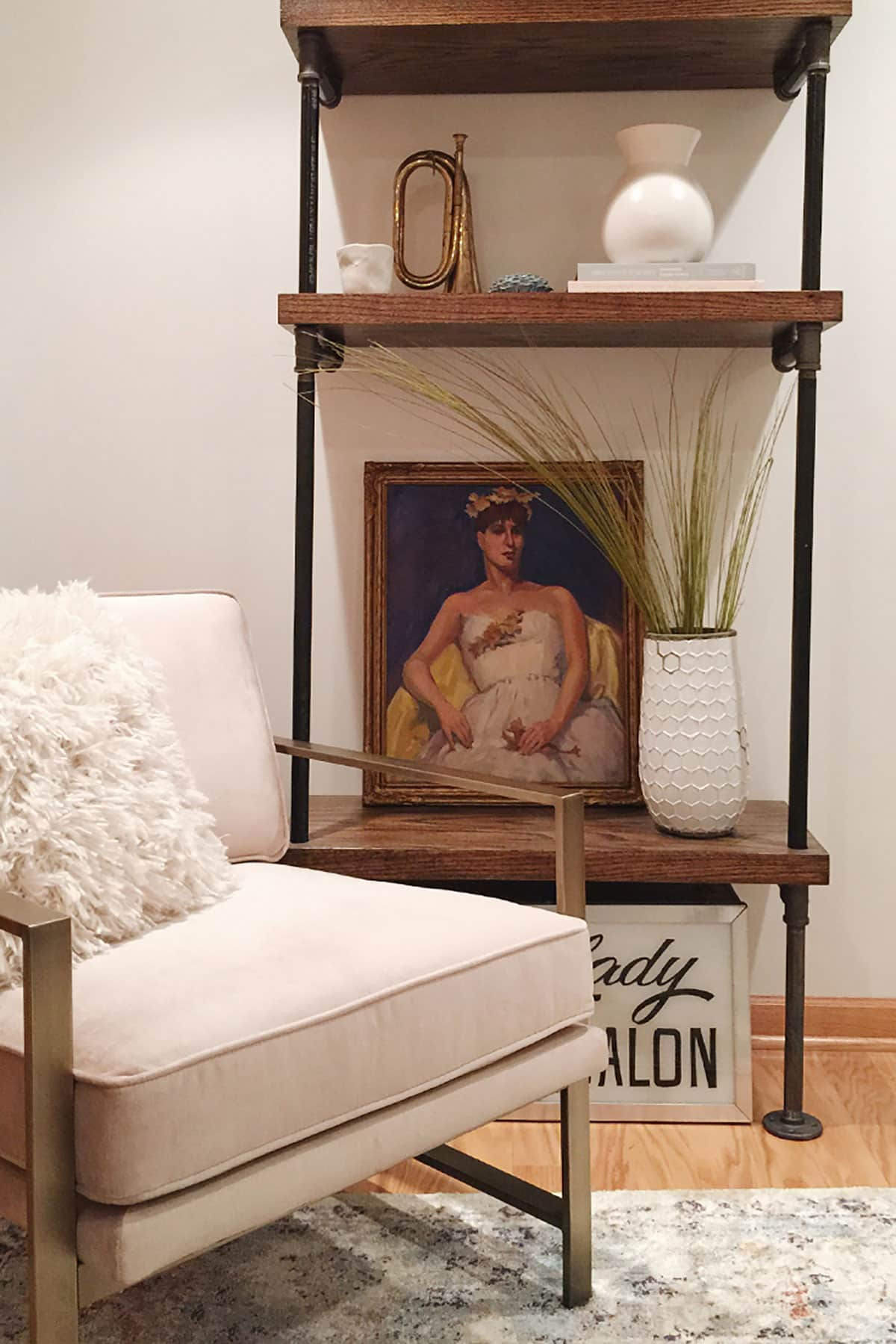 New Artwork for the Home Office
The last piece (I think) of artwork arrived Monday morning. I perused Minted's extensive gallery and landed on about 17 pieces that I knew for sure I had to have. I just need more wall space, right? Oh boy. How do I even narrow this down? Each print was perfect in its own way. I started just to add the artwork to my cart but wound up with 17 pieces that I was in love with! Whoopsies. It was time to pick and choose.

Originally, I had chosen artwork with more blues and navy. But when I changed gears and decided the vintage indigo and rattan had to go, well, my color palette shifted. I needed more blush. The print I kept coming back to was this palm tree photo by Wilder California. It has soft pink, pastel tones that really brought the neutrals and creams together. Yahtzee. It was also the perfect piece to break up the blues on the window sill, and it had that boho vibe that I've been digging these days.

So what's next? Well, the shelfie and pillow game will be on as soon as the last-minute purchases are delivered. Come on UPS guy! You know this gal wants to hug ya! I digress. Anyhoo, styling for me can be one of the most difficult things to accomplish, so I need a lot of time to move this here…move that there…change this out…put it back in. If you haven't read the "I Make Emily Henderson Cry" post about pillows, you should. It's highly entertaining and kind of encouraging to know it's not just you…it's everyone.
Stylists like Emily Henderson make it look sooooo easy, but it's not. That is why she's called a professional. I'm over the moon with her new interior design book. If you haven't picked up a copy, I highly suggest you do so immediately. Not only does she feature super pretty spaces, but her tips are fantastic. She walks you through her process and teaches you how she sets up vignettes. My favorite is "Add something weird"…basically you get something a little offbeat to ensure your space doesn't look so catalog-like. It looks lived in. It looks like you.

My DIY pipe shelf (pictured way up top) is in the process of being styled. Most of what you see I already owned. I have an overabundance of white vases and brass, so the neutrals and metallics were accounted for. This week I started bringing in the weird. There's the funky portrait I was drawn to at the flea market. I really like her, and she definitely fits the offbeat bill. Even the lady who sold it to me was like, "You want this one?" Yes ma'am! Sure do! Wrap her up and stick a bow on her.
I picked up the brass bugle last summer at a hoarders delight estate sale, and the Fair Lady Beauty Salon sign at the very bottom was a flea market find at the Randolph Street Antique Market. For years I've been tempting myself to plug it in and see if it lights up but haven't worked up the courage. Vintage electrical kinda scares me.
And that's Week 4 of the One Room Challenge, you guys. Next week I'll probably be in full-on freak-out mode with pillows and throws and vases OH MY! I'm going to need some serious advice.



More Home Decor Ideas For Decorating Inspiration
In 2020, right before the lockdown, I was asked to be a One Room Challenge Featured Designer, and I about fainted.
This work from home office makeover is kicking my butt, but I'm in styling mode!
The One Room Challenge Week 1 has just begun, and I'm ready to sink my teeth into this makeover!
Get inspired by this black and white bathroom before and after. We took this dull bathroom from boring to wow!
If you are struggling with how to arrange a living room with a fireplace and tv, check out these 5 layout options.
The outdated brick fireplace makeover before and after went viral! Some love it, while others hate it. What do you think?