Black and White Bathroom Before & After
Last Updated on September 19, 2023
I've been writing this blog for over 10 years, I sometimes feel like I'm just learning how to blog because I've never shown proper before and afters. That changes today! Behold a boring, outdated bathroom that was transformed into a simple yet stunning black and white bathroom. This is an older renovation, back when the basement flooded, and I gave the old razzle dazzle to the boring powder room. Let's travel back in time and take a peek, shall we?
The Boring Bathroom Renovation In The Basement

Renovating the basement was not top of mind — especially not 6 weeks after buying this house. The Boy had a whoopsie. He started to fill the large sink in the laundry room (on the first floor) and walked away, grabbed coffee, checked Facebook, and went to refill his coffee. On his way to the kitchen, he was like, "Wait, why is the floor wet? Oh shit!"
RELATED: If you love this before and after, check out the brick fireplace makeover,
It was basically raining in the basement…completely wrecked. All the soggy carpet needed to be ripped out, and the drywall needed to be replaced. Even though the bathroom wasn't damaged, I said if we're doing all this, let's give this boring bathroom a facelift.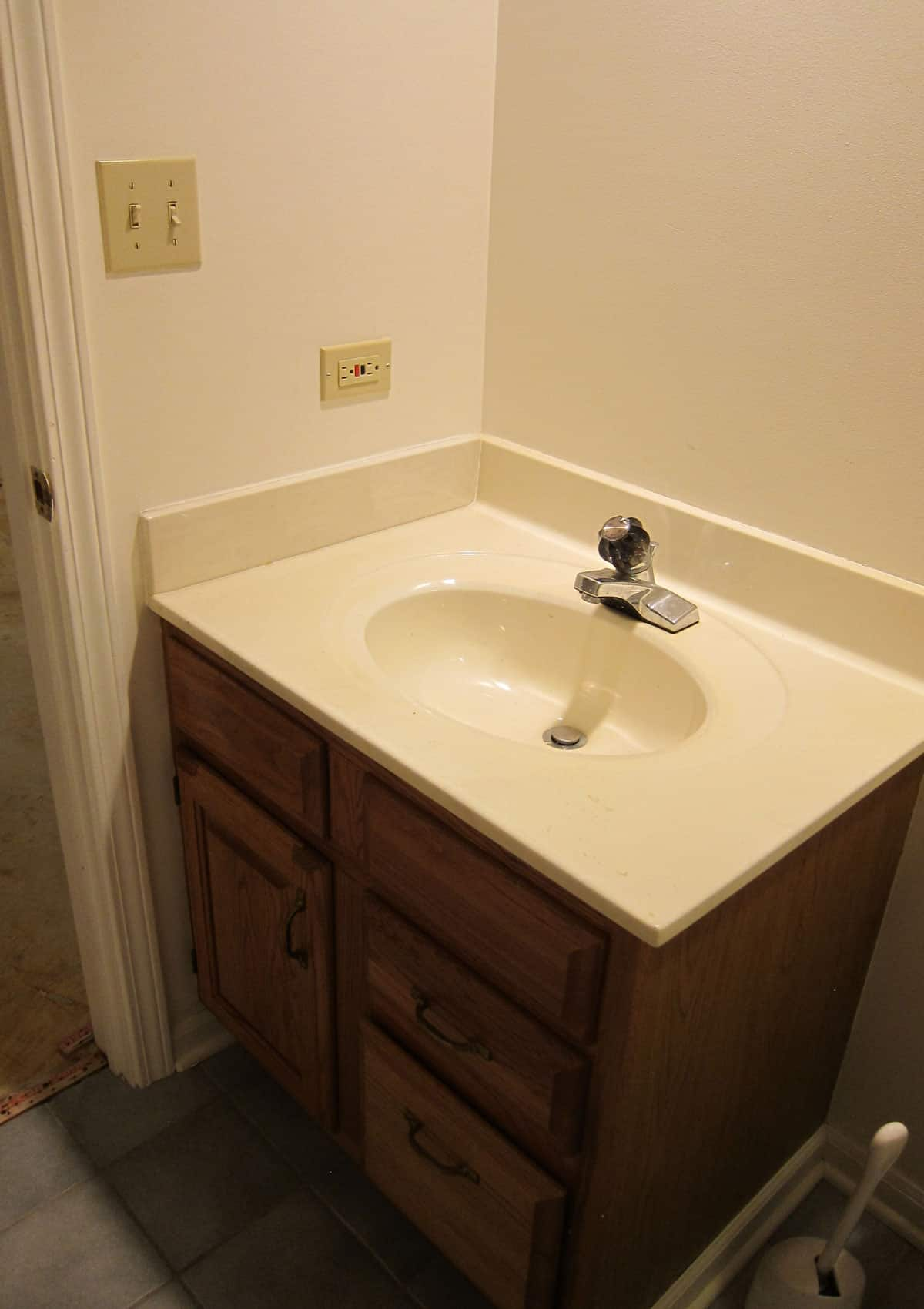 The design of the black and white bathroom was taking place at the same time as Potty Paradise. I had signed up for the One Room Challenge and already introduced that room. There were no takebacks. Triple renovations were a go.
Black And White Bathroom Mood Board
With Potty Paradise being bold and in your face, I wanted the basement bathroom to be more subdued. Less in your face.

After stumbling over this black and white wallpaper with hints of gold, I couldn't stop thinking about it. I thought, hmmmm, there's no shower in this space, which means no humidity; let's hang wallpaper. But to keep the kids' shmutz and water damage to a minimum, tile the lower half and wallpaper the upper.
Since I was in the middle of 2 bathroom renovations and fixing the basement, AND just bought a new house, I needed to keep this black and white bathroom on a tight budget. The palm frond wallpaper was not expensive, and the simple white subway and black penny tile wouldn't break the bank.

RELATED: See how this antique bathroom vanity DIY,
Basement Bathroom Renovation Process
Bathroom renovations can be like opening a can of worms, but thankfully there were no surprises in the black and white bathroom, unlike Potty Paradise. However, we had two head-scratchers.
The gentleman who hung the wallpaper did not realize this was a removable wallpaper, and it confused him greatly. We hung this back in 2016 when the concept of peel and stick wallpaper was not common place, so he made the task way more difficult than it should have been. The adhesive on the back of the paper is water activated, so all you have to do is spray and hang. He pasted the crap out of it, and it slid all over the place.

RELATED: Love the look of wallpaper but hate the price tag, get my exepert design tips on how to cut the cost of wallpaper and get another fun half wall wallpaper idea.
The biggest splurge in the black and white bathroom was the Jason Wu for Brizo faucet, which has a funny story. While Gerry was installing it, I heard him cursing a bit. About an hour later, he walked into my office and said, "Hey, did you know that faucet you ordered has a battery pack?" Huh! Nope, wonder what it's for. Well, apparently, the large battery pack was giving him a hard time during installation because the pedestal sink was close to the wall. After some swearing, he figured it out and said, "So that battery pack powers a light on the faucet that tells you if the water is cold, warm, or hot!" Oh! That's kinda weird, but I guess that's cool. Why it's necessary, I'm not sure, but okay. I guess safety-wise, it was good for the kids.
Fast forward to a year after installing it. I was invited to Delta Faucet's headquarters in Indiana (Brizo is Delta's luxury line), and they were showing us the cool features specific to the Jason Wu for Brizo faucet — like the motion sensor on and off! Wait wut??? I LIT-TRA-LEE stopped the woman in the middle of her presentation and said, "Wait, you mean my faucet can be turned on with touch, AND it is motion activated? That's what the batteries are for?" I came home from that trip and played with that thing for like an hour. It was like Christmas, and it still makes me chuckle whenever I look at it.
White Subway Tile And Black Penny Tile
Looking back on both bathroom renovations and comparing how the designs have aged, I have to admit that I still love the black penny tile in this black and white bathroom. Potty Paradise has a bold pattern encaustic cement tile floor that I'm kind of over. But the black penny tile is simple, classic, and, mark my words, will never go out of style—zero regrets about staying in the safe zone.

After Gerry installed the white subway tiles, he suggested capping it off with a Schluter tile edging trim, and I couldn't be happier with how that little pop of brass transitions so nicely into the black and white wallpaper. It was a brilliant suggestion by my contractor.

When choosing grout, the trending combo at the time was black grout with white subway tile, but I decided to go in the opposite direction with a slightly off-white/hint of gray grout. I'm all for hopping on a trend but not with something permanent. The look is subtle and classic. Same with the black penny tile. We went dark charcoal on black. There's a smidge of contrast, but not a lot.
Lighting In The Bathroom
This boring bathroom had a soffit with recessed lighting and an exhaust fan/ceiling light combo as a ceiling light. Part of me wanted pretty brass pendant lighting over the sink, so we opened up the soffit to see if there was empty space or hiding pipes. Thankfully it was empty, so Gerry ripped out the soffit to give me the added height to hang this Palo Alto semi-flush mount lighting. They were initially designed by Cedar and Moss but later sold through Rejuvenation.

Sadly, these lights had to be replaced after the lightbulbs burnt out because we could not open the globes to replace them. It was apparently a known problem, and their solution was to try breaking the vacuum seal by weaseling a credit card into the crack. We managed to get one open but not the other. Then the light blew out again. It was an incredibly frustrating experience, and customer service from both companies was not helpful. If you love the globe lights, buyer beware. I'd say pass on these based on my personal experience.

Because this is the basement bathroom and I need light, I wound up replacing them with the Cora Pendant Light by Mitzi. They hang a bit lower, and I absolutely love them! Zero issues after 2-3 years, and the price is $15 less than the original lighting from Rejuvenation.

Decor For The Black And White Bathroom
To break up the black and white in the bathroom, and warm up the space, I chose this modern round wood mirror. It comes in 2 different sizes — this is the smaller of the two (24″ in diameter). The wood grain is absolutely stunning.

Finding a modern toilet paper holder was more difficult than I thought. After months of searching, I finally landed on this Ferm Living toilet paper holder. Over the years, it's come down in price to $35.
I still have to find a towel holder I love, but when I first began decorating the black and white bathroom, I liked the idea of an antique wood ladder. I found this one at the flea market, and I still like it, but wood ladders for towels are a bit…outdated. Or maybe I should rephrase that. They are a bit overdone…thanks to modern farmhouse decor. I'm toying with the idea of swapping it out for a modern towel holder, but for now, it stays.

Plus, Zoe has smeared purple paint all over the ladder (her craft table resides in the basement.) I might as well wait until my kiddos are older before committing to something new.
Where's The Art?
This space has minimal decor because I've never found the perfect art piece. Well, I thought I did, but I screwed up. So I went to the flea market with Marianne, and we spied this giant portrait. I immediately thought it would be perfect with the palm frond wallpaper, but somehow spaced that half wall was subway tile. I tried it anyway, but it looks weird hanging, so the search for wall decor continues. I shall keep you posted.

Anyway, here's the before and after closer together so you don't have to scroll up and down to compare. What do you think? Let me know in the comments below!


Shop This Modern Black And White Bathroom
Black and White Palm Frond Wallpaper
Jason Wu For Brizo Black Matte Faucet
Hothouse Peony Hand Soap (it smells sooooo good!)
Brass Pendant Lighting from Mitzi
Wood Ladder (vintage)





Discover More On House Of Hipsters Interior Design Blog
If you have a living room with a fireplace and tv and are struggling with the layout, check out these 5 layout options.
The outdated brick fireplace makeover before and after went viral, and the comments have been mixed. Some love it, while others hate it. You decide for yourself.
Faux plants are my jam, and the faux olive tree is at the top of my list when it comes to decor! Here are my favorites.
Another good faux plant is the faux fiddle leaf fig tree. Interior designers have long loved them.
Jazz up your hallway with these boob light replacement ideas.