Lakeside Must Haves
Last Updated on September 24, 2023
Our friends invited us to their lake home in Northern Wisconsin for a much-needed weekend getaway and fun in the sun, but the best part was that I found some summer lakeside must haves I want to share with you.
Stay Cool On The Water With These Lakeside Must Haves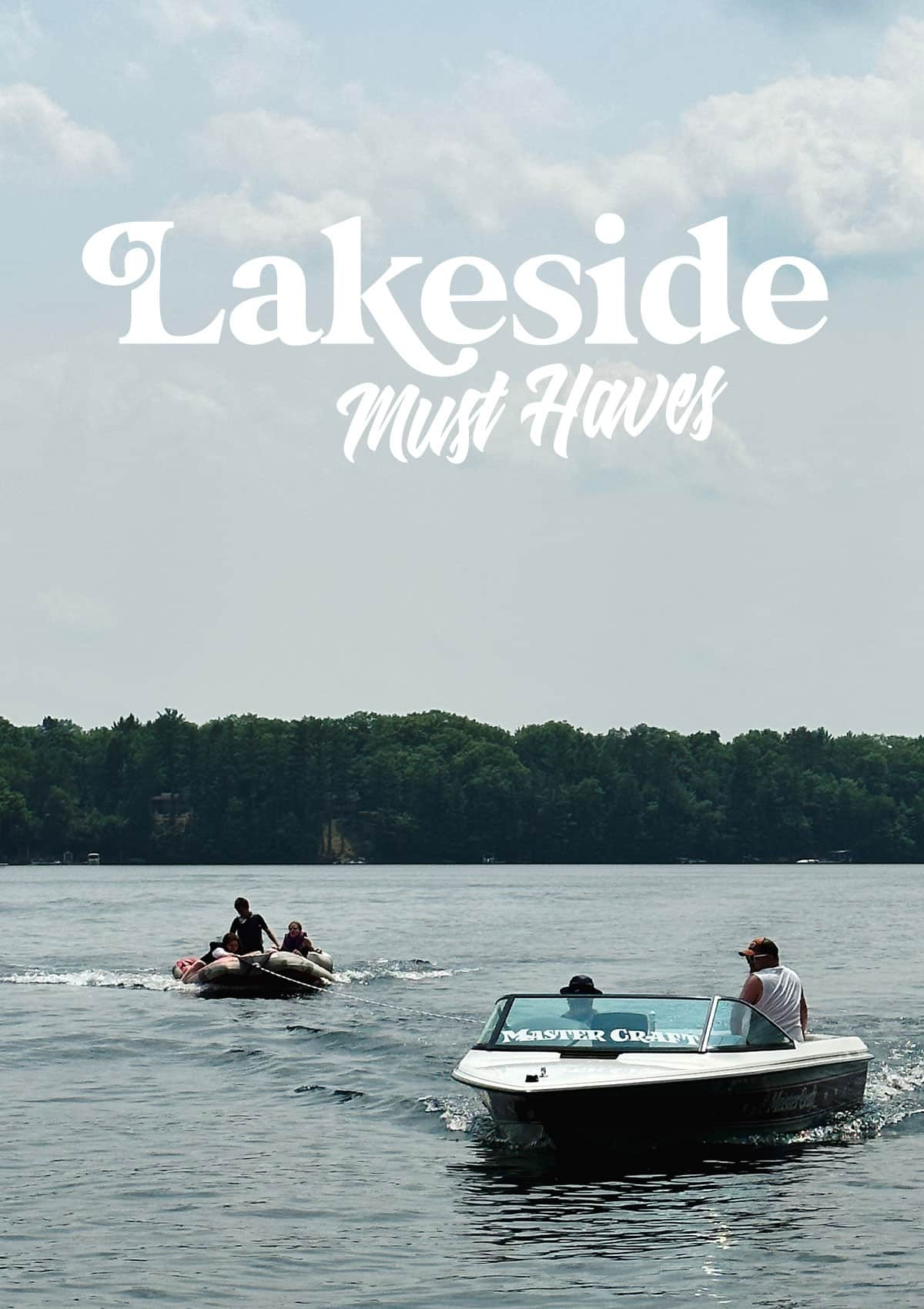 Notice how hazy it is? That's the Canadian wildfire smoke. It hit Northern Wisconsin pretty hard last weekend.
Best Swim Wear For Boating
First and foremost, my girlfriend Donna was wearing these shorts, which turned out to be a full-coverage swim bottom (and yes, it has a liner) from Carve Designs. Seriously genius, especially when you're on a boat all day long. While I was wearing wet denim shorts that took forever to dry over my swimsuit, Donna was dry in minutes! They also have a full-coverage swim skirt that I'm eyeing.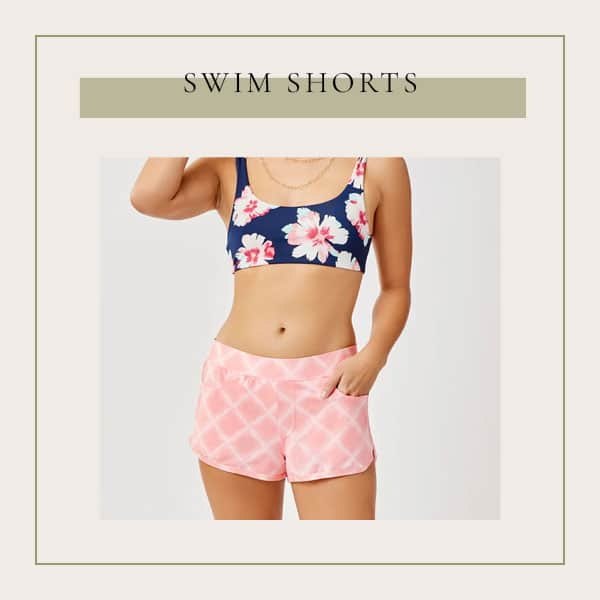 RELATED: There's a chill in the air! Get your cloet ready with these 2023 fashion trends.
A Light, Lakeside Boozy Beverage
Donna also introduced me to Mom Water — a fruit-infused vodka water with zero carbonation. There's also no sugar, carbs, or artificial flavors. It's a light and refreshing boozy beverage, and the best part is that it comes in cans — perfect for boating.

Perfect Cover Up
Our friend Lauren and her family popped in on Saturday, and she was wearing the button-down cover-up shirt I've been eyeing. This is such a great addition to a wardrobe if you're a mom sitting poolside wanting to cover up and also look put together. Or if you're on the lake, it's perfect if you're docking at a restaurant for lunch. Plus, it has long sleeves to control the amount of sun on your arms.

Best Sunscreen
Why did it take so long to invent sunscreen sticks? Cooper loves the Sun Bum facial stick because he's prone to acne, and we all love the Neutrogena sunscreen stick over lotion. Less messy and so easy to put on — although you may get strange looks because the container looks like a stick of deodorant.

Games For The Whole Family
To keep the kids off their devices, we played the family version of Cards Against Humanity in the evenings — I'm glad Donna remembered because I completely forgot to bring our set of Mexican Train Dominoes. Both are great if you are trying to entertain tweens and teens. Oh, and Jenga is another great game for keeping the kiddos off their phones.

RELATED: Don't miss my gift guide of awesome board games filled with top picks for family night, adults, and kids.
Waterproof Shoes
Crocs were the shoes of choice. They might not be the prettiest of shoes, but LIT-TRA-LEE, everyone was wearing them. You can get them wet and full of sand, and it's no big deal. Plus, they're easy to slip on and off. Zoe has a pair of white platform Crocs that are adorable, and I had on a plain black pair complete with HOH Jibbitz.

Music For The Beach Or Pier
This Bose Bluetooth speaker went everywhere we went because the battery is long-lasting and the speaker is water-resistant. Although the boys were singing Katy Perry's California Gurls on repeat, so we really didn't need it, LOL. Not sure why they chose that song — teenagers — they make no sense. But the lyrics have been permanently embedded in my brain since that first evening boat ride.

RELATED: Check out my Mom Rock Music playlist. It's filled with all my favorites.
Mosquito Repellent
I saved my favorite lakeside must-have for last — the Thermacell Rechargeable Mosquito Repeller. This little gadget keeps the bugs away without the spray (although I use that, too, for a double whammy). The Thermacell is perfect if you're sitting lakeside or on the patio, and I take mine everywhere.

More Lakeside Must Haves

See how crazy the difference is with no wildfire smoke? This was two years ago when Canada wasn't on fire. Anyhoo, here are a few more lakeside must-haves.
Marshmallow Roasting Sticks – a weekend at the lake requires a campfire, and campfires require s'mores.
Pudgie Pie Maker – Lauren calls them pudgie pie makers. I call them smudgie pie pies — but whatever you call them, they're delicious! Take two pieces of bread with a filling (cheese, Nutella, cherry pie filling) and cook it over the campfire. YUMMY!
YETI Cooler – When you're driving 5 hours in the car and have limited fridge space at the lake house, the YETI cooler is a lakeside must-have. It keeps everything cold for days.
Ooni Pizza Oven – This portable pizza oven is perfect for making dinner. The kids make cheese and pepperoni; the adults can get fancy with caramelized onions, goat cheese, and prosciutto.
RELATED: Both the YETI and pizza oven made the 31 Amazon Must Haves 2023 list. Check out the full round up for more Amazon Finds I own and love.
Portable Gas Pump For The Boat – John (Donna's husband) took the kids tubing, knee boarding, and wakeboarding up and down the lake. This handy dandy portable gas pump caught The Boy's eye. He's totally getting one for Christmas. No heavy lifting is required for the gas can, no spilling, and you can control the flow of the liquid. Plus, you can fill the boat's gas tank in a fraction of the time.
Brumate Slim Can Cooler – The Mom Water comes in a slim can, and the average koozy is too large, so this slim can cooler is perfection. It also comes in the standard can size as well.
Dots Pretzel Snacks – Donna and I laughed when we both pulled out Dots pretzels as our snack of choice. I'm normally not a pretzel lover, but these, these I LOVE! The original seasoned is my go-to flavor because they have a bit of a zing. The spice ensures I don't eat too many.
Stanley Cup – I don't usually crack open an alcoholic beverage until the afternoon, so to stay hydrated on the lake, I like to have a water bottle close by — preferably one with a straw. The Stanley cup is my lakeside must-have, and I chuckled when I saw Donna had one too.




Discover More On House Of Hipsters Interior Design Blog
Looking for a weekend getaway? Rent out Grandpa's poolhouse!
My favorite summertime cocktail is the Lime In The Coconut drink. Get the recipe and shake one up yourself.
The trending plant every designer decorates with is the best faux olive trees. Don't miss my round-up of favorites, and if you love artificial plants, don't miss the real guide to the best faux plants.
The tried and true plant still stands strong in the interior design world – rounding up the best faux fiddle leaf fig trees.
If you're headed to the residence halls, be sure to check out my top trendy dorm room decor ideas to zhush up your empty space on a budget.