Beautiful Distractions No. 41
Last Updated on February 18, 2023
Boy oh boy, it has been entirely too long since I've written a Beautiful Distractions post. My apologies. Summer got the best of me, but that means we've been having fun over here, right? I have been scrolling the interwebs at night and saving fun things that have caught my eye, so here is a huge brain dump of what I'm loving now. Oh, but before we jump in, there are a couple of banger playlists Waiting For Friday and Friday Night Roller Rink Vibes. Definitely hit those up this holiday weekend.
Grandpa's Pool House
If you're looking for a Midwestern getaway, look no further than Grandpa's Pool House just north of Minneapolis / St. Paul in Stanchfield, MN. This place is Mid-Century Modern decor heaven. A real grandpa owned this place. The owner and vision maker of this getaway was his granddaughter, and she began renovating the home in 2020 during quarantine, and she's outdone herself.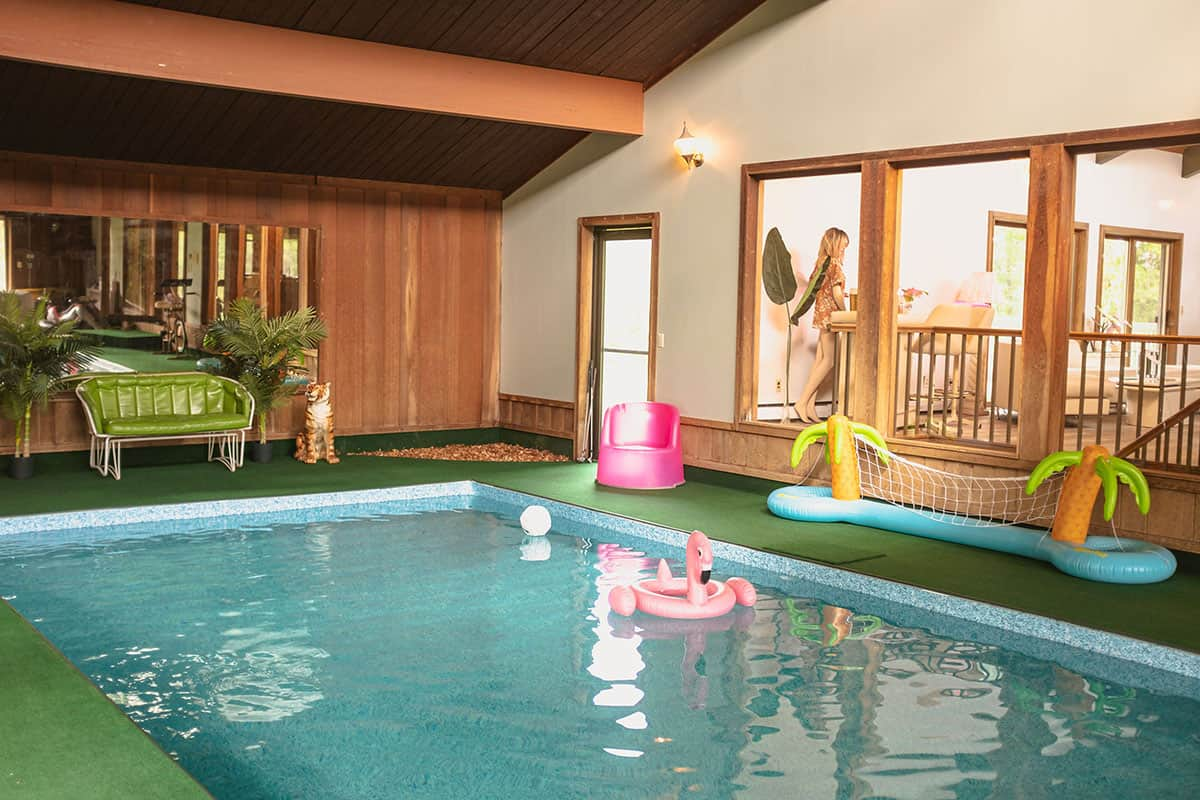 Perfume Discovery Sets
Have you scrolled PerfumeTok? This scented side of TikTok is a thing, and I wish iPhones were scratch and sniff. Until recently, I had no clue that you can order sample kits from perfume companies, and most give you a credit for a full-size bottle. Ummm, genius idea! I purchase discovery kits coming from Henry Rose, Andrea Maack, and Akro. Henry Rose is a name you may recognize as I've mentioned them before — Fog is my favorite scent. But I haven't smelled the full line since 2019 visiting NYC for the Better Homes & Gardens Style Maker event and a few new scents have been released.
Akro is constantly being talked about, but it's not a brand you can find at Sephora. Hence the discovery set. The last thing I want to do is drop money on a scent that could potentially smell like insect spray – which happened upon sampling Akro's Awake scent. Some you like (Akro Dark…but only after the vanilla settles, at first, I hated it), others not so much. Another scent I'm curious about is Commodity Book. It's been brought up monthly by, my favorite TikToker on PerfumeTok, Emma Vernon, and yes, Commodity also has a discovery set. It's next to buy on my list. BTDubes, Emma has the podcast The Perfume Room, which I also love.
On the DL, the makers of the coveted Bacarrat Rouge also have a discovery set. It's on the pricier side, but if you're serious about throwing down for a bottle of BR, I suggest trying the pint-size version first if you can't find it in a store.
Got A New Coffee Table
I've never been completely happy with the coffee tables in my home, but I finally found the perfect one! This wicker beauty arrived the other day, and I'm a smitten kitten. I love how the wicker gives the entire space a softer look and feel. It comes in two sizes and gets two thumbs up from your gal at HOH.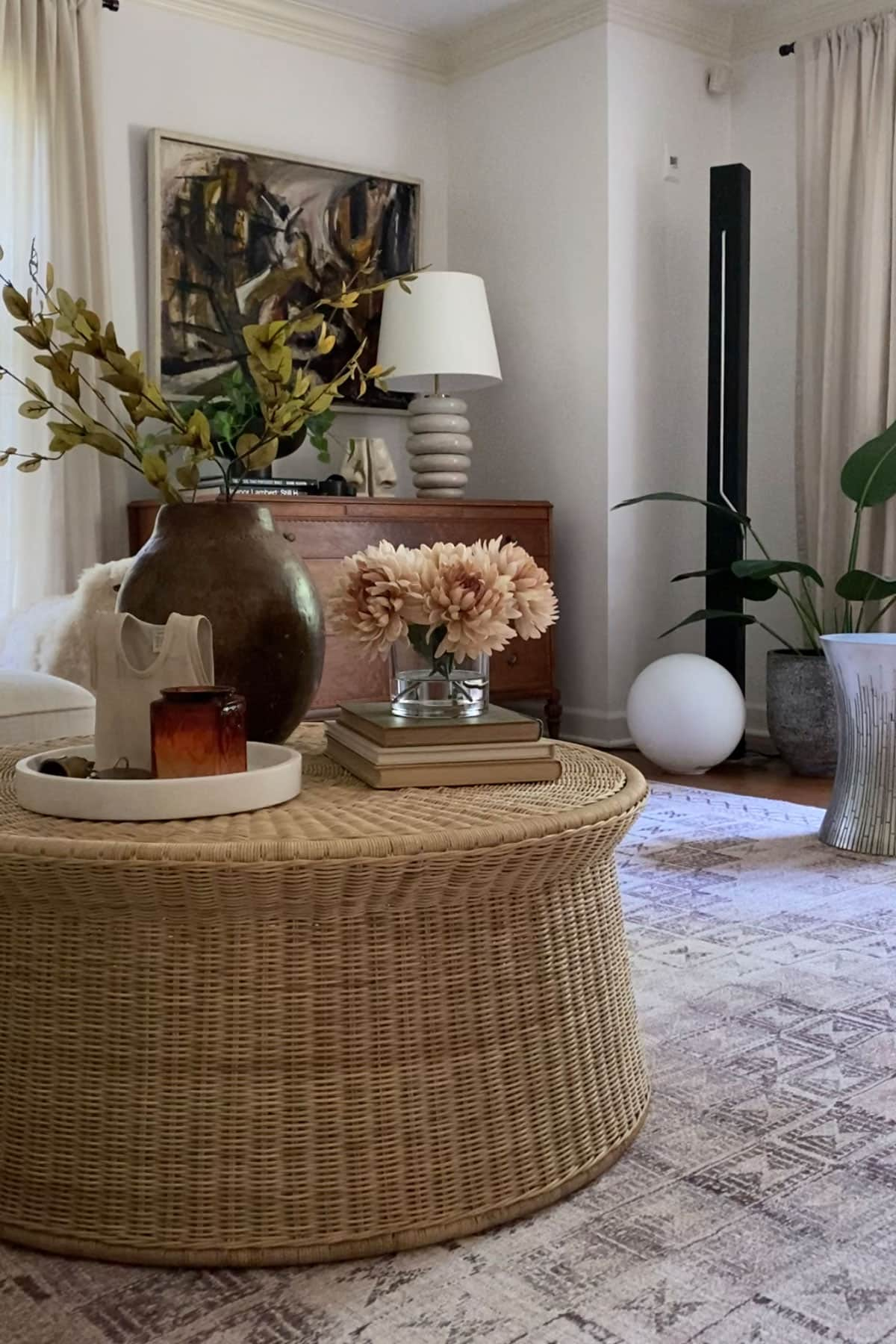 The Sofa Snafu
Speaking of furniture, I recently had a major snafu with my sofa. I'm replacing my Interior Define Caitlyn sofa. The new couch was back ordered for months, and when it finally arrived, only half of the sofa arrived. Back on the delivery truck, it went. The Boy, being his very German self, was extra prepared and had loaded the old sofa into the truck, ready for storage.
It was hot that day, and I was not about to load that sucker back into the house, so off to the storage unit we drove…that is until the cushions flew out of the truck bed and onto the road. Of course, we did not notice the missing pieces until we unloaded the sofa. By this time, my cushions had been hit multiple times by cars, trucks, and semis oh my. In 2 hours, I was not out 1 but 2 sofas.
Long story short, I'm looking for a new one, and this modern sofa by Denver Modern caught my eye. The modern design is fantastic and doesn't look like everything else you see on the market today.

But then I also love this mohair beauty and this one has a beautifully tailored look to it. I'm also in love with this one from Rove Concept. Do you have one of these sofas? I'd love to hear if you're happy with the quality. BTDubs, if you're looking for a new modern sofa, I have a full round-up of favorite modern sofas here.
Walmart's Fashion Is Lit
Remember when I told you Walmart's home decor was lit? (if you missed it, check out how I managed to recreate my living room with Walmart's decor) Well, they just upped their fashion game too! Have you seen it? Here are a few pieces I'm loving.

Navy Ruffled Midi Dress also in pink
Cream Cowl Neck Sweater With Pleated Sleeves – the cream gives me Joseph sweater vibes but at a fraction of the price. Side note, drooling over this leather bag.
Cream and Navy Belted Cardigan Sweater also in red
And on a high-end level (not at Walmart), how are we feeling about these pleated waist wide-leg jeans? Last year I claimed skinny jeans out of style and broke the internet upon publishing. If the pleats aren't your jam, I also have a post with trending jeans for fall you might want to peruse.
And how adorable is this MOTHER ALWAYS LIKED YOU BEST sweatshirt? I'm obsessed. If it's sold out in your size, try this link instead. I did purchase this little ditty, and I'll report back on the fit if you have questions.

Paint Colors For 2023
Sherwin Williams released its ColorMix forecast for 2023, and I'm delighted to say I'm here for it! It's very earthy, but there is subtle color. Shiitake (taupe-y beige) was a contender for the living room when I couldn't look at the DeNimes blue any longer. It's a gorgeous neutral.

If you're looking for more up-to-date decor ideas, check out my interior design trends post. There's some fun stuff in there. And if you're looking for a bit of humor, check out my new series on TikTok "10 Things That Are Dating Your Home" and be sure to run to the comment section. They are some folks who are unpleased with my opinions on wooden farmhouse signs and barn doors.
Last thing – I'm thinking about upgrading my iPhone 11 Pro Max to the iPhone 14. I usually wait a few months, but Zozo needs a new phone too. The thought is she gets my 11, and I buy the upgrade. Would you wait until the bugs are worked out or just buy the new one? Inquiring minds. And that's all for now! Happy Labor Day weekend!!!!


Discover More Eclectic Home Decor Ideas
If you want to make your home a bit smarter, check out the best smart home devices I've tested and my post about smart lighting for your home.
Here are seven genius ways to hang a picture, including hanging art with two hooks, hanging a gallery wall with no tools, and hanging a picture without damaging wallpaper.
If you want to spruce your backyard, check out this round-up of the best outdoor patio furniture.
Ever second guess yourself on what rug size to buy for a living room? Here lie the answers you desire.
Rounding up the best home decorating books – if you're looking for gift idea inspiration for a home decor obsessed loved one, this post is for you!
If you love wallpaper but fear commitment, check out this round-up of best peel and stick wallpaper – it even includes a couple of modern murals.
Learn how to marble dip mugs with nail polish in this easy DIY. They're perfect for holding a gift card or pencils.
Tour my friend Carrie's 80s modern home filled with vintage treasures in Chicago, IL.
From bland to bold! Check out this eclectic modern home office and home gym transformation.
Looking to spruce up your backyard for summer? Check out these comfortable outdoor patio furniture top picks.
You don't need a subscription to get beautiful tv art for the Samsung Frame. I've rounded up my favorite affordable downloads here.
Ever second guess yourself on what rug size to buy for a living room? Here lie the answers you desire.
Love plants as decor but have a black thumb? No worries! I have a rounds ups of the best faux olive trees and my favorite faux fiddle leaf fig trees.
Melted disco balls are all the rage. Check out the round-up of the best disco ball decor for your home and tips on decorating with them.
Affordable Modern Home Decor – if you're on a budget but want to refresh your space. Try these tips!
Decorating With Neutrals, it's a beautiful beige world. Discover my favorite black, white, tan, taupe, and brown home decor.
I recently gave my 80s brick fireplace a makeover, and now that we've finished the renovation, I've whipped up a few mantel decor ideas you can try.
Looking for something out of the ordinary? Check out these unique modern vases that add a touch of artistry and elegance to your home decor.