Decorating With Neutrals
Hey! I hope you're having a great Wednesday. Even though my home office and gym makeover is a wrap, that doesn't mean I stopped playing around with the decor in my house. The living room is in need of a zhush, and you know how I love decorating with neutrals so today I decided to share some favorite home decor finds. Bring on all things textured, layered, rattan, caned, and cozy.
Click directly on the item in the image to be directed to the source, or use the links below.


Decorating With Neutrals
That cutie nudie cylinder table was just spotted and totally caught my eye. And it's difficult to see, but the base on that floor lamp is wrapped in rattan. That neutral texture really softens the glam gold base. I used it in my work from home office makeover. Last December, I had a gift certificate for Serena and Lily, and had to choose between the shell lamp and the textured mirror…I wound up choosing the lamp, but my heart aches for that mirror every time I spy it.



While pursuing Pinterest, I was stopped mid scroll by this funky shelf. It almost has a southwest or adobe look and feel with an 80's flair.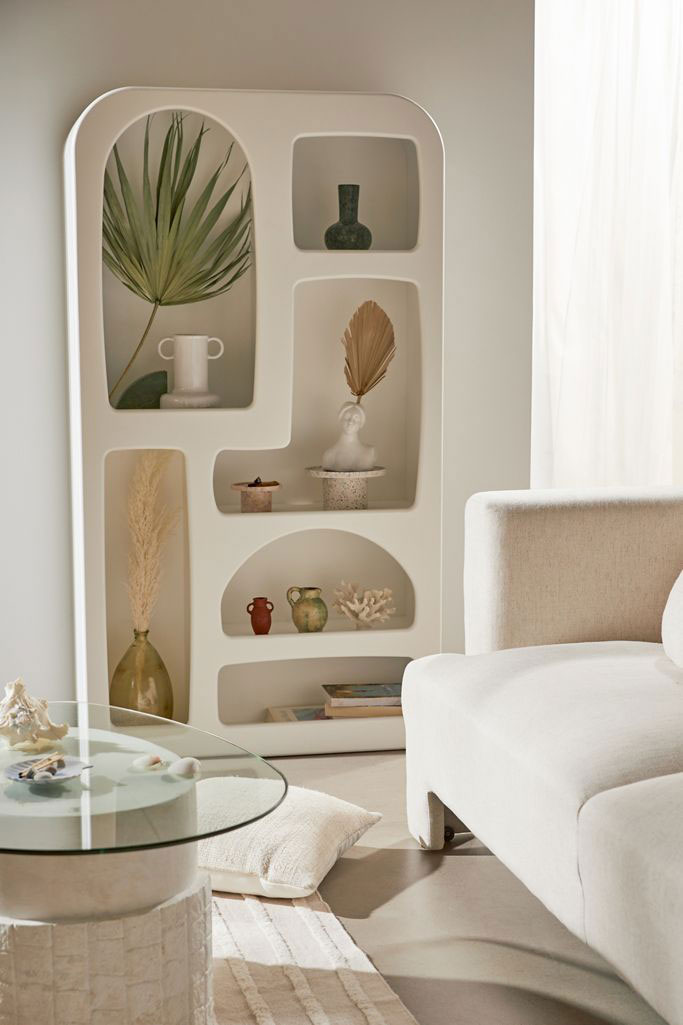 Image From Urban Outfitters
Because it was so unique looking (and it was new to me), I figured it must cost a million dollars or it was vintage…yes, it's still pricey at $749, but it's not a million and it's from Urban Outfitters.
Last but not least here are a few ideas for decorating with neutrals in the bedroom.



Decorating With Neutrals Shopping Sources
Did you get some ideas on how to decorate with neutrals in your home? Would love to hear your favorites in the comments below!
Ivory Rug with Textured Arch Pattern
Black Side Table With Textured Woven Panel Doors
Mid-Century Modern Inspired Ivory Bench
Bentwood Black Chair With Caning Detail