My Fall Home Decor with Cozy Textiles
Ashley from Cherished Blissed asked me to join her and a few other talented ladies (linked at the bottom of this post) to share my fall home decor and cozy textiles for her Seasonal Design Series. But when it comes to fall decorating ideas, I'm not even remotely interested in pumpkin spice…unless it's the color. In fact, don't judge me but, I can't stand pumpkin spice. Am I the only one who thinks those lattes taste like potpourri?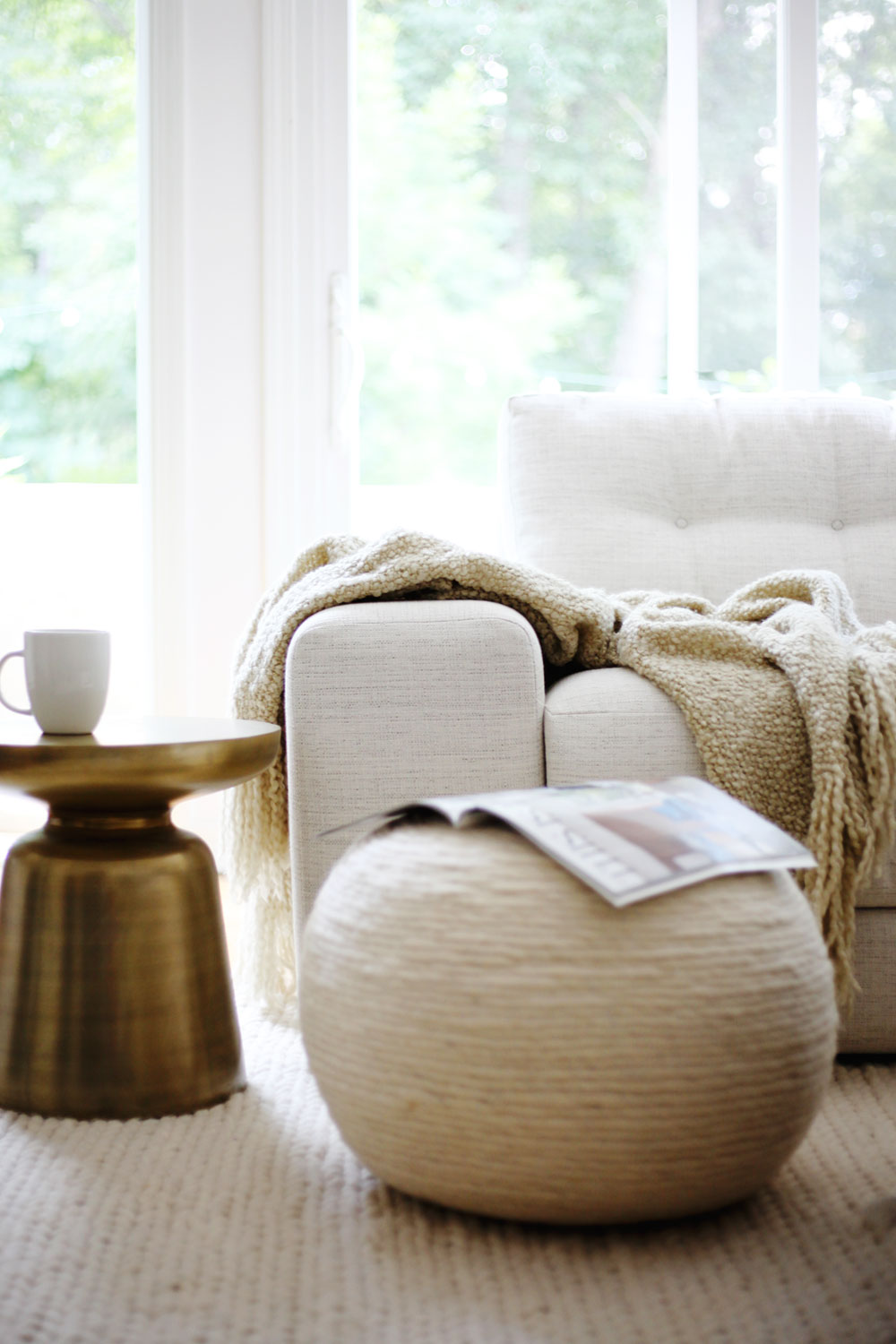 Anyhoo, this past weekend, the weather in Chicago drastically changed from Cambodia hot to cool crisp evenings. Funny how it legit happens overnight here. Although the leaves are still green, summer is fading and, I'm here for it. Sleeping with the windows open makes for a solid night's rest.
Last night, I was curled up in this spot with the sliding door open, and there was a distinct chill in the air. The chunky blankets were immediately pulled out, but I noticed some pilling and holes. My kiddos have been extra hard on them, so here are a few I'm eyeing to replace the worn throws.
Click directly on the item in the image to be directed to the source, or use scroll thru the small images. Oh, and I picked high and low cost here too. 


On Thursday I got a jump start on updating my bedroom for fall and drove down to Plankroad Home Outlet. It was a pillow bonanza! Here's a quick video if you wanna peep what I found. I was on a quest to replace the queen headboard for the guest bedroom…which was procured and scored for a steal of a deal. Also found were these zebra pillows, that funky throw with little fringy things, and a brown velvet lumbar for the master bedroom. The new pieces totally jazzed up my existing velvet amber-colored shams and linen throw. And the brown tones and added texture definitely made the room feel cozier. That throw reminds me of leaves that have fallen from the trees.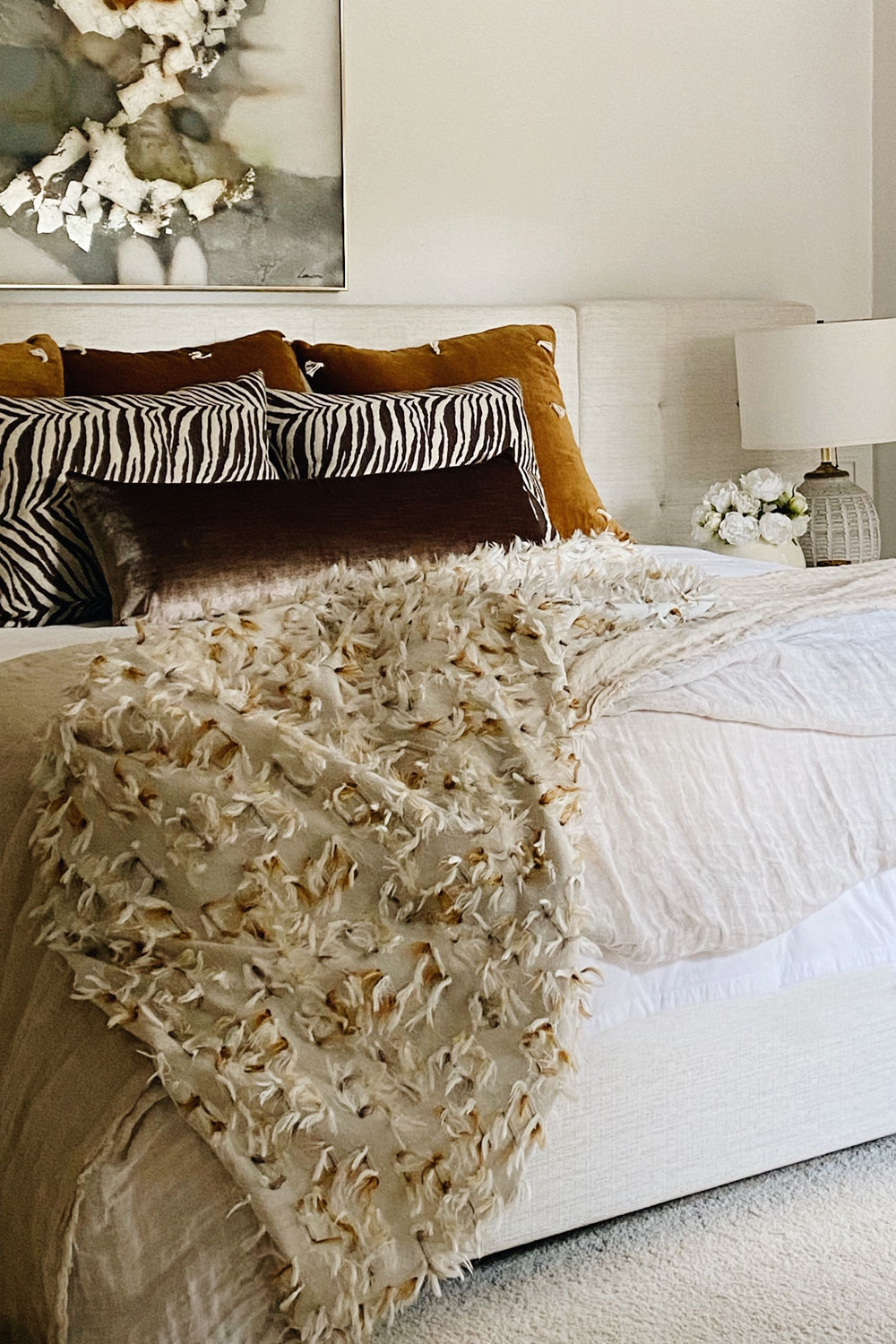 Srsly, I love how the colors just scream autumn without having to add pumpkins. Fall home decor is not literal in my book. Although if someone popped a pumpkin on this mohair pom-pom beauty I'd drink 7 pumpkin spice lattes and not make an ugly face. It's freakin' gorgeous!
You probably already have seen these, but I installed new gold velvet curtains. By adding the brown pillows to the bed, this space really transitioned from summer heat to autumn comfort. It's a fall home decor bonanza!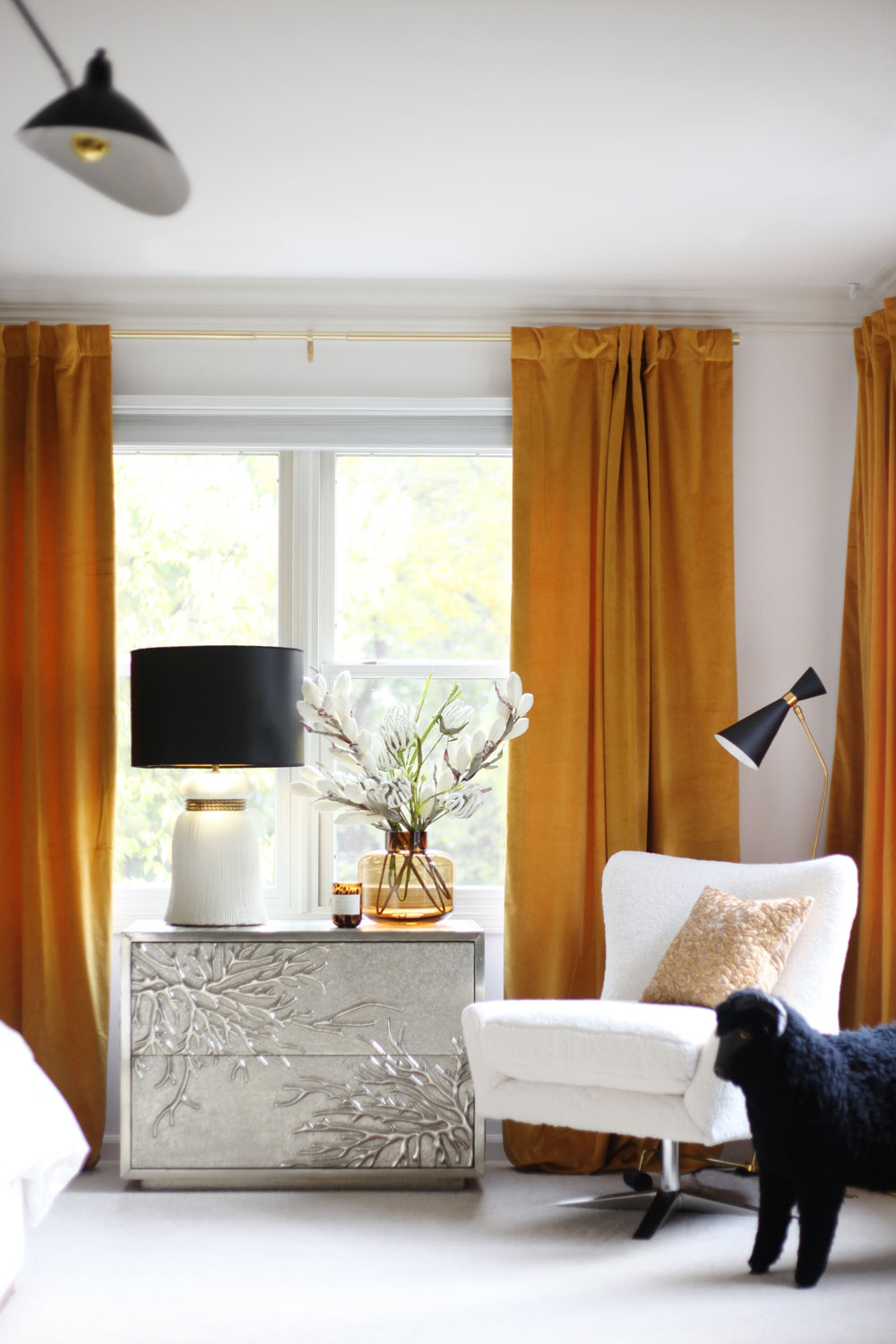 One spot in the house that needs some work is this sitting room area outside the master bedroom. And yes, that is the same blanket from the first photo. See, told ya I need a few new throws…also, confession time…this is an old photo…you can peep the old blue headboard in the mirror. It's presently a hawt mess.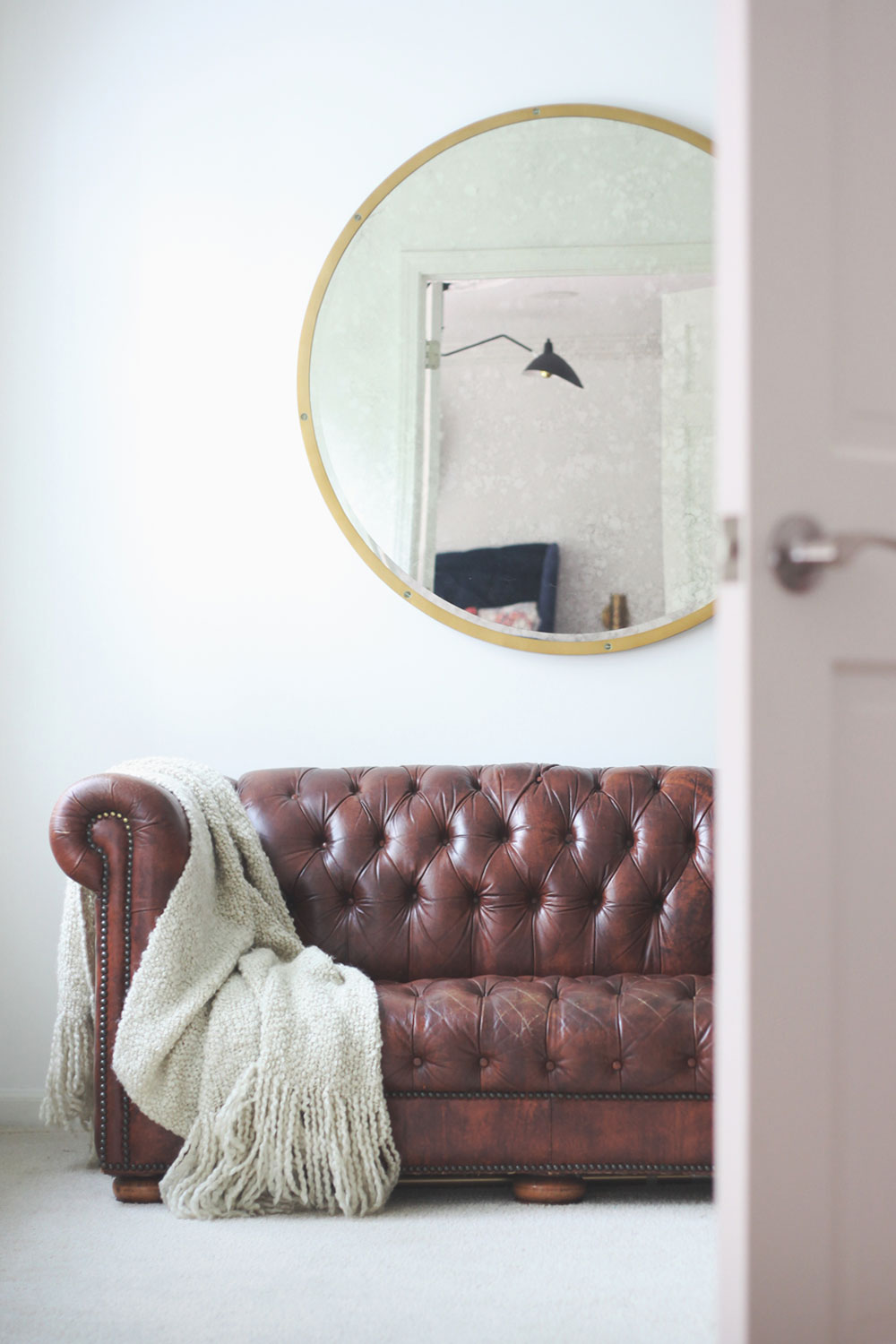 This leather chesterfield sofa is where I hide out while the kiddos are in the bath; however, it needs a bit more oomph, especially in the fall home decor area. I did hang the same affordable curtains in here now to cozy it up a bit more, so stay tuned because I'll be zhushing this nook in the near future. What does your fall home decor look like?
Again, be sure to check out the other ladies participating in the Seasonal Design Series! We have 3 more posts coming, so stay tuned!

Cherished Bliss | House of Hipsters (ME) | Taryn Whiteaker | Fox Hollow Cottage | Inspirations for Moms
Last Updated on January 23, 2022 by Kyla Herbes