Affordable Velvet Curtains
Last Updated on February 18, 2023
Plush, velvet curtains create a room vibe that is luxe, but where can you find affordable options? Well, not too long ago, I shared a few tips on how to make your home look expensive without spending a lot of money, and most recently, I shared my tutorial on how to change a light fixture because swapping out old boob lights for a statement maker can transform a room. But another budget-friendly decor ideas are simply adding curtains. With the crisp autumn breeze and winter right around the corner, let's round up some affordable velvet curtains you can buy online to help my your home cozy.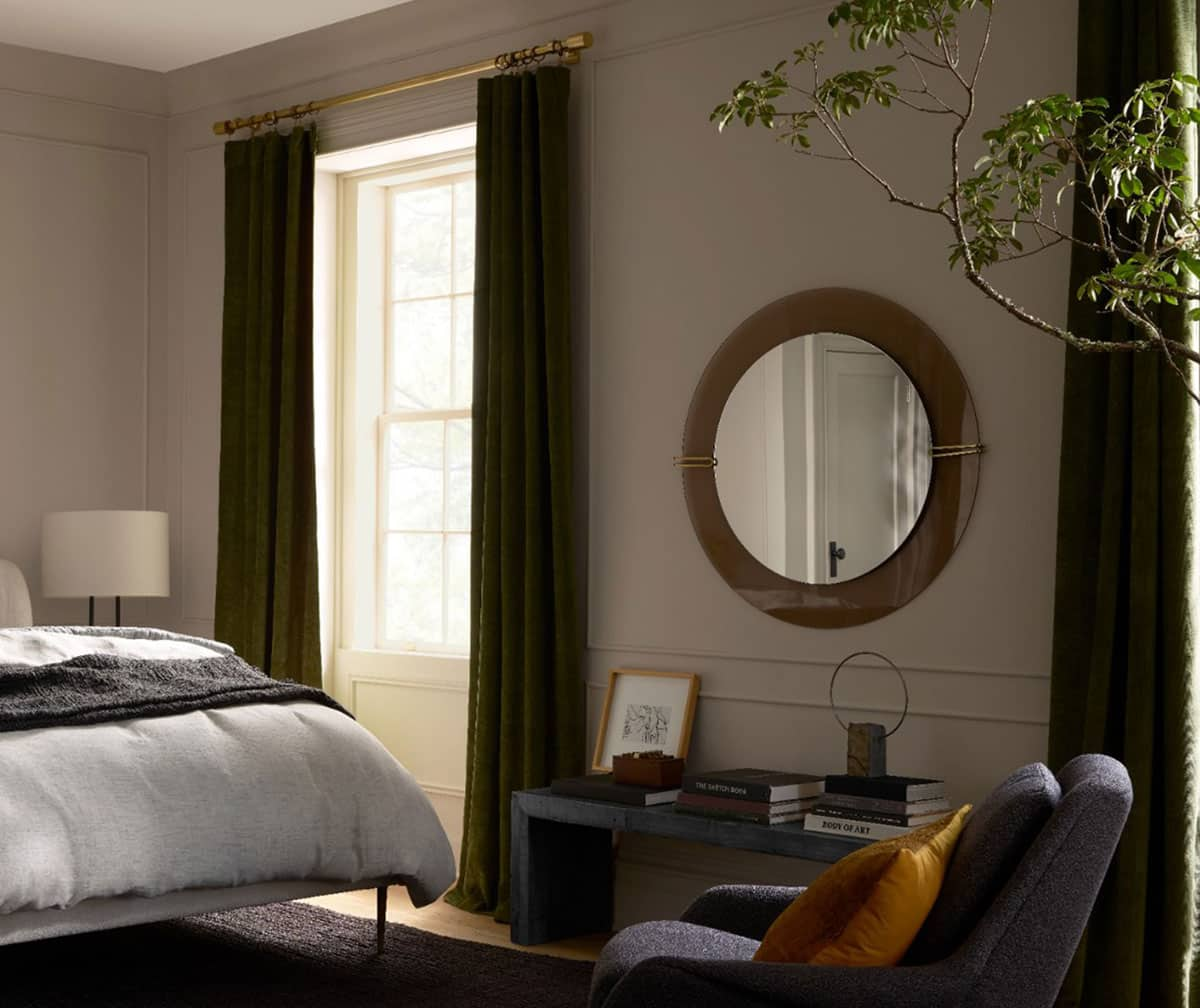 Best Affordable Velvet Curtains That I Also Own
My go-to velvet curtains are from Half Price Drapes. I first bought these in Aztec Gold for our living room, but I have since moved them to our bedroom because they are blackout curtains. They're lined with a white fabric backer and let very little light through, which is perfect for sleeping. The best part, these bad boys come in 27 different colors.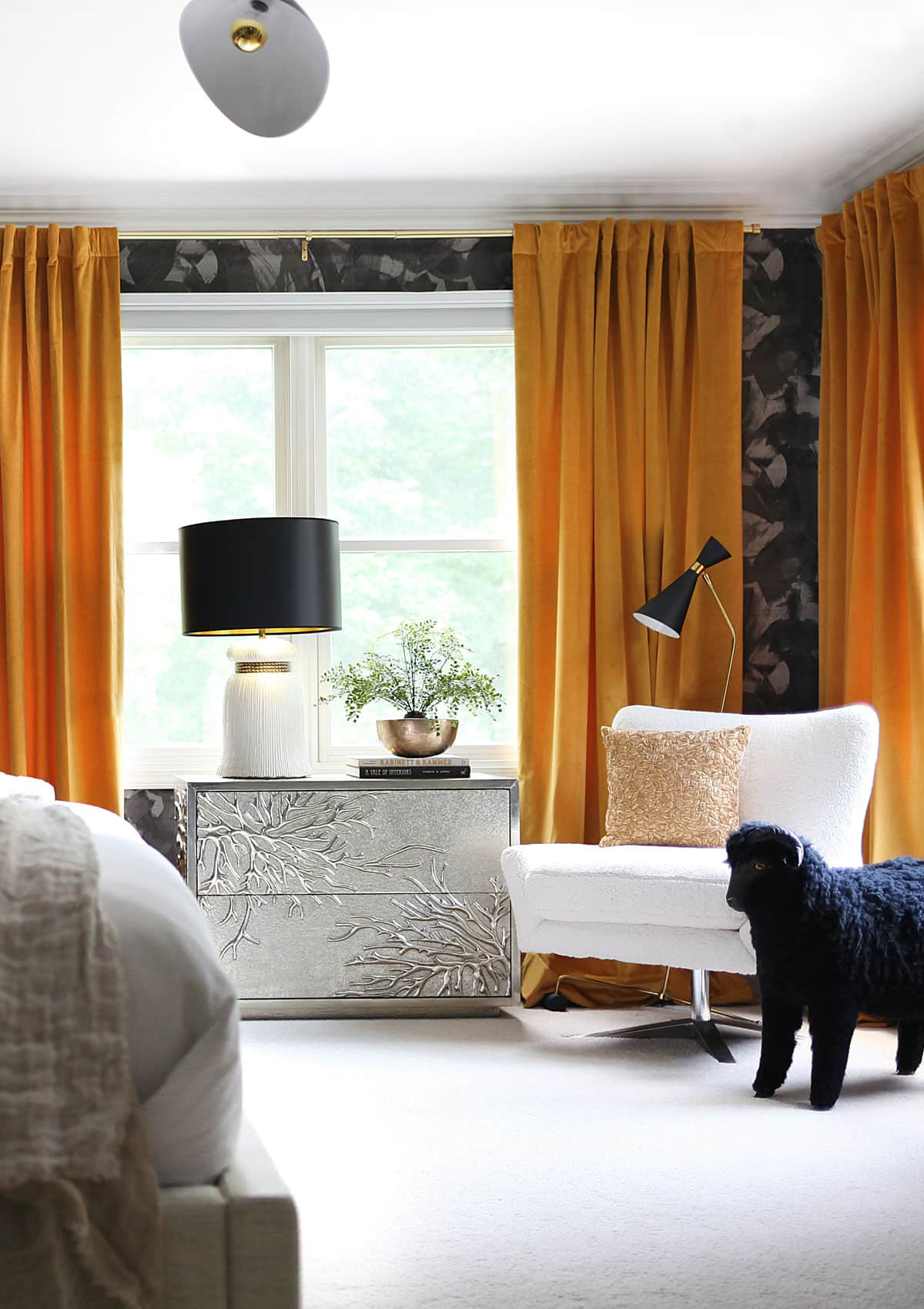 Even though these drapes are incredibly affordable, these velvet curtains are still high quality and incredibly soft. They require steam to remove the fold lines from the packaging, but they hang beautifully and pool nicely on the floor if you're looking for a more opulent french girl chic look.
Another set of affordable velvet curtains is by Lazzzy, and seriously, how gorgeous is this shade of blue? These velvet curtains are sold in 2-panel packs, making them half the price of Half Price Drapes, but they are only offered in 12 different colors. A bit more limited, but if you can find the right color for your room, these curtains are an amazing value for the price.

BTDubs, the one complaint I see over and over about the Lazzzy velvet curtains is that they arrive wrinkled, and that's just part of velvet in general. Completely normal, but apparently, some folks were unprepared for the wrinkles. These particular velvet beauties are washable. Before hanging them, I suggest washing them in cold water on gentle and dry on low heat. Also, hang them while slightly damp and still warm, and those wrinkles will come right out.
RELATED: Looking for cotton or linen curtains that won't break the bank. Click on that link for a full round up!
If you love the decor color palette at CB2, then these velvet curtains are for you. I personally love the copper color. Although they aren't quite as cheap as the Amazon curtains, the price is still quite affordable.

I purchased these blush beige velvet curtains by StangH for the DeNimes painted living room, and while I love the soft blush color, I was not fond of the blue DeNimes paint. They were quickly swapped out when we repainted the walls. They are high quality and velvety soft — they also block out a lot of light. I'm contemplating where or not to hang these curtains in the bedroom, but right now, I'm too lazy to swap them out for the gold. Like the Lazzzy curtains, these too are sold in 2-panel packs, and surprise, are presently on sale!

RELATED: If you love Amazon decor like I do, check out my round ups of Amazon Prime Day Deals!
The shade of green on these worn velvet curtains from West Elm makes my heart go pitter-patter. They aren't quite hunter green or pine green, but more of a darker avocado color, and they pair beautifully with a creamy paint color on the walls (see photo below). I also love this Golden Oak color. Like the others, you'll want to give these a steam to remove the wrinkles. For a sleek look, hang them just barely skimming the floor, and for a more opulent look, purchase a longer panel that will pool on the floor.

One last affordable Amazon option — check out these velvet curtains by JINCHAN. They come in 8 different colors, but my two favorites are the Dark Slate and the Gold Brown (shown below). It's one of those warm brown tones that's trending in interior design.




Discover More Home Decor Inspiration
Want to add a little magic to your room? Try adding some disco ball decor with these sparkly ideas.
Love the Primrose mirror but hate the price tag? I got you! Here's a full round-up of affordable Anthropologie mirror dupes.
Do you have a rug that is too small or too big? Not sure? Here's how to choose the best size rug for a living room.
Cane furniture is trending, and so is rattan and cane lighting. If cane isn't your jam, but you want more lighting ideas, check out this round-up of boob lighting alternatives.
Storage bins and other organization ideas to keep your home clutter-free. From the pantry to the kitchen to the bathroom to drawers, I've got you covered! And check out the decorative boxes post if you're looking for ways to corral your remotes on your coffee table.
I've been playing around with some living room design concepts. Check out the latest mood board I came up with.
Have you seen those artificial flower arrangements in resin – you know, the clear vase that looks like water, but it's not? This easy tutorial teaches you exactly how to make your own for a fraction of the price.
If you wanna know how to make your home look expensive but decorate on a budget, check out both of those posts! There's some seriously good advice in both.
Nothing elevates a ceiling light like a ceiling medallion. Check out that round-up to shop for the best of the best, and be sure to check out my how to install a ceiling medallion tutorial for some secret tips!
Getting rid of the brick fireplace in our living room and jumping into a Modern Fireplace Makeover. Check out the progress and then hop over for some mantel decor ideas.
Looking for something out of the ordinary? Check out these unique modern vases that add a touch of artistry and elegance to your home decor.