Cute Mushroom Decor
Last Updated on February 3, 2023
You may not have noticed, but cute mushroom decor is trending hard in the interior design world. I first noticed mushrooms popping up in my TikTok feed. It all started with this mushroom disco ball (also available here), and I was like, awe, that's adorable, but now they are mushrooms everywhere! Thanks, 70s decor, for making a comeback; however, this new mushroom decor has a more earthy and organic look that's perfect for fall…not so much the red cap with white polka-dot fungi from 40 years ago. I'd don't think this cute mushroom decor trend will be fading anytime soon, so here's a quick round-up of my favorite decor pieces.
Add Some Sparkle With Mushroom Disco Ball Decor
Where To Buy Cute Mushroom Decor For Your Home
Do you remember a few months ago when I featured a reproduction version of the vintage Murano mushroom lamp? Thanks to TikTok that lamp became a viral product Amazon Internet Famous page that caught my eye. Side note, if you haven't read my TikTok Made Me Buy It post, go now…don't worry. I'll wait. Since then, mushroom decor is popping up everywhere. Check it out.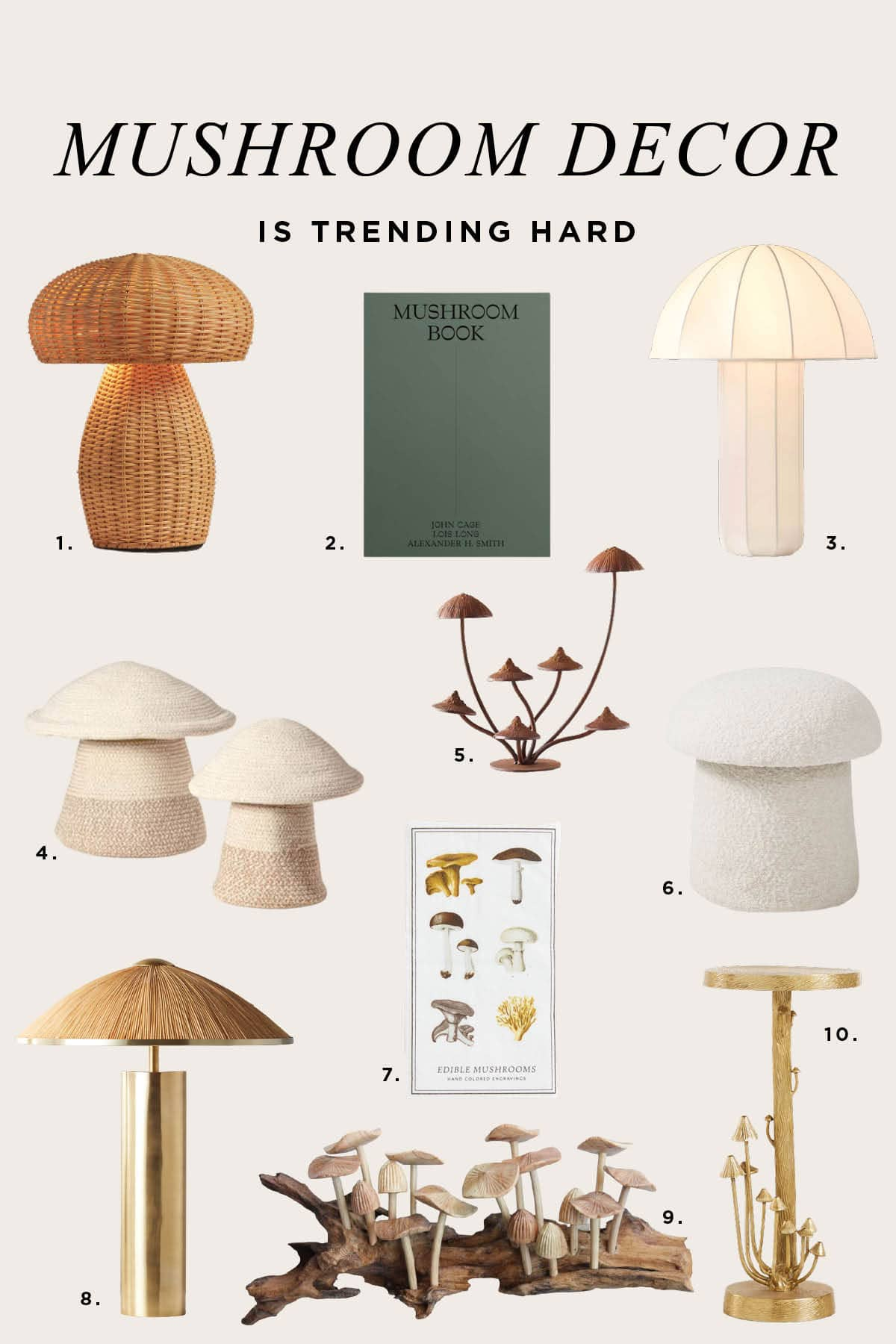 Best Of Mushroom Decor — Art For Your Walls
I discovered Anna Church's art on Instagram and instantly became obsessed. Her latest Supernatural Collection was released earlier this year, and this mushroom art (be sure to check out my Artificial Flower Arrangement in Resin craft) is absolutely stunning. I'm saving my pennies for one and have narrowed it down to these next two photos. If you want to see more of her work, check out her site.


I think Zoe needs this adorable mushroom magic night light for her bedroom. I love the whimsical look and feel.

And OMG, how cute are these Mushroom Ceramic Serving Platters (below)? These cuties might have to come live in my dining room because they're perfect for Thanksgiving dinner.

So there you have it. Proof that mushroom decor is trending hard for every room. What do you think? Would you sprinkle some mushroom motif into your home? Where would you style yours?

Now, if you still don't believe that mushroom decor is trending, next time you visit Seattle, check out Glossier's storefront and tell me this gigantic mountain of mushroom inspiration doesn't exist. That reminds me, I need to go grab some Boy Brow. Be right back!


Discover More Modern Home Decor Ideas and Inspo
I've rounded up artificial trees and faux plants galore, including a separate post of my favorite faux olive trees, and can't forget the classic faux fiddle leaf fig trees.
I've been playing around with some living room design concepts. Check out the latest mood board I came up with.
We adopted a dog about a year ago and have since found the glory of affordable washable rugs.
Learn to layer lighting like a pro with this guide to the best bedroom lighting.
Love the Primrose mirror but hate the price tag? I got you! Here's a full round-up of affordable Anthropologie mirror dupes.
Do you have a rug that is too small or too big? Not sure? Here's how to choose the best size rug for a living room.
Cozy up your windows with these affordable velvet curtains – oh, and they're all available online.
If you love wallpaper, but have a fear of commitment, check out this round-up of best peel and stick wallpaper – it even includes a couple of wall murals.
Cane furniture is trending, and so is rattan and cane lighting. If cane isn't your jam, but you want more lighting ideas, check out this round-up of boob lighting alternatives.
Learn how to choose the best rug size for a living room.