Anthropologie Mirror Dupes
When it saves me money, you know I love a good dupe, so if you're looking for the best Anthropologie mirror dupe, this post is for you. This oversized gold mirror has been a coveted piece of home decor that's all over Instagram (yes, it's so wildly popular that it even has its own hashtag), but the price tag can legit take your breath away. So I've made it my mission to find a few good Anthropologie mirror dupes and save you a few dollars.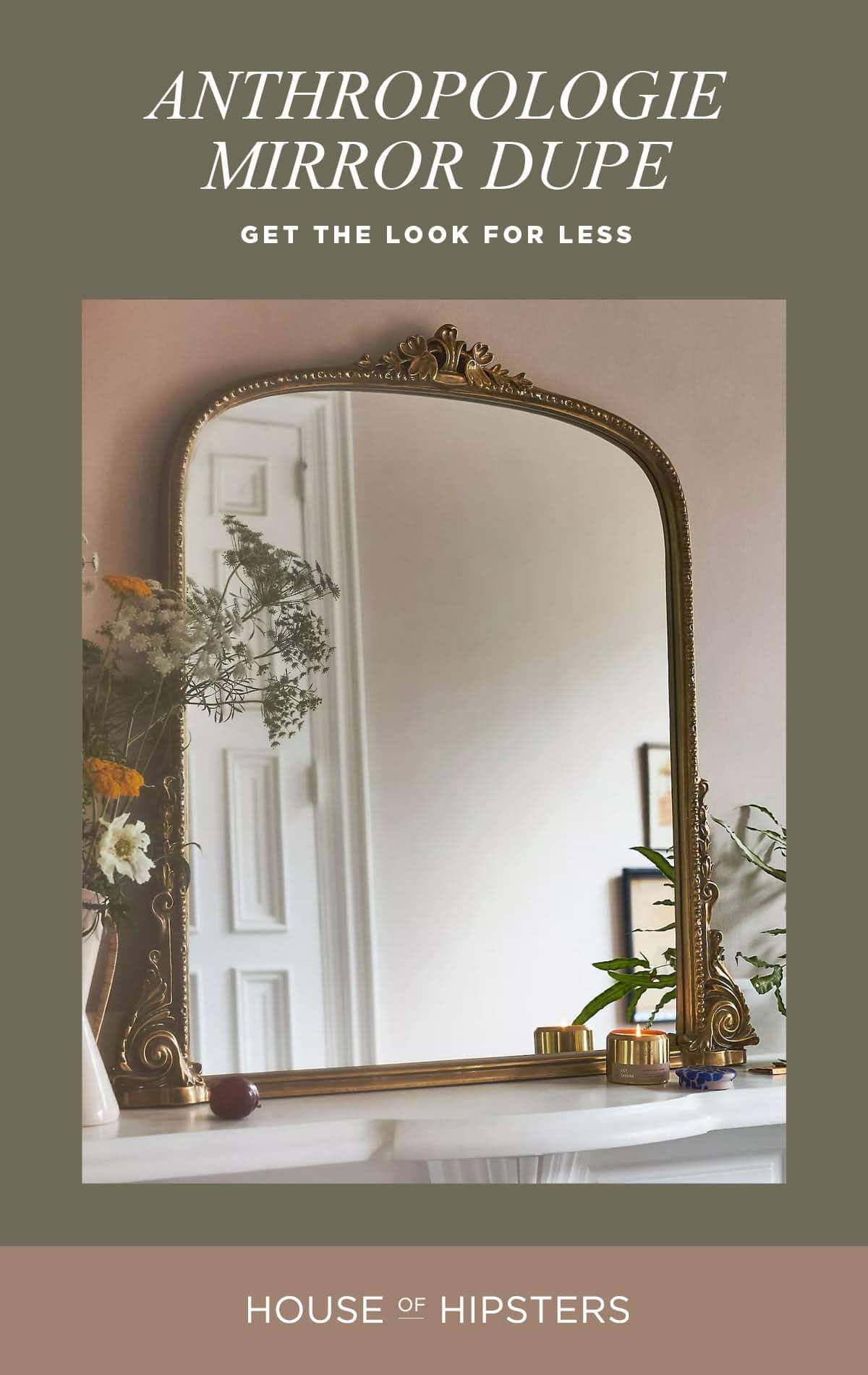 The original Gleaming Primrose Mirror from Anthropologie comes in 5 different sizes, starts at $548, and goes up to $1598. Yowza! That top price point is more than two times what I paid for my real deal antique floor-length mirror (you can see it in my favorite vintage decor post). Plus, it took years to find a real vintage mirror that was affordable, which is why finding a good Anthropologie mirror dupe for you was necessary.
If you want the real deal vintage, great. If you want the original Primrose Anthro mirror, awesome. If you're on a tight budget or you just don't want to invest your money in either option, then read on to find the perfect Anthropologie mirror dupe for a fraction of the price.
Anthropologie Mirror Dupe Round-Up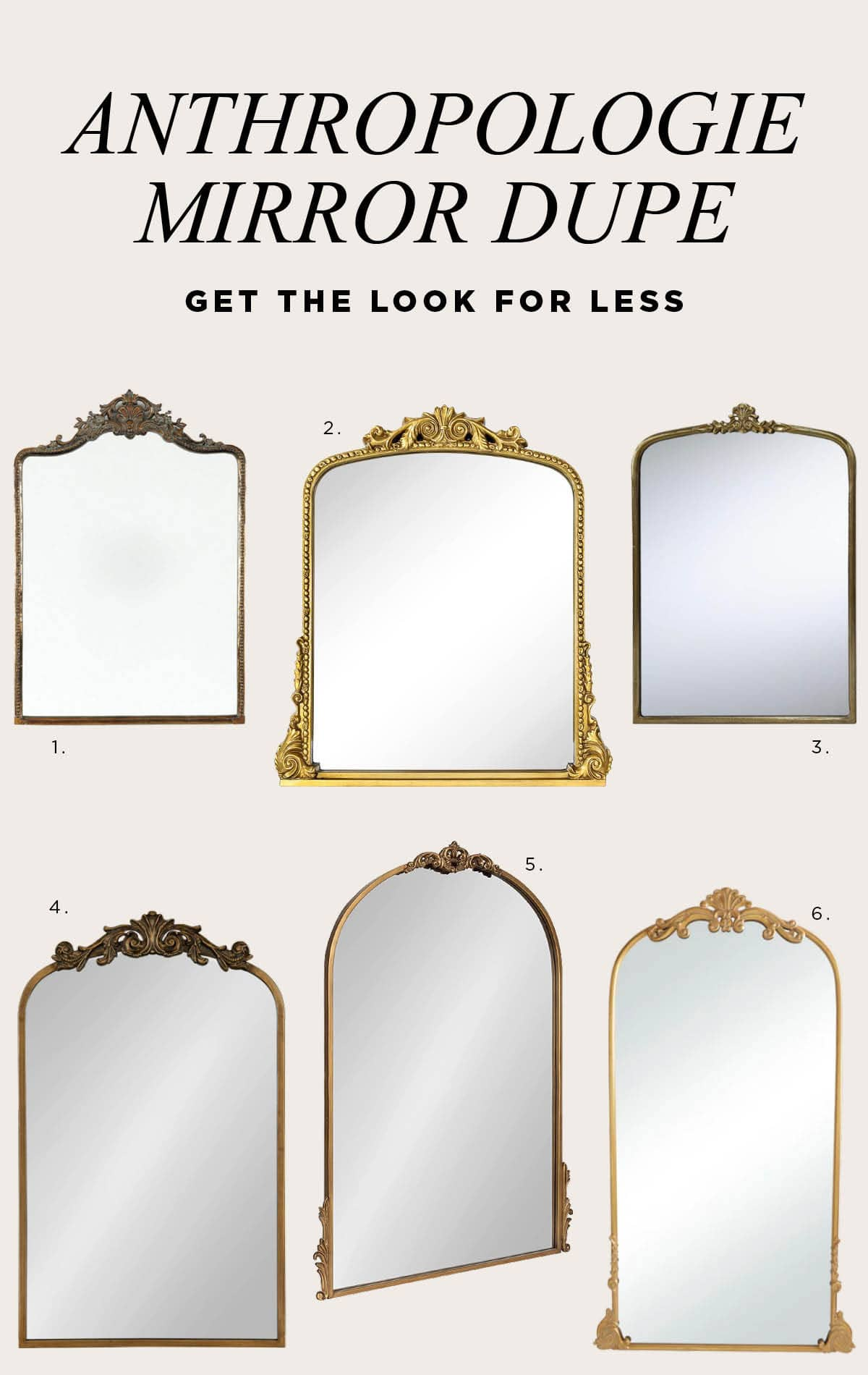 More Anthropologie Mirror Dupes

7. French Baroque Arched Antique Mirror 28″ x 42″ for $270 – this one looks very similar to the mirror in my dining room, only smaller.
8. Gold Arched Metal Wall Mirror – pretty much identical to the Kate and Laurel mirror pictured in the first grouping above
9. Gold Vintage Inspired Ornate Mirror 14″ x 24″ for $40
10. Arched Vertical Gold Mirror 24″ x 36″ for under $200 and available in 5 different sizes.
11. Ornate Filigree Gold Mirror 5-foot floor mirror for under $400
12. Gold Antique Wall Mirror
The first in the list of mirror dupes above is from Pottery Barn Teen, which can be one of those overlooked home decor sites, but let it be known it's not just for teens. This is my secret squirrel spot for hidden gems. It's a 60″ tall floor mirror, and it's a steal of a deal when it comes to the Anthropologie Primrose mirror. BTDubs, there's also a gold snake mirror I'm obsessed with over on PB Teen.

More Vintage Inspired Gold Arched Mirror Dupes
Here are a few more picks that are not perfect Anthropologie mirror dupes, but they still have that old-world charm. I get asked about the simple arched mirror in my foyer I found at Rivich Auction House. This one has a Louis Phillippe look.

The dupe for the vintage mirror pictured above can be found here – Thick Framed Gold Wall Mirror. It's 30″ X 40″ and virtually identical. . Here is another because, obvious, I can't just give you one option – Gold Louis Mirror. Pictured below, they are flanking the headboard. I love them styled like this, don't you?

Okay, I promise this will be the last mirror dupe of the day. Again, this is not a perfect match for the Anthropologie Primrose Mirror, but it's got that vintage-inspired look for less – the Kelly Clarkson mirror. It doesn't have the overly ornate look, but it's still a stunner.




More Eclectic Home Decor Ideas and Round Ups
Rounding up the best interior design books – if you're looking for gift idea inspiration for a home decor obsessed loved one, this post is for you!
If you love wallpaper, but have a fear of commitment, check out this round-up of best peel and stick wallpaper – it even includes a couple of wall murals.
Cane furniture is trending, and so is rattan and cane lighting. If cane isn't your jam, but you want more lighting ideas, check out this round-up of boob lighting alternatives.
Cozy up your windows with these affordable velvet curtains – oh, and they're all available online.
Thinking about joining a country club? Before doing so, read my review of the Biltmore Country Club. You may rethink that decision.
Last Updated on January 27, 2023 by Kyla Herbes