Sale Alert! Shop These 27 Anthro's Pieces Before They Sell Out
Last Updated on August 24, 2023
Popping in really quick to share my top Anthropologie picks for the 20% off #LTKxAnthro sale! These are pieces I own and love, best sellers, and top-rated. You'll find dresses, sneakers, books, purses, go-to pants, and, of course, if you scroll to the bottom, you'll find my Anthro Living home decor favorites! However, due to some poor communication, I just found out home decor and furniture are not included in the sale. I know, I'm sorry. But the cute outfits are still 20% off so no time to dilly dally because these picks are gonna sell out fast! Shop more of my fashion picks here, and be sure to follow my LikeToKnowIt.
RELATED: Find the best Anthropologie mirror dupe here. Yup, it looks so close to the Primrose mirror without the hefty price tag.
Run, Don't Walk To The #LTKxAnthro Sale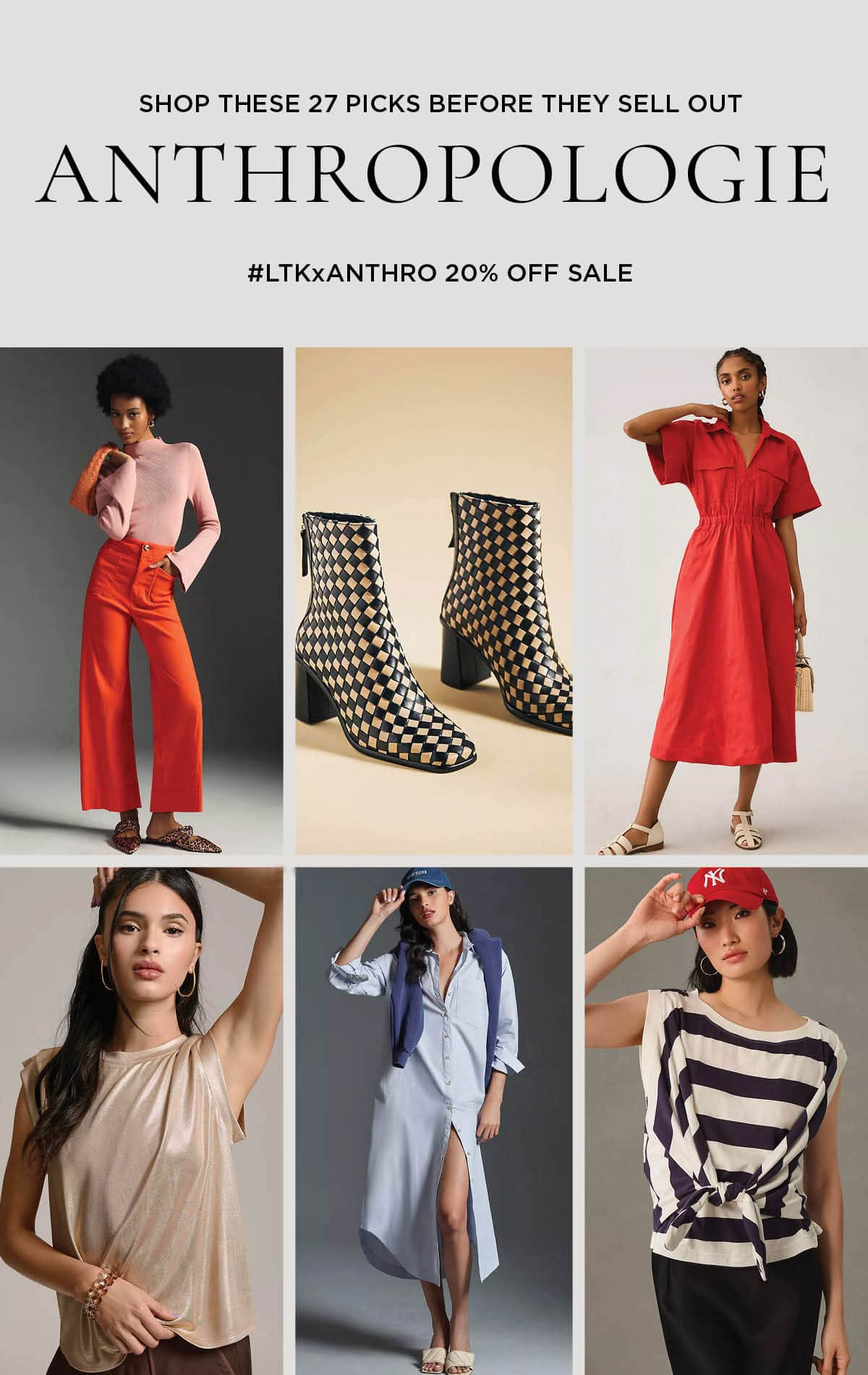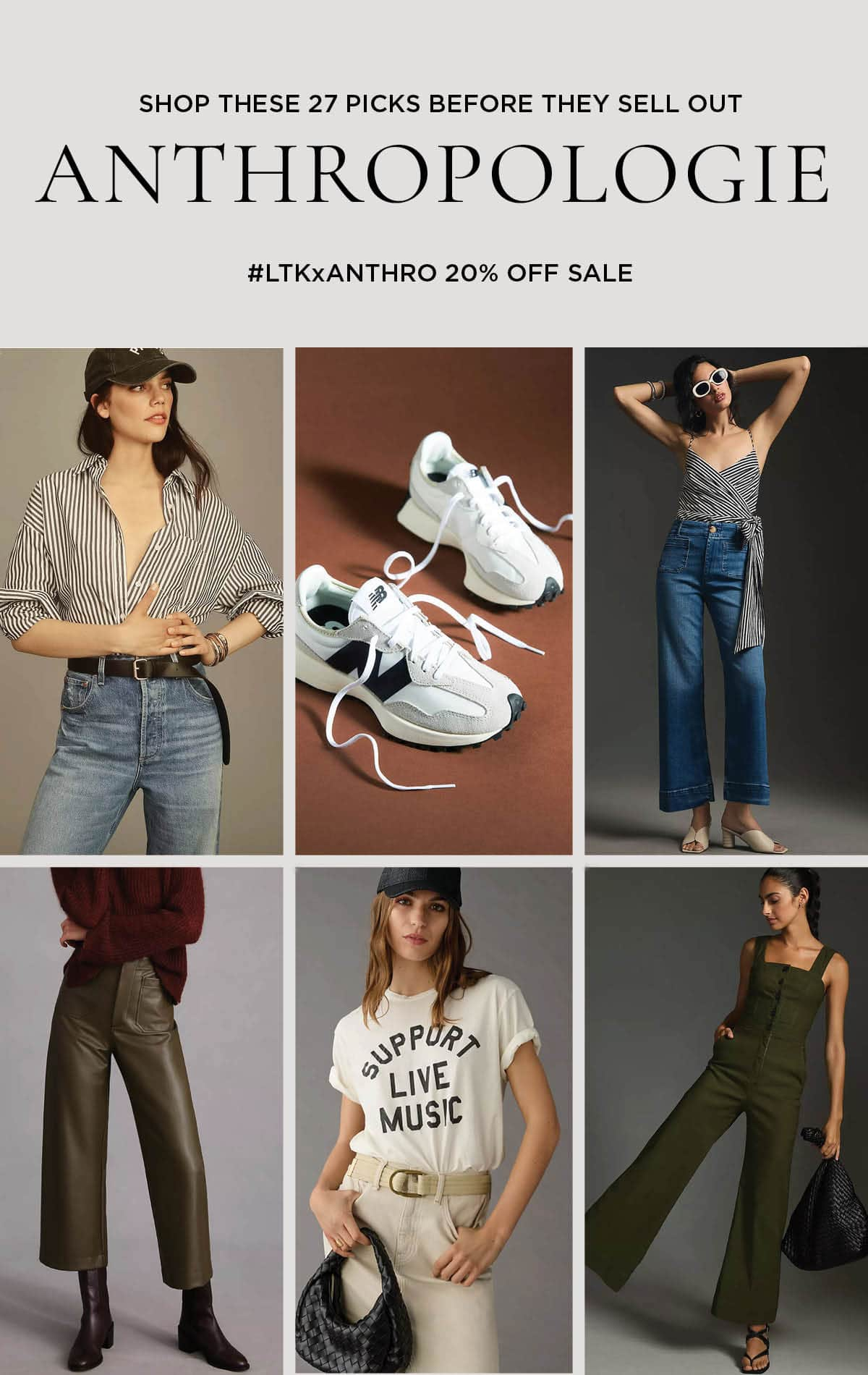 RELATED: Heart sweaters are trending for fall! Check out my top picks.

Katerina Button Front Dress in Black – Angelina Jolie wore a chic black wrap dress the other day, and I can't get it out of my head. This is a great look for less option.
Vicenza Foldover Buckle Boots – These boots are made for walkin'. These are Euro sizing – if you don't know your size, a 41 is a standard US size 10. Don't let anyone tell you differently. I put myself through college selling shoes. 40 = a size 9, 39 = a size 8, 38 = a size 7 and so on,.
Satin Slip Midi Skirt – I just chatted with my friend Colleen about Farm Rio. Their clothes are so cute and colorful!
The Somerset Maxi Dress – I love the color palette of this dress, and the silhouette is chef's kiss.
Melie Bianco Carrie Shoulder Bag – I have 99 problems, but a purse ain't one…that is the only reason I have not added the pretty kitty to my cart. But 20% off could persuade me.
The Paz Buttondown Shirt – How fun is this shirt?!?! I'm torn between the one shown here and the shirt with the peaches…because I mean, it has peaches!
Top Anthro Home Picks – SADLY NOT ON SALE
Oh how I love poor communication. The Anthro Living decor and furniture are not included in the sale, but I'm still leaving these top picks in this post. Just because they're not on sale doesn't mean I don't love them.
If you're looking for ceiling lights, do not miss out on the lighting from my closet makeover. Yes, they're on backorder, but they are worth the wait.

Fern Storage Cabinet – you know how I love a good arch.
Eloise Flush Mount – You may recognize this light from the bedroom closet remodel. They are absolutely stunning in person and come in white, ivory, and light green.
Juneau Velvet Bar Cabinet – Don't judge me, but when I saw this cabinet in the store, I pet it.
Lulu Floor Lamp – You may recognize this lamp from my green decor round-up. This is the same lamp but in pink.
Velvet Lena Elowen Dining Chair – I'd buy these beauties in a heartbeat if I didn't already own dining chairs I loved,
Cable-Knit Jersey Quilt – I've been on the struggle bus with bedding in the bedroom. Every duvet I try seems to fight with the Phillip Jeffries Broad Strokes wallcovering. I love the texture of this one. Might have to try it. Don't forget the shams!

Happy shopping! Be sure to tell me what you bought!



Discover More On House Of Hipsters Interior Design Blog
Sharing how I found that vintage marble table in my dining room that everyone seems to love.
Check out the best Amazon must haves 2023 that I own and love!
Don't miss my round up of cheap curtains and drapes that look like a million bucks.
Giving my bar cart a mid-century modern twist with some affordable vintage barware plus lucite ice buckets and swizzle sticks.
Speaking of barware, try this lime in the coconut drink recipe for a little taste of the tropics.