Vintage Barware For Modern Bar Cart Styling
Last Updated on February 8, 2023
It's no secret that retro cocktail recipes are all the rage. So when shopping vintage shops, one thing I always have my eye out for is vintage barware. Usually, it can be picked up at a fair price, and of course, it will elevate your hostess status to an eleven. So let's time-travel and take your kitchen liquor cabinet to a speakeasy-style cocktail bar. I'm here to help you find affordable pieces for a collection that would have Don Draper green with envy.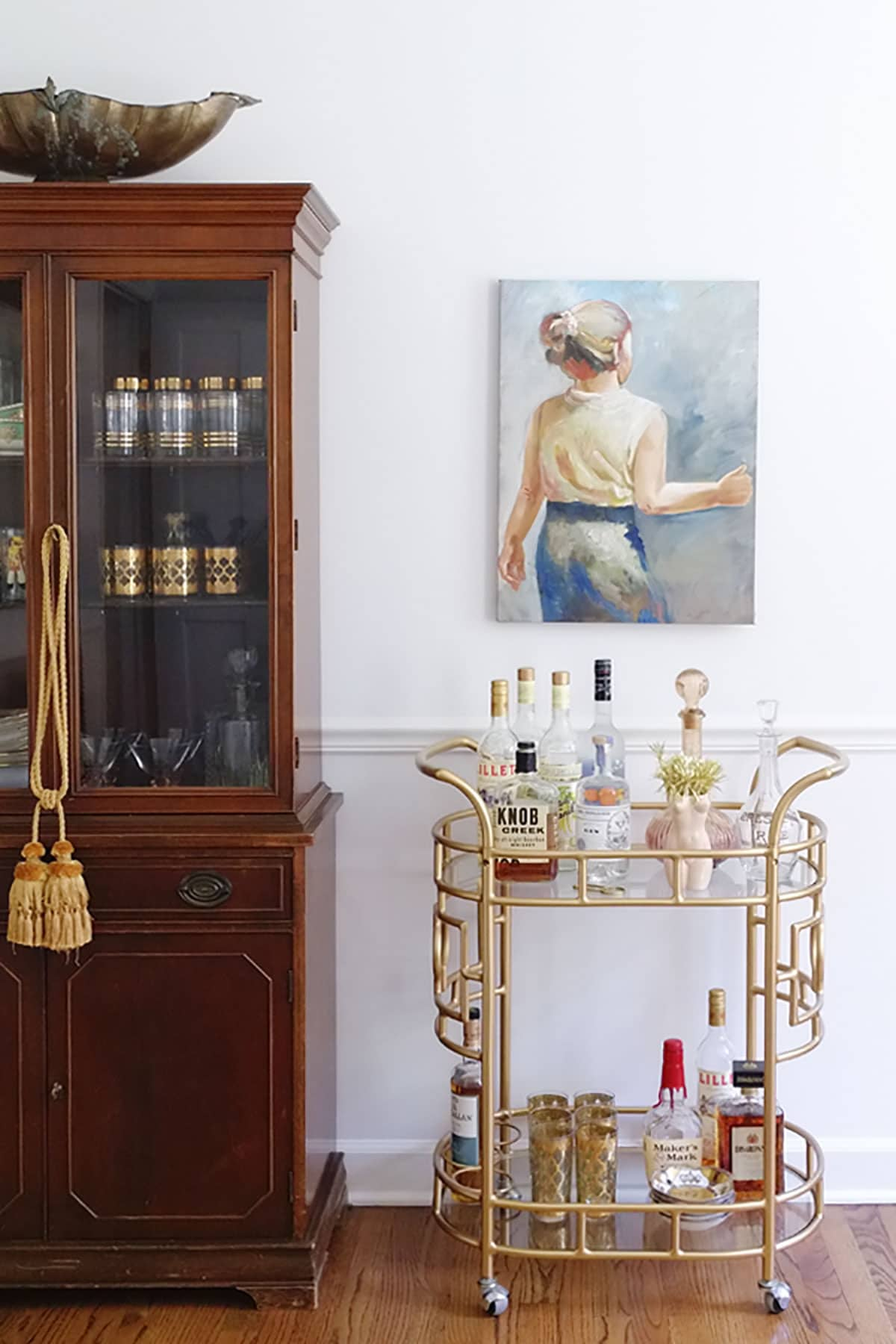 RELATED: If you're gearing up for Christmas and hosting guests, get my holiday entertaining tips and tricks to my life a little easier this December.
While at a flea market or estate sale, looking at vintage barware can be a bit overwhelming. So many colors and patterns to choose from. Where should we begin? Let's start with the bar cart. It's pretty much the foundation. Now, I like to change mine around a bit. Throughout summer and during the holidays, my bar cart is stocked with liquor bottles of all sorts. I can wheel it around, and guests just help themselves. This beauty was a lucky flea score, but here is one in black. Cuz sometimes you just don't have the time to hunt yourself. Don't worry. I always gotcha covered.
Bar Cart Styling Ideas With Vintage Barware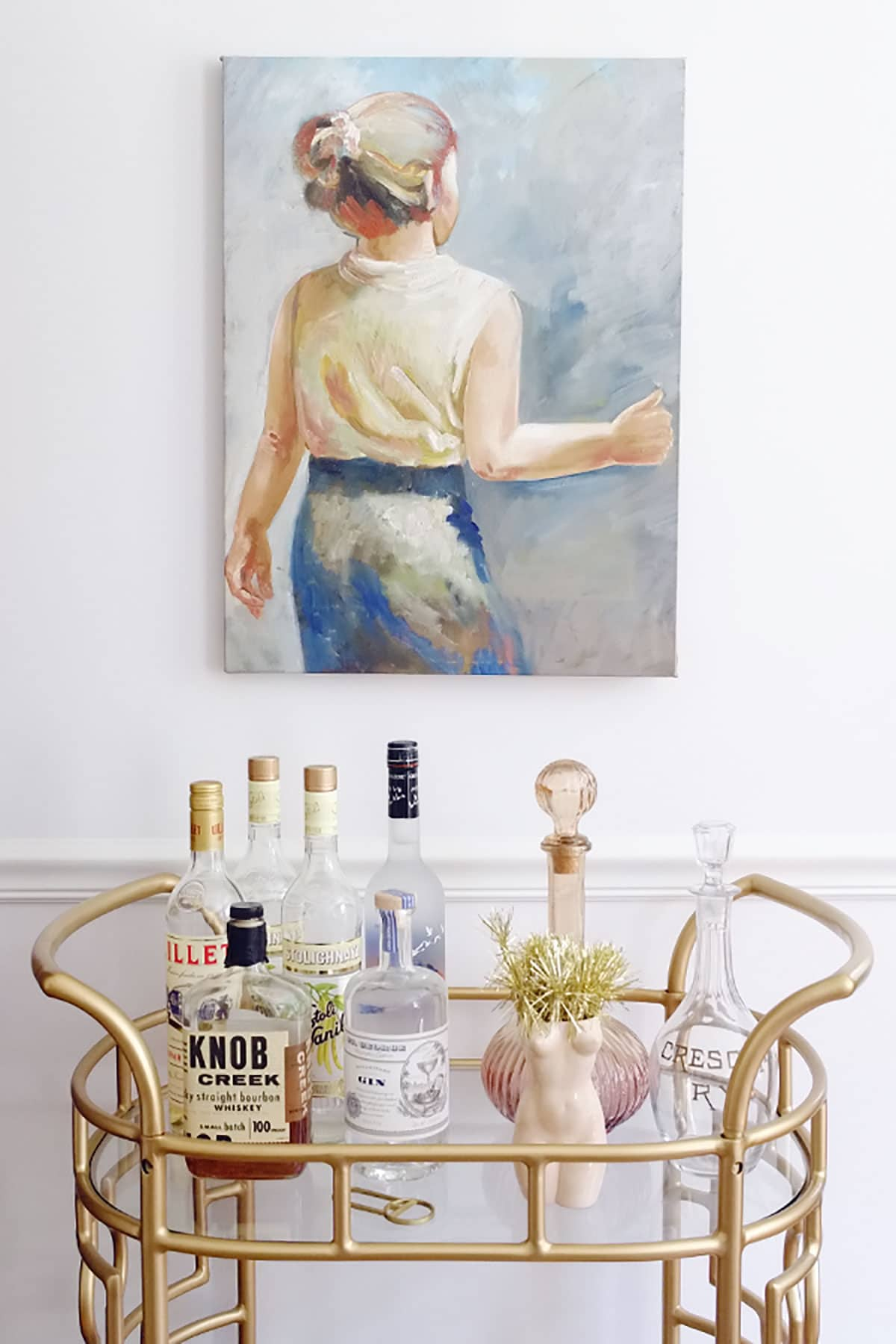 During our winter hibernation and busy back-to-school months, I like repurposing my bar cart into something more functional like a small shelfie or side table. Plus, it's fun just to change it up.

So you've got your bar cart, now what? Glasses of course. Nothing adds glamour to cocktail hour than sipping a Brandy Old Fashioned from a gold-rimmed rocks glass. My favorite is Mid-Century Modern barware…it's like the costume jewelry of glassware. And it should go without saying, you don't have to use these gems for special occasions or alcohol only. Wanna glass of water? Why not drink it in style? But, word of warning, always handwash or that gold will just fade away in the dishwasher.
Shop These Vintage Barware Ideas

Shoji Trellis Glasses – SHOP THEM HERE
A few of my favorite vintage barware designers are Dorothy Thorpe, Culver, and Georges Briard. Although I have yet to score a set of Shoji Trellis glasses at an affordable price. They are the vintage unicorns that allude me. Mark my words, one day, I will have a set to call my very own, and I will use them on the daily.

Mid-Century Modern Vintage Ice Buckets – SHOP THEM HERE
And for the maraschino cherry on top, let's add red lipstick to deck out our bar, shall we? These bar accessories will set it apart from the neighbors. I'm talking a slick ice bucket, a cocktail shaker, tool set — with lucite or bakelite handles, and swizzle sticks…maybe I'm weird…well, we all know I'm weird, but I get a good giggle from a naughty swizzle stick. Nothing says "bottoms up" like a nekked lady bum! Talk about a conversation piece. Eeeep!

Bottoms Up Stir Sticks from The Forest Sleeps Etsy Shop – sold out
Now all you need to make your vintage modern cocktail bar cart complete is a fancy drink recipe, and you're all set. Check out my past cocktails recipes, like the best sake cocktail, but fasten your seatbelt because I am working on a boozy beverage that'll knock your socks off. At least that's what it did to my neighbor Jamie. It's a passion fruit cocktail will Lillet blanc. Click that link for the drink recipe.




Discover More Unique Cocktail Recipes and Eclectic Home Decor Ideas
Learn how to style a bar cart with these simple expert styling tips!
This passion fruit cocktail with Lillet Blanc is the signature cocktail from Maison Souquet in Paris and is guaranteed to make your taste buds parler francais.
Get your hands on this Lime In The Coconut drink recipe that is straight from Lahaina, Maui, and perfect for summer sipping on the patio.
Learn how to make your bar cart cocktail ready for your next party.
This Champagne Smash Cocktail Recipe is my favorite New Year's Eve signature drink!
Here's a modern New Twist On The Moscow Mule.