Favorite Vintage Decor
Last Updated on June 28, 2023
Oh, do I have a treat for you! Today I'm sharing my favorite vintage decor, and so are my friends Sarah and Chloe from Room For Tuesday and Boxwood Avenue. The original concept was to share one and only one piece of vintage decor, but I said, "ONE SRSLY ONE?" The struggle is real. I can't wait to see what favorite vintage decor my girls shared…their homes are beautious…but first, here's mine.
As you know, I likes me some antiques.
Vintage objects give a room soul.
They tell a story.
They draw guests in for a closer look.
They add personality to your space.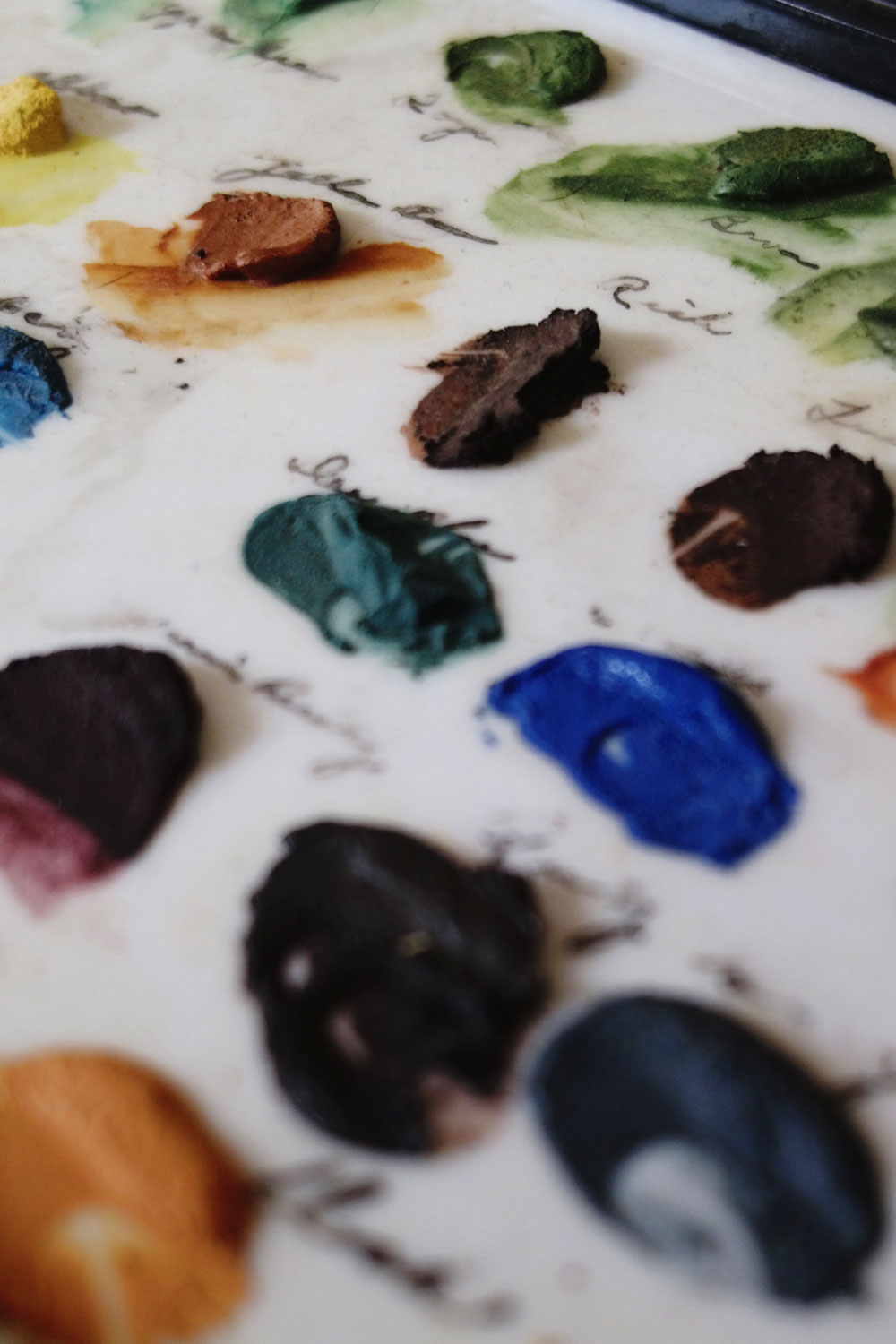 When I go antiquing, do I sometimes go overboard and buy things I don't need? Ummmm yes. Case in point, this old, crusty paint palette I picked up from Warehouse 55 in Aurora, IL. Without a plan, I bought it because it gave me that flutter in my stomach. That gut feeling that tells my brain, "you must buy this".
Artist tools in general, give me that feeling. If the description for an estate sale reads, "eclectic artist home…", ya I'll be there at dawn and hoarding all the things. If I ever style out a craft desk, I'll definitely have enough interesting desk props on hand. The paint palette still has no home…it's presently living on the dining room table so I can soak in its beauty every time I walk past it.
Vintage Handpainted Vintage Trunk
This hand-painted floral hide trunk was tucked away in the corner of a booth at Warehouse 55…I bought it the same day I purchased the paint palette. Pop a trunk in the corner of any room and I dare you not to store anything in it…srsly they're perfect for toys, blankets, magazines…anything. Before I sealed the deal on this puppy, I opened her up and gave her the sniff test. No weird smells here.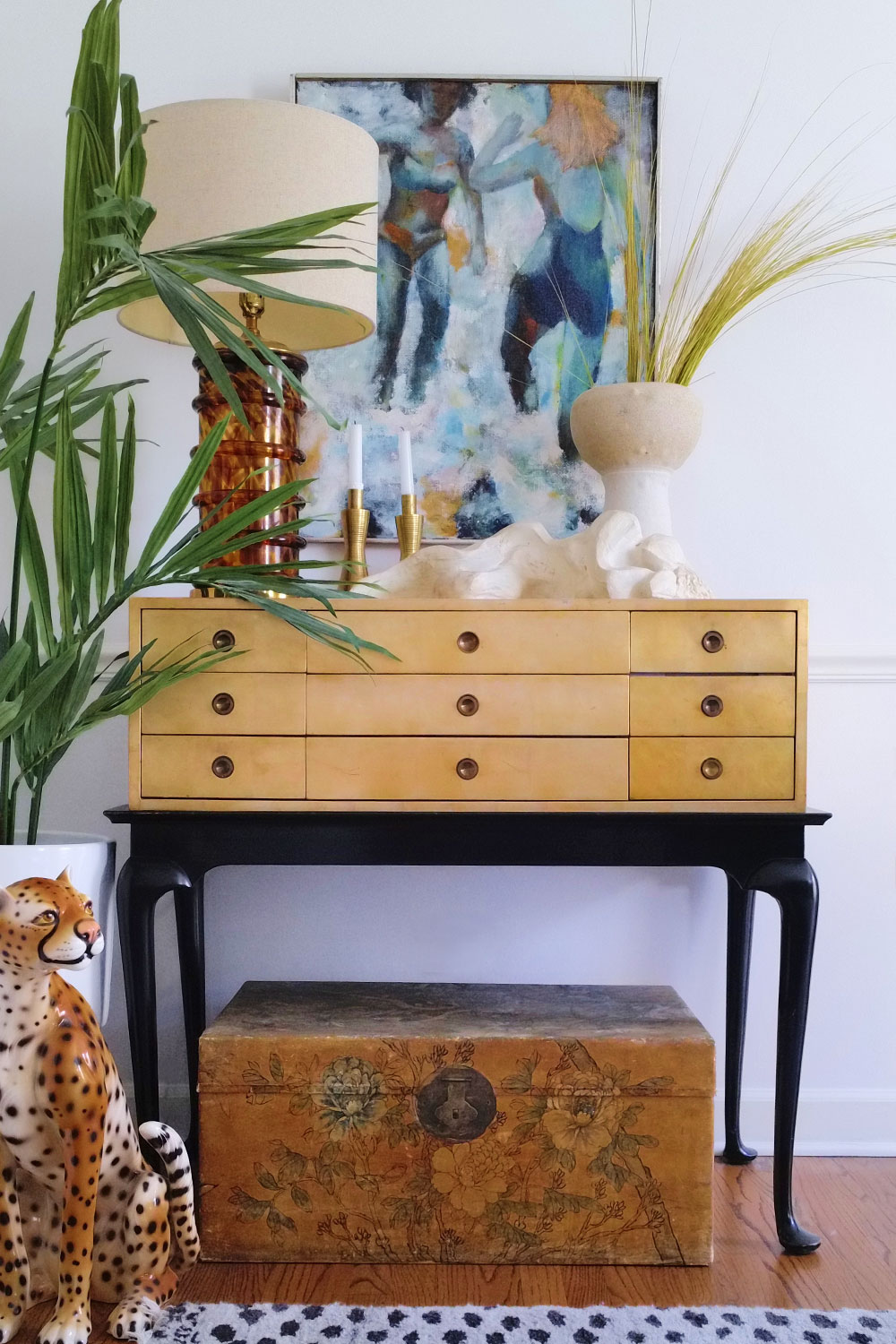 The trunk was definitely a bit of a splurge, but I've never seen anything like it. After circling it 18 times, I walked away to think…something I never suggest doing…you walk away from a vintage piece, and there's a good chance another will swoop it up. I couldn't stop thinking about it. The patina was absolutely stunning.
You'll Find Lots Of Vintage Decor In The Dining Room
Now that I'm taking a closer look at this vignette, pretty much every single thing shown here is vintage. The ceramic leopard (or is he a cheetah), the Kittinger gold leaf buffet, the Paul Hanson tortoise shell lamp, the sculpture (yes, it's from an artist estate sale), the vase, painting, and candleholders (which double as bells) are all antiques. You definitely cannot tell I used to own a vintage shop…I say in the most sarcastic voice ever.
If you turned 90º, you'll be staring at this gold gilt mirror – BTDubs, I have an entire round-up of Anthropologie mirror dupes you should check out.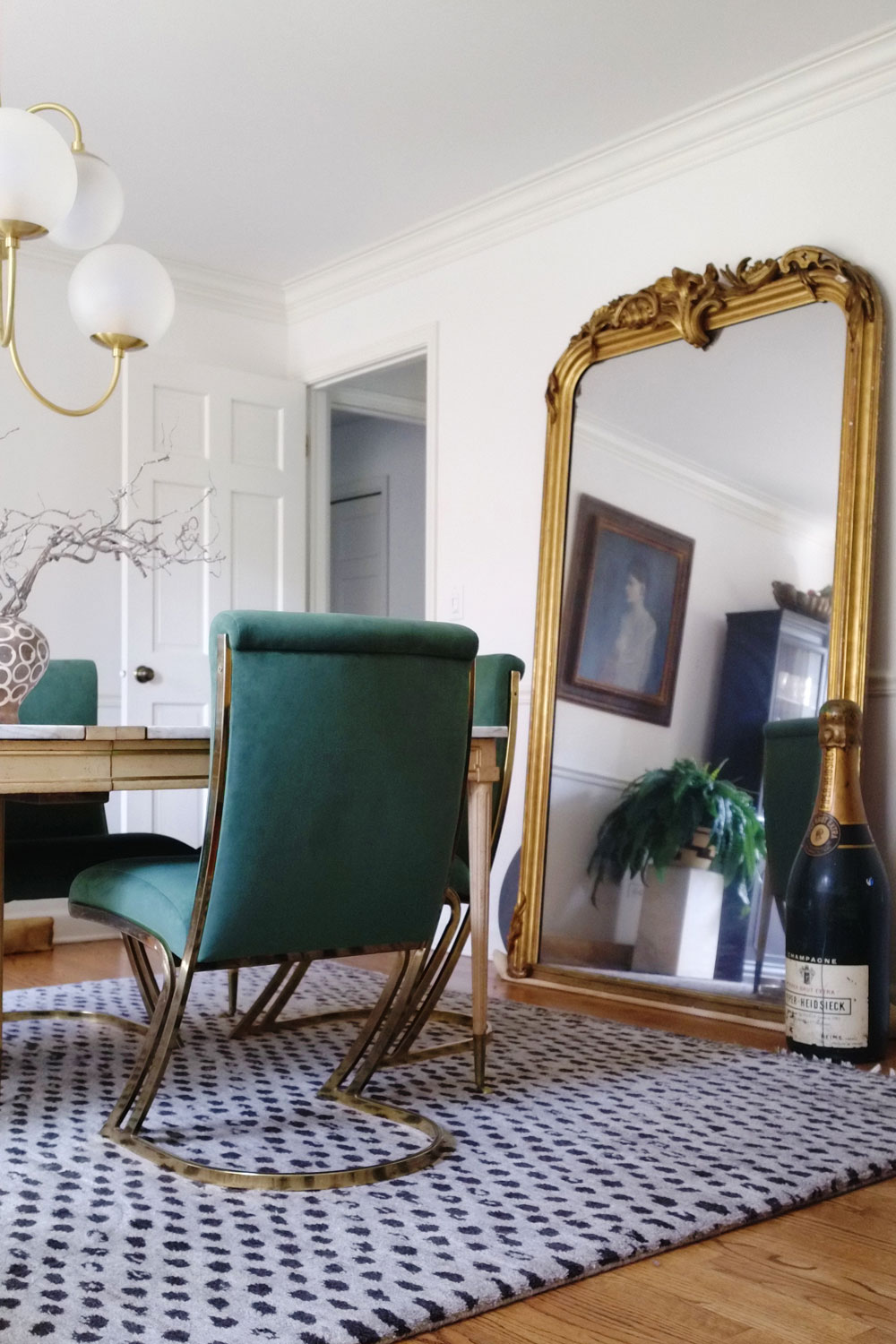 I have no idea where this mirror originally lived, but I purchased it from an online estate sale. It's a favorite, as is that old champagne display bottle, the vintage Pierre Cardin reupholstered dining chairs (yup, they are no longer pink), the 1950's marble top pastry table, and the Picasso print from The Savoy Flea.
Vintage Decor In The Living Room

This Henrendon burl wood console is perfection. It was purchased from Facebook Marketplace for a steal, and its small scale fits perfectly in this space. I love it paired with this Mid-Century Modern globe lamp. That ginkgo leaf lamp is not an antique. It was purchased new, but the design is a knock-off of this Tommaso Barbi lamp I fully regret selling.
As you can see, I love missing vintage and new home decor…hop on over to Room For Tuesday and Boxwood Avenue to check out their favorite vintage decor pieces!



Find More Eclectic Decor Ideas and Vintage Decorating Tips
This is how we How To turned an antique dresser into a vanity, and I scored it at an estate sale for under $100.
Sharing my secret squirrel list of favorite home decor shops in Chicago.
If you love decorating with antiques, don't miss my 7 Tips For Buying Vintage Decor.
Learn how to change a light fixture in 15 minutes flat. Okay, maybe slow down a bit, so you don't get zapped, but you know what I mean.
Before you hang that ceiling light, learn how to install a ceiling medallion and level up your room design.
Have you ever been to a Favorite Things party? Here are my favorite things gift ideas, and they're all under $25.
Cute mushroom decor is everywhere, and I'm here for it. Find more of the latest interior design trends.
Visiting the Chicagoland area? Be sure to check out my guide to vintage shopping in Chicago.