Holiday Decorating Ideas For Your Home
Last Updated on June 28, 2023
I was so excited when Stephanie from Casa Watkins Living asked me to share my holiday decorating ideas in her My Home Style Blog Hop Christmas Tree Edition. Each day for the entire week, multiple bloggers (30 trees in total) will be opening the doors to their beautiful homes and sharing their Christmas tree holiday decorating ideas …everyone is listed at the bottom of this post, so grab a cup of cocoa, curl up in a blanket, and cue up some Christmas music. BTDubs, if you're looking for more decorating ideas, check out my post on best Christmas mantel decor.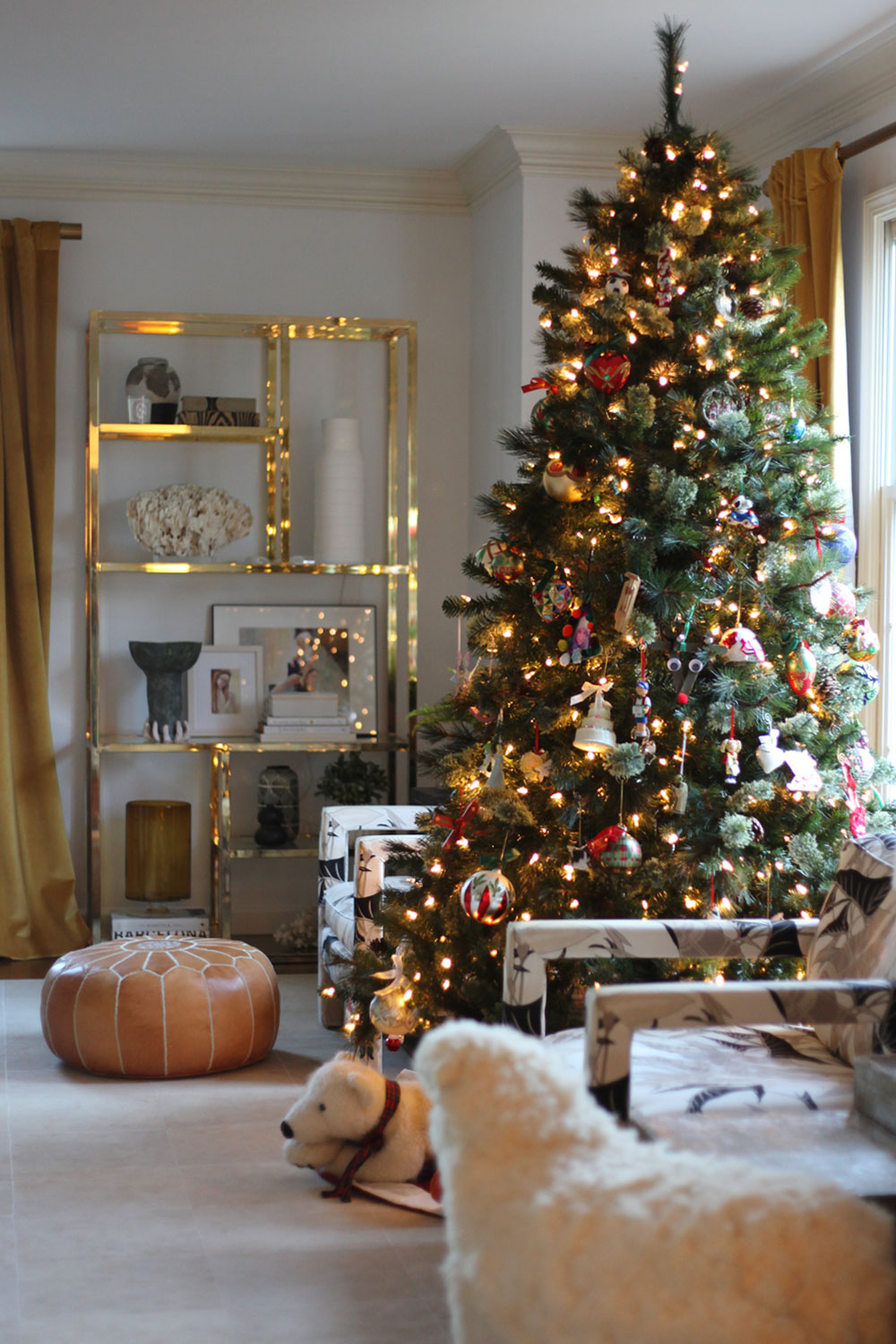 My previous holiday decor posts can be found here (2016) and here (2019).
I think we can all agree that 2020 has been a doozy. The stress of it all has had me reaching for comfort and traditions. Anything to help make life feel a bit more normal. On the plus side, my social life has slowed down. Our little family has enjoyed meals together around the dinner table. No longer are we rushing to drop one child at gymnastics and the other to soccer practice or weekend birthday parties. Instead, we watch movies, play Jenga, and maybe enjoy a cocktail in the driveway social distancing with neighbors. But even though the days feel a bit longer, the holidays snuck up on me, so I cued up some Bing Crosby and dug out the ol' holiday decor.
Since we have no major parties planned, I did not invest in any new holiday decor (as of yet). However, there are a few things I'm eyeing to spruce up my holiday decor that might happen to fall into my cart. My Christmas tree is not a seasonal showpiece of color-coordinated ornaments. Instead, it's filled with memories. A Shrinky Dink teddy bear gifted to me when I was 2 years old. An engraved ornament from my junior high classmate Missy. A reindeer made of popsicle sticks, painted by my son. A hamplemann for The Boy to honor his German family. A cardboard tree decorated with colorful pompoms and a photo of my daughter. These are the things that are important to me. Especially now.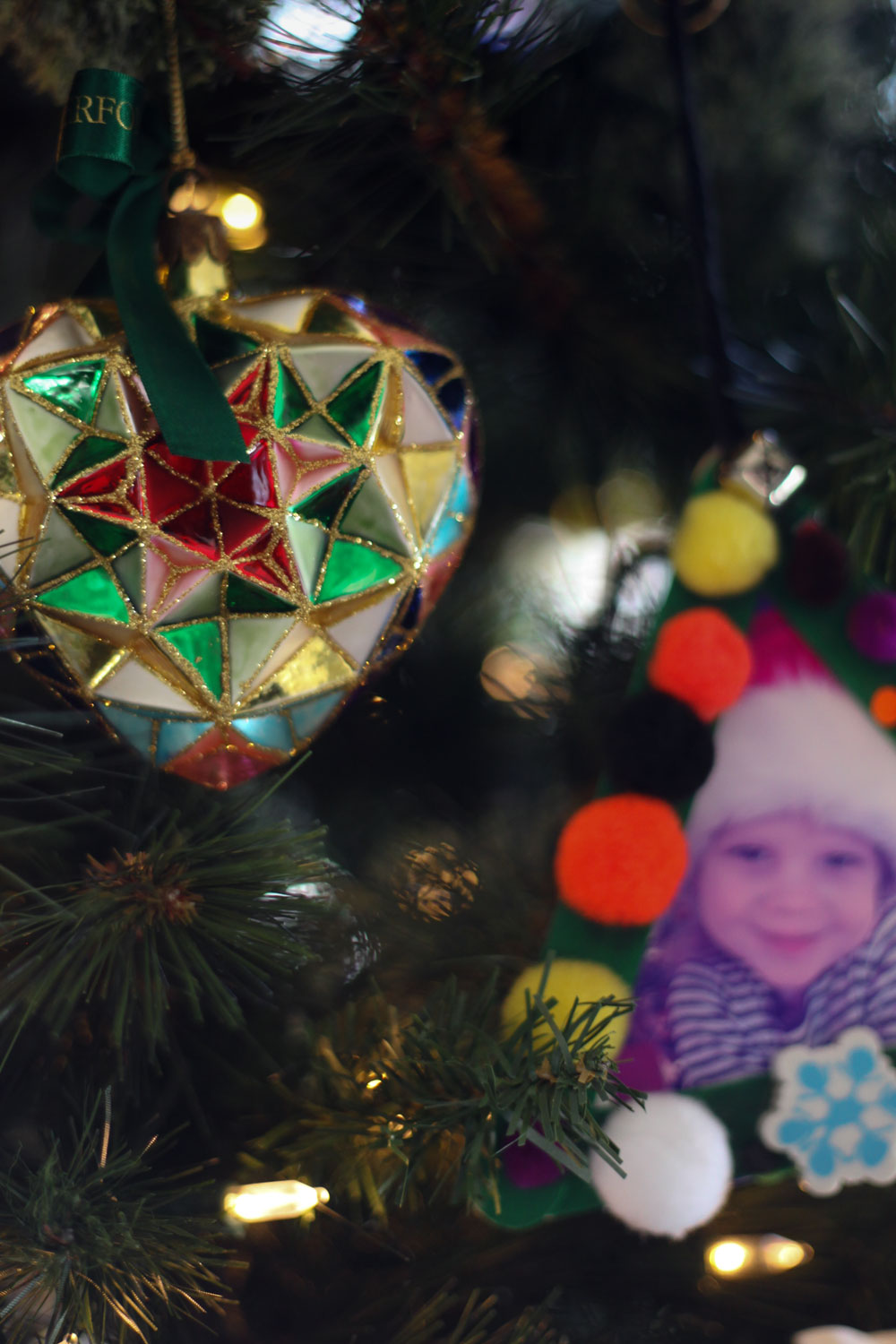 It does have a few fancy Waterford and Christopher Radko (on sale here) ornaments. My mother's friend owned a holiday shop in my hometown, for years that was her go-to place for my birthday and holiday gifts. I like how they balance out the handmade holiday decor.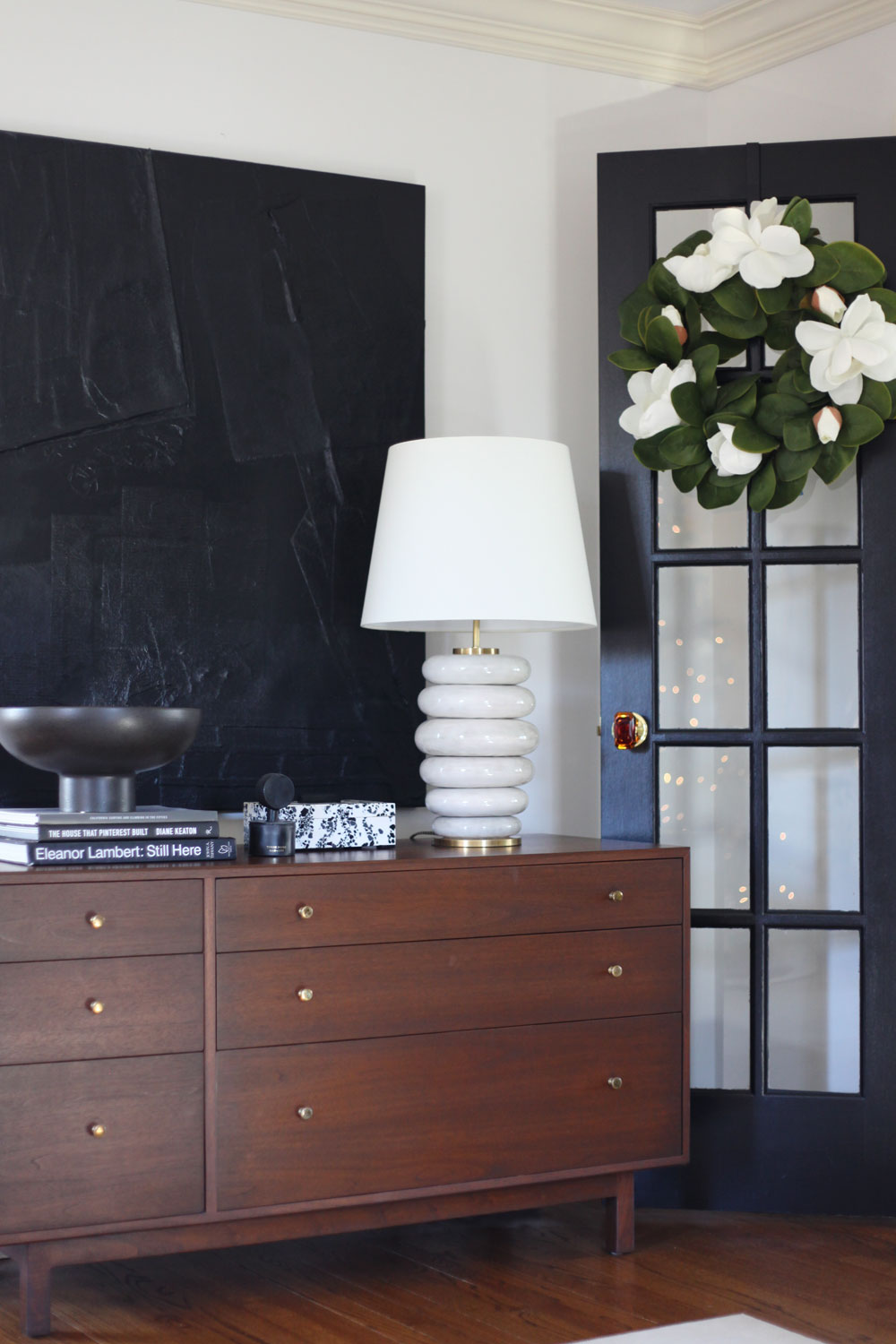 Besides this cutie gold tree, at the top of the What I'm Coveting list is a tree collar…like this simple metal one. We have this velvet tree skirt, but I'd like to mask the pole of our artificial tree. (Side note, have you seen this upside-down tree? I don't understand it at all.)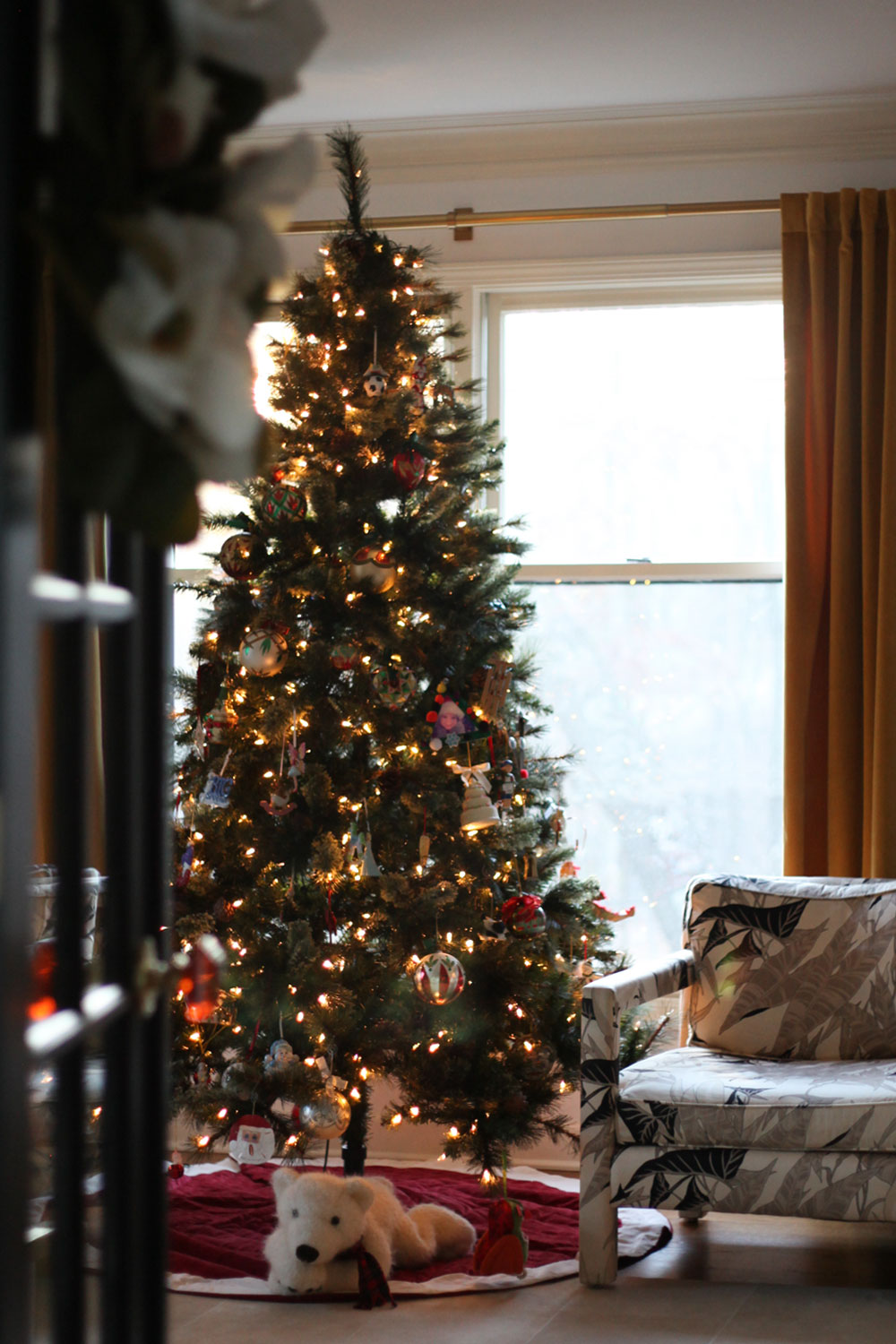 You may have noticed my tree topper is missing. Normally there is a large bow with ribbons woven through the tree, but after 15 plus years, it needs to be replaced. Years ago I posted a DIY on how to make a pom pom bow for gifts, so I may try my hand at making an extra-large one rather than spending $100 on a new one. 
The garland over the mantle was updated last year. I'd love to decorate with fresh garland, but it always seems to dry out before Dec 25 and make a mess. Not to mention The Boy and my son have crazy allergies…so faux it is. My garland was purchased last year, but there's a similar look here. For the last six years, I've designed different fireplace facades in my head. If you follow me on Instagram, you know I've discussed this before. From lime wash to german shmear to quartz. I think I've got a plan, but that project is slated for at least 2021. After finishing the kitchen renovation and the One Room Challenge home office and gym makeover, I'm finished with significant transformations this year. However, I have a small zhush that I'm working on over here…I promise to share it soon.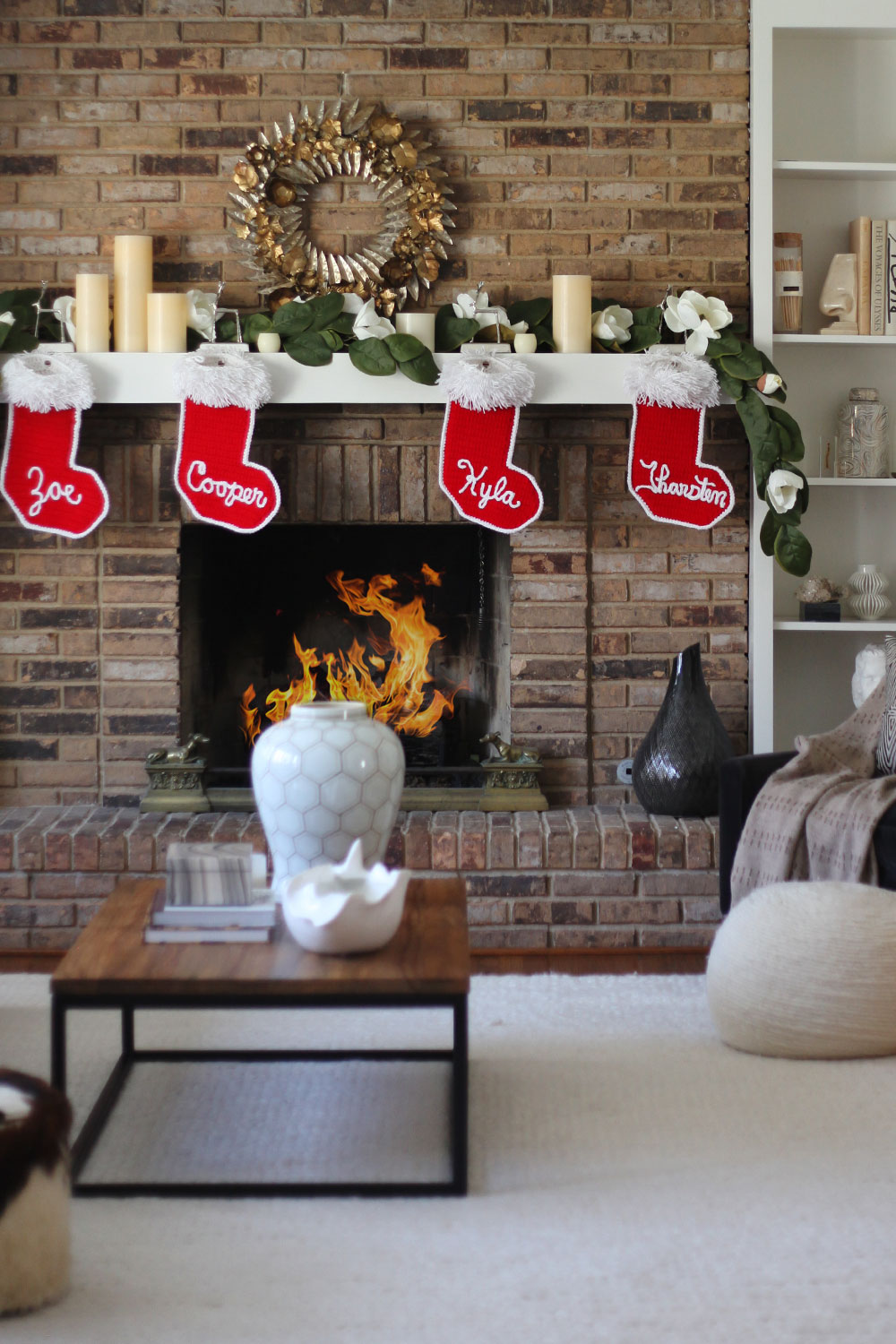 A frequently asked question is, "Where are those stockings from!?!?" If you're asking yourself the same, please accept my apologies. My mom crocheted these cuties, and I think I'm the only person on the planet with two stockings like this. One that lives at my parents' home and this one. Each one hangs from reindeer hooks similar to these. The metal wreath was purchased a few years ago from Anthro and is no longer in stock, but I found a similar one here and another here. All are similar to the vintage Petites Choses brass wreath I found on eBay.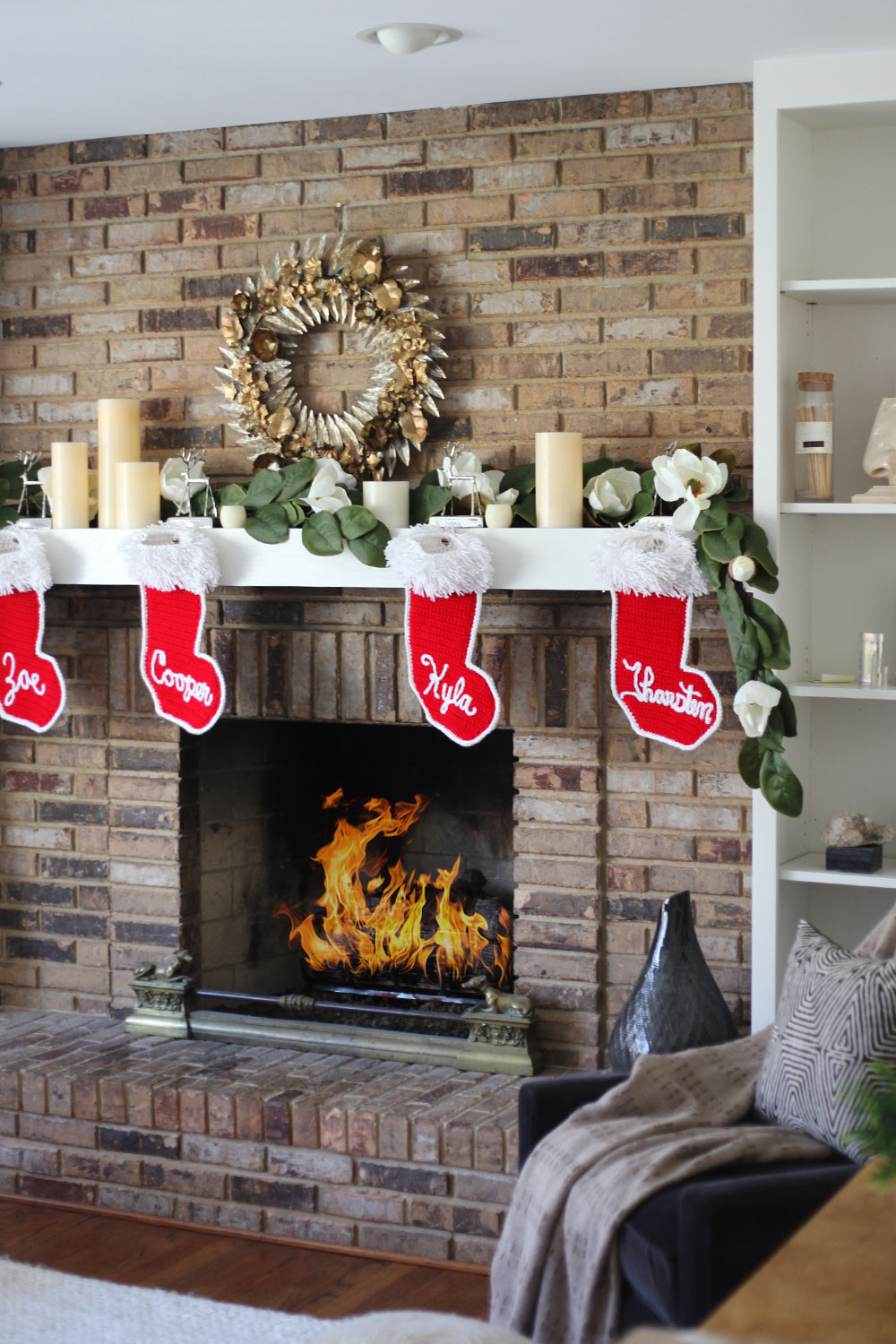 My favorite holiday decorating idea is super simple. I hung faux magnolia wreaths on the french doors. It's simple, classic, and doesn't feel fussy. Again, these were purchased last year, but similar looks can be found here, here, and this one has florals similar to mine!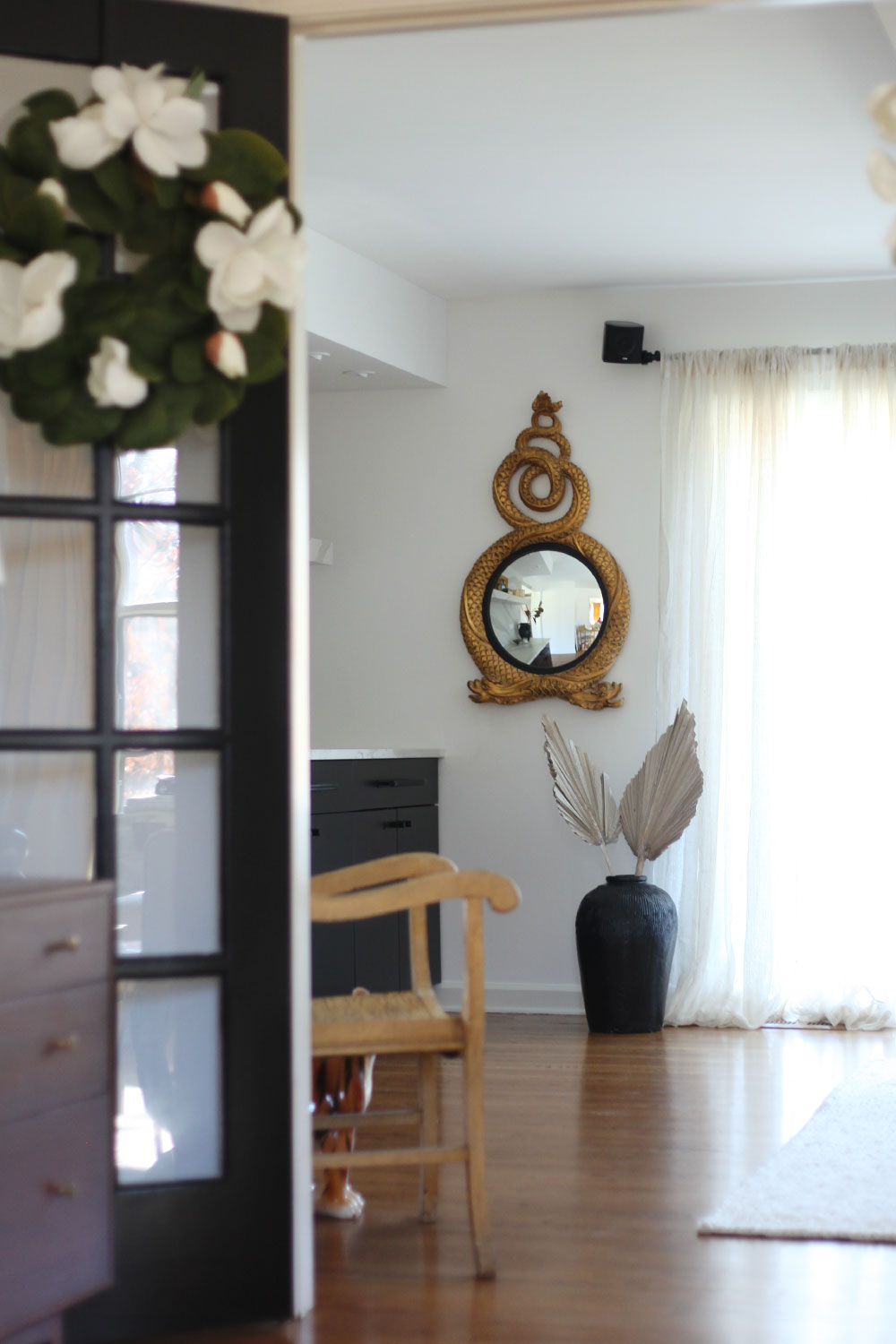 There's a bit more holiday decorating to finish, like the dining room and the garland on the banister, but that can be finished at a later date. You can peep it here. Before you go, check out my favorite holiday cookie recipes: Great Aunt Idella's Butter Cookies recipe and Peppermint Crispies.
More Beautiful Holiday Decor Home Tours From My Blogger Friends
Monday's Holiday Home Tour
Casa Watkins Living // Up To Date Interiors // Taryn Whiteaker Designs // Cherished Bliss // Thou Swell // Cassie Bustamante
Tuesday's Holiday Home Tour
The DIY Mommy // PMQ for Two // Jeweled Interiors // Kate Decorates // Banyan Bridges // Making Home Base
Wednesday's Holiday Home Tour
Monica Wants It // House of Hipsters // Cuckoo 4 Design // Delineate Your Dwelling // Lolly Lane // Mango Manor
Thursday's Holiday Home Tour
Two Twenty One // Lemon Thistle // Iris Nacole // Au Petite Salon // Setting for Four // Whispering Pines Homestead
Friday's Holiday Home Tour
The Handmade Home // Our Fifth House // Tag & Tibby // Daly Digs // House Homemade // Love Your Abode
Check Out More Home Inspiration
80s modern decor in a contemporary home. Check out this Kelly Wearstler-inspired home tour. 
If you're decorating on a budget, get my top tips to save money yet still make your home look expensive. 
One thing I do spend money on is bedding. Here are the best sheets that will help give you a better night's sleep.
The Primrose mirror is still trending hard, but the price tag crushes my soul. If you're looking for an Anthropologie mirror dupe that doesn't break the break. This one is for you.
Another blogger holiday home tour. A peek inside the rooms I decorate for Christmas. 
Find affordable velvet curtains to cozy up your space and soften your windows.