Stylish Christmas Mantel Decor
Last Updated on July 2, 2023
Christmas is right around the corner, and that means it's time to start thinking about how you'll be decorating your home. Let's get into the holiday spirit and make our homes warm and cozy with the best Christmas mantel decor. I'm excited to start decorating this year because it will be my first time styling the newly remodeled brick fireplace. Here's what I have thus far…just kinda playing around.
RELATED: Be sure to check out my latest post for everyday mantel decor ideas and expert styling tips. .
Lambs Ears Faux Garland – SHOP IT HERE
Battery Operated Candles (with remote) – SHOP IT HERE
Brass Colored Pine Trees (set of 3) – SHOP IT HERE
RELATED: We recently renovated the 80s brick fireplace and transformed it into this limestone beauty, see how we made it happen in the before and after post.
5 Easy Christmas Mantel Decorating Ideas
1. Stick to a Color Palette
Decorating your mantel is like designing a room – you want to stick to a color palette. My Christmas tree is decorated in a heavy green and red theme because the ornaments are every color of the rainbow. They are primarily from my childhood or ornaments gifted to my children. To balance the color palette, I use only white lights and red ribbon, which works with the green tree. It's very sentimental – you can take a closer look at it here for the holiday home tour or my post on holiday decorating ideas for your home.
2. Real vs. Faux Garland
If you're new here, let it be known that I'm a sucker for faux plants that look real. Don't believe me, check out my post on faux olive trees and faux fiddle fig leaf trees. Now, when it comes to garland hung on a mantel, I love the look of real garland over faux, but that being said, if you will be decorating your mantel shortly after Thanksgiving, your real garland used indoors will dry out within 2-3 weeks even when it's properly cared for.
3. Add Texture
Your garland is up, but that doesn't mean you're finished. You'll want to zhush it with some extra texture. I like to sprinkle in faux stems into the garland, add ornaments or candles (I like the battery-operated kind), ribbon, and maybe some brass bells. If you wanna get extra fancy, weave the ribbon into the garland for a beautiful layered effect.
4. Weighted Hooks For Your Stockings vs. Command Strips
I loved using Command Hooks on our old mantel, but they don't adhere well to rough surfaces like stone, so this year, I'll need to use weighted hooks (loving this hook shown below) for our stockings. But I'll be the person touching the stockings because if anyone is going to drop a weight, chipping the custom designed stone fireplace, it best be me. BTDubs, if you're using Command Hooks, be sure to install them properly. If you adhere the strips in the wrong direction, you could damage the surface when removing them.
RELATED: Get my genius hacks on how to hang art easily!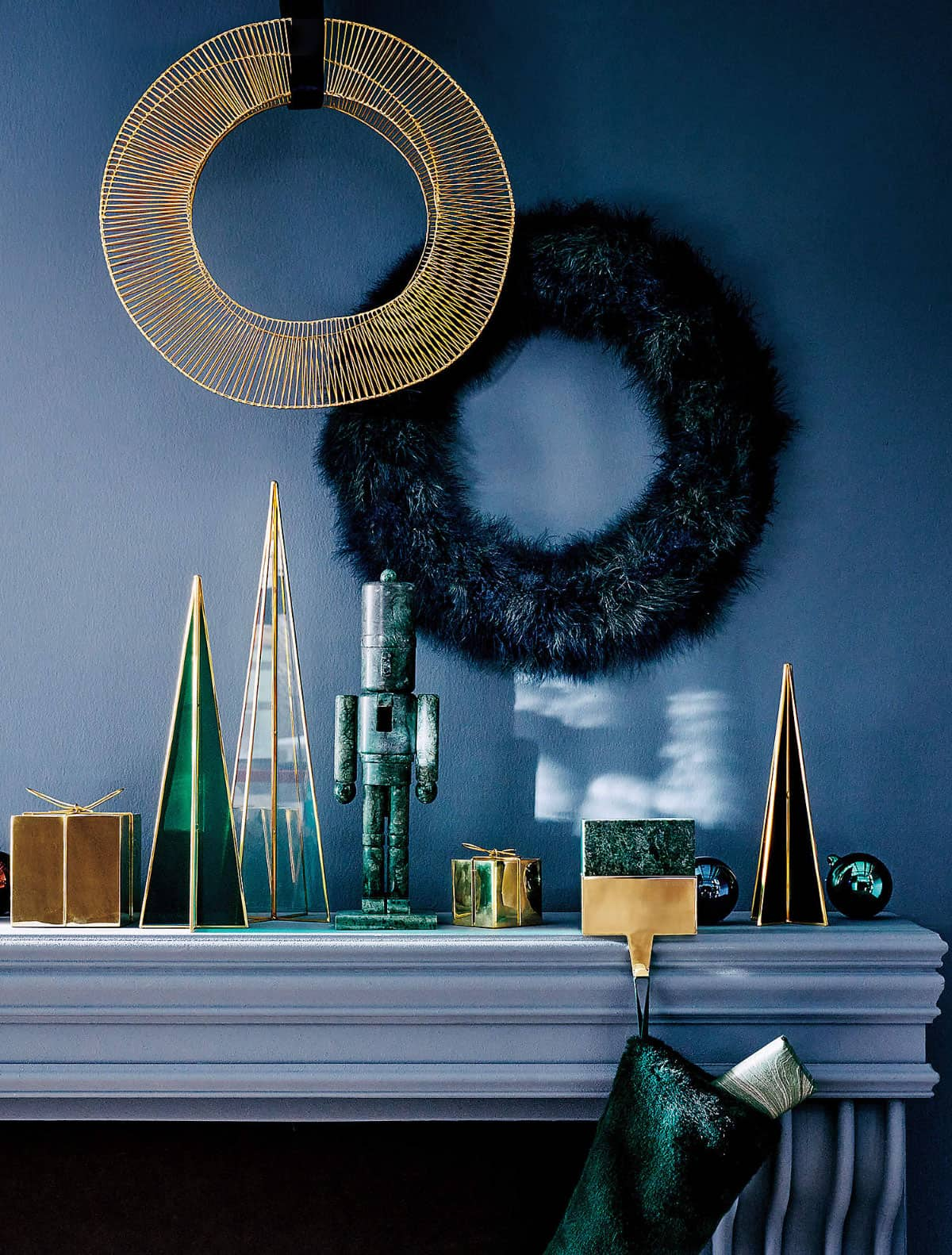 Stocking Hook | Brass Presents | Green and Clear Trees | Green Marble Nutcracker | Green Fur Stocking
5. Safety Always Comes Before Decor
I know this sounds like a silly tip, but believe me, it's not. It's the most important. Consider whether your mantel has a working fireplace, and if so, when it's lit, is there any possibility for the decor to catch fire? This is especially true with real garlands. It dries out quickly and will ignite – no one needs the fire department at their home. If your fireplace is never lit, consider adding candles inside (mix up the heights to keep the eye moving) (battery operated is a-okay). If it needs a little extra, add more garland and ribbon to the hearth. If you want real candles, look at these affordable gold metal lanterns and add tea lights.
Best Faux Garland For Your Christmas Mantel
I've become somewhat of a connoisseur when it comes to buying faux plants. A few of my favorite online sources are Grandin Road, Target, Amazon, Nearly Natural, Wayfair, and Frontgate.

Side note, if you are looking for an easy way to hang your holiday garland over a door, check out this EZ Garland Hanger. It will save your wood and trim from nail holes.
RELATED: Want to see how I decorate for the holidays? Check out this Holiday Home Tour.
Stockings To Add Holiday Cheer To Your Mantel
Everyone asks where my stockings (see them here) are from, but no one likes the answer. My mom crocheted them for us, and you cannot buy them anywhere, but I know where you can purchase beautiful stockings. Here's a quick round-up of my favorite stockings for your Christmas mantel decor.

Also, check out my stocking stuffer gift guide filled with unique and inexpensive ideas.
RELATED: Get inspired by these holiday decorating ideas and try them yourself.
More Warm And Cozy Holiday Design Inspiration From My Bloggery Friends
If you're looking for more holiday design inspiration, check out my friend Haneen's holiday mantel decor at Haneen's Haven. That girl outdid herself last year, and I'm not sure how she will top it this year. Also, my friend Erin over at Sunny Side Up has a great holiday planner available for download to help keep you on track. If you're looking for front porch holiday ideas, click that link for inspo over at Bigger Than The Three Of Us.



Discover More Eclectic Home Decor Ideas
See the plans for the new custom stone fireplace that will cover the dated 80s brick in the living room.
Check out these design tips for decorating on a budget for home inspiration that won't break the bank.  
Wanna peek inside my home for the holidays? Check out this Christmas tree decor blog hop!
Get your home ready for Christmas with these holiday entertaining tips that will help make life easier this December.
80s modern decor in a contemporary home. Check out this Kelly Wearstler-inspired home tour. 
I've rounded up the best bed sheets for hot sleepers, linen lovers, and anyone on a budget. Check out the post and start sleeping better.
The Anthropologie mirror is still trending hard, but the price tag is still hefty. Check out these dupes that won't break and get the look for less.