Christmas Tree Decor – Blog Hop
Last Updated on November 2, 2022
Over the last couple of years, I've participated in my friend Stephanie of Casa Watkins Living's holiday home tour, and I am thrilled to be invited again. All this week, starting today, 30 different home decor bloggers (I've linked the first 6 below – 6 new bloggers will be linked every day this week) will be opening the doors to their beautiful homes and sharing their Christmas tree decorating ideas. So grab a cup of coffee, a cozy blanket, and get ready for some of the best Christmas tree decor all week long. If you're looking for more decorating ideas, check out my post on best Christmas mantel decor.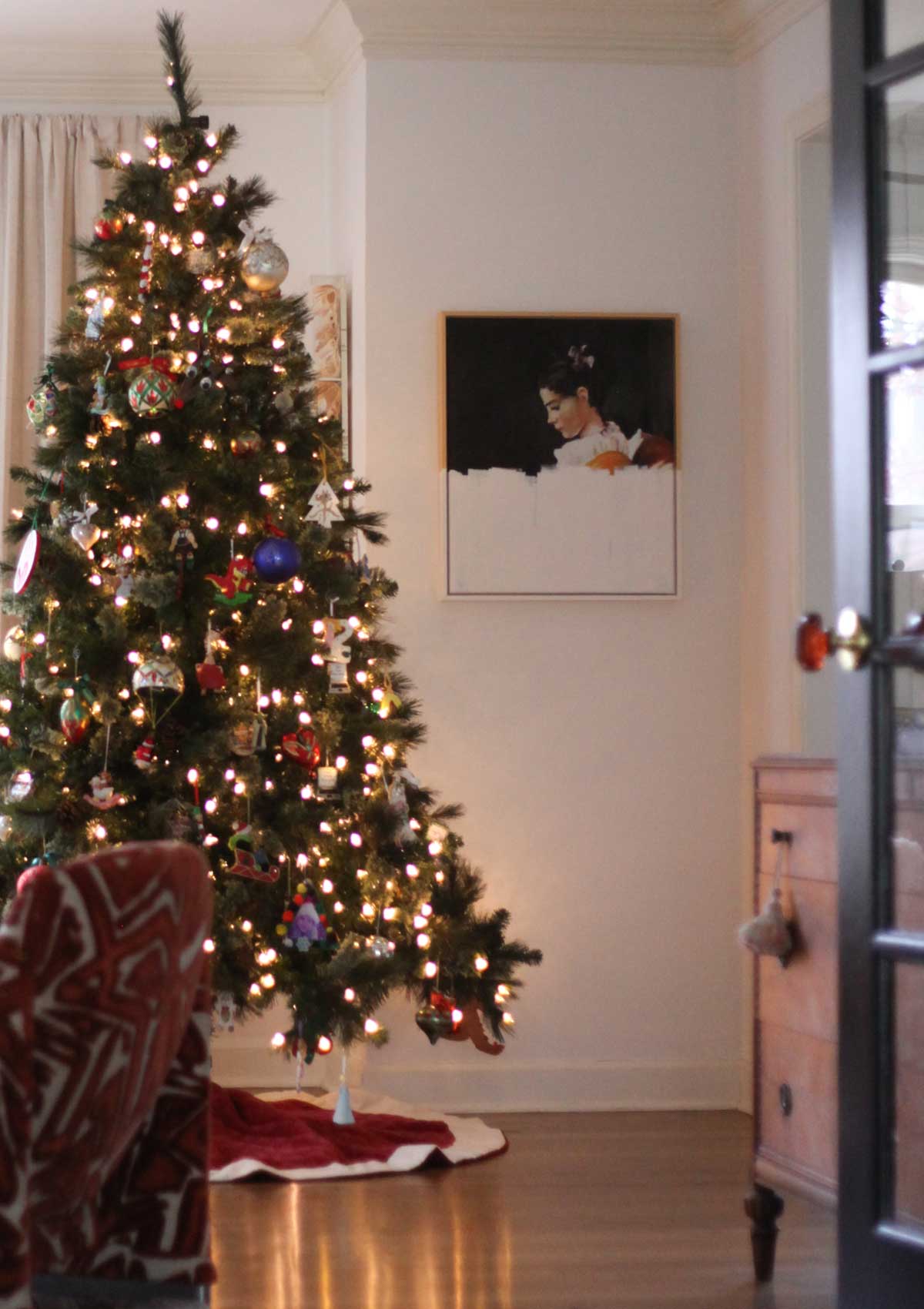 If you have some extra time, feel free to time travel back to my 2020 holiday home tour and 2019's holiday home tour.
Because I'm presently in the middle of the fireplace makeover, the main floor is in a state of disarray. After the built-ins were ripped out, I last minute decided to jump into the One Room Challenge and give the living room a makeover. Cuz, you know, why not, right? So if you notice a lack of Christmas decor right now, that's why. The stockings have not been hung by the mantle with care, but Chuck's crew is on their way (not in a sleigh) to finish the custom fireplace install, grout, and retouch the paint. Gotta love home improvement projects during the busiest time of the year, but once it's complete, it'll be worth all the dust and chaos.
How I Decorate My Christmas Tree
Each time I share my Christmas tree decor in a holiday home tour like this, I realize my tree is the same, year after year. And even though I've considered switching things up to give it a bit more pizzazz, there's no way I could go through with it. Yes, those fancy trees might look drop-dead gorgeous with their beautiful color palettes, but almost every ornament on my Christmas tree has some sort of memory attached to it. For me, that's what the holidays are about. Reflecting back on the years and making new memories with loved ones.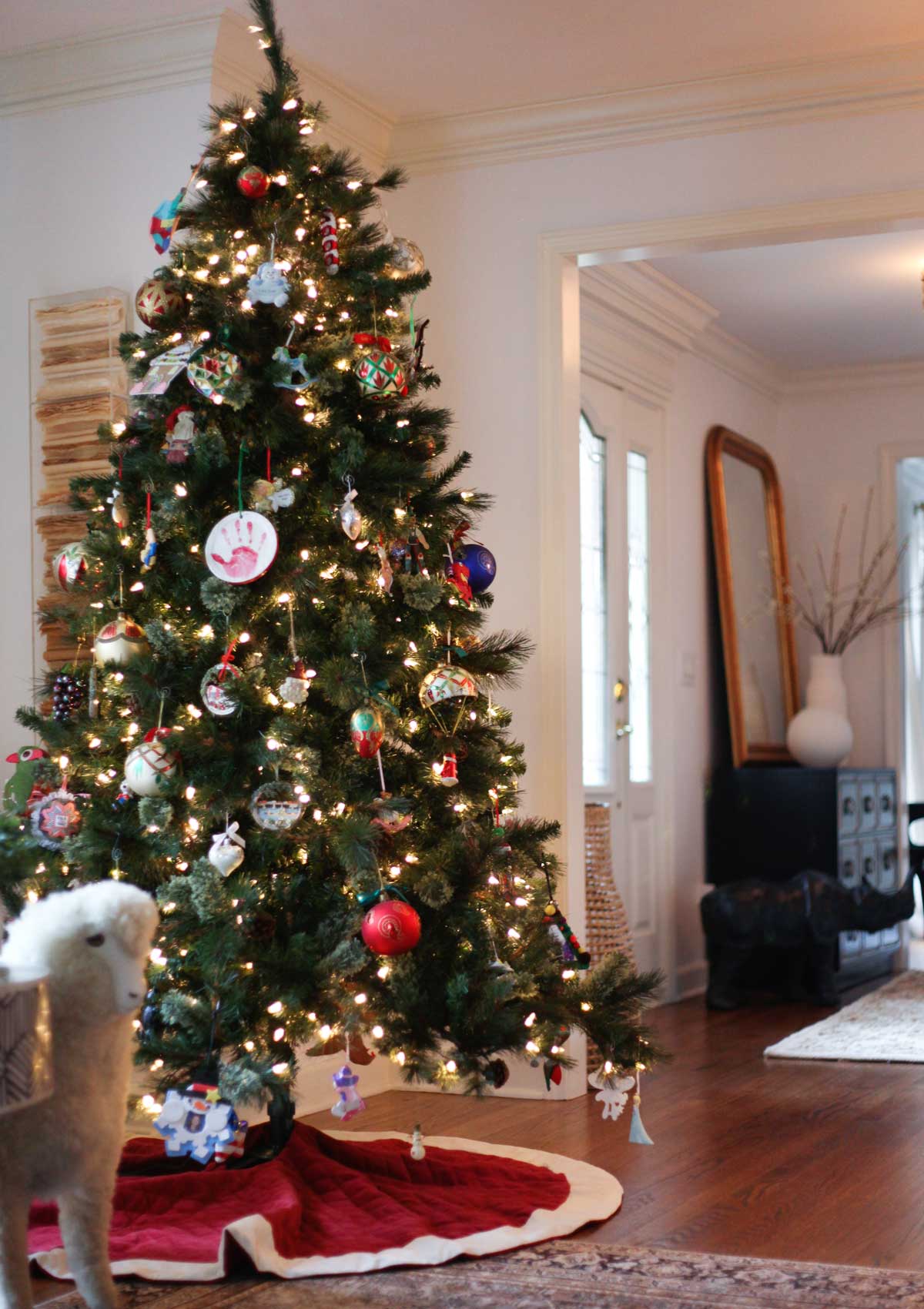 Forgive the bunched-up tree skirt.
My parents, sister, friends, and other family members have given ornaments to me as a gift. Some I made as a kid, and the rest are ornaments that were gifted to my kiddos for their first birthday or St. Nicholas left them in their boot, and of course, there are very special handmade ornaments. Pine cones covered in glitter and popsicle stick crafts. I even have the handprint ornament that I made at Aunt Pat's nursery school when I was four. It's a very sentimental, traditional Christmas tree filled with special memories.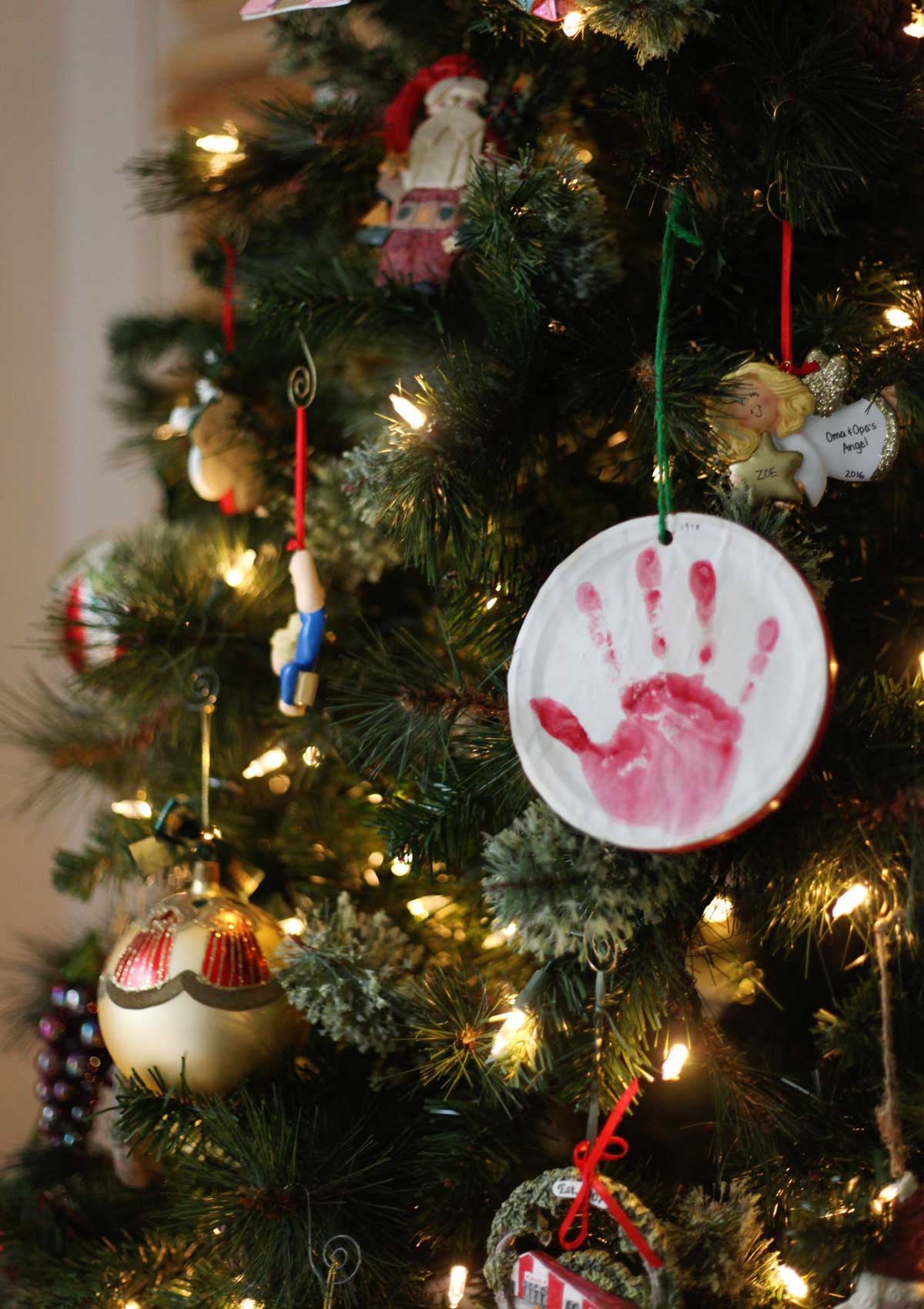 Every year, Cooper and Zozo help me decorate, and we chat about each ornament and memory as we hang them together. Last year St. Nick brought both kids a computer ornament that reads, "Distance Learning 2020" and their grade. Zoe hung hers by Cooper's. They became so close during quarantine. Both will fight over the pickle ornament – it's hidden somewhere on the tree and on Christmas Day, whoever finds the pickle receives the honor of opening the first present. They also like to compare my 4-year-old hand to theirs, and Zozo loves to hang the wedding cake and bride and groom ornaments The Boy and I received as a wedding gift from my mom's BFF Barbie.

Barbie had a shop in my hometown called Christmas and Candles, and every time I returned home, my mom and I would stop in to say hello, and I'd of course, pick out an ornament or two. Hence the many Waterford and Christopher Radko ornaments.
I debated including a story about this handmade styrofoam tree, but since this has turned into a more personal post versus Christmas decorating ideas, I've chosen to share. This glitter-glued tree was another ornament I made at Aunt Pat's nursery school (BTDubs, she's not really my aunt. She was the aunt of a classmate who always called her Aunt Pat – to this day, when I'm back home and run into her, I still call her Aunt Pat. Which is very confusing to my children.)
But back to the styrofoam tree, I lost it. The Boy and I searched through every box and unwrapped every piece of tissue paper holding every ornament. Nothing. We had reorganized the storage boxes the year before, and we must have accidentally thrown it away. Every year when it was time to pull out the Christmas tree decor, I'd fruitlessly search for it, but it was nowhere to be found. I did this for about 4-5 years. One year I was just about to give up hope and finally break down and cry over losing this silly piece of styrofoam until I heard a voice. A whisper but clear as day, and I kid you not, I swear it was my dead sister's voice. She said, "look in the box."

I stopped and looked around to see if The Boy heard it as well, but he was busy putting the bow on the tree. That's when I heard it again, "look in the box." Now, there were a ton of ornament boxes strewn everywhere, the floor, sofa, and coffee table, but I laser-focused in on one in particular. A gold box that was filled with ornaments was given to me by my sister. It had been completely emptied except for one piece of packing paper that had been folded flat at the bottom. I'm losing my marbles, right? One more time, he whisper, "look in the box". Screw it, I pulled out the flat piece of folded paper, and I'll be damned, there was my styrofoam tree. Every year, when that ornament is pulled out, the kids know that is mine to hang.

Sorry, that got a little heavy there. Sometimes when I sit down to write a post, I veer off track. It's the ADHD. Let's shake it off and check out the last few pics of the home tour, shall we? The rest of the room that the Christmas tree lives in looks pretty much the same as always. I did just get this artwork from the Kelly Hopter Art Shop. This piece is called Autumn Hills and for unique wall art that is framed and this size is incredibly affordable. If you're on the hunt, check this secret squirrel spot out for sure.

I'm not sure if I've shared the dining room changes with you here on the blog (sometimes I forget and only share on TikTok or Instagram), but there have been quite a few. The green Pierre Cardin brass chairs were sent to storage and were replaced with these Barbara Barry for McGuire double caned rattan armchairs. I had zero plans to swap the greenies out, but when you find 7 of these as an estate sale, and they're still there after 3 days, and they're pieced at $250 for all, you buy them. #HOHNoRegrets

I had been on the lookout for a sideboard because I felt like the wooden hutch I had thrifted was too heavy where it was. I found this linen-wrapped credenza at the CB2 Outlet and knew it was perfect. It's not very Christmas-y in here yet, so Imma glide over this space and jump into the living room.

Behold the new fireplace. It's a work in progress, and I'm over the moon with how it's transformed the space. After the living room was painted in Farrow & Ball's DeNimes blue-gray paint, I questioned my design ability. My room had prison walls, and I hated it. Rather than cutting my losses and repainting immediately, I decided to sit with it. Trust the process. Slowly I began to add warmer pieces, and finally, when this rug (it's so soft and budget-friendly) was rolled out, it transformed into a cozy space. I can't show you everything in this space because the One Room Challenge final reveal will be posted as soon as the fireplace is finished. So stay tuned, but in the meantime, as promised, here is the complete list of bloggers and interior designers sharing their Christmas tree decor this week. Be sure to check back every week to see them all!


Christmas Tree Decor Blog Hop Home Tours
Monday's Home Tours
Tuesday's Home Tours
Wednesday's Home Tours
Thursday's Home Tours
Friday's Home Tours

Discover More Holiday Inspiration
Clever Holiday Craft With Ugly Sweaters
Holiday Home Tour – Christmas 2016
Champagne Smash Cocktail Recipe