Best Holiday Gift Guide
Last Updated on November 28, 2023
Rather than posting individual holiday gift guides for her or him, this year, I decided to create the ultimate holiday gift guide for 2021. Basically, all the best gift ideas you need are in one spot. I've got ya covered if you're the Secret Santa for the impossible man, the woman who has everything, or the quirky, eccentric person. If you're still looking for gift-giving ideas, check out last year's holiday gift guides: Ideas For Him, Gift Ideas For Her, Self Care Gift Ideas, and Gifts For The Bougie AF
RELATED: Don't miss my Favorite Things Gift Ideas for some unique gifting ideas under $25.
Gift Guide – Best Gift Ideas For Her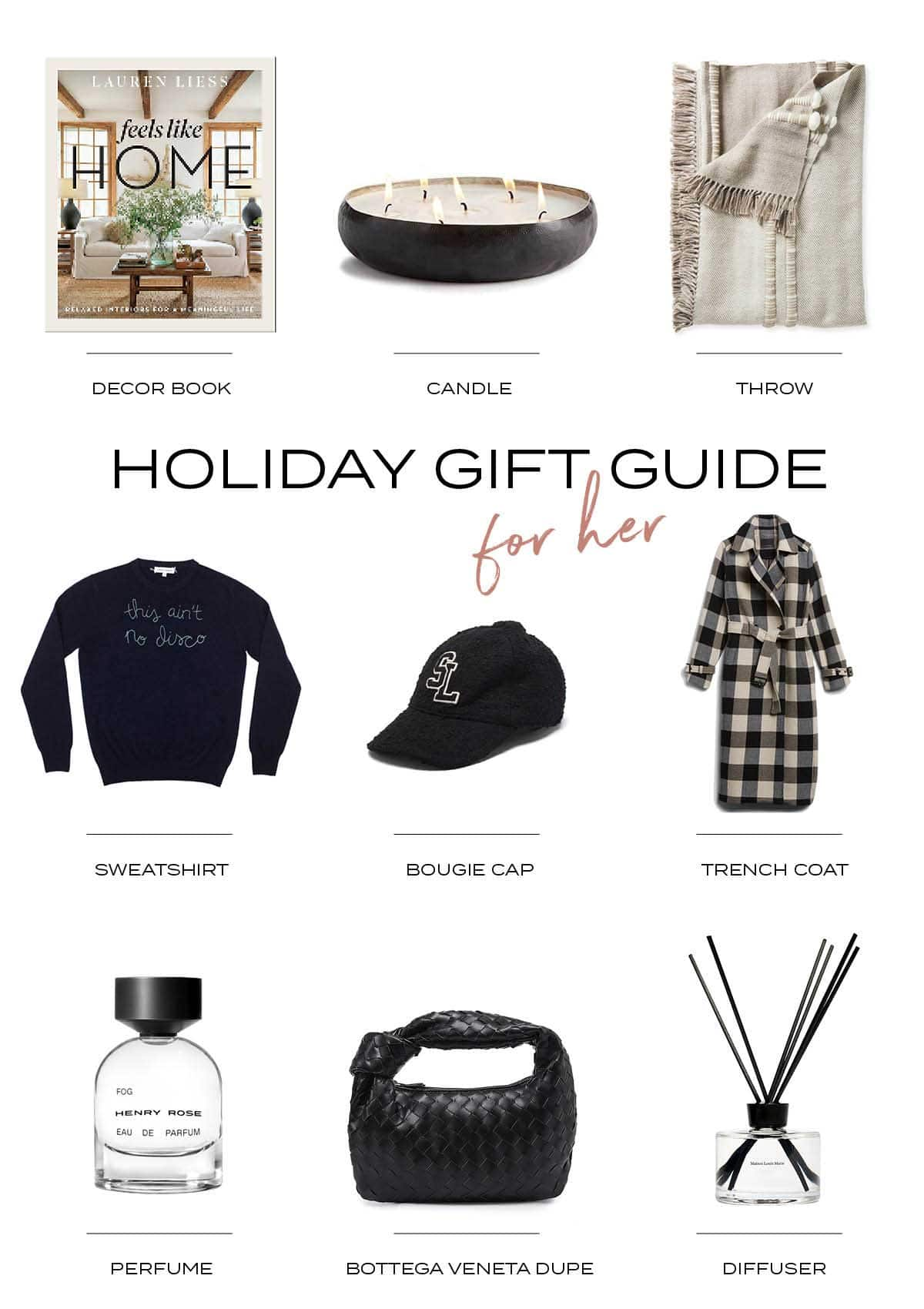 RELATED: Check out all the unique gift guides on the blog!
Feels Like Home by Lauren Liess – this beautiful home decor book is an easy gift idea for her. This book was recently released and is the perfect holiday gift for the impossible woman that loves home decor and interiors.
6-Wick Candle – this candle is the perfect addition to any coffee table. I love the hammered, rustic look and it's an 18-hour burn to boot.
Luxe Alpaca Throw – this luxury throw might be the prettiest blanket I own. Although it is on the pricier side, it's perfect if you have that impossible to buy for the woman in your life.
Comfy Cashmere Sweater – if you're looking for an unusual gift for her, check out the "this ain't no disco" cashmere sweatshirt. There's also an option to customize the embroidery with her favorite saying. This comfy sweatshirt is the best gift idea for the impossible woman, but be sure to leave yourself about 2 weeks for this custom-designed option.
Wool Bouclé Tweed Baseball Cap – before I get into more affordable holiday gift ideas, I'm gonna drop in this luxury baseball cap. It's an easy Christmas gift your girlfriend will love on bad hair days.
Checkered Trench Coat – this coat just dropped and is legit almost sold out. I pre-ordered mine and it just arrived. The only thing I don't love is that for the price it really should be lined, but besides that, it's pure perfection and a favorite of mine.
Unique Perfume – this perfume is my go-to scent and the perfect holiday gift idea if she has allergies to fragrances. It's a mix of citrus and amber that evokes an earthy, enchanting, beautiful scent. If you're unsure about which perfume to buy, try the sample set to try the full collection.
Affordable Black Bag – all the fashion bloggers are going gaga over this affordable purse. The woven detail gives it a Bottega Veneta look. This is a great gift idea for her under $50.
Diffuser – the Bois de Balicourt diffuser is a beautiful scent for any room.
RELATED: A carefully curated gift guide full of unique gifts for her! You don't want to miss it.
Best Gift Ideas For Him Gift Guide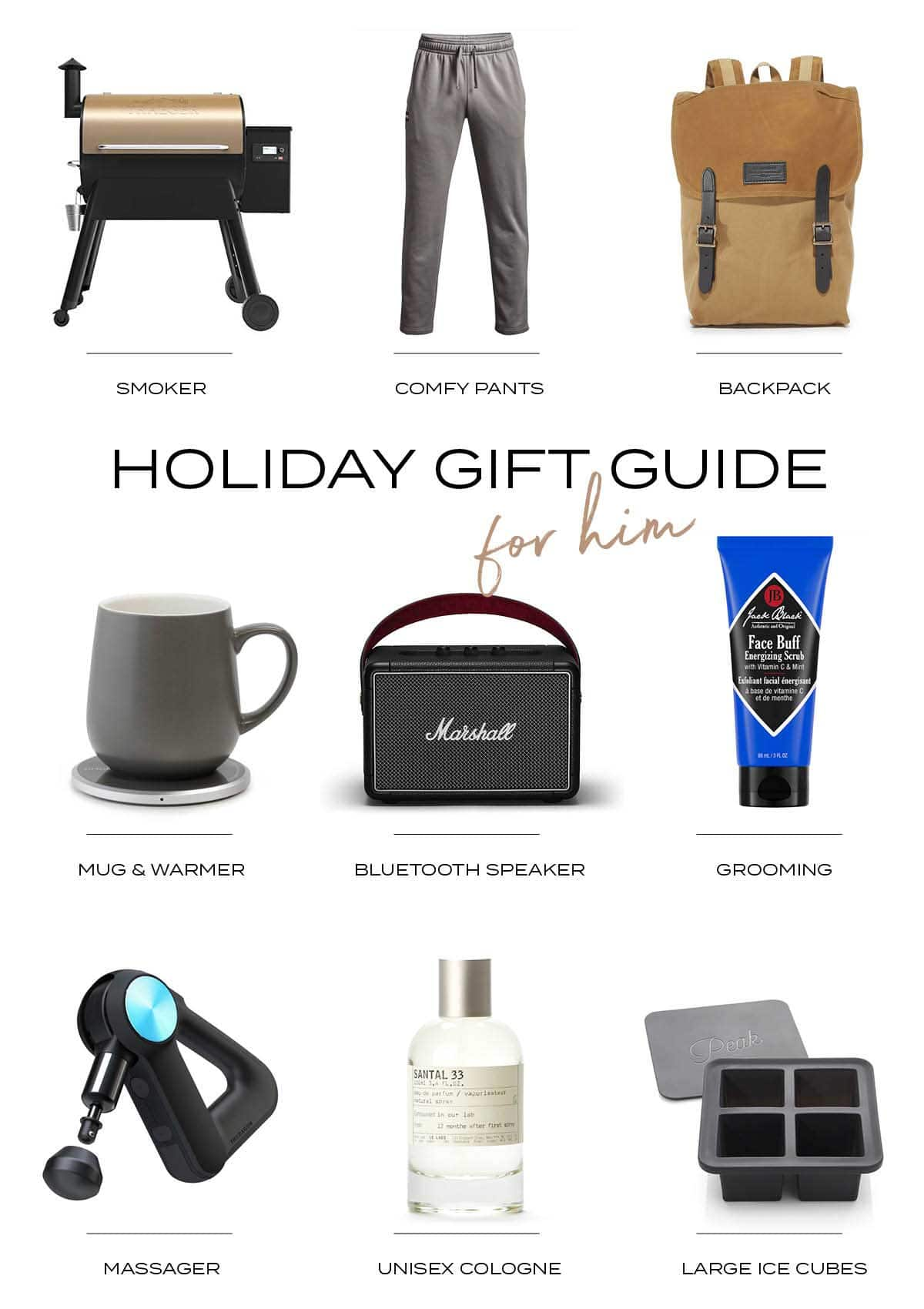 Traeger Smoker – this is the ultimate gift idea for him if you're willing to throw down a grand on your boy. The wood-pellets will give him the perfect wood-fire taste and keep him entertained in the backyard all summer long. The Boy gives his stamp of approval on this smoker for all the meats.
Comfy Sweatpants – these fleece pants are The Boy's go-to comfy pants. He lives in them every evening.
Filson Backpack – the name brand says it all although The Boy is irritated that it's trending. He's a hunter and Filson is top-of-the-line quality when it comes to his killin' britches. Another favorite in waterfowl hunting gear is his Sitka waders.
Mug and Warmer Set – this is a great Christmas gift idea for your boyfriend or husband if he sits in meetings all day. His coffee will stay warm for the duration of his conference call.
Bluetooth Speaker – is your impossible man into music? Grab this Marshall Bluetooth speaker. It has that vintage rocker look and sounds great indoors and outdoors.
Grooming – you know those samples beauty stores throw in your bag? Well, I got this face buff and popped it in the shower for The Boy. He's obsessed! If your boy doesn't own Jack Black, this gift set is an affordable gift for him under $50.
Massager – this percussive therapy massager is a great gift idea for him that is also for you…just don't tell him that. It's perfect for reducing muscle pain and fades the stress of the holidays away.
Cologne – this unisex scent is another gift that keeps on giving. It's not only a lovely fragrance for him but also for her. I grant you permission to sneak a spritz or two.
Square Ice Cubes – These extra-large square ice cubes Make for a great holiday gift for the man who loves whiskey (and women too). Perfectly pair this ice cube mold with a bottle of Basil Hayden 10 year bourbon.
RELATED: Check out my past gift guide for him for even more great ideas.
Affordable Gifts Under $50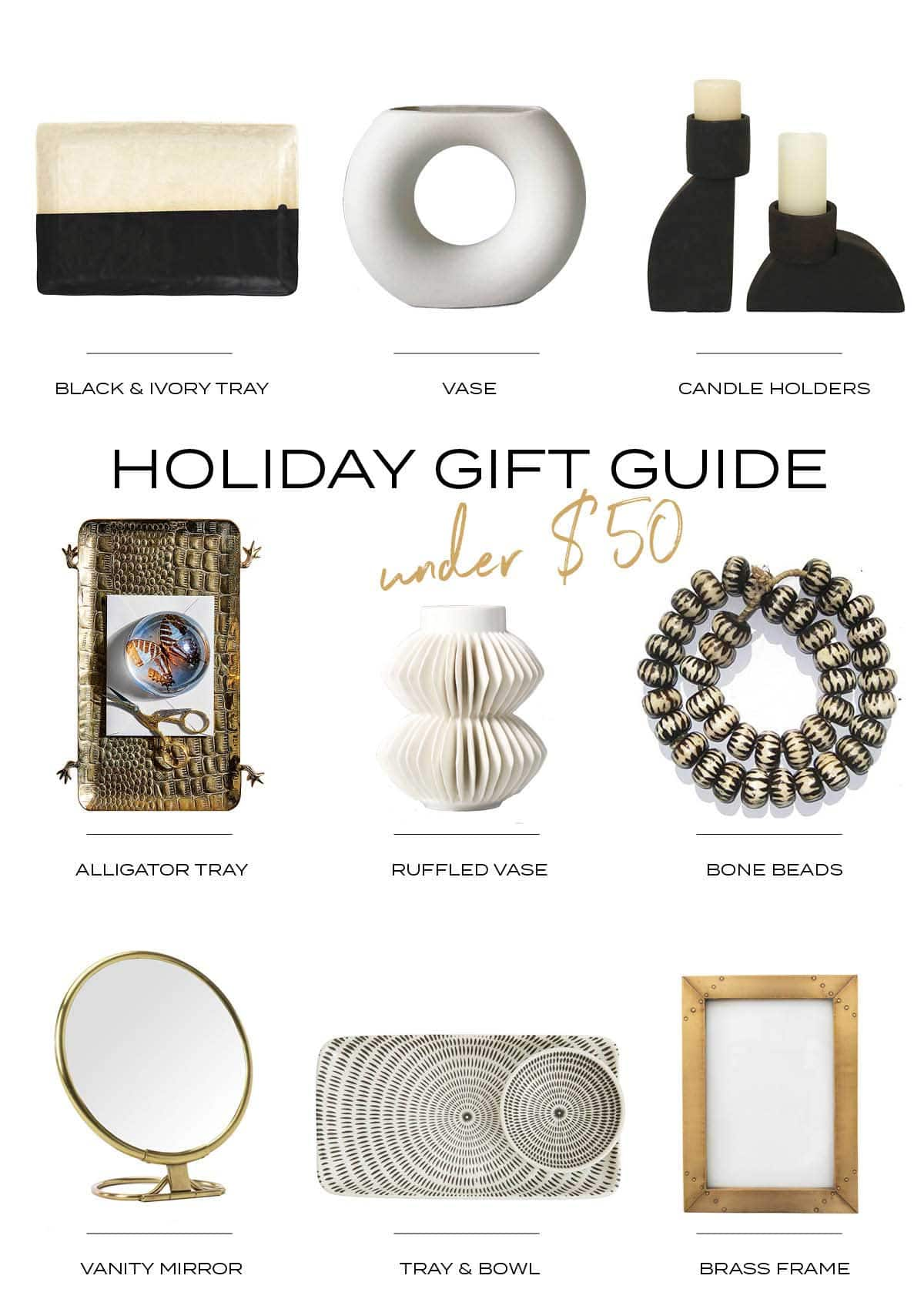 Black & Ivory Tray – pretty and affordable, what more can I say?
Ceramic Modern Vase – this gorgeous vase comes in at under $25 and is perfect for the home decor lover.
Black Candle Holders – I squealed when I found out these black beauties were under $30 for the pair!
Brass Alligator Tray – even though this cute footed tray is on backorder, I'm still including it because it's cute AF.
Ruffled Vase – I have a couple of these small vases and love them! They're hard-working, sculptural, and under $20 to boot!
Bone Beads – I usually see these at a higher price point in home decor stores but found this set for under $50. A beautiful detail to add on top of books or a small bowl or tray. Decorative glass beads are also available.
Brass Vanity Mirror – simple and perfect for the bathroom.
Graphic Bowl and Tray – this cute little black and white graphic bowl and tray are presently back-ordered, but they are expected to arrive in December. Pre-order now before it sells out.
Brass Frame – perfect holiday gift idea for anyone. Just add your favorite photo and wrap!
Whoops, just found this adorable brass and glass display box.
Perfect Modern Home Decor Gift Ideas
GO HERE FOR THE MOST UP TO DATE
Holiday Gift Guide For Home Decor Lovers

Living With Pattern – this happens to be one of my favorite home decor books, but if your home decor lover already owns this one, check out my complete guide to the best interior design books.
Decorative Basket – perfect gift to hold a basket of wrapped gifts or give with a favorite throw. This one is under $50!
Affordable Tassel Throw – if you're looking for a throw to pop into the basket above, look no further! How cute are those tassels?
Arched Stool – this little stool is fun, modern, and comes in multiple colors – it's actually made for children, but I'd use it in a mudroom, kitchen, or living room!
Wrought Iron Candlesticks – I own 2 sets of these wrought iron candlesticks. Another perfect holiday gift idea for the decor lover in your life.
Amber Bowls – you may have seen these amber bowls moving around from room to room on my Instagram. They're stunning when paired with a flameless candle.
Cane Boxes – these adorable boxes are presently on sale for over 50% off. Plus, they come as a set of two. I've lusted over these beauties for years, and I think I'm going to gift them to myself! Be sure to check out my roundup of decorative boxes for more ideas.
Marble Bowl – chic and luxe marble bowl. Perfect for yourself or gift-giving.
Fancy Bougie Liquid Soap – not sure why gift-giving and hand soap go together, but these French countryside-inspired soaps come in gorgeous packaging and smell amazing.
Again, whoopsies, just found this rattan and glass case.
Gift Guide For Wellness and Mindfulness

NuFace Mini Facial for Anti-Aging – if you're loved one is a botox junkie, this mini facial is the perfect holiday gift idea! Tiny electric currents will give their face a firming workout. I use mine daily and love it!
Wearable Weights – these wearable weights have been included in almost every one of my holiday gift guides. I wear mine for an extra boost during yoga, barre, pilates, and even a walk around the block.
Aromatherapy Diffuser – the perfect gift idea for those who love essential oils. Don't forget to click on the 20% off coupon box!
FitBit Luxe – not only a fitness tracker for steps and exercise but also a wellness tracker that will help stress management and your sleep!
Faux Fur Slippers – you can't go wrong with this holiday gift idea for her! Plus, these are under $25.
Calm The Chaos Cards – these mindfulness cards are a fun way to begin the day—such a unique holiday gift idea. Shuffle, pull a card, and read.
Water Bottle – this chic water bottle comes in a multitude of colors, is sustainable, and is an extra 5% off if you check the coupon box – making it come in at under $15.
5 lbs Golden Weights – perfect way to jazz up the home gym! Just know that the case they arrive in usually is cracked – I threw mine away since it's only meant to be packaging.
Calm Bath Salts – read a mindfulness card and relax in a soothing bath (under $20).
RELATED: Discover more self-care gift ideas here.
Holiday Gift Guide – Small Appliances & Electronics

Wine and Beverage Chiller – looking to throw down for a wine lover? This dual-zone wine and beverage refrigerator is the perfect gift idea. If that price point is outside your budget, this one is presently on sale for less than half the price.
Best Robotic Vaccum – after testing quite a few robotic vacuums, I can officially say this is hands down my favorite. It self-cleans, has a user-friendly app, comes with a larger bin than the others, and has a mopping feature. It's also the most affordable option – be sure to click the $150 off coupon if it's available.
Nugget Ice Machine – I'll be the first to admit that this nugget ice machine is the silliest thing I've ever spent money on, but I freakin' love it, so it made the list. It has its downfalls…like being crazy loud sometimes, and it doesn't fit under my cabinets and doesn't come with a filter, but it makes the best damn ice on the planet. You've been warned about its quirks.
Pizza Oven – our neighbor got us hooked on this pizza oven, and since it arrived, we use it every week. Best pizza ever (and I live in Chicago, so that's sayin' something). It burns on wood pellets, and you use it outside but store it inside after it cools. Prime members get $79 off.
TV That Looks Like Art – I've raved about The Frame TV for years, and it continues to be my favorite TV. When it's not in use, it transforms into wall art. If you're looking for the best gift idea for the home decor lover and have a larger budget, this television is for you. Oh, and they're all on sale right now!
Sound Bar – I got this soundbar a few years ago, and I'm still obsessed with it today. It enhances the sound of your television without having all the home theater gadgets and gizmos (and has a sleek design). Plus it doubles as a Bluetooth speaker, which is great for entertaining.
Bonfire Fire Pit – perfect gift idea for anyone who likes standing by a campfire but hates the smoke. This is also a portable fire pit, so you can move it from the backyard to the driveway for outdoor gatherings.
Cordless Vacuum – when you receive this, and it's your favorite gift for Christmas, you know you're adulting hard. This vacuum is lightweight and has a detachable hand vac feature for small messes. I own this and use it daily. Obsessed.
Vitamix Blender – when I told The Boy I wanted this bougie blender, he thought I was joking when I told him the price. Dude, not joking, and it's worth every penny. Prime members save $175.
RELATED: Are you shopping for someone bougie AF? Check out the Luxury Gift Guide if you're looking to spend some dough on a really special someone.
Hostess Gift-Giving Ideas

Architectural Digest at 100 – a century of style and decor, the perfect hostess gift idea, and a great coffee table book.
Faux Shagreen Boxes – I fully support you buying this set of 3 boxes and only gifting 1 or 2. Keep at least 1 for yourself.
Affordable Throw – I love the simple graphic look. Perfect for curing up!
Black & White Stone Cutting Board – just add a wedge of cheese, a box of fancy crackers, and a nice bottle of wine. Boom, I present to you the perfect hostess gift idea.
Marble Chain Decor – chains have been trending, and this might be my new favorite. Loving the brass detail.
Royal Apothic Perfume – they've returned and have promised me candles will be dropping soon. My year has been made! When they closed I could no longer find my favorite scent – Hothouse Peony, I was crushed.
Candle and Diffuser Gift Box – the best thing about Christmas is that everything comes in a gift set. Makes gift giving so easy.
Gold Measuring Cups and Spoons Set – pair these with a bread mix or cake mix. Instant gift!
Hand Soap – again with my fancy labels and Frenchy hand soaps. Sorry, but I cannot get enough, and this soap is perfectly bougie for gift-giving!
RELATED: I've got all your gift-buying needs covered with the Ultimate Holiday Gift Guide for him, her, and everyone in between.



Discover More On House Of Hipsters Interior Design Blog
If that special someone is hard to buy for, check out these unique Valentine's Day gift ideas for her.
If you're looking for Favorite Things gift ideas, I've got a full round-up of goodies under $25.
Don't miss the latest holiday round-up and start shopping for the best gift idea for her.
A new fashion line is shaking up Chicago. Check out the latest collection of bags by Neon Fringey.
If skinny jeans are out, what jeans are trending? Here is the latest in denim.
Here are some carefully curated summer to fall outfits that are definitely for the trendy mom style without breaking the bank.
Lord knows I love a good deal. Here's a round-up of Modern Home Decor Under $100.