Neon Fringey – New Fashion Designer
Last Updated on July 26, 2023
When your friend launches an incredible bag collection, you've got to scream it from the rooftops! Allow me to introduce Neon Fringey the new fashion line based in Chicago, IL, and its debut SS22 collection designed and made by Carrie Meghie.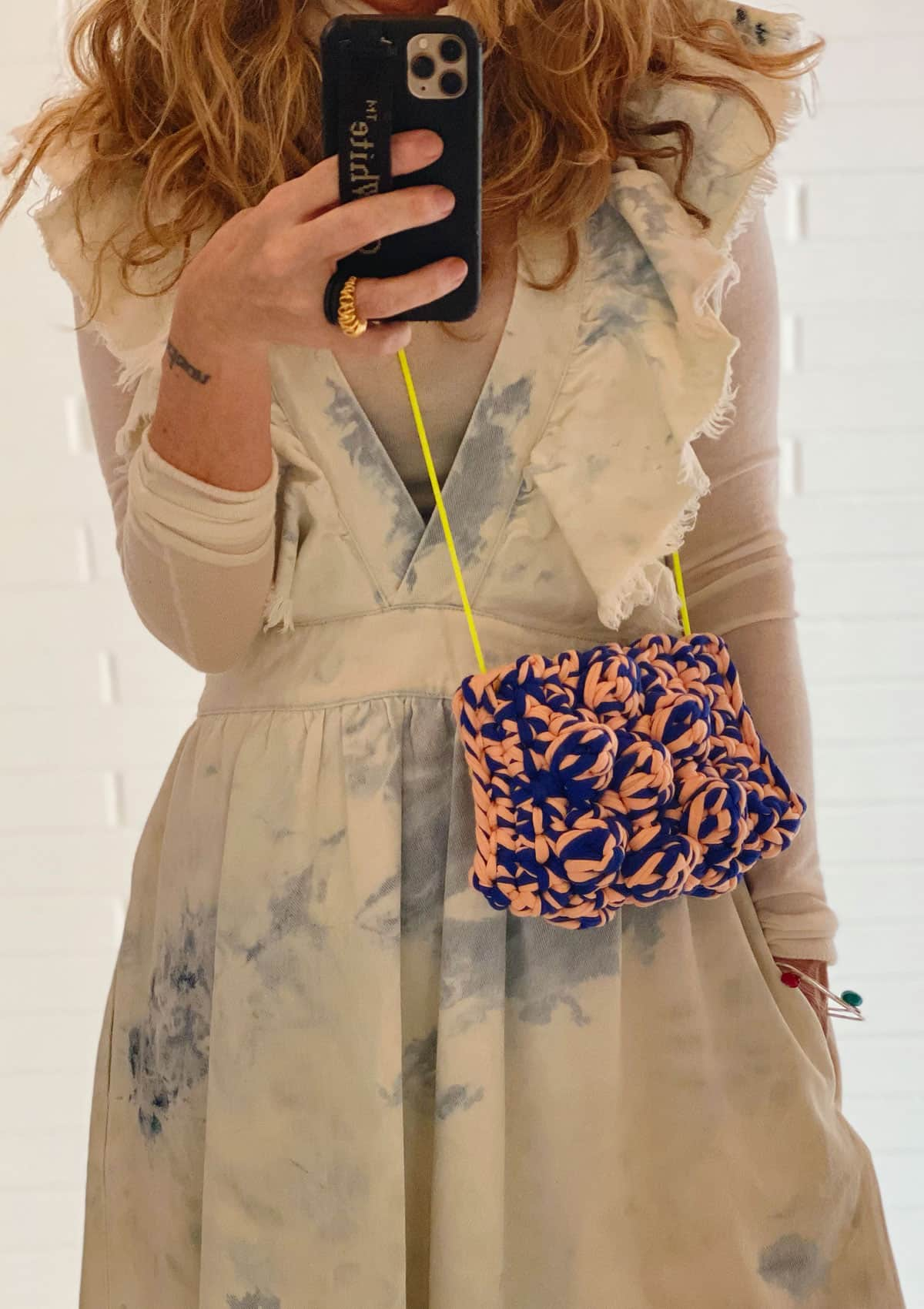 Introducing The New Fashion Line Neon Fringey
Twenty years ago, Carrie was my boss at iExplore.com — a start-up dot com right before the start-up dot-bomb. I was her very first hire ever (and apparently she was as nervous about the interview as I was). She coded the website, and I worked on the imagery and SEO. We've been friends ever since.
If you know Carrie, you already know she's that girl with the best style that is totally unique. It's no surprise that her latest venture is a dive into the fashion world. During quarantine, she tapped into her creative side with the Instagram account Neon Fringey. What began as cataloging vintage finds for the new villas in Jamaica (available to rent) turned into sharing a few fashion photos in front of her favorite mirror.
RELATED: Join me at the Jackson Chance Ping Pong Tournament to help parents of NICU babies pay for parking at Lurie's Children Hospital.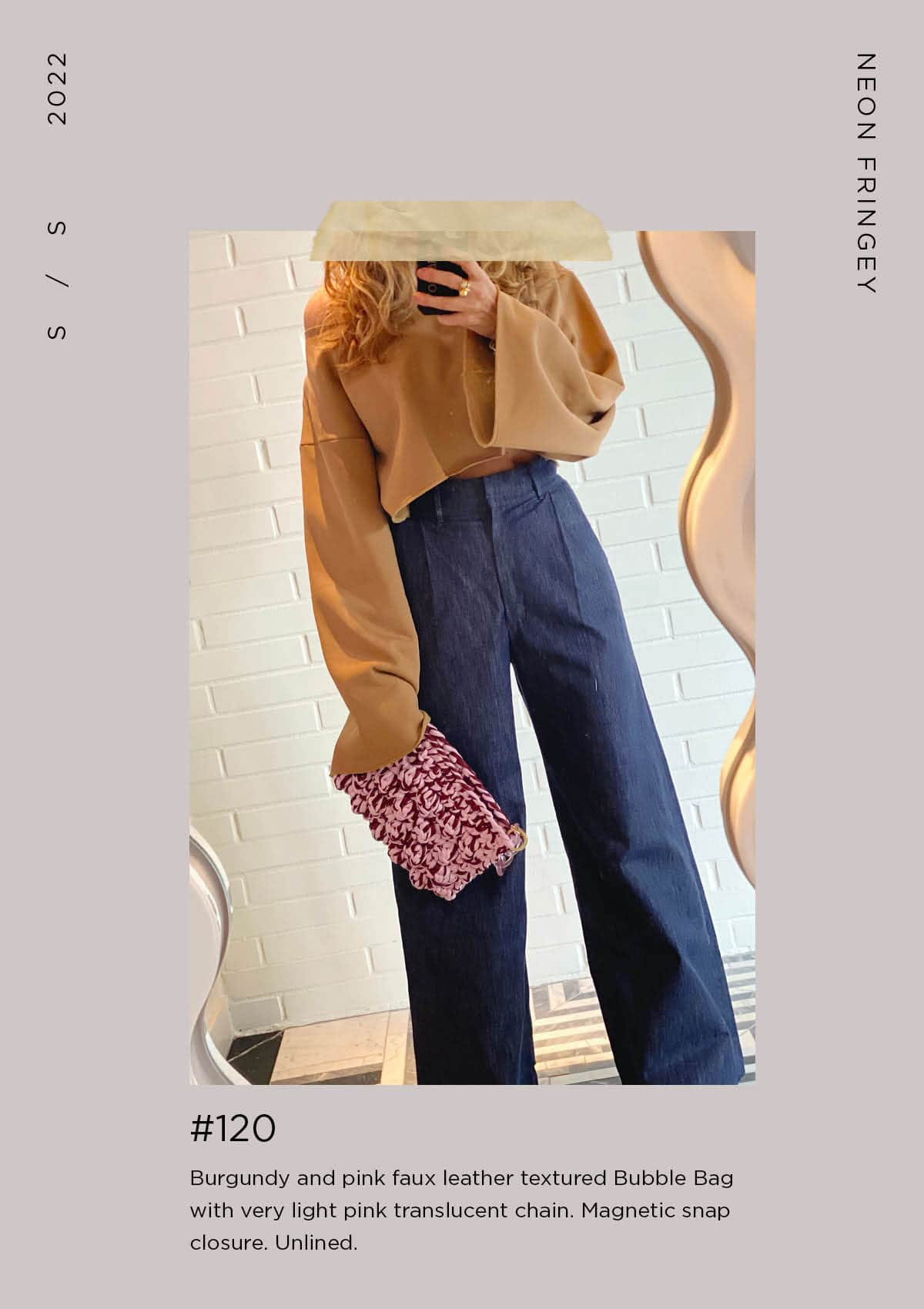 You may recognize Carrie from her 80s modern home tour featured a few years back, right here on HoH. A space she created in collaboration with an interior designer. This living room literally broke the internet.

Getting Personal With Fashion Designer, Carrie Meghie, Of Neon Fringey
Last fall, we hightailed it out to High Point to check out the latest interior design trends, and she told me about an online weaving class she had taken and was dabbling in the idea of creating a new fashion line and designing bags and purses. In true Carrie form, that dream has turned into reality and 6 months later, she launched her first bag collection available for purchase online. Most recently, the new fashion line has been stocked at the Logan Square clothing boutique, Felt. Let's take a closer look!
Hey Carrie! You worked sleepless days and nights to finish this collection. What has it been like since the launch?
Fun! It's so exciting to envision something in your head, create it with your hands, and then someone loves it and purchases it. It is beyond rewarding.

How would you describe the bag designs for the new fashion line?
My bags are inspired by my love of texture and shape. They are designed to evoke emotion and for the sake of fashion. I'm combining materials and techniques that are not typically used together. Each bag is viewed as a sculptural piece of art and ranges from bold to muted, youthful to sophisticated, everyday to statement, and always considers both form and function.

The Inspiration Behind Neon Fringey's New Fashion Line
What inspired the name Neon Fringey?
Neon Fringey was inspired by my love of the 80s/90s and the unexpected. I've kinda been obsessed with neon for the past few decades and typically don't follow the norm.

Do you have a favorite bag design?
That's so hard. Every bag I make, I would carry. Some are even designed with specific outfits in my closet in mind. I really love the Border Clutch as it's like nothing I have seen, and the Squiggly bags are so unique and feel amazing to touch.  

How do you go about choosing the colorways for the bags?
I started with neon (obviously!) and then went from there. I ordered a bunch of different colors, styles, textures, and I play with them until something just feels right. The current collection is for spring and includes lots of color alongside highly textured neutral versions.

Do you have that one favorite purse you'll never part with?
Yes and no! Two of my favorite bags that I almost didn't include in the initial drop sold first (#163 & #190). I was super happy and sad to see them go. I can always make another one, right? Actually, the best part is seeing how people wear and style them. It's way more fun than just keeping them to myself.

Are you planning on a second collection? And when can we expect the next drop of the new fashion line?
Yes! I'm about halfway done with it. I have an idea book that I keep with me with so many designs I can't wait to create and share. It will drop before this Summer.
If we looked in your closet, what would be your favorite outfit?
OMG. This question is impossible to answer. A few favorite pieces are a long black daytime dress by Off-White, neon Chanel high-top sneakers, a lace maxi dress from Jeune Otte, acid-washed Mui Mui high waisted straight leg jeans, a vintage newspaper print Moschino dress from 1stdibs, a puffer vest with a horse on it from Stella McCartney, anything Fiorucci. I could go on and on… 
HOH: Oh, I know that black dress by Off-White…and if I remember correctly, it was a hit at High Point as well! Every 20 feet, someone would stop to compliment you on it. 
What is the sentimental piece in your closet?
I have a rhinestone PARIS pin. My mom surprised me with it a few birthdays ago. It was mine in middle school, and she saved it all these years, and I had no idea. I also have a vintage pair of GUESS jeans that remind me of the very first pair I purchased in 5th grade after working and saving up for months. 

Do you have a favorite designer?
There are so many! My current list of favorite designers is JW Anderson, Jacquemus, Khaite, Maison Margiela/MM6, The Attico, Balenciaga, Vetements, and vintage Moschino.
I'm going to second all these picks but add in some Givenchy. I have been living in my pool slides ever since the weather turned warm.
You have some killer pieces of vintage furniture in your home. Do you have a favorite piece?
My Ettore Sottsass pink mirror is an absolute fav.

The vintage 80's bed I found on 1stdibs was in terrible condition, and I watched for years I just love. I was unsure if I was crazy thinking it had potential since it sat on the website for so long but it turned out amazing.


K: Girl, that is one serious transformation!
1980s white rattan palm tree floor lamp. Soriana sofa by Scarpa for Cassina from the 60's that I shipped in from Italy. Cini Boeri Botolo chairs that I had painted and reupholstered. A 1980's desk I turned into a dining table. Did you say just one? 
K: haha, I did, but I can also see the dilemma of choosing just one!

Best advice you've ever received?
From my dad, it's better to be effective than right. Truth.

So Carrie, you've done some pretty extraordinary things in your life. What can we expect to see next?
The next collection of bags is going to be awesome! We also have 2 seaside properties in Jamaica (Blow Hole Villa and Bessa On The Rocks) that we are working on. I have 3 storage units of some really special and unique vintage finds just waiting to take the trip to the island. I can't wait to complete and share.
K: I've had a sneak peek into those storage units, and I can state for the record, it's going to be fabulous. I can't wait to see what you create next Carrie! Thanks for taking the time to chat, and congrats on the new launch!




Discover More Modern Home Decorating Ideas
Over on Beautiful Distractions, I fell in love with this ceramic modern lamp.
Check out this round-up of some gorgeous and affordable home decor.
I lined my bedroom walls with this luxury black wallpaper by Philip Jeffries, and I'm obsessed with it.
Check out the final reveal of my WFH office and home gym makeover as a featured designer for the One Room Challenge.
Can you do a modern kitchen makeover on a budget? Yes, yes, you can!
Skinny jeans are out. Check out these trending denim styles instead!