We've finally finished the kitchen makeover renovation and ready to share the final reveal! It feels like forever ago since I shared the kitchen mood board, the Cambria quartz I chose for the countertops, backsplash, and island, and demo day of the old kitchen design. Without further adieu, let's jump into the reveal!
Reasons For The Kitchen Renovation
The kitchen design in the new home was an upgrade, but I didn't love it.
The backsplash was not my taste.
This was a quickie flip renovation by the previous owners to help sell the house. They kept the original pitted granite countertops and slapped some black paint on the old island.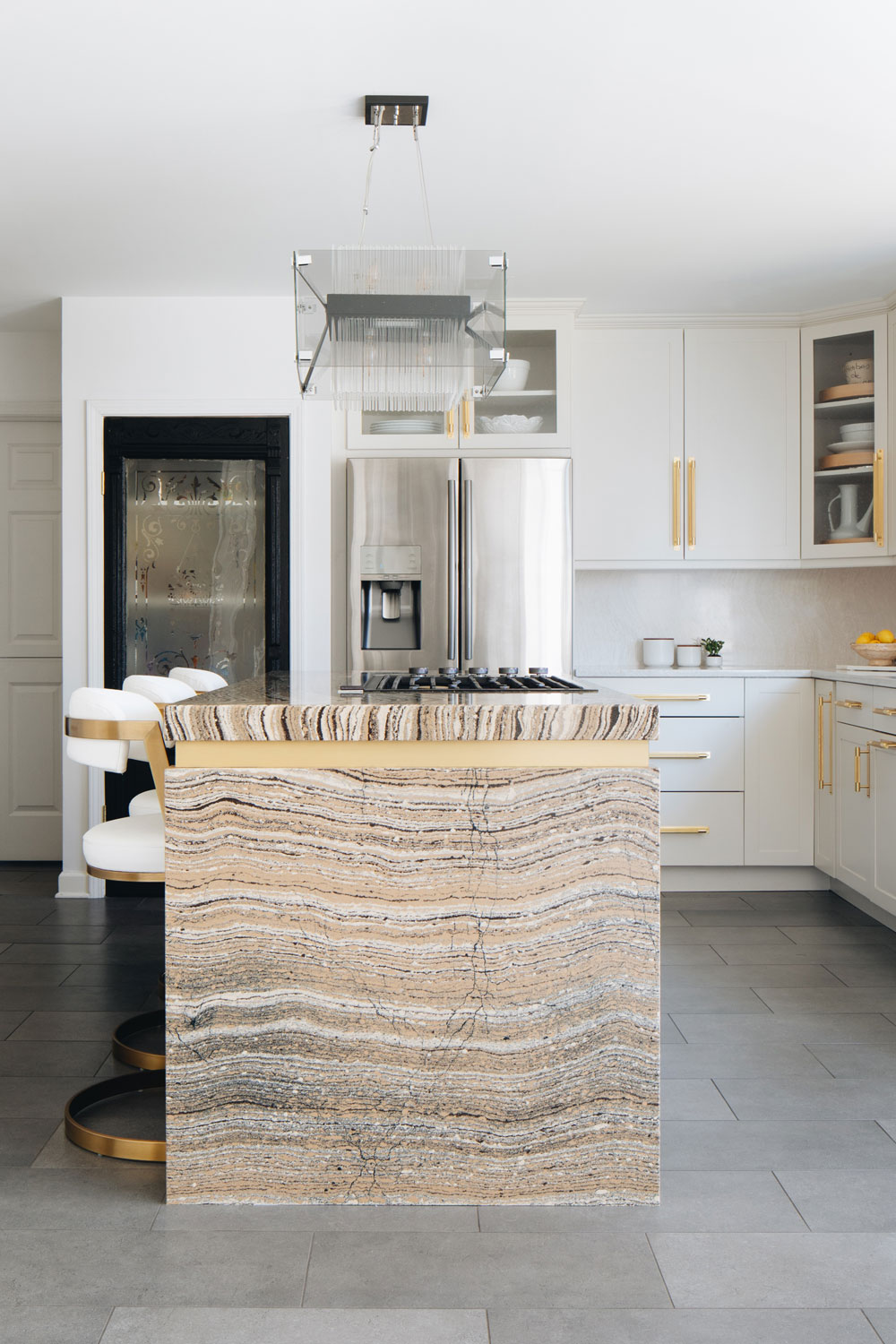 Photo by Stoffer Photography Interiors
A few years ago, I visited Cambria for their Design Innovation week in Minneapolis. At the time a kitchen renovation was not really on my mind. We had just unexpectedly refinished the basement since the great basement flood in addition to Potty Paradise and completely over construction dust, but after returning home, I was dreaming of slabs upon slabs of quartz.
Last January, I told The Boy it was time. His first question was, "And where are we getting $100,000 for this fantasy kitchen renovation idea of yours?" Ahhhh, good question sir! Let me dazzle you with my words.
We're not going to do a traditional kitchen renovation, we're doing a skinny makeover (thank you Erica Reitman). The perimeter cabinetry will remain intact. Would I love to have navy or mushroom or dark green cabinetry? Of course! I love shiny new things! Was it necessary to swap them out? Nope. By saving the original cabinetry and working with what we had, we saved SOOOOOOO much money.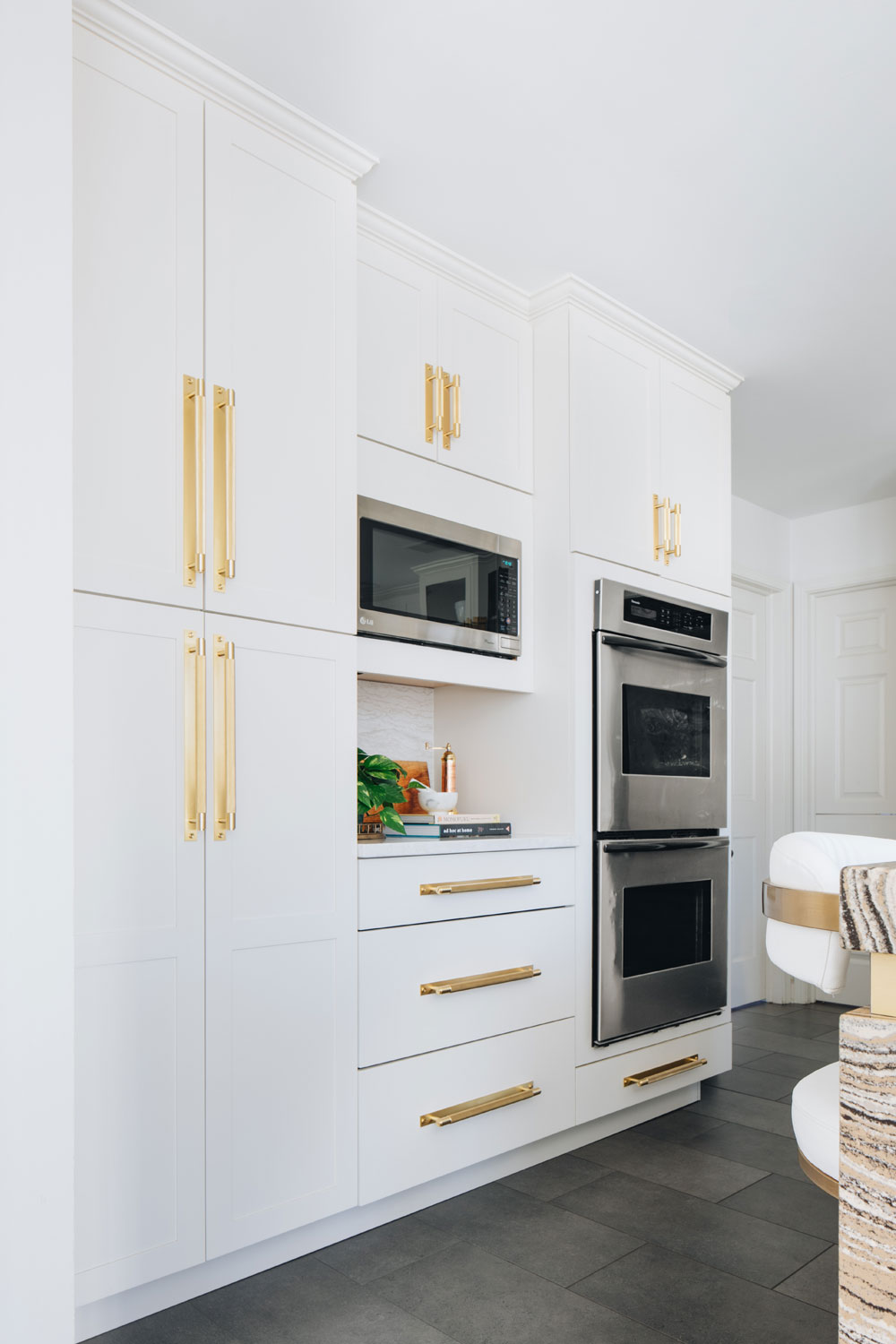 Photo by Stoffer Photography Interiors
The original flooring stayed as well. Did I love it? Nope. But there was nothing wrong with it, and later down the road, we could install something new. Baby steps my friend. The fridge and dishwasher had been replaced shortly after we moved in because the lovely former owners did not disclose that the dishwasher leaked when we bought the house. The fridge bit the dust shortly after we moved in. The struggle is real when you buy a new house. Don't even get me started. I mean, would I love a new True Residential refrigerator? Heck yeah! It's a showstopper, but when conquering a skinny makeover to woo their husband, one has a very tight budget. The fridge might be another baby step down the road.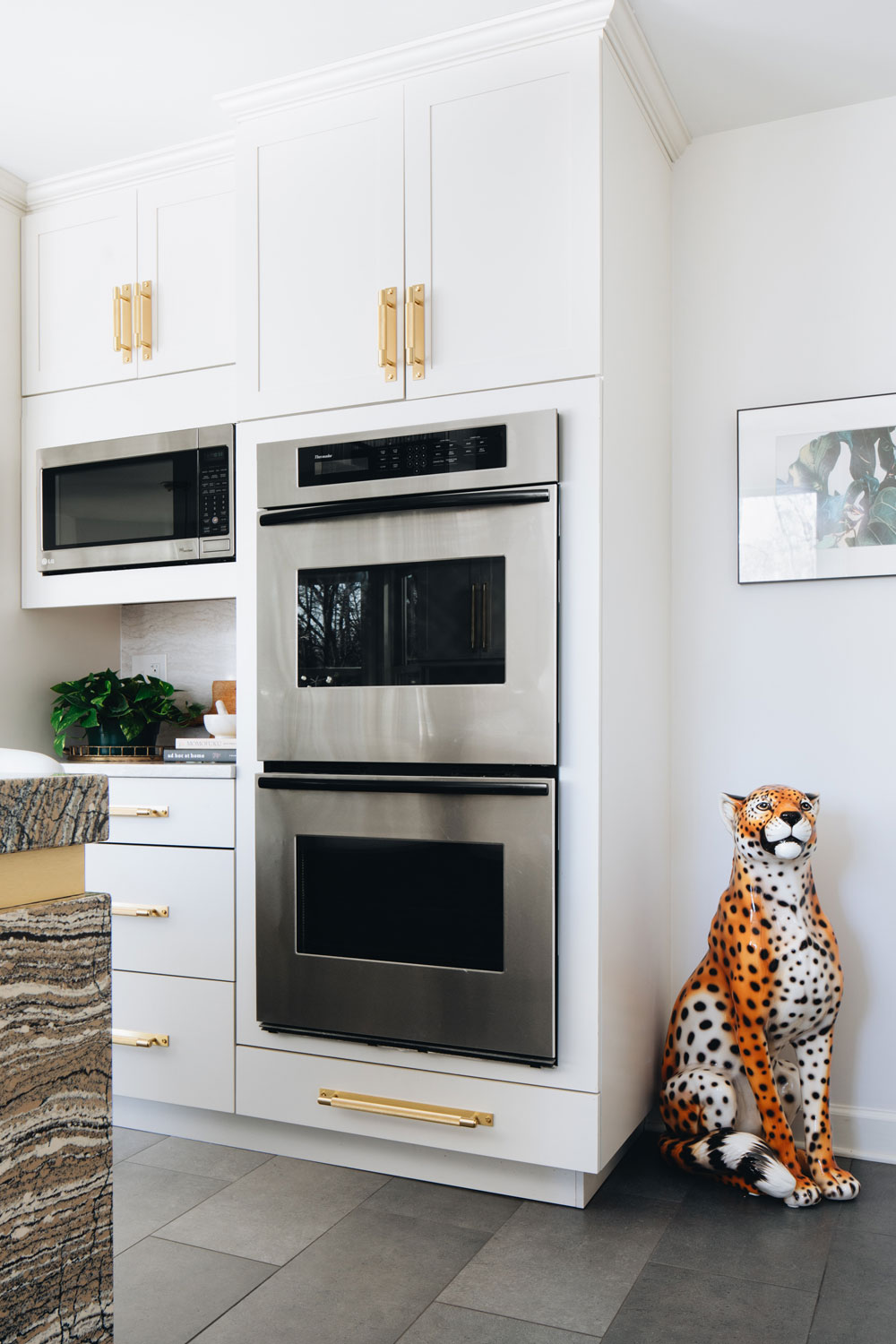 Photo by Stoffer Photography Interiors
The double ovens will need to be replaced at some point, but for the most part, they work. The door doesn't completely close on the bottom oven causing it not to keep its heat. While the fan is super loud on the top oven when it's on, but can we cook a casserole or frozen pizza? Heck ya. Besides, the ovens I was eyeballing started at $7,000, and that was outside of the scope of a skinny makeover budget.
The biggest money-saver — and this was key — we didn't touch the floor layout. No moving gas lines or water pipes. Everything stayed the same. We channeled surface makeover! So what exactly did we spend money on? Lemme break it down.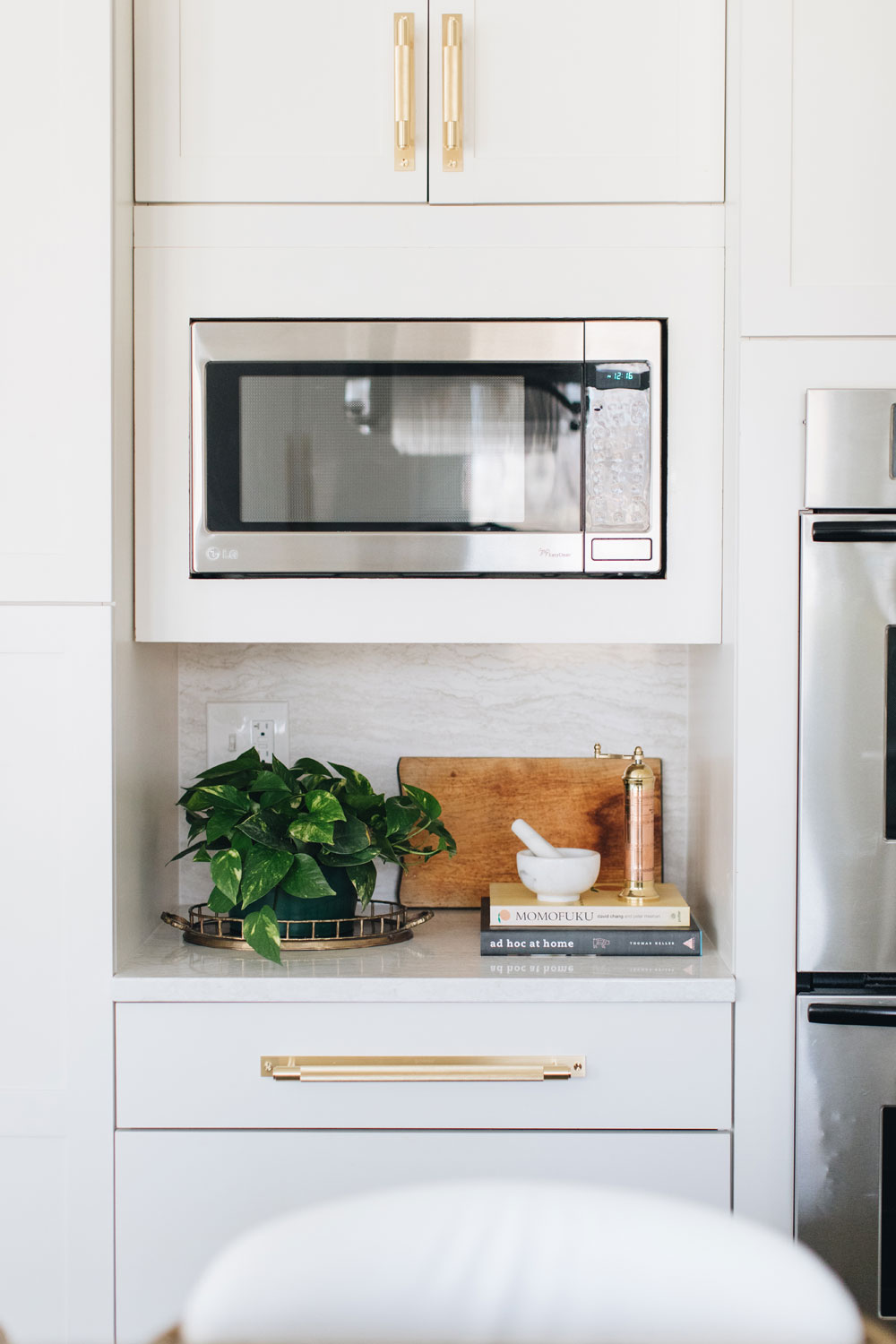 Photo by Stoffer Photography Interiors
Replacing the old black pitted granite with new Cambria Quartz was where we invested our money. It was necessary and would completely transform the entire space. To really make the investment pop, I worked closely with my fabricator, MGT Stone located in Barrington, IL, to add extra details. The bold pattern on the waterfall island with the brass inlay and the floating shelf over the wet bar…those are the hummena, hummena, hummena details that really set the design apart.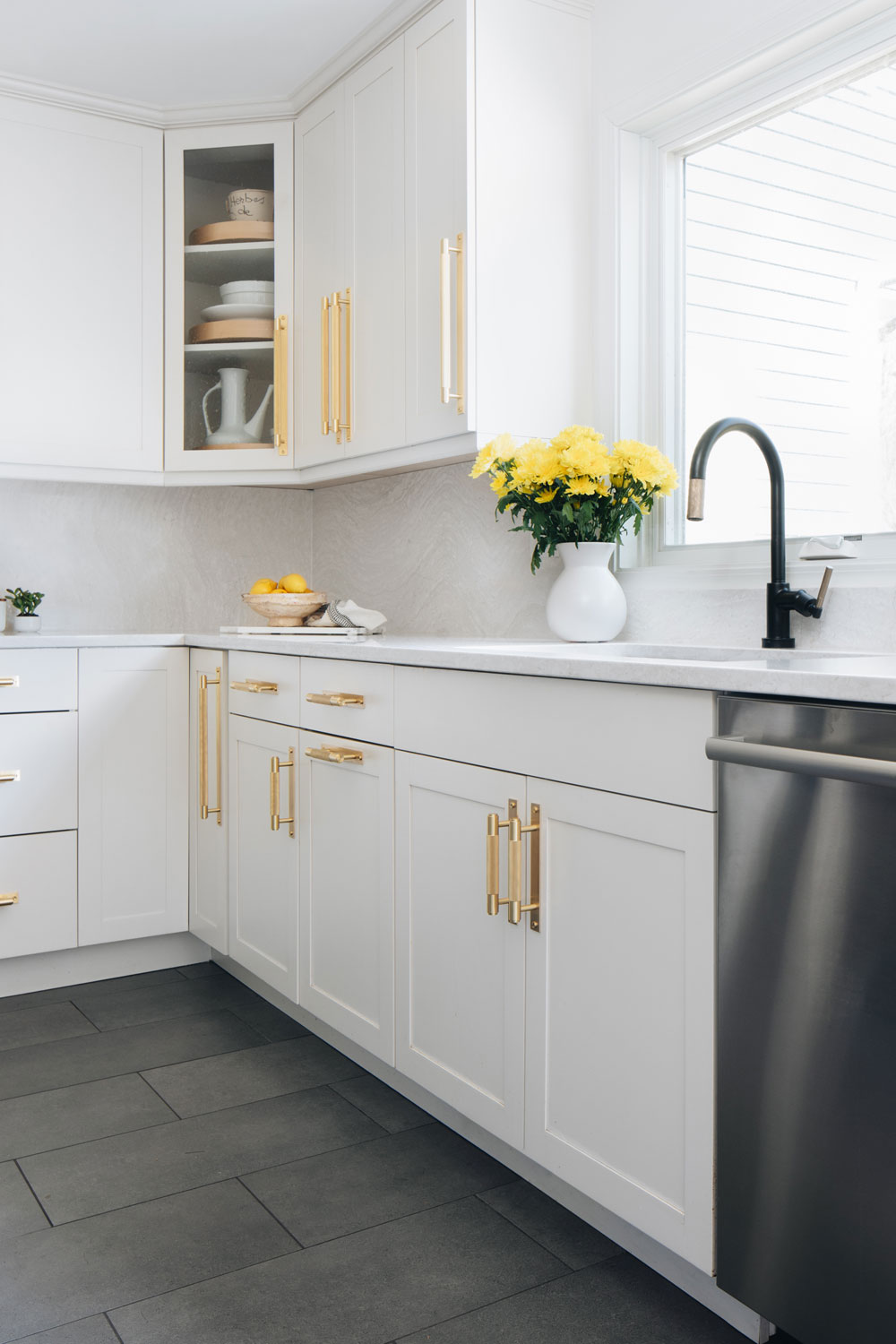 Photo by Stoffer Photography Interiors
New countertops mean investing in a new sink, faucet, and cooktop. Once you start cutting into the quartz, there's no going back. You're locked into a shape. Since the existing sink was dated, an upgrade was necessary. I found this black quartz sink by Elkay and fell in love with this cooktop…although the brass burners are only for show. If you do, they turn gray…don't ask The Boy how I know. Palm to forehead. FYI, they do shine up with Bar Keeper's Friend and elbow grease.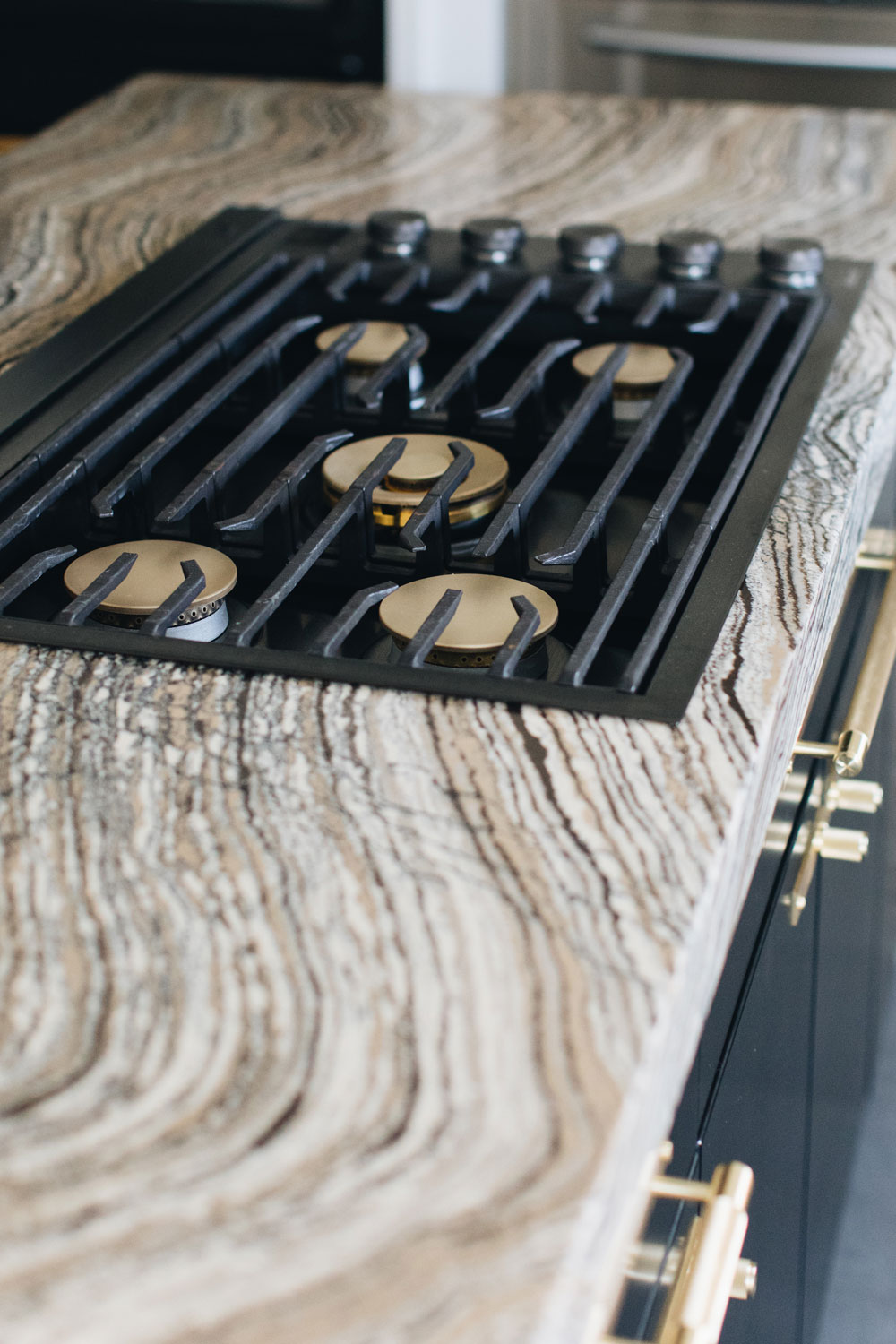 Photo by Stoffer Photography Interiors
A couple of weeks prior to visiting Cambria, I was lucky enough to tour Delta Faucet's headquarters. My black matte faucet is by Brizo (owned by Delta), and is the Litze Collection, and is offered in multiple finishes. Personally, I love the knurled brass and matte black finish. I'm also obsessed with the SmartTouch technology…and yes, I go around tapping all faucets now wanting them to miraculously turn on. You'll see below that I used the Brizo bar faucet and Elkay bar sink for the wet bar.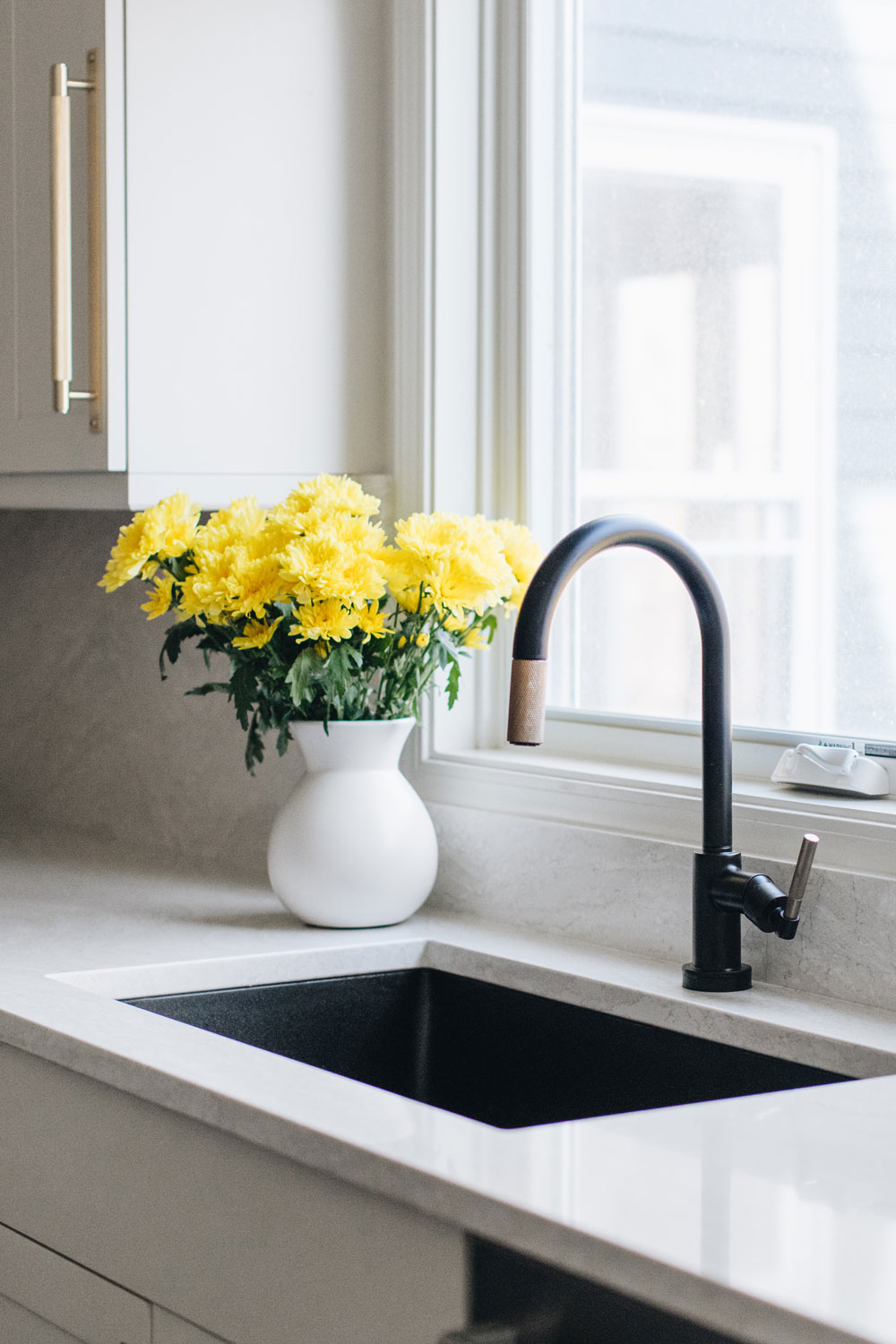 Photo by Stoffer Photography Interiors
I could have played it safe with a white marble-like pattern throughout the kitchen…it would have looked absolutely beautiful. But with this renovation, I really wanted to push myself outside my comfort zone…much like I did with Potty Paradise. Also, I wanted to tone down the harshness of the white and black combo by adding creams and browns to warm the space up. Clairidge was not a pattern I thought I'd lean towards…like ever! It was bold and smacked you in the face…it was loud.
But after a small push from the Cambria team, I decided to play around with it for the island. I used Cambria augmented reality app and some Photoshop magic I thought, "huh, that quartz could make for a bonkers good focal point". To really make it pop, I added Ironsbridge for the perimeter countertops. The subtle movement was soft enough to still emphasize the island. Sweet, but what about the backsplash?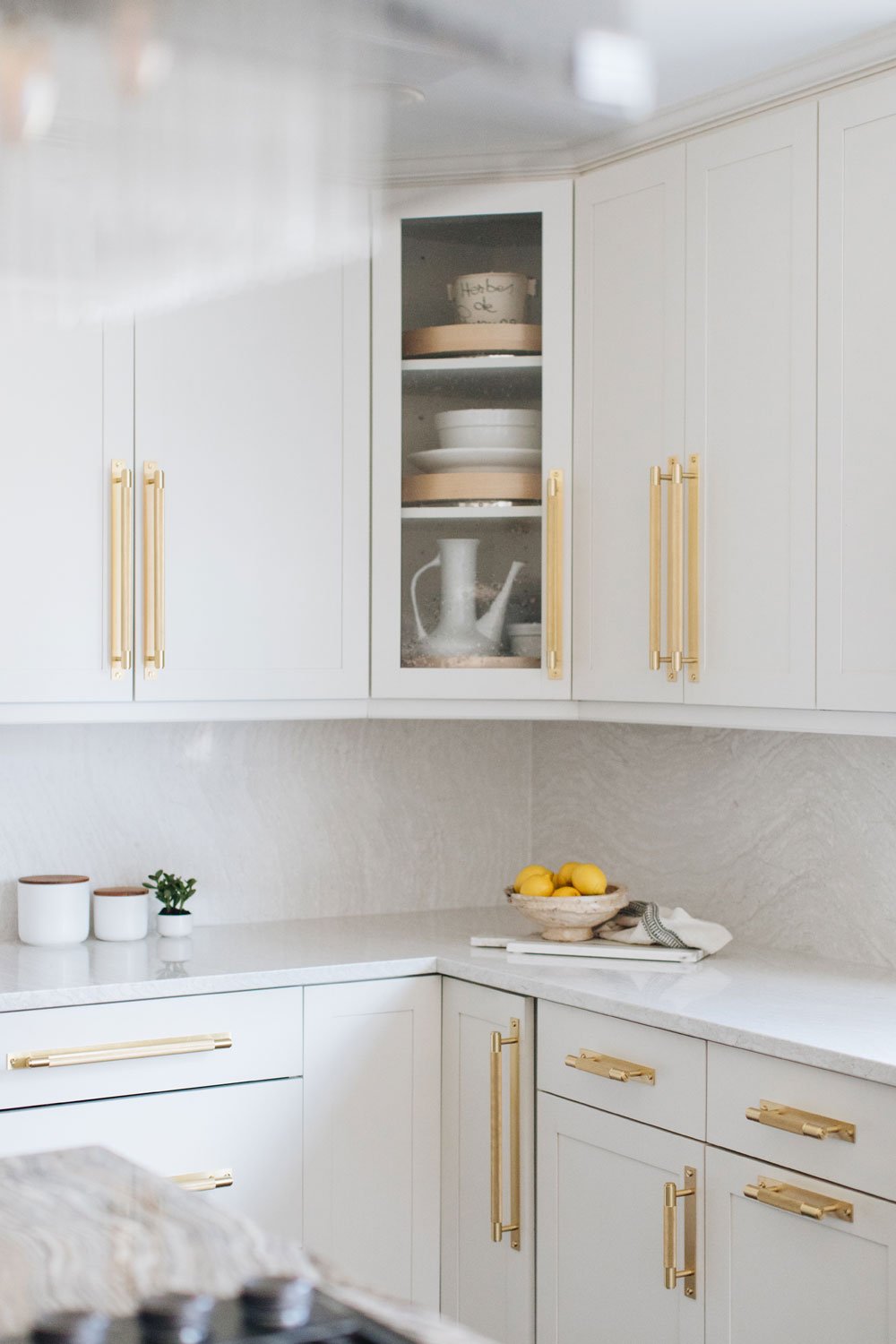 Photo by Stoffer Photography Interiors
I tried tile after tile design, but everything I chose fought with the island. I changed gears and tried using the same Ironsbridge design for the backsplash, everything seems to fade away making the island the showpiece. I did a little snoopy dance.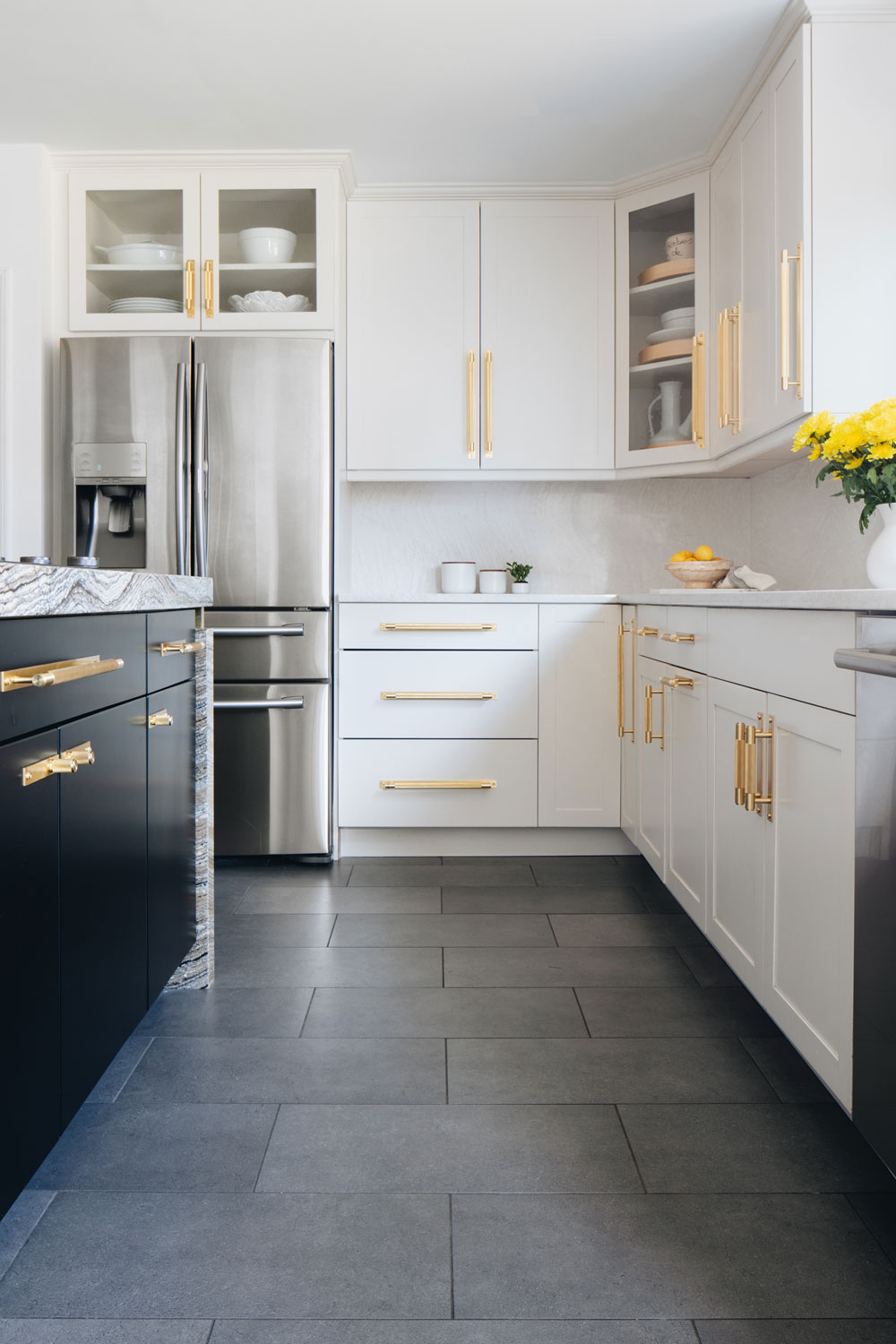 Photo by Stoffer Photography Interiors
The old island cabinet base was replaced with simple black cabinets, but to make it stand out even more, I added these brass pulls from Buster & Punch for added sparkle. They shined on the white cabinets, but holy luxe when installed on the black doors combined with the Clairidge quartz. This hardware almost didn't happen.
The original pulls were your basic brushed nickel from the local hardware store…nothing wrong with them, but also nothing super special. The Boy pushed back since the cost of pulls adds up…especially when you need 50. We decided to wait on ordering anything until the quartz was installed, but in the end, Buster + Punch leveled up the whole look.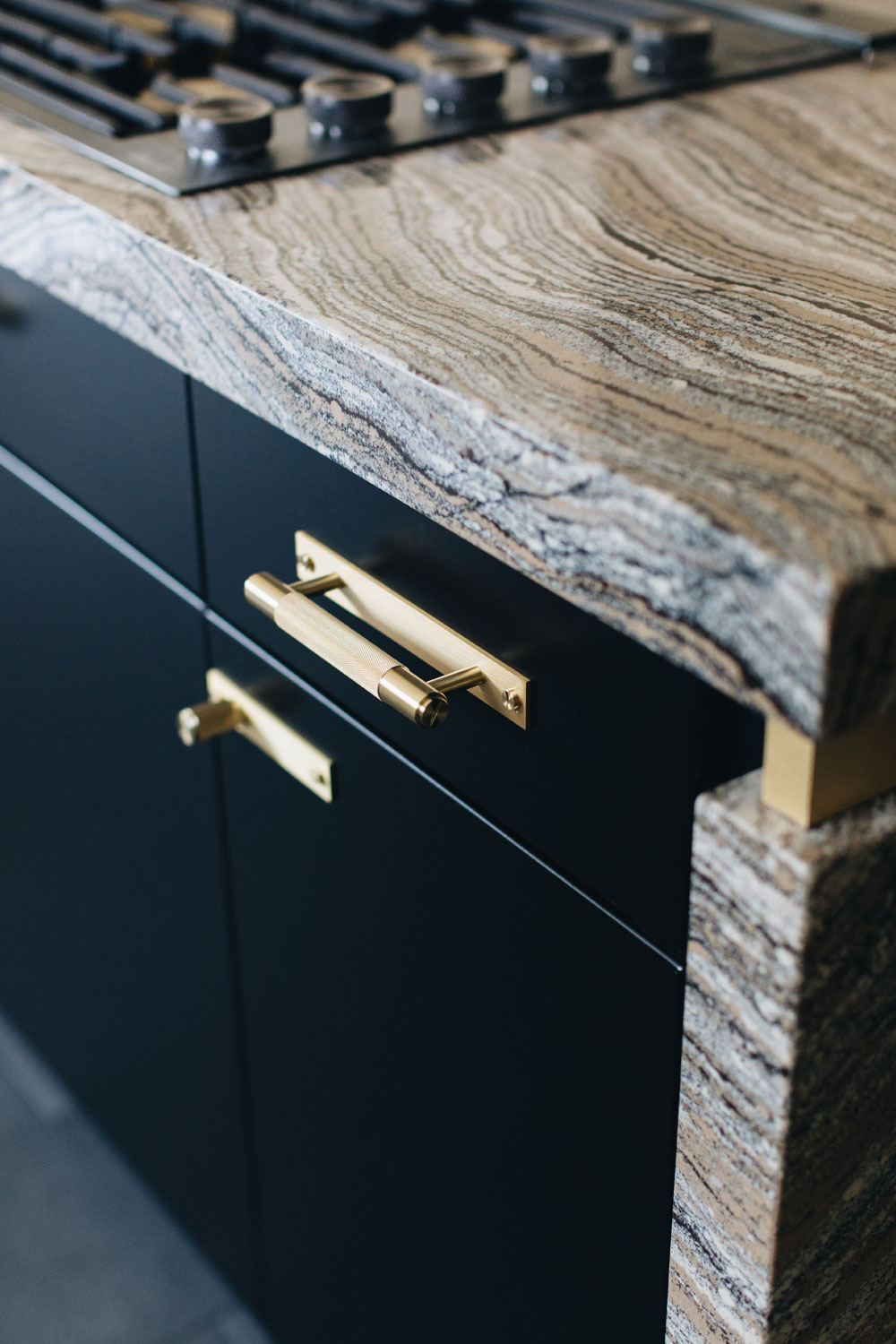 Photo by Stoffer Photography Interiors
Another bit of a splurge was replacing the old bar stools. Did we need to replace them? Nope. Did I want to? Yep. What I had were wooden wishbone chairs. What I wanted were brass cantilever bar stools which I found at Scout Design Studio. Their website describes them as a little sass and a lot of class, and I couldn't agree more. The performance leather definitely helps with little kids, pizza, and chocolate hands. Everything just wipes right off.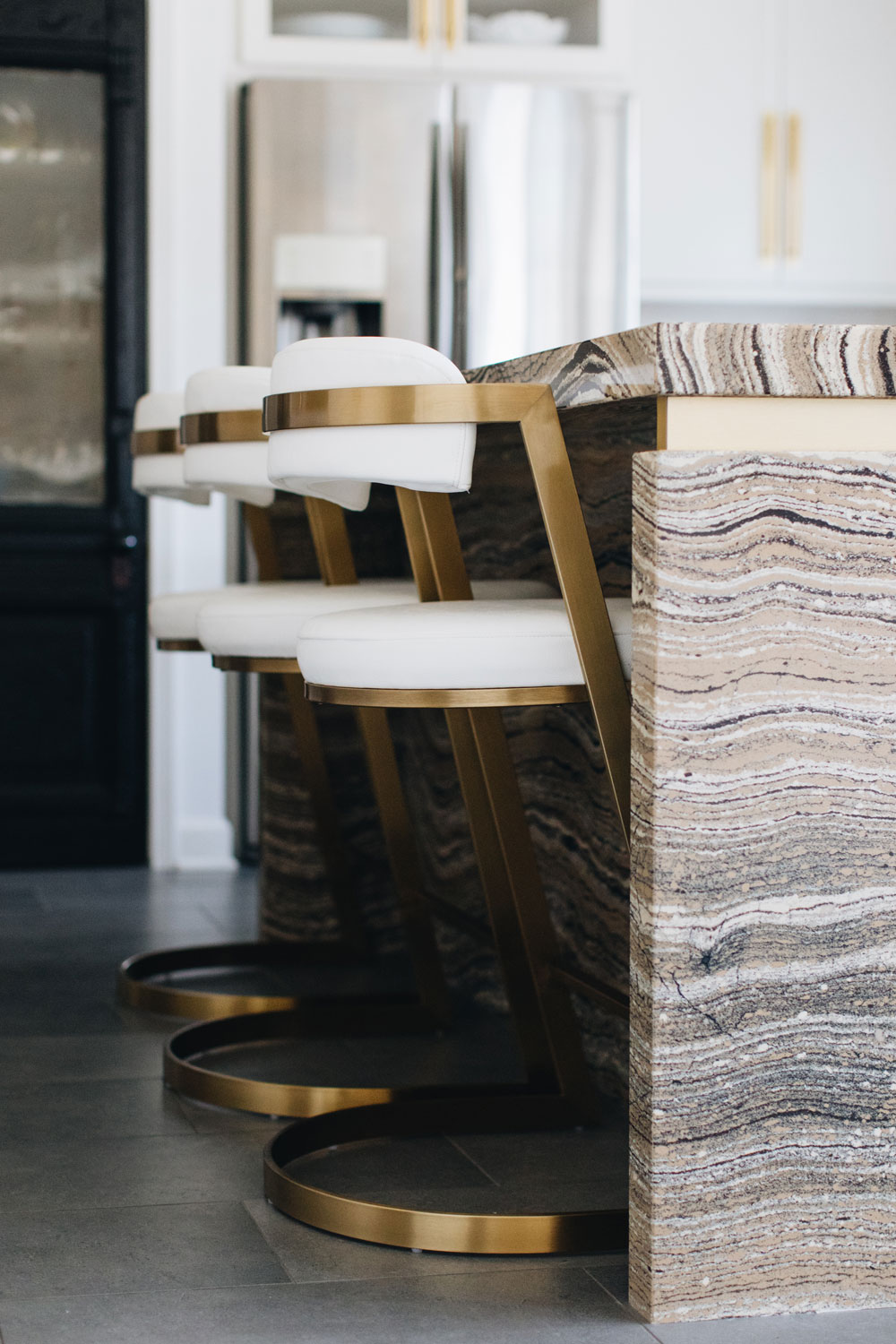 Photo by Stoffer Photography Interiors
The last bit of jewelry that kicked the design up a notch and really transformed the space was lighting. Basic globe pendants would be beautiful and safe, but I wanted luxe and sparkle. While perusing High Point Market, I waltzed myself into the Hudson Valley Lighting showroom and fell head over heels in love with this chandelier. How perfect would it be over the tulip table?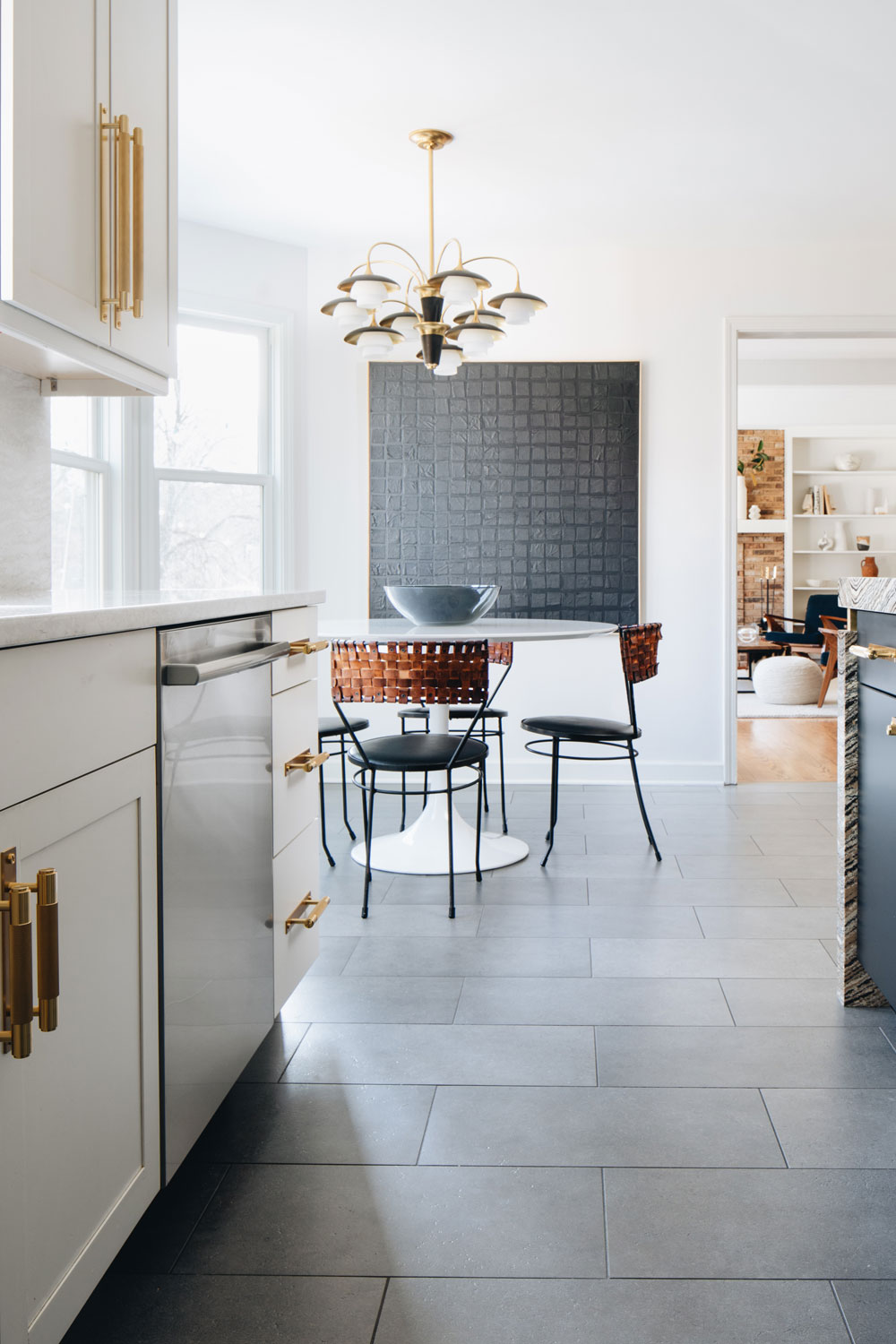 Photo by Stoffer Photography Interiors
The artwork is by local artist and vintage dealer Kelly Caldwell…you can find more of his art on Instagram at @sovietfrance, (he also has a few pieces at High Point Market). The black-on-black squares artwork was the perfect statement maker for the kitchen renovation. I love how it plays with the woven leather back Arthur Umaoff chairs from The Savoy Flea.
I found this chandie while poking around on the Hudson Valley Lighting site. It's bananas and from their Troy Lighting line. The warm bulbs soften the shiny chrome and the smoked glass is pure perfection. Plus it has kind of an 80's vibe to it. I went back and forth between this light over the tulip table or the other…in the end, the crystal rod chandelier won the island. Yes, I know it's gonna be a mess to clean grease and gunk off of it, but ya, don't care. It looks spectacular.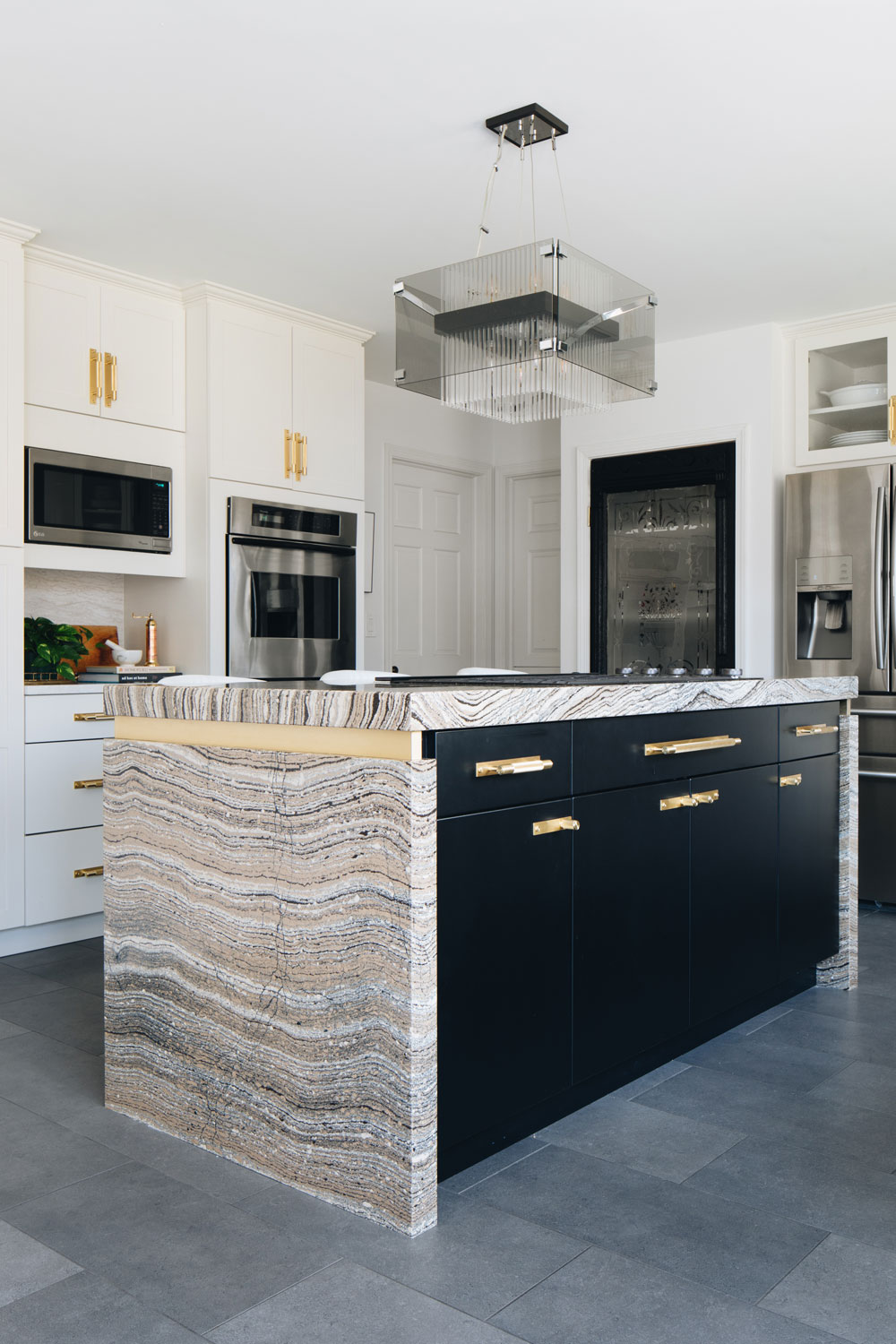 Photo by Stoffer Photography Interiors
One major eyesore was the wet bar on the opposite side of the black square artwork wall. The bar resided in the living room and the design was straight out of the 1986 basic builder model. Textured laminate countertops and french country cabinetry. The whole look needed to go.
When we first moved in, the initial thought was to remove it entirely, but after hosting a couple of parties, we saw the value of a wet bar. Guests mingled outside the kitchen and helped themselves to cocktails. With the kitchen being renovated and the wet bar on the opposite side of the wall, it naturally became part of the makeover.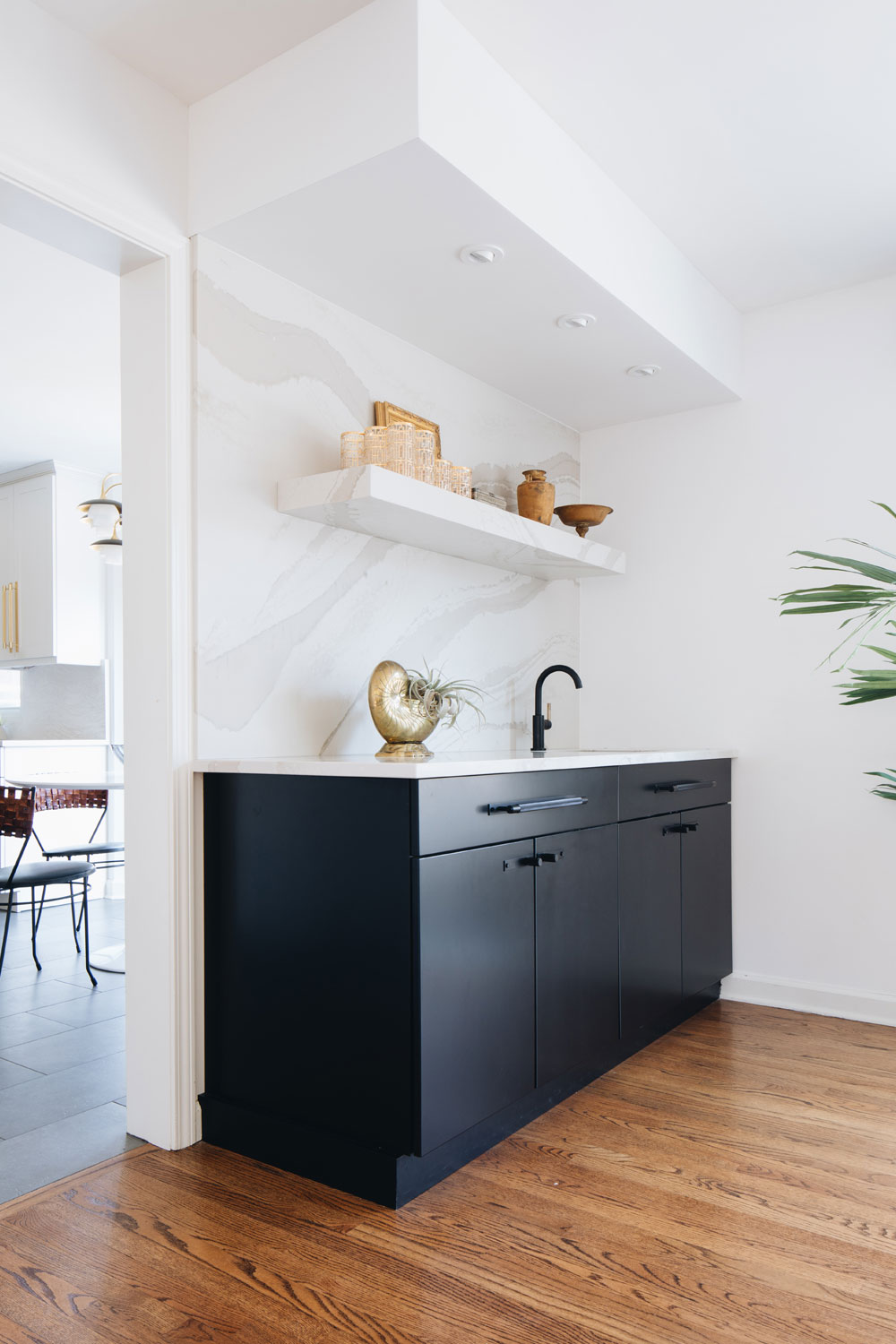 Photo by Stoffer Photography Interiors
The same black cabinetry used for the island replaced the painted french country, but I chose a third quartz design…yes a third. Now, normally I would not advise this insanity. It's kinda like using 7 different fonts in graphic design. But Ironsbridge was so subtle and there was one design that my heart yearned for…Brittanicca Warm. I saw the very first test slab come off the line while visiting Cambria. We were not allowed to photograph it, but you can make bet that I drooled all over it. Time to break some rules.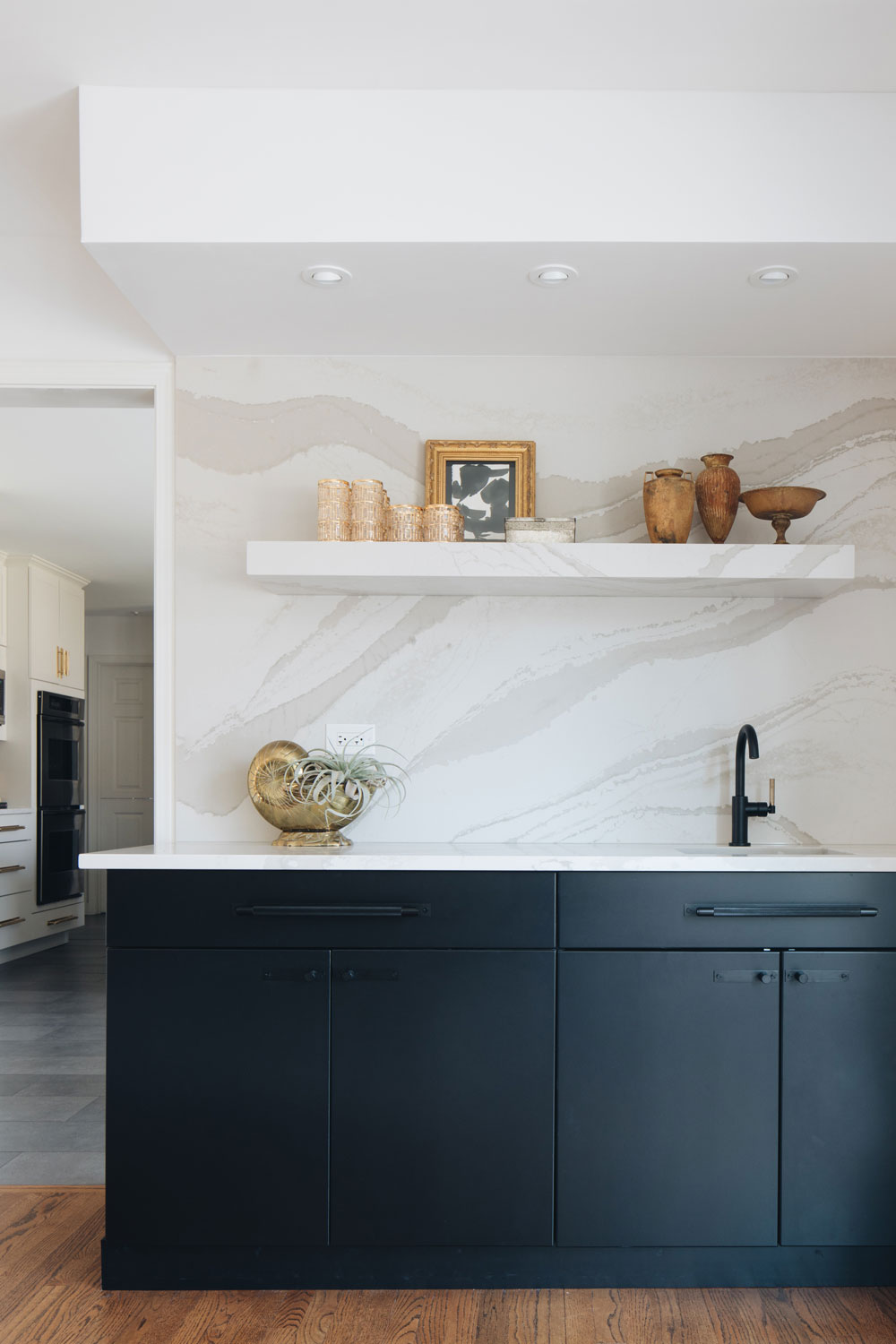 Photo by Stoffer Photography Interiors
Cambria's Brittanicca Warm would become an accent wall of stone with a floating shelf in the center. To see how the heck we managed that, you can read about the fabrication and install process here. The three designs worked so well together…thank goodness because that could have been a very expensive booboo to fix.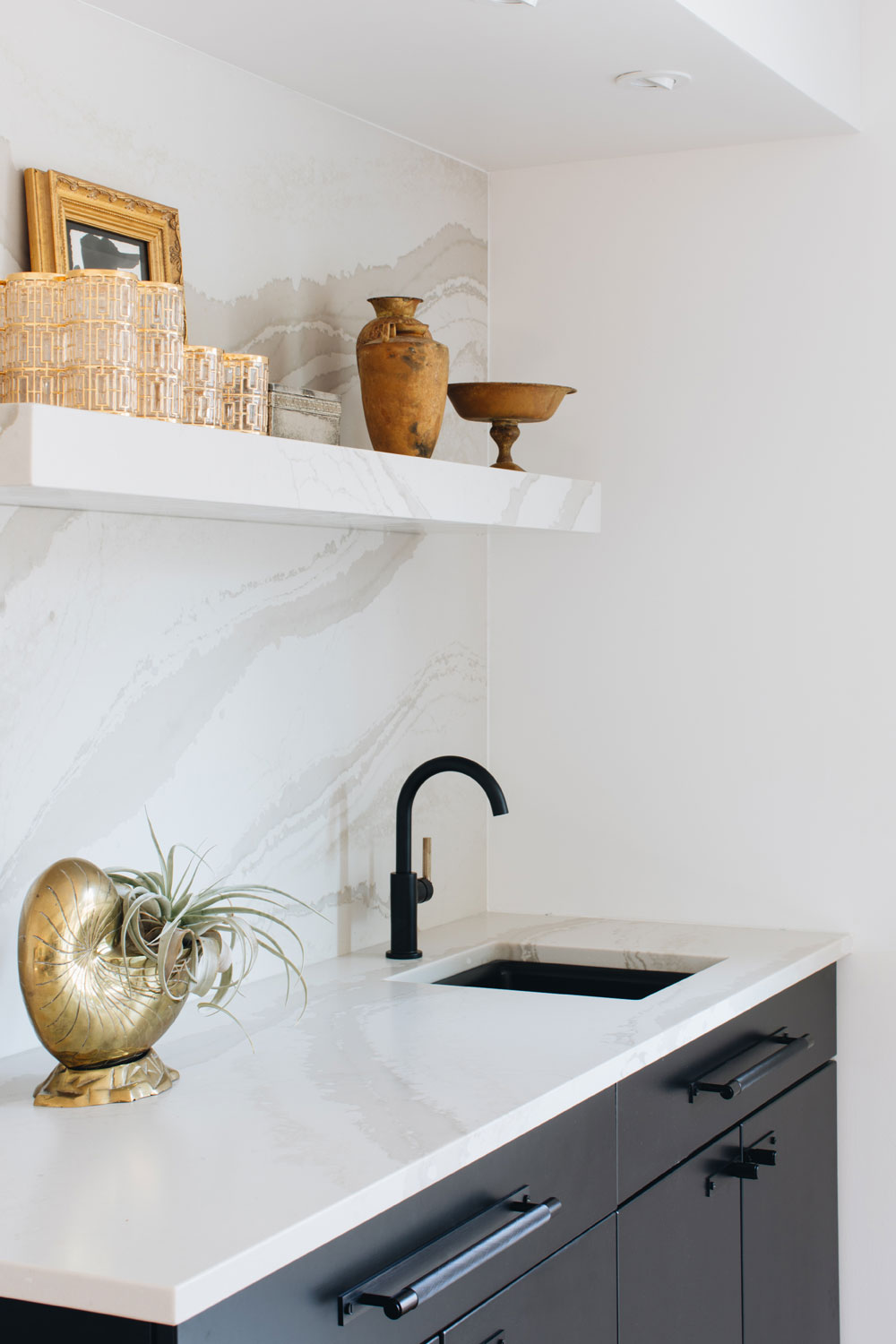 Photo by Stoffer Photography Interiors
The same Buster + Punch pulls were purchased for the wet bar, but instead of brass, I chose matte black. Now, if I could do it all over again would I keep the black or change to brass? I'm not quite sure of that answer. Part of me says yes…part of me says no. The brass pulls on the island are so shazam, and this is a quieter look and feel. The floating shelf remains the star of the show.
The final detail was the vintage door. I searched high and low and finally found this one. When I showed Brian, my contractor, he took a deep breath. "We can do it, but it's gonna cost more. The entire door need needs to be reframed because it's not a standard size." Do it guys! This was the final stretch, and the kitchen renovation had stayed on budget thanks to my free renovation checklist. To go a few hundred over…I'll do that all day son, and boy oh boy was it worth it. It's backlit and looks fanfreakintastic! Oh, and yes, that is the original etched glass.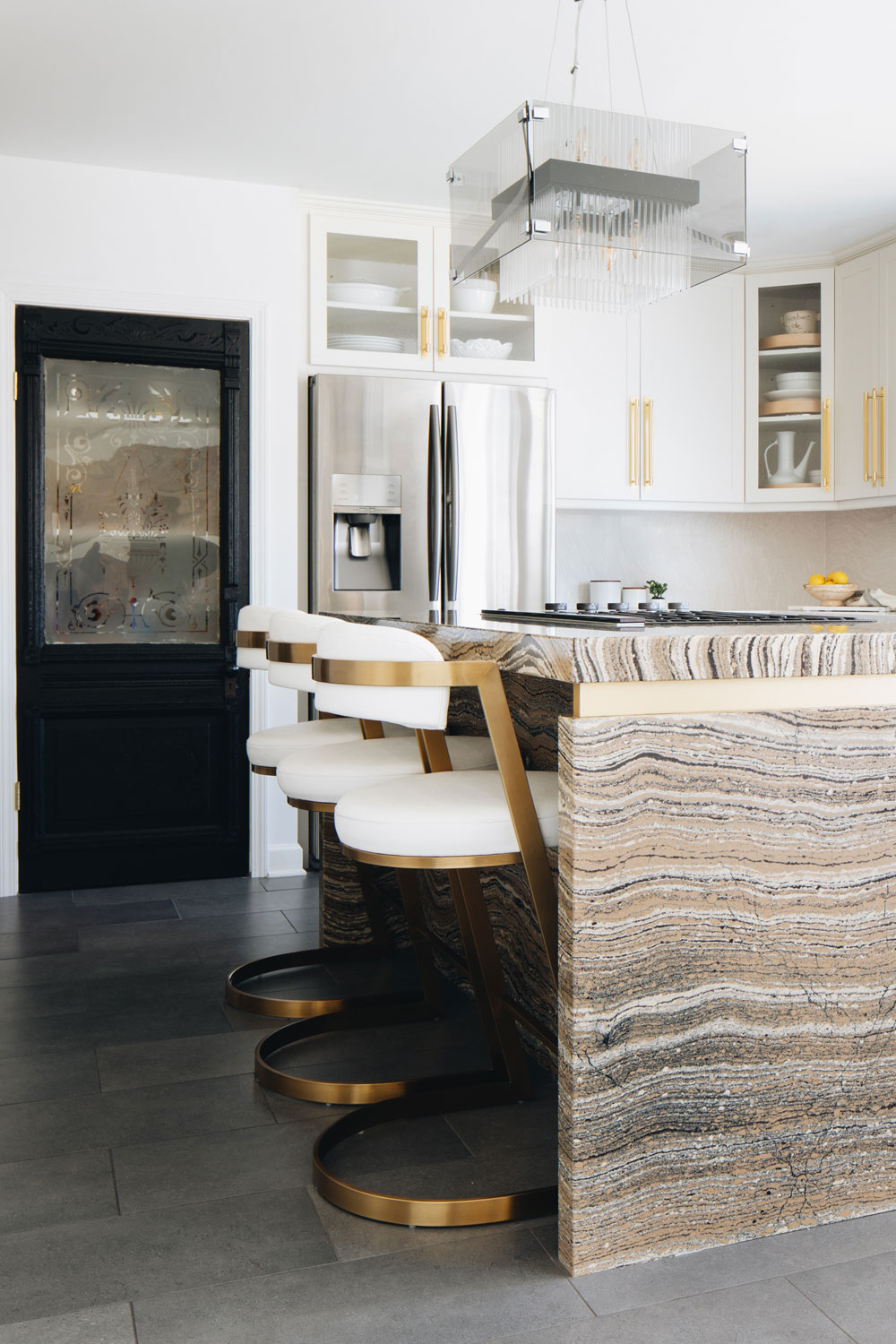 Photo by Stoffer Photography Interiors
SPECIAL SHOUTOUTS TO MY TEAM FOR MAKING THIS HAPPEN!
Brian, Mitch, and Cesar at MidConCo in North Barrington, IL
Nanette at MGT STone in Barrington, IL 
Without you, I would have failed greatly. Thank you for helping me through the kitchen renovation process and creating such an amazing space!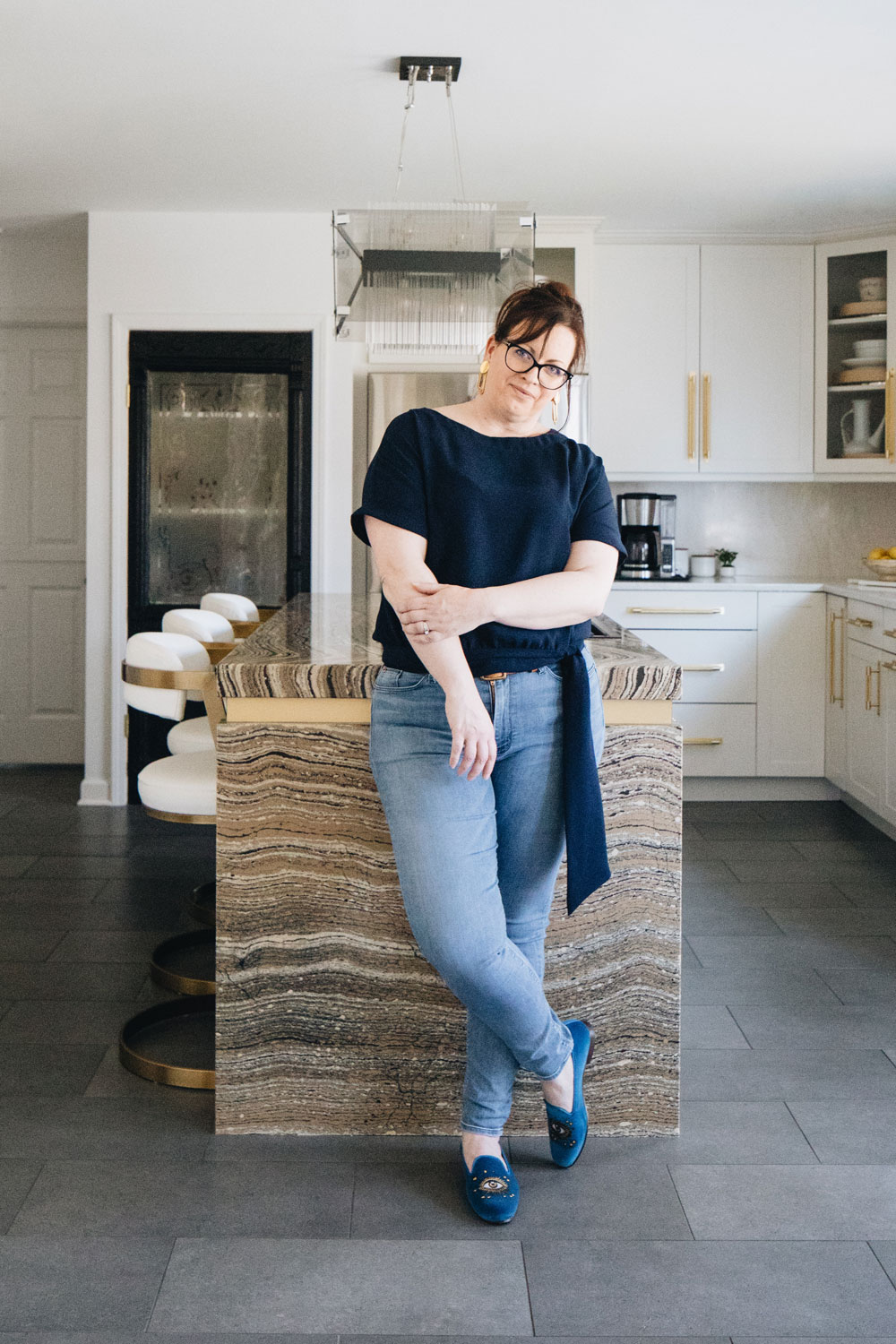 Photo by Stoffer Photography Interiors