5 Small Space Design Rules You Should Totally Ignore
Last Updated on December 2, 2022
To shake things up, my girl Erica Reitman is going to be a contributor, and this week she is talking small space design rules! When I asked her, I totes expected an, "Umm, no, I don't think so sweetie." I mean, she writes for Elle Decor, HGTV, and Domino. So imagine my surprise when she said, "Heck yeah! Sounds like fun!" Can you say jaw on floor? Holla!!! She's funny, sassy, and likes to swear…you've been warned…oh, and she claims she can kick your house's ass. BTDubs, she can…she's also a small space design expert. AND I love her dearly.
Truth time: I never really set out to become a small space expert. But I lived in NYC for 12 years and I was def *not* a bazillionaire, so that translated into tiny apartments with all sorts of design and space challenges. I woke up one day, and realized BOOM: I'm officially a small space design ninja.
After loads of trial and error, while figuring out my small spaces, I decided I wanted to make it my mission to help others on the #smallspacesquad with me figure out easy ways to kick their tiny house's ass.
Today I'd love to share with you 5 pieces of small space design advice that you should totally and completely ignore. I mean, you should take this advice, stomp on it, set it on fire, and then throw the ashes around in your tiny little garden. I want you to break the rules…and I mean break em' hard.
Small Space Rules To Ignore # 1 – Don't Use Dark Colors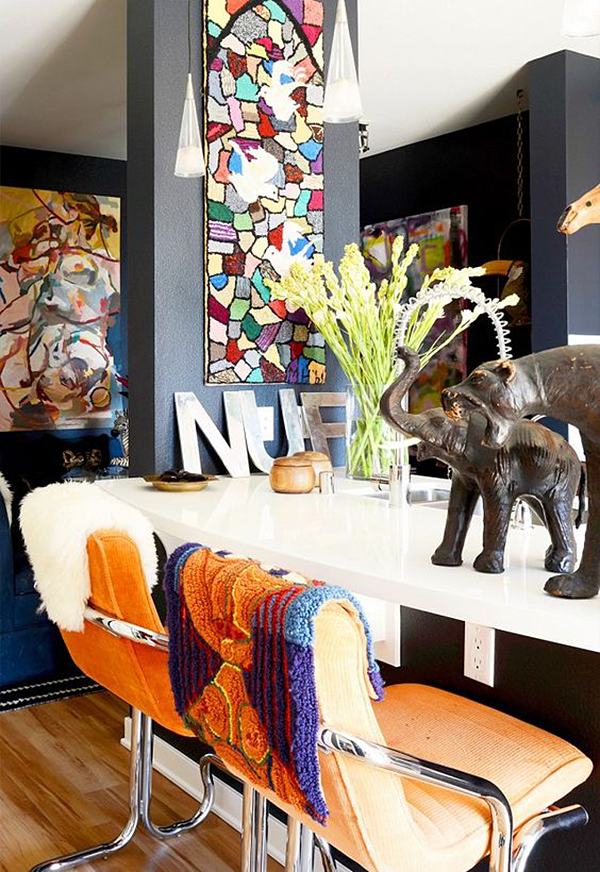 Photo By Nicole Cohen for Domaine (Erica Reitman's Home)
This "don't use dark colors in a small space" rule makes me srsly angry. Probably because I think it's the most common small space rule people throw around, and at this point, it seems like gospel.
The truth is, sometimes painting a smaller space a dark color is exactly what you need to do in order to make it feel warm, sexy, and chic. For me, dark rooms also tend to feel more luxe and boutique-y.
This is a pic of a 700sf apt I designed, and all of the walls were painted either black or navy blue. The artwork popped, the space was dead chic, and the whole joint felt like a high-end hotel suite.
Some other darker colors I love for small spaces are charcoal gray, deep burgundy, chocolate brown, or hunter green.
Living Room Design For Small Space Rule #2 To Ignore – Choose Small Furniture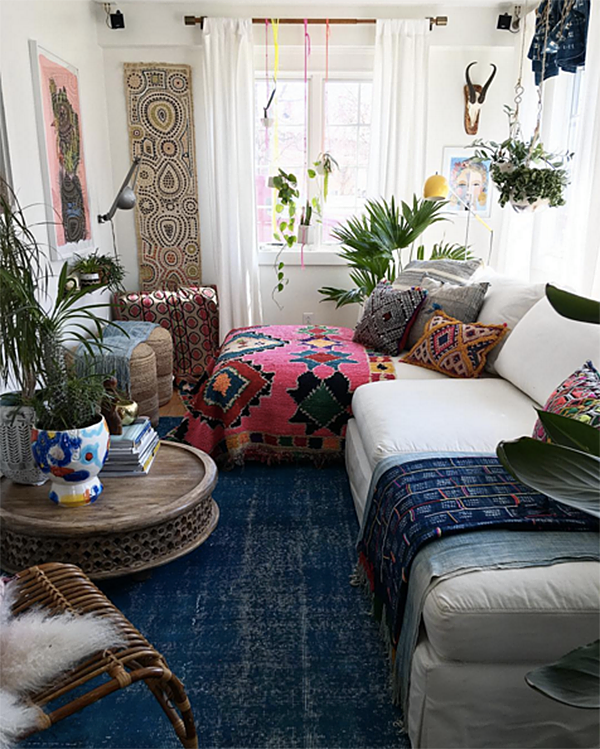 Photo by @FleaMarketFAB
In general, puh-leez don't choose tiny furniture for a small space.
Now, understandably, you might need some more petite pieces to serve a specific purpose in one area or another of your home. But don't automatically assume that you need a loveseat instead of a full-size sofa, or slim profile dining chairs instead of yummy, upholstered ones.
This is a tiny little space in @fleamarketfab's house that's rockin' a full-size couch. The coffee table is against the wall, but I don't even care. Do you? Probably not. There's extra seating in the corner, but you can just grab it whenever you need it.
When you live in a small space, you need to be creative and think outside the box. You definitely can use smaller pieces when you need to, but full-size pieces also work and are needed to ensure that it doesn't look like you're living in a dollhouse.
Small Space Rules To Ignore #3 – Purchase Double Duty Furniture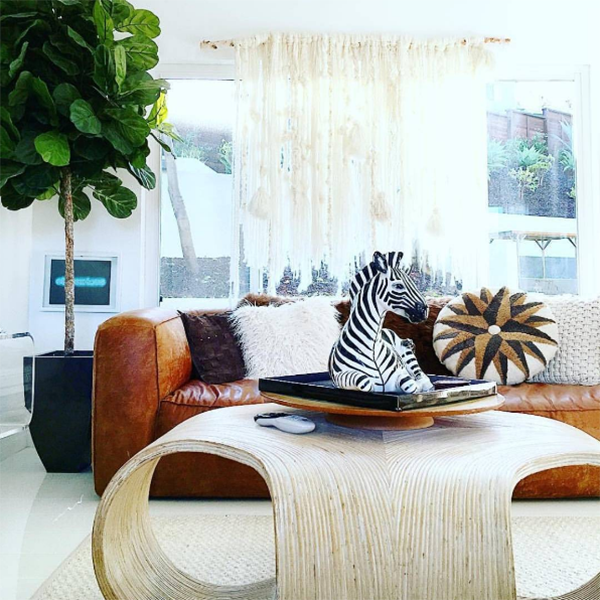 Photo by Erica Reitman
Ok, so this is another rule that small space dwellers can get waaaaay too caught up in. The bottom line is: double-duty pieces are nice to have sometimes, but also you don't necessarily need a couch that turns into a bed and then flips into a bookshelf.
Because with almost every piece of double-duty furniture, you're giving one thing up for another. For example, with a sleeper sofa, you're likely giving up comfort—with both the couch AND the pull-out mattress—in exchange for an extra spot to sleep. It might be worth it for you…but also, it might not be.
So while we definitely could have used an extra bed in our tiny house, I decided to simply pick out the sofa that looked the best in our space and leave it at that.
Room Design For Small Space Rules #4 – Embrace Minimalism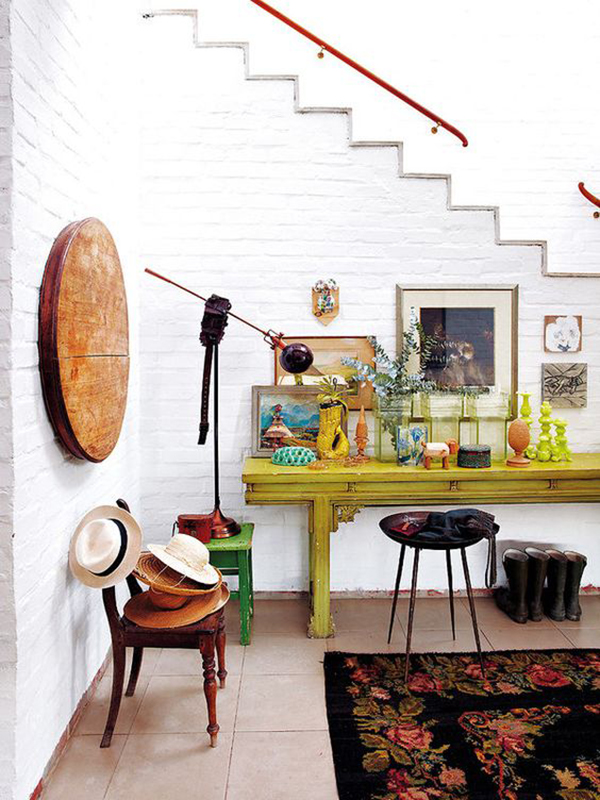 Photo via Amber Interiors
While this isn't necessarily a small space rule exclusively, it's definitely one I see thrown around a lot…especially with books like Marie Kondo's The Life Changing Magic of Tidying Up.
I read that book…and I hated the hell out of it. It did not speak to me at all…and certainly didn't change my life.
The thing is, if it *did* speak to you, that's rad. That means that you should be embracing minimalism in your space like it's your job. Because there is nothing at all wrong with minimalism. But also: just because you live in a small space, it does not mean you need to be a minimalist.
I'm a proud maximalist, who happens to live in a tiny damn house. I even have my own damn décor closet. #oops.
Limited Space Rule #5 – You Don't Have Enough Room For (Insert Decor You Want But Think You Can't Have)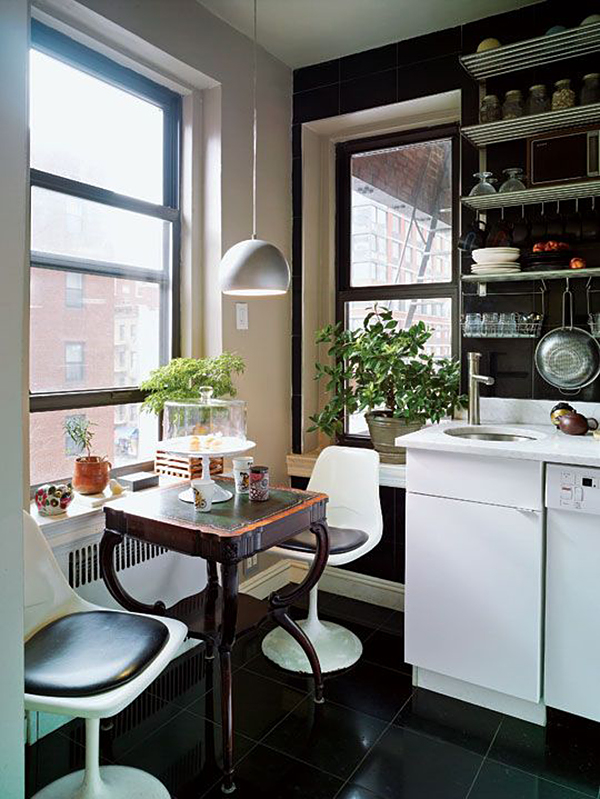 Photo via Apartment Therapy
It's true that sometimes things just won't work in a small space…grand pianos come to mind. But more often than not, I find that design problems can often be overcome with creative solutions.
No room for a bedside table? How about a plant stand? Or a shelf? Living in a studio and desperately need an office? How about a compact desk at the end of your bed instead of a bench?
Here's an example of a teeny tiny side table used as a dining table, in a space that likely seemed like it couldn't fit much of anything.
Now that you're ready to officially join the #smallspacesquad, here are a few of my fave small space design and decor solutions that I can't live without this summer.
Want more of Erica's no-nonsense, tell it like it is design advice? Click here.