Floating Stone Shelf — How We Did It
Last Updated on September 27, 2023
Ahn the floating stone shelf. When I post the wet bar renovation on social media, the number one question is that shelf made of stone? How did you do it? Since this project was recently featured on Arch Digest in the – Stone Slab Ideas That Go Beyond Countertops post, I thought, let's go behind the scenes and take a looksy at the installation.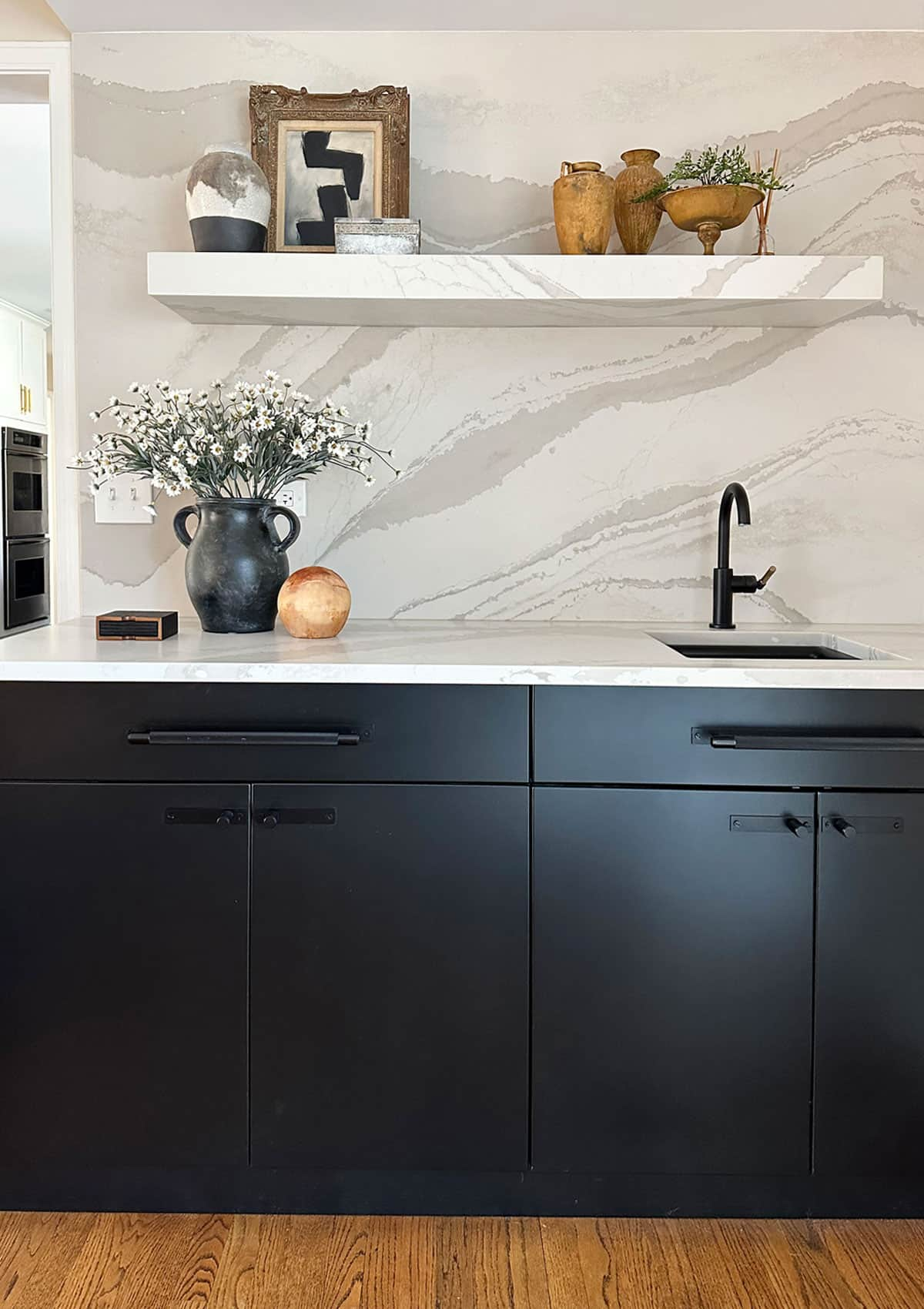 Suppose you've asked your fabricator to create a floating stone shelf and want it hung on a stone backdrop in your kitchen a la Eyeswoon. In that case, they might be stumped, or your contractor says that's impossible; here is everything you need to know to make it happen and ensure it (and you) won't crack under pressure.
Everything You Need To Know About Hanging A Floating Stone Shelf On A Stone Backsplash
First things first, are the backsplash and floating shelf actually made of stone? Yes, but the shelf is not one solid piece of quartz; however, the backsplash is and was cut from a slab. This is the Brittanicca Warm from Cambria in their matte finish. I was lucky enough to witness this stone design as a test slab while attending the Design Innovation Summit hosted by Cambria. Because it was a test design, they asked us not to photograph it, but that request did not erase it from my memory. It weighed heavily on my mind, and when it came time for the kitchen renovation, I knew it needed to be included in the design.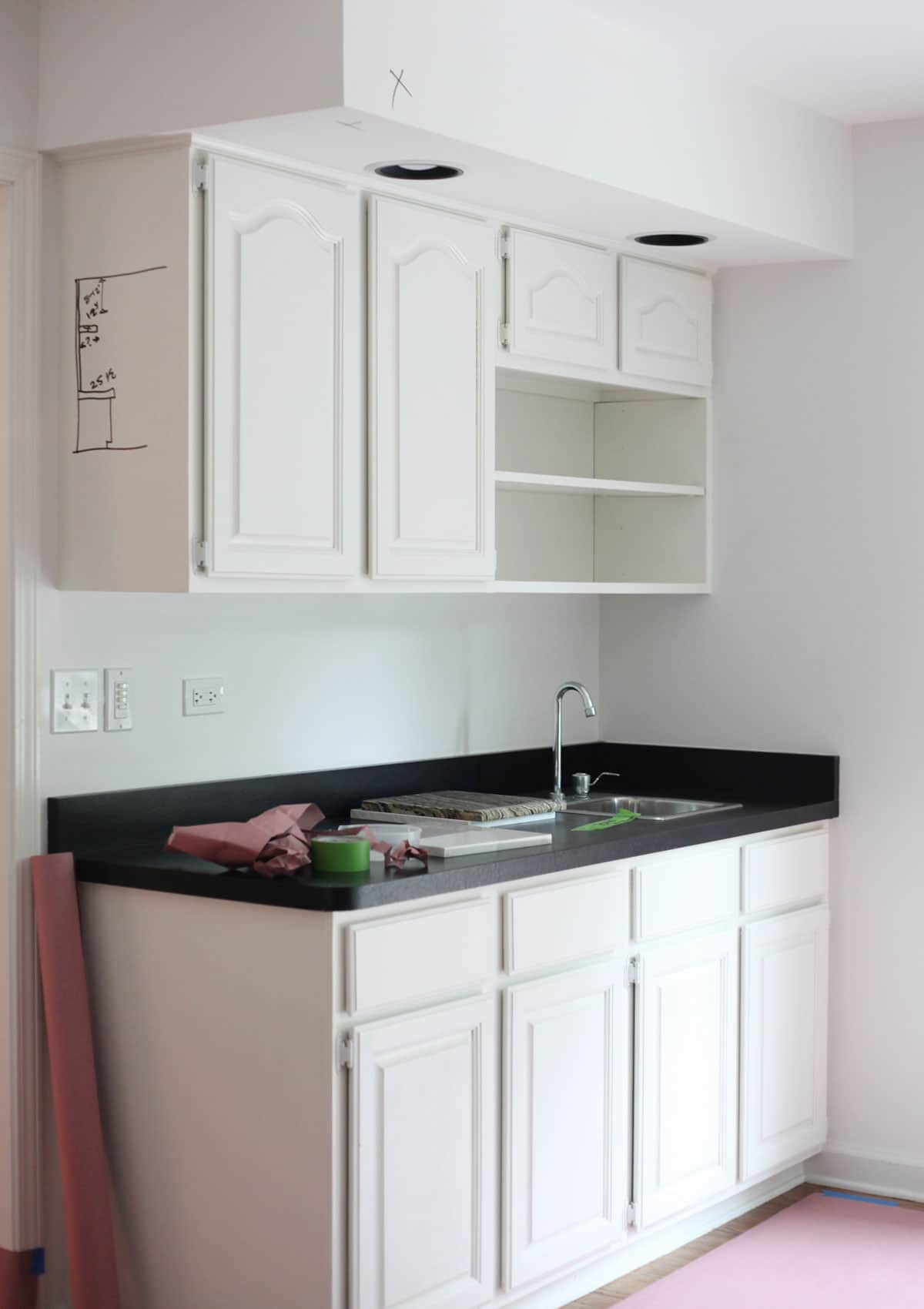 The initial floating stone shelf was inspired by a similar wet bar design by Handelsmann + Kann, but the thickness of their shelf made the fabricator real nervous. The design looks simplistic on the surface, but the structural support behind that wall and fabrication needs to be thought out.

Brackets For A Seamless Floating Stone Shelf
A shelf like this is obviously incredibly heavy, so to accommodate the weight, we started with these free-hanging steel brackets. We chose these because they have an unobtrusive design; I didn't want to see metal supports under the stone shelf. The look was to be seamless, as if the quartz shelf and backsplash were carved out of one big chunk of stone. The brackets mount directly onto the wood studs with sheetrock hung as usual.

With the steel brackets exposed, the backsplash and the floating stone shelf could slide and hang without fear of falling or cracking. When executing a project like this, planning is everything. It's too expensive to wing it.

Cutting The Stone Shelf
Cutting the quartz for the floating shelf, so it looked like one solid chuck of stone, was tricky, and this is where you need a really good fabricator and a lot of trust in the CAD person. If I told you this shelf was made up of 5 pieces of quartz, would you believe me? Cuz it is! The quartz was miter cut and pieced together for a seamless look. Below is a close-up shot. If you look hard enough, you can kinda sorta no really detect where it's been pieced together. We did the same technique for the kitchen island design.

If I could redesign this shelf, I would try to make it a smidge thinner. In my opinion, it's a bit of a chonk, but I still love it. The fabricator gave me some pushback on the thickness, so this was our compromise. They were nervous about it cracking. And honestly, it's only 1/4″ thicker than Eyeswoon's floating shelf.

RELATED: I've rounded-up 22 of the most stunning arched cabinets help hide the clutter and zhush up your space.
Mounting The Quartz Shelf Onto The Backsplash
The day we hung the floating stone shelf onto the backsplash was a nail-biter, and it took a team of 4 guys to do it. Ya, I like to push the limits when it comes to design, but even my stress level was at an all-time high. Per usual, the quartz countertops were installed by the fabricator a couple of days prior to the backsplash and stone installation.

This is standard procedure because the countertops support the weight of the quartz backsplash, and the glue that adheres to the base cabinets needs to cure to ensure the countertops do not shift during the backsplash installation. Did you follow all of that? Anyhoo, of course, standard procedure is not how I operate.

There was a snafu we all missed, and that was the soffit over the wet bar and the snug fit to the wall. This backsplash was cut to fit so perfectly that the guys could not hang the backsplash over the steel brackets at angle without a bit of wiggle room. The wet bar countertop had to be removed to give them the extra inch needed to slide the holes cut in the slab of quartz over the steel. Before starting, the guys huddled together and whispered in a panic while they figured out a plan.
Me: Hey guys, everything okay?
Guys: Ya, ya, fine. No problem. Nothing a crowbar can't fix. *followed by whispers and slight panic*
Me: I'm not watching.

RELATED: Check out the final reveal of the modern kitchen makeover on a budget to see the entire renovation come to life.
One of the installers grabbed two crowbars and placed one on either bracket. He used his body weight to counter the stone and raised the backsplash up an inch while the other installers replaced and pushed the wet bar countertop under the backsplash. It was such a tight squeeze — we all held our breath.

Securing The Stone Shelf
Once the backsplash was hung on the wall, it was finally time to secure the floating stone shelf. Because the entire back of the shelf was open, we could slide it onto the brackets for perfect placement. Once it was centered, the shelf was secured to the stone wall with silicone caulk to prevent it from moving. Damn, that bad boy is heavy AF.

FAQs About The Floating Stone Shelf
Is The Floating Shelf Sturdy?
When we first hung the floating quartz shelf, I placed vases and boxes gingerly, but fast forward 3 years later, and that sucka ain't moving. The silicone has indeed prevented it from sliding right to left. And over the years, I've styled it with stacks of plates and booze for parties. Not even the slightest movement.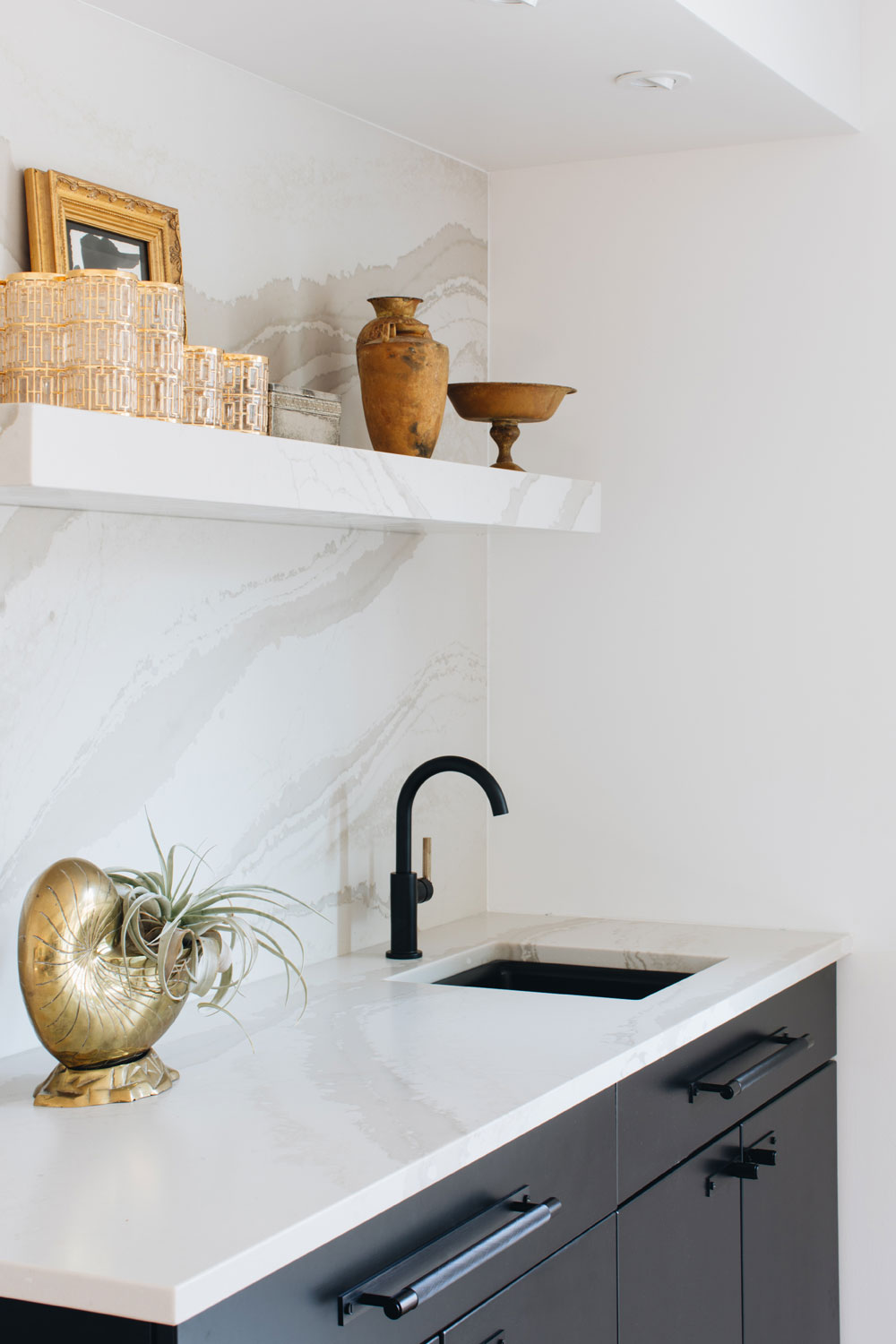 What Are The Floating Stone Shelf Dimensions & Details
Design: Kyla Herbes of House Of Hipsters
Stone: Brittanicca Warm by Cambria in Cambria Matte Finish
Fabricator: MGT Stone of Barrington, IL
Contractor: MidConCo of North Barrington, IL
Dimensions: 12″ deep 3″ thick
Height From Countertop: 24″
Length: 54″
Height of Soffit Above The Floating Shelf: 21″ from the shelf to the bottom of the soffit
Other Wet Bar Details
Cabinetry: UltraCraft Adriatic
Cabinet Color: Coal Supermatte
Faucet: Brizo Litze Faucet Black Matte with Brass Knurling
Sink: Elkay Quartz Black Bar Sink
Cabinet Hardware: Buster + Punch Pull Bar In Black
Mirror: Entwined Dolphin Mirror (purchased at an estate sale)
Black and White Vase: Estate sale find
Painting: Kyla Herbes of House Of Hipsters. Yup, I paint too.
Decorative Box With Lid: Vintage (click the link to shop for more boxes)
Metal Patina Vases: Vintage
Why Didn't You Remove The Soffit?
Well, in a perfect world, that soffit would be outta here, but unfortunately for me, it was hiding the plumbing from the bathroom above. My original design had the soffit removed and two pendant lights hanging above the floating stone shelf. Whomp whomp, insert my life in a hall with the cast of Friends, time to pivot. Lighting was still necessary over the wet bar, but pendants hanging from the soffit would distract from the shelf, so I opted for simple small, recessed puck lights. Not ideal, but better than no lights at all.

So, Are You Ready To Design A Floating Quartz Shelf?
A sturdy, floating stone shelf is possible if you plan the design and troubleshoot before executing. Nothing is ever as easy as it seems, and sometimes to need to compromise, but take it from me, this floating quartz shelf a showstopper. I hope this behind-the-scenes look at the installation has helped inspire you to design your own!



Discover More Home Decor Ideas On House Of Hipsters Interior Design Blog
If you want to make your home a bit smarter, check out the best smart home devices I've tested and my post about smart lighting for your home.
Here are seven genius ways to hang a picture, including hanging art with two hooks, hanging a gallery wall with no tools, and hanging a picture without damaging wallpaper.
Looking to spruce up your backyard for summer? Check out these comfortable outdoor patio furniture top picks.
Love plants as decor but have a black thumb? No worries! I have a rounds-ups of the best faux olive trees and my favorite faux fiddle leaf fig trees.
Ever second guess yourself on what rug size to buy for a living room? Here lie the answers you desire.
Affordable Modern Home Decor – if you're on a budget but want to refresh your space. Try these tips!
Decorating With Neutrals, it's a beautiful beige world. Discover my favorite black, white, tan, taupe, and brown home decor. But if you want a splash of color, check out this purple decor and this green decor!
I recently gave my 80s brick fireplace a makeover, and now that we've finished the renovation, I've whipped up a few mantel decor ideas you can try.