Affordable Modern Home Decor
Last Updated on August 25, 2023
Do you ever want to upgrade your home decor but budget restraints make shopping a bit challenging? I searched high and low for affordable modern home decor, and I even shocked myself. It's amazing what you can find when you set your mind to it. From an expensive-looking cane coffee table to a gorgeous rug to simple faux plants, I've rounded up all my cheap home decor favorites.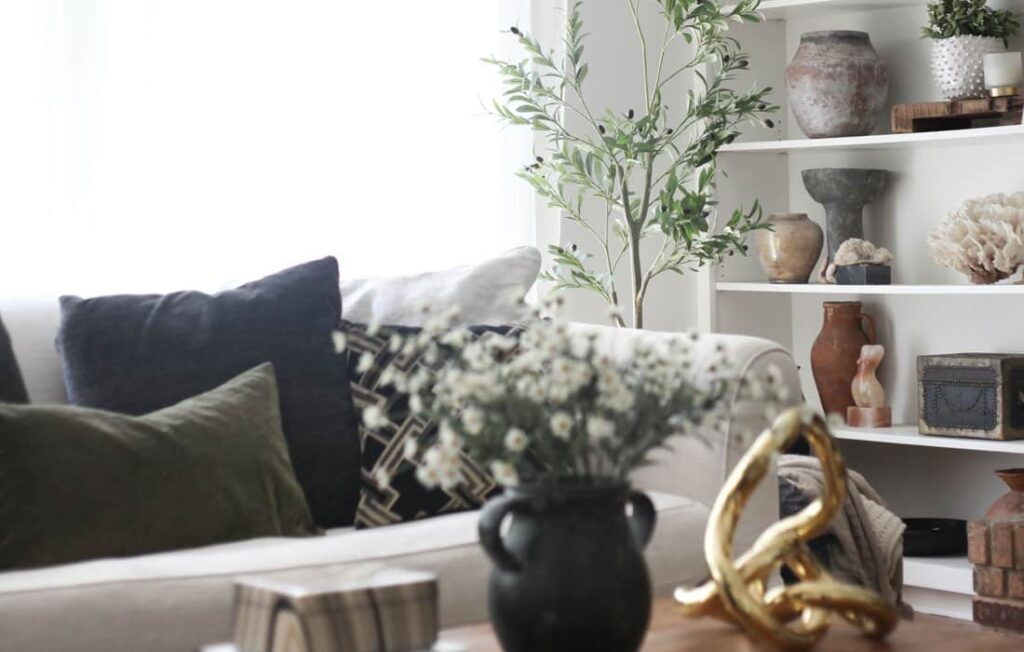 RELATED: Don't miss my epic round up of affordable decor on Amazon, Walmart, and Target. There are some incredible pieces over there to really zhush up your space on a budget,
All The Affordable Decor Styled In My Home
If you want plants without the maintenance of watering and repotting, check out this faux maidenhair fern drop-in. You literally unwrap, fluff, and pop it in a pot. I also grabbed this one, but it's definitely on the smaller side. Since these faux plants have plastic leaves, just give them a rinse in the faucet or a good shake outside when they look a bit dusty.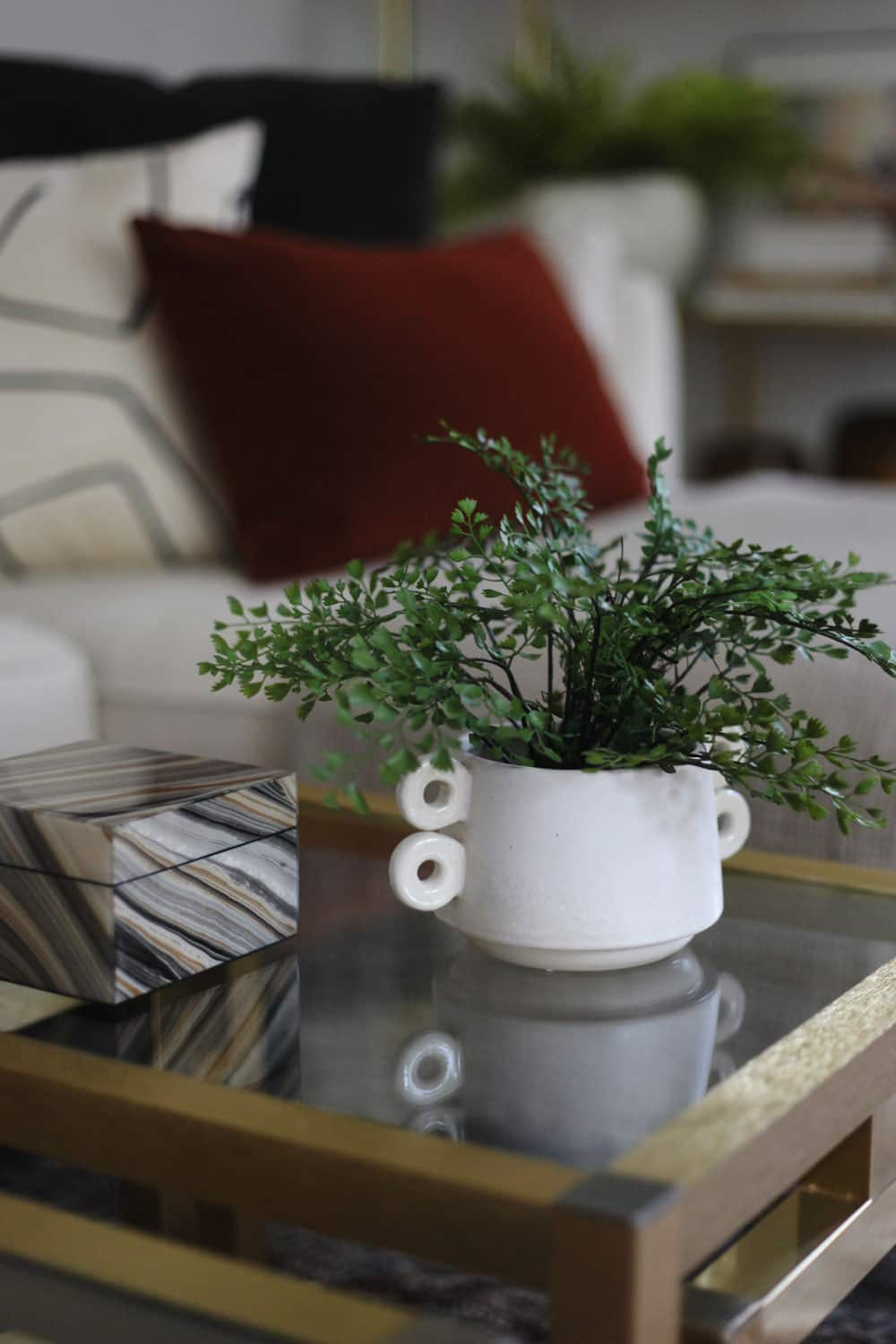 I like a cute tray to wrangle all the accouterments on my desk. This little leather number gives me all the Hermes vibes without the price tag. It's the perfect catchall for the laundry room, foyer, home office desk, or nightstand.
These velvet curtains are incredibly chic-looking plus they come in 12 different colors. They have a nice weight to them so they pool nicely on the floor as well. I purchased these budget-friendly velvet curtains for my bedroom and because they were so inexpensive, I could afford a second set for the living room.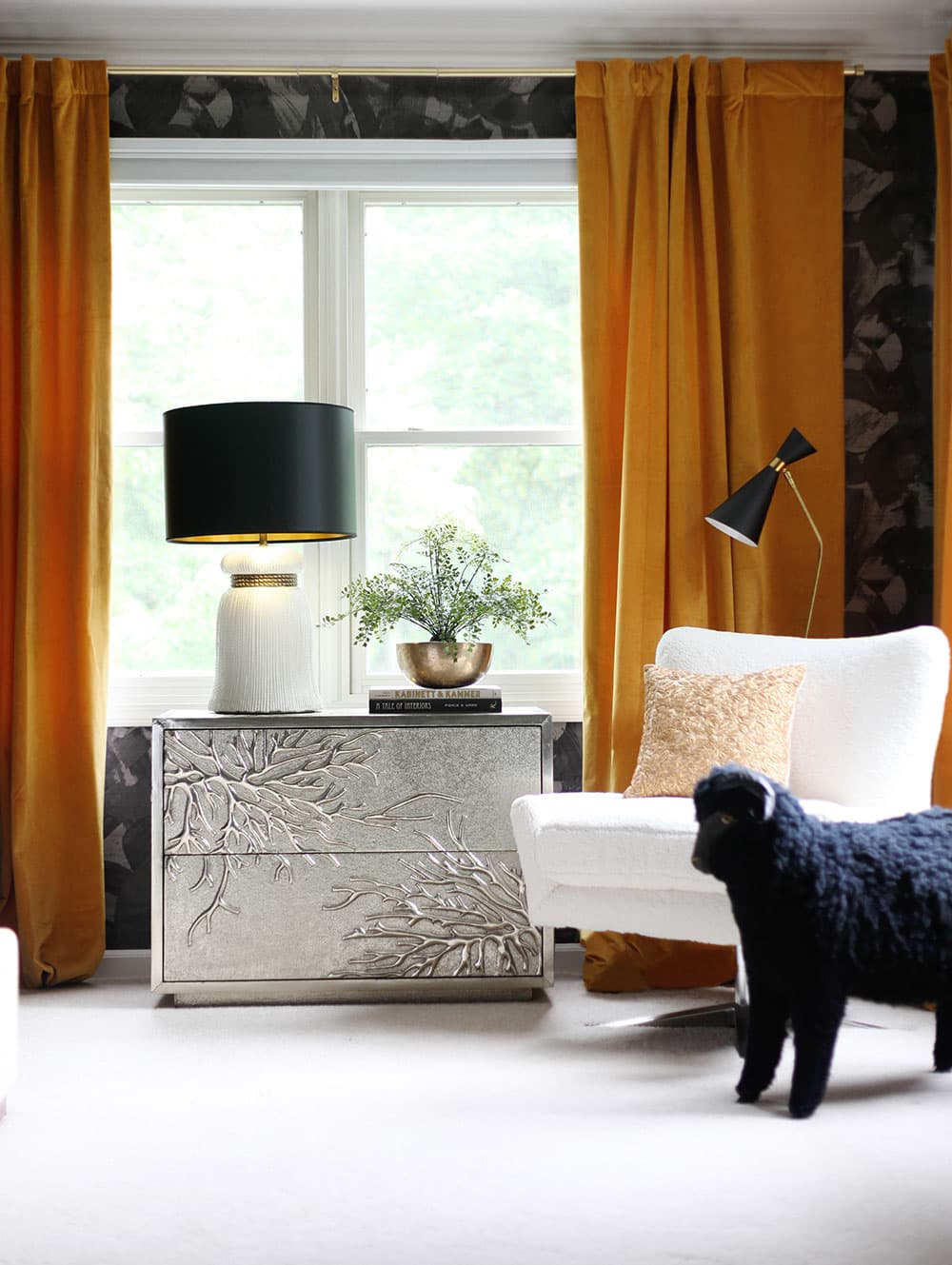 Wooden chain link decor is the perfect sculptural accent piece on a coffee table, etagere, or bookshelf, but it's been difficult sourcing one that's budget-friendly. Thankfully Amazon upped their game with some sleek affordable modern home decor, and this wooden chain link is about $30 which is way less than this one I featured in my spring home decor ideas post.

A black and gold modern sconce for under $35 that looks like the Circa sconces I have in Potty Paradise – I'll do this all day long sir.
This mid-century modern table lamp is under $100 and looks almost identical to this one by Regina Andrews.
Need to add height to a corner and can't find an affordable bookshelf? I gotcha! Check out this faux olive tree, or pop this smaller one on a pedestal. Both are affordable options and since faux olive trees are trending right now in modern home decor, you'll be in style to boot!

Check that faux plant on the shelf below. You guess it. That lil' beauty is cheap, cheap, cheap too!

They say the devil is in the details, and they're right when it comes to these decorative vents. If you have a bent, rusted, old heating vent visible in a bathroom or living room, give it an affordable, sleek upgrade. Just be sure to read the directions when it comes to measuring for the proper size. Ask me how I know.
If you caught my top trending cane furniture favorites, you know rattan is still trending in the decor world. After pressing publish, I found this incredibly affordable modern cane coffee table. The reviews are great and it's a bargain at $150! Yup, I clicked add to cart licketty split.

Peep that large area rug! Yup, it's also a steal of a deal. The 9′ x 12′ is only $360. I don't know where else you can find a rug that cheap. Here's another sneaky peek.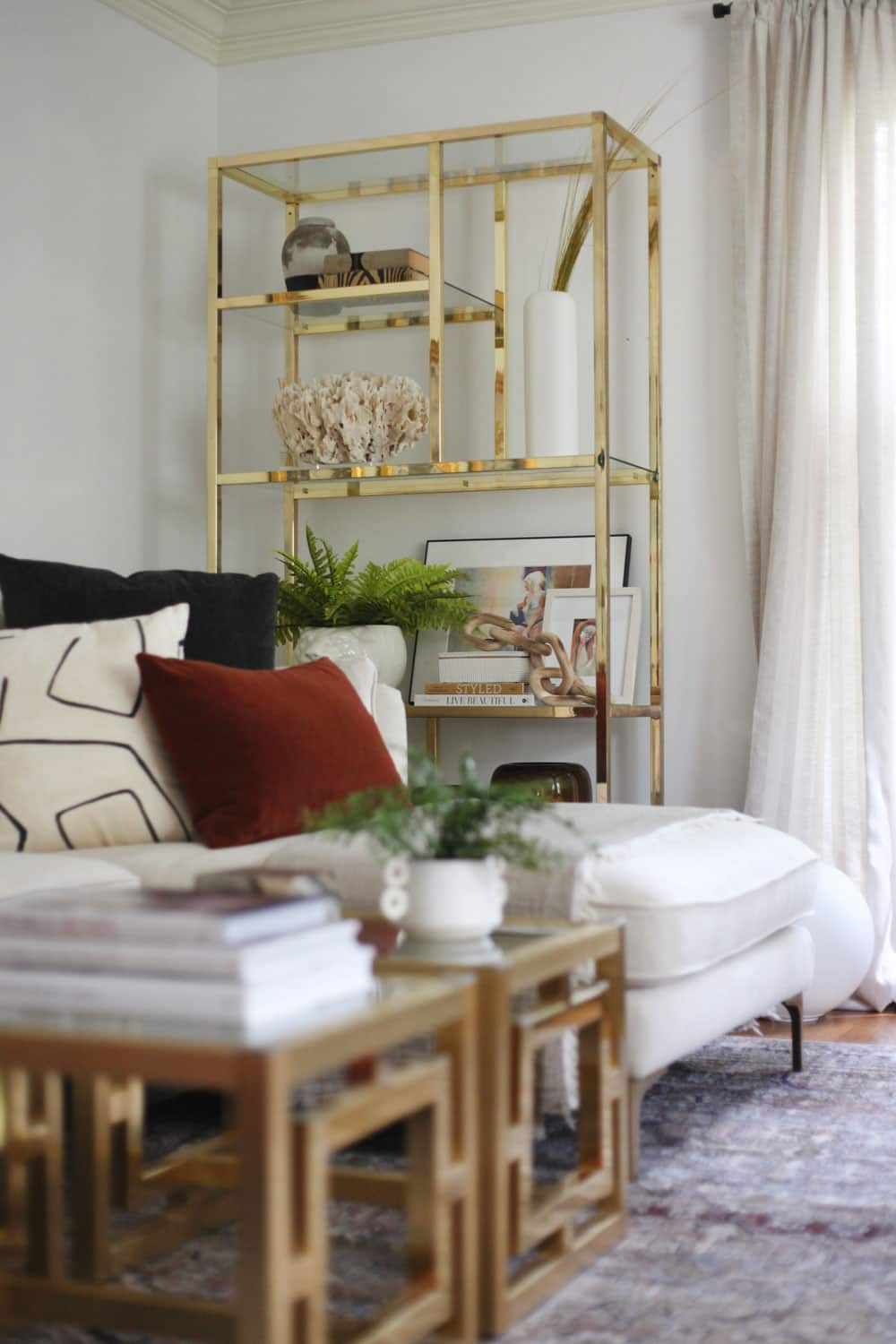 I've dreamed about black and gold flatware – yes, I know I'm adulting hard when I say that – but I've been a bit wary of inventing my pennies due to rumors of scratches and discoloration. However, when it's affordable like this and dishwasher safe, I'm willing to take the chance.
These leopard print playing cards are just too fun not to mention. I originally found them at a high-end home decor shop while visiting Napa, CA a few weeks ago, but they were priced at $45. Wait, wut? That's a hard pass. However, I was sneaky and snapped a photo of the manufacturer and managed to spot them for about $15 (but sure to click the $1 coupon box if it's still available).
Find More Posts Filled With Affordable Home Decor Ideas
I've rounded up even more budget-friends decor and furniture that won't break the bank. How about that cutie pink cushion ottoman!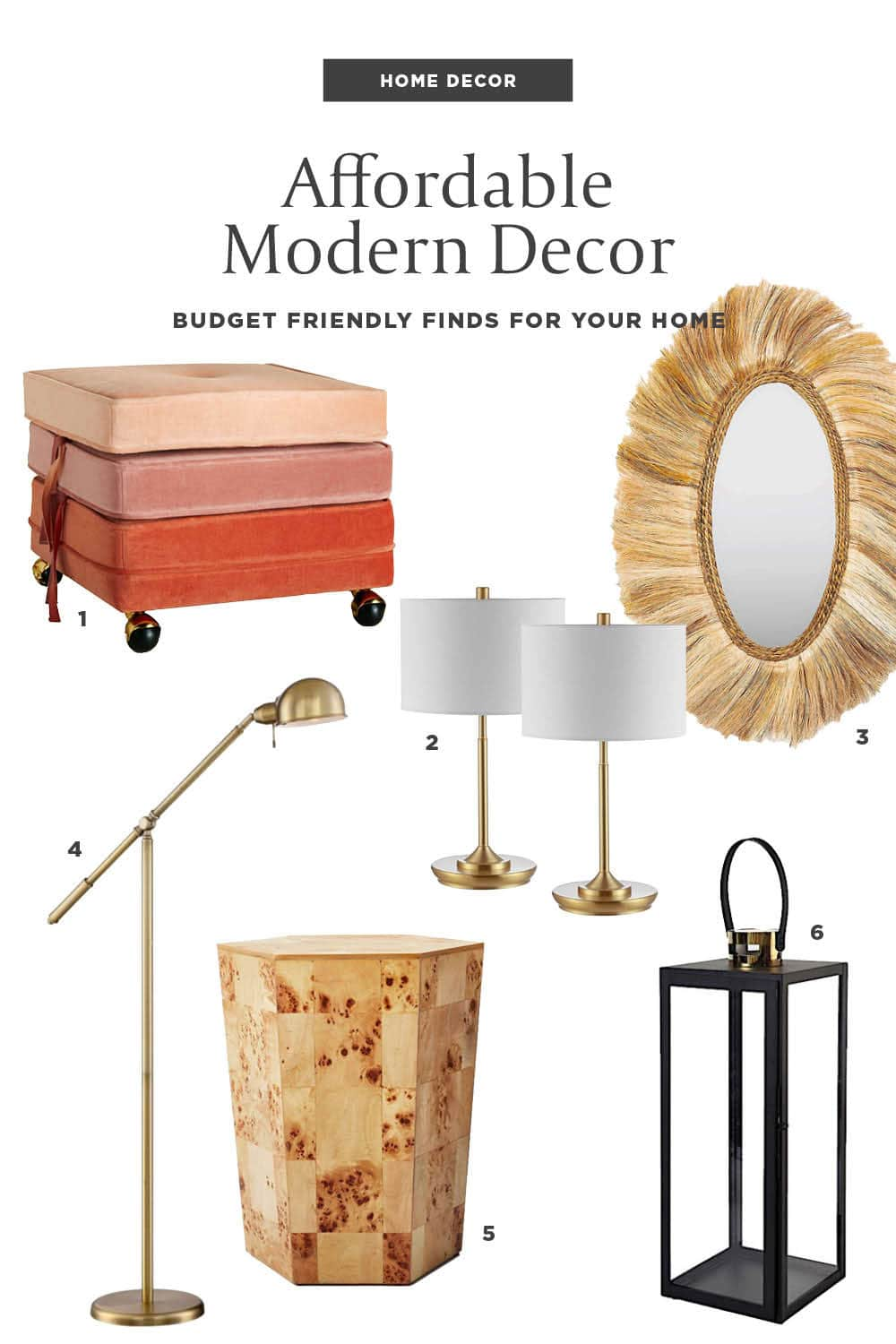 Outdoor Furniture And Decor On A Budget
Studio McGee's latest drop for affordable outdoor furniture and decor and Target is popping! Here are a few of my favorites.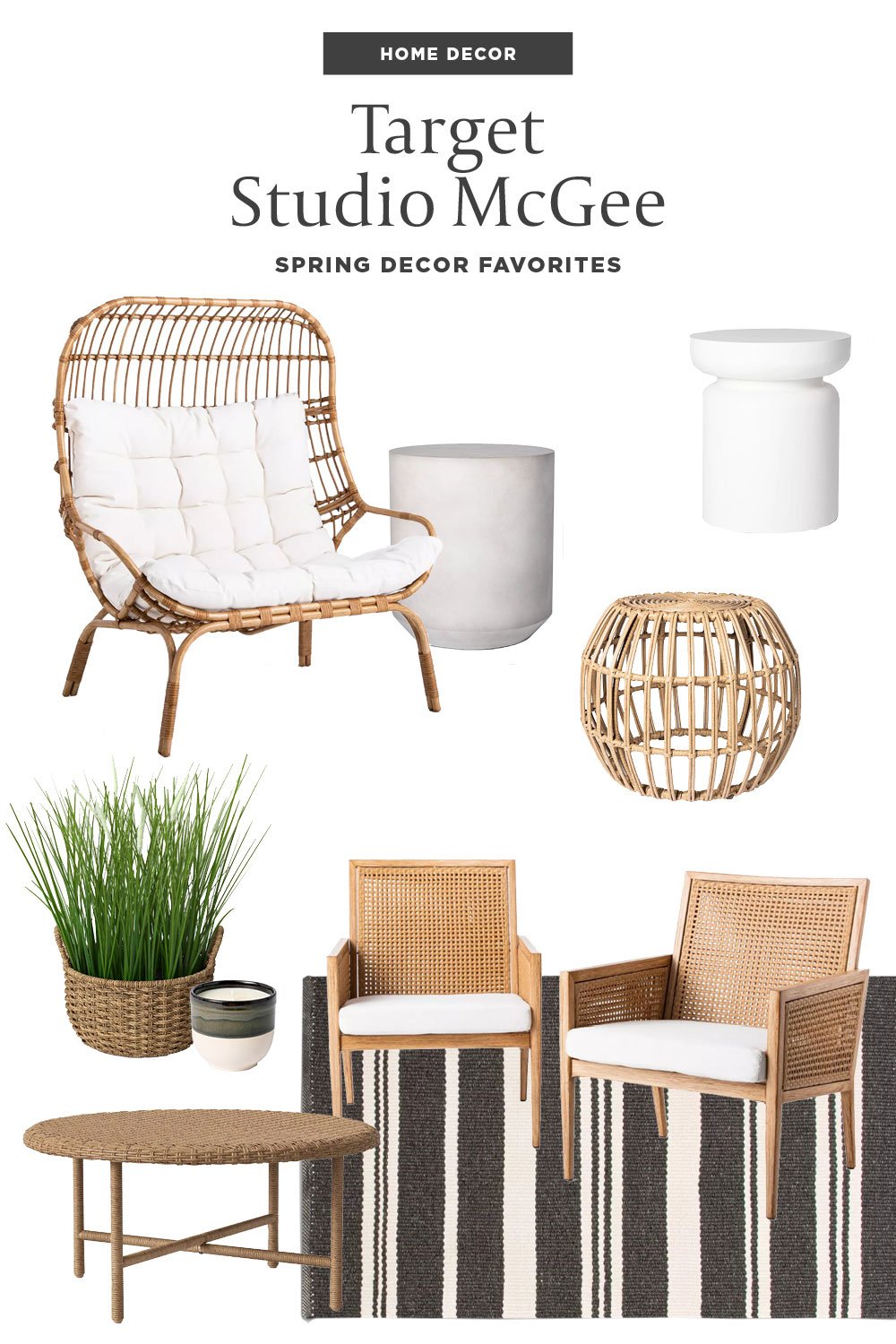 Best Of Amazon Decor
My Amazon home decor wishlist is growing! The rug pictured above is in the living room as are those curtains. Also, those frames are hands down my absolute favorite.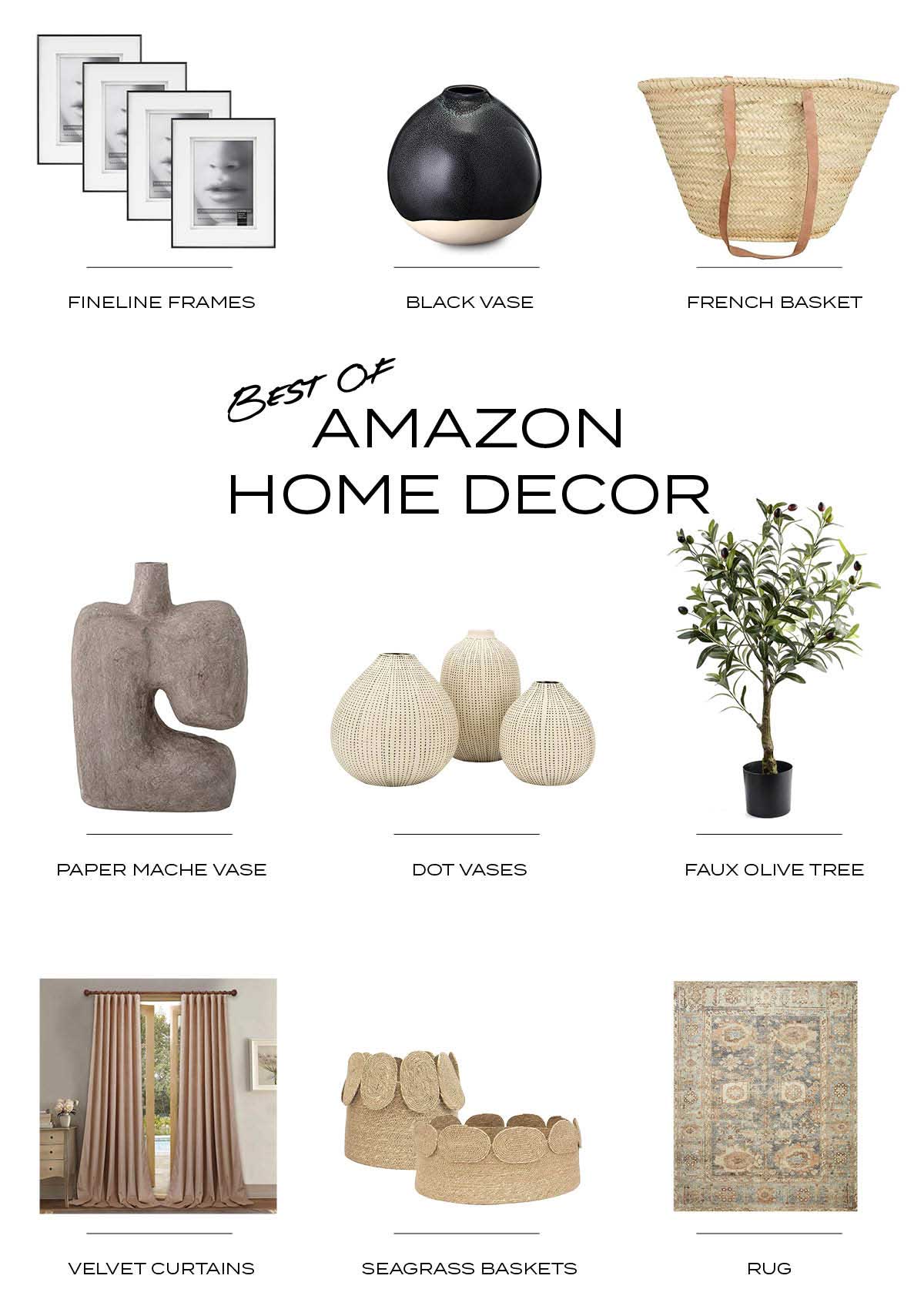 Discover More Modern Home Decorating Ideas
Have you seen those artificial flower arrangements in resin – you know, the clear vase that looks like water, but it's not? This easy tutorial teaches you exactly how to make your own for a fraction of the price.
If you wanna know how to make your home look expensive but decorate on a budget, check out both of those posts! There's some seriously good advice in both.
Here is the final reveal of the Modern Kitchen Makeover On A Budget that I created with Cambria!
I've rounded up my favorite Amazon home decor deals and Smart Gadget Must-Haves
If you're headed into a home renovation, you definitely need my Free Budget Checklist Download
Check out this affordable summer table decor – you won't believe where I got it!
Looking for modern decor that won't break the bank? Check out this round-up of Home Decor Under $100
Whoa! The latest Studio McGee's For Target collection just dropped, and I'm in love!
Shop these Amazon Prime Day deals you must have.
Sharing my 5 Ways To Cut The Cost Of Wallpaper with these clever ideas!
Want to add a little magic to your room? Try adding some disco ball decor with these sparkly ideas.
Love the Primrose mirror but hate the price tag? I got you! Go shop for your favorite Anthropologie mirror dupe.
Do you have a rug that is too small or too big? Not sure? Here's how to choose the best size rug for a living room.
Cane furniture is trending, and so is rattan and cane lighting. If cane isn't your jam but you want more lighting ideas, check out this round-up of boob lighting alternatives.
Storage bins and other organization ideas to keep your home clutter-free. From the pantry to the kitchen to the bathroom to drawers, I've got you covered! And check out the decorative boxes post if you're looking for ways to corral your remotes on your coffee table.
I've been playing around with some living room design concepts. Check out the latest mood board I came up with.
12 cute, stylish backpacks that fit a laptop and are perfect for work, travel, and back to school!
Wait, skinny jeans are out of style? Yup, and here are the trending jeans I would wear instead.
Have you noticed that mushroom decor is trending? Here's what I'm eyeing.
Nothing elevates a ceiling light like a ceiling medallion. Check out that round-up to shop for the best of the best, and be sure to check out my how to install a ceiling medallion tutorial for some secret tips!
Pairing pendant lighting for the kitchen can be a tough design decision. Here are my favorites.
Sharing stylish home decor favorites from Serena and Lily.
Spruce up your backyard with this outdoor patio furniture and decor round-up.