Amazon Prime Day Must Haves
Today ain't no ordinary Monday. It's Amazon Prime Day — two days out of the year that's filled with the best bargains. discounts, and deals. But shopping Prime Day can be overwhelming if you don't know what you're looking for. That's why I'm popping in really quick to share some must-have favorite affordable home decor, gadgets, and appliances. Ready, set, shop!
Home Decor Favorites On Amazon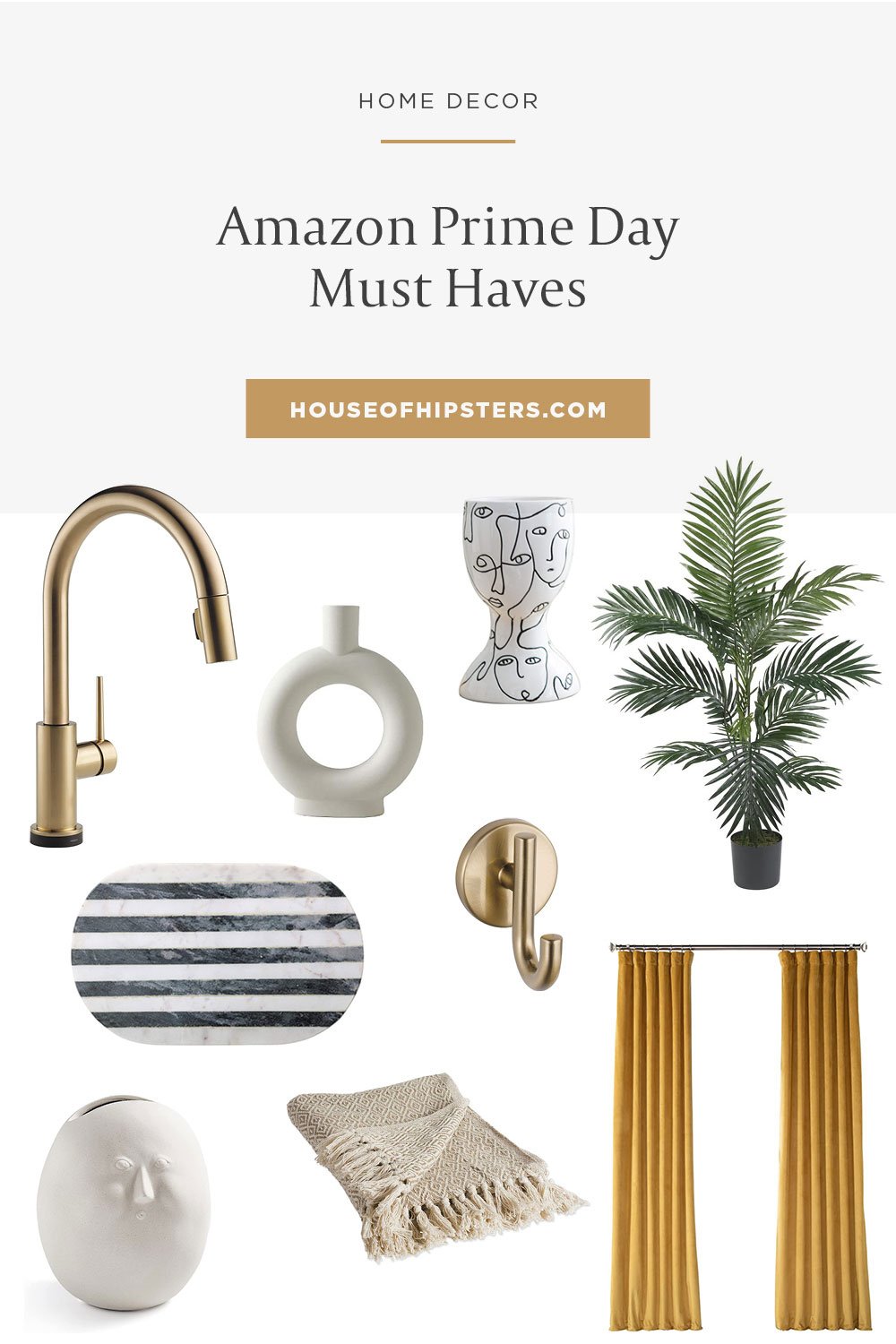 Trinsic Faucet By Delta
All the Delta Faucets are 20% off upon checkout, but this is the Trinsic faucet, and its modern look and feel are by far my favorite. The Touch2O and MagnaTite features are music to my ears. If you're in the market for a new faucet, Amazon Prime Day is definitely the day to pick this beauty up.
Modern Minimalist Vase
If you've recently scrolled through Instagram or Pinterest, I can almost guarantee that you have seen this vase. Perfect addition to your shelfie.
Irregular Face Line Design Vase
This abstract design adds a bit of artistic flair to your vignette. Simply fill with some faux olive branches or favorite florals.
Faux Palm Tree
My quest for the best faux plants is real, and this artificial palm tree is definitely a winner. I'm also eyeing these indoor/outdoor cedar trees for a bit of added privacy on our back deck.
Black And White Stone Cutting Board
Tell me this would not make for the chicest charcuterie board. I love the marble stripes. Definitely a must-have for my next gathering.
Simple Bathroom Hook
A good, sturdy towel hook can be hard to find. This one by Delta Faucet comes in every finish from Champagne Bronze to Chrome to Matte Black.
Cotton Diamond Throw Blanket
A simple modern throw with a classic look and feel. This blankie would look perfect draped over a chair or sofa.
Abstract Face Vase
How adorable is this little vase? He's quirky and weird, and I love him.
Gold Velvet Curtains
Instagram went crazy over these velvet curtains. I did, too — so much so that I bought them for my front room and bedroom. They're heavy in weight, pool nicely on the floor, and are oh-so soft. Plus, they're budget-friendly and come in 12 different colors. Find more affordable curtains that look expensive here.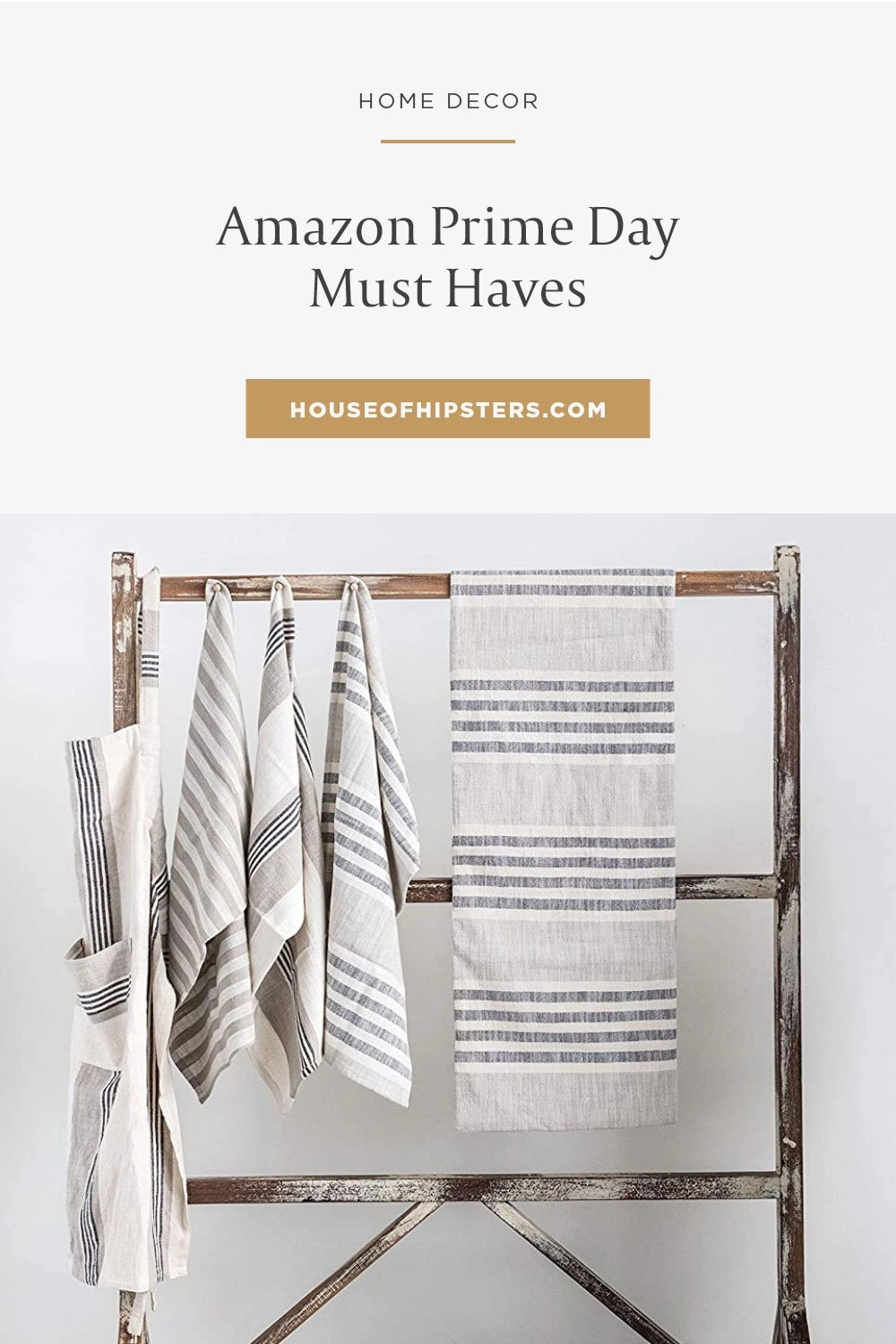 Cotton Tea Towels
I'm obsessed with this set of simple tea towels. They'd be perfect in the kitchen or the bathroom.
Amazon Prime Day – Must-Have Gadgets For The Home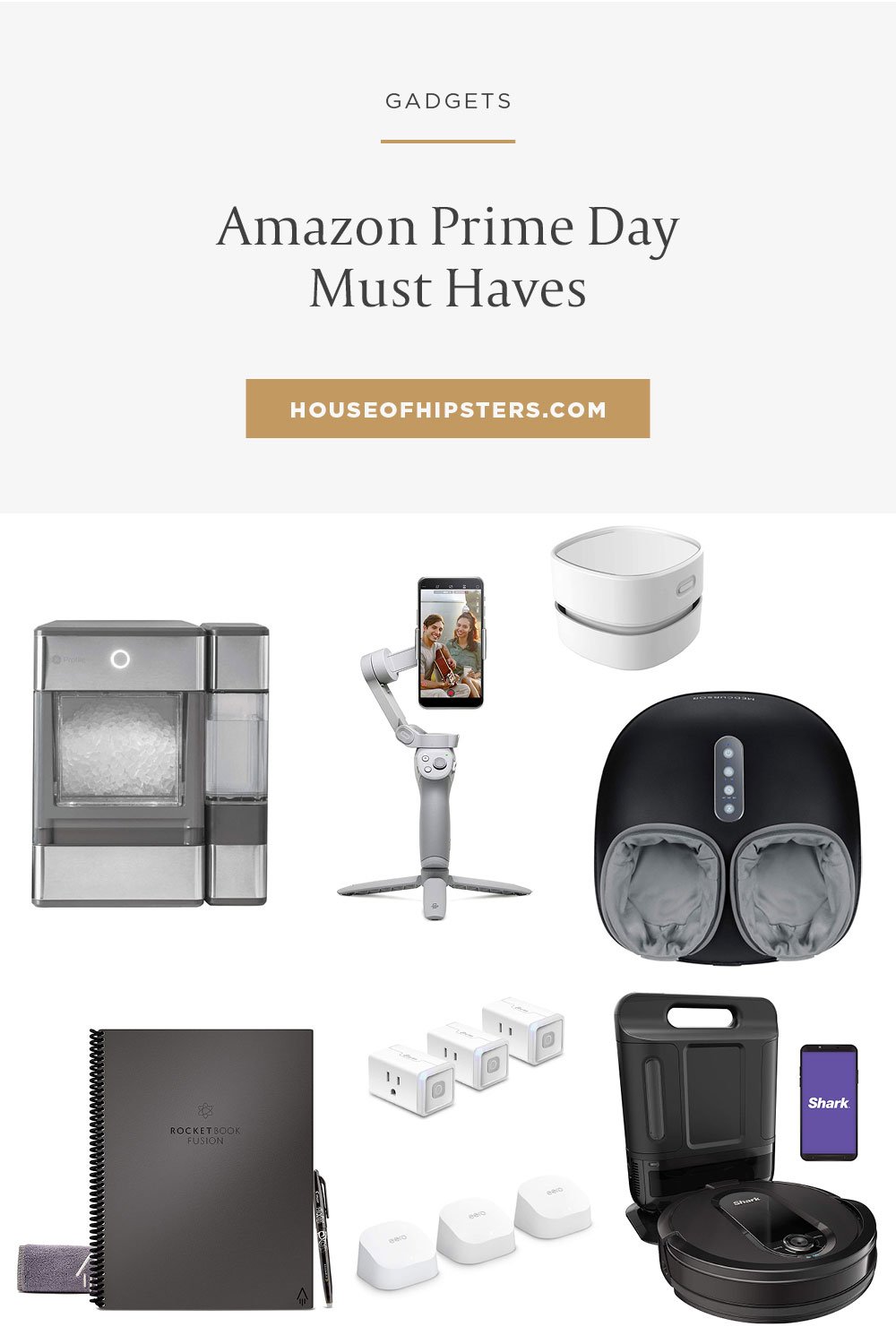 The Perfect Ice – Countertop Ice Maker
This bad boy went viral on TikTok, and I've been dying to get my hands on it. You know when you go to a restaurant, and they give you a soda filled with the perfect crunchable ice? I know, it's irresistible, right? Well, now you can make it at home and enjoy it anytime.
Smartphone Gimbal Stabilizer
Say goodbye to shaky videos with this stabilizer for your phone. This one is easy to install, and the magnetic grip will hold it tight. Perfect for the TikTokker (like myself hint, hint in case The Boy is reading this) in your life.
Desktop Vacuum Cleaner
I'm gonna chalk this little gadget up to the "TikTok made me do it" excuse. Yup, I cannot resist this little crumb catcher…one shall live on my kitchen counter by the toaster, and the other on my desk in my home office.
Shiatsu Foot Massager
You can make bet that this deep kneading machine is in my cart right now. If you want to improve your circulation, eliminate body fatigue, and improve sleep, get it now because it's a Lightning Deal and only has 1 hour left.
Eero WiFi Whole House System
This smart home hub will blanket your home with WiFi up to 5,000 sq ft. I've had mine for a few years now and still love it. Here's my Eero WiFi review if you're interested.
Smart Plug WiFi Outlet
The Boy bought these a few years back, and I'm not sure what we did without them. If you ever visit the house, you'll hear us say, "Alexa, turn on bedroom lights", or "Alexa, turn off evening lights". You can also dim them as well. It's the only way we turn on and off the lights – goodbye switches.
Rocketbook Fusion — The Planner for ADHDers
Up until I was diagnosed with ADHD (thank you TikTok), I didn't understand how anyone used a planner. I had a stack of them that I either misplaced, lost, or just plain old forgot to use…but they sure did look pretty. Then I found Rocketbook. It's a reusable calendar, planner, and to-do list maker. Simply use the special pen and after you're finished with a task, wipe it away with some water and the cleaning cloth.
Shark Robot Vacuum with Self-Empty Base
Now that Comet lives here, daily vacuuming is necessary, and if I can automate it, even better. I'm a big fan of the Shark WandVac System (see it in action here) and my Shark upright vacuum, so this may come live at my home. Also, this steal of a deal is half the price of a Roomba.
More Affordable Home Decor And Budget-Friendly Decorating Ideas
Have you seen those artificial flower arrangements in resin – you know, the clear vase that looks like water, but it's not? This easy tutorial teaches you exactly how to make your own for a fraction of the price.
If you wanna know how to make your home look expensive but decorate on a budget, check out both of those posts! There's some seriously good advice in both.
Here is the final reveal of the Modern Kitchen Makeover On A Budget I designed with Cambria!
I've rounded up my favorite Amazon home decor deals and Smart Gadget Must-Haves
If you're headed into a home renovation, you definitely need my Free Budget Checklist Download
Check out this affordable summer table decor – you won't believe where I got it!
Looking for modern decor that won't break the bank? Check out this round-up of Home Decor Under $100
Whoa! The latest Studio McGee's For Target collection just dropped, and I'm in love!
Shop these Amazon Prime Day deals you must have.
Sharing my 5 Ways To Cut The Cost Of Wallpaper with these clever ideas!
If you're looking for Home Decor On A Budget shop these Affordable Decorating Ideas
If you're looking for organizing tips, check out this round-up of the best storage bins and Organization Ideas and then be sure to hop over and then download this declutter your home checklist.
Discover More Modern Decor Ideas
Want to add a little magic to your room? Try adding some disco ball decor with these sparkly ideas.
Love the Primrose mirror but hate the price tag? I got you! Here's a full round-up of affordable Anthropologie mirror dupes.
Do you have a rug that is too small or too big? Not sure? Here's how to choose the best size rug for a living room.
Cane furniture is trending, and so is rattan and cane lighting. If cane isn't your jam but you want more lighting ideas, check out this round-up of boob lighting alternatives.
Storage bins and other organization ideas to keep your home clutter-free. From the pantry to the kitchen to the bathroom to drawers, I've got you covered! And check out the decorative boxes post if you're looking for ways to corral your remotes on your coffee table.
I've been playing around with some living room design concepts. Check out the latest mood board I came up with.
12 cute, stylish backpacks that fit a laptop and are perfect for work, travel, and back to school!
Wait, skinny jeans are out of style? Yup, and here are the trending jeans I would wear instead.
Have you noticed that mushroom decor is trending? Here's what I'm eyeing.
Nothing elevates a ceiling light like a ceiling medallion. Check out that round-up to shop for the best of the best, and be sure to check out my how to install a ceiling medallion tutorial for some secret tips!
Add some texture to your room with this rattan and cane lighting round-up.
Pairing pendant lighting for the kitchen can be a tough design decision. Here are my favorites.
Sharing stylish home decor favorites from Serena and Lily.
Spruce up your backyard with this outdoor patio furniture and decor round-up.
Last Updated on January 26, 2023 by Kyla Herbes