Amazon Internet Famous Home Decor
Last Updated on December 5, 2022
You know I'm all about TikTok, and one of my favorite rabbit holes is the viral Amazon must-buys for the home. Do you know about the Amazon Internet Famous shopping page? Ummm, ya, every deal is in one place, and I'm obsessed. Here is what's catching my eye right now.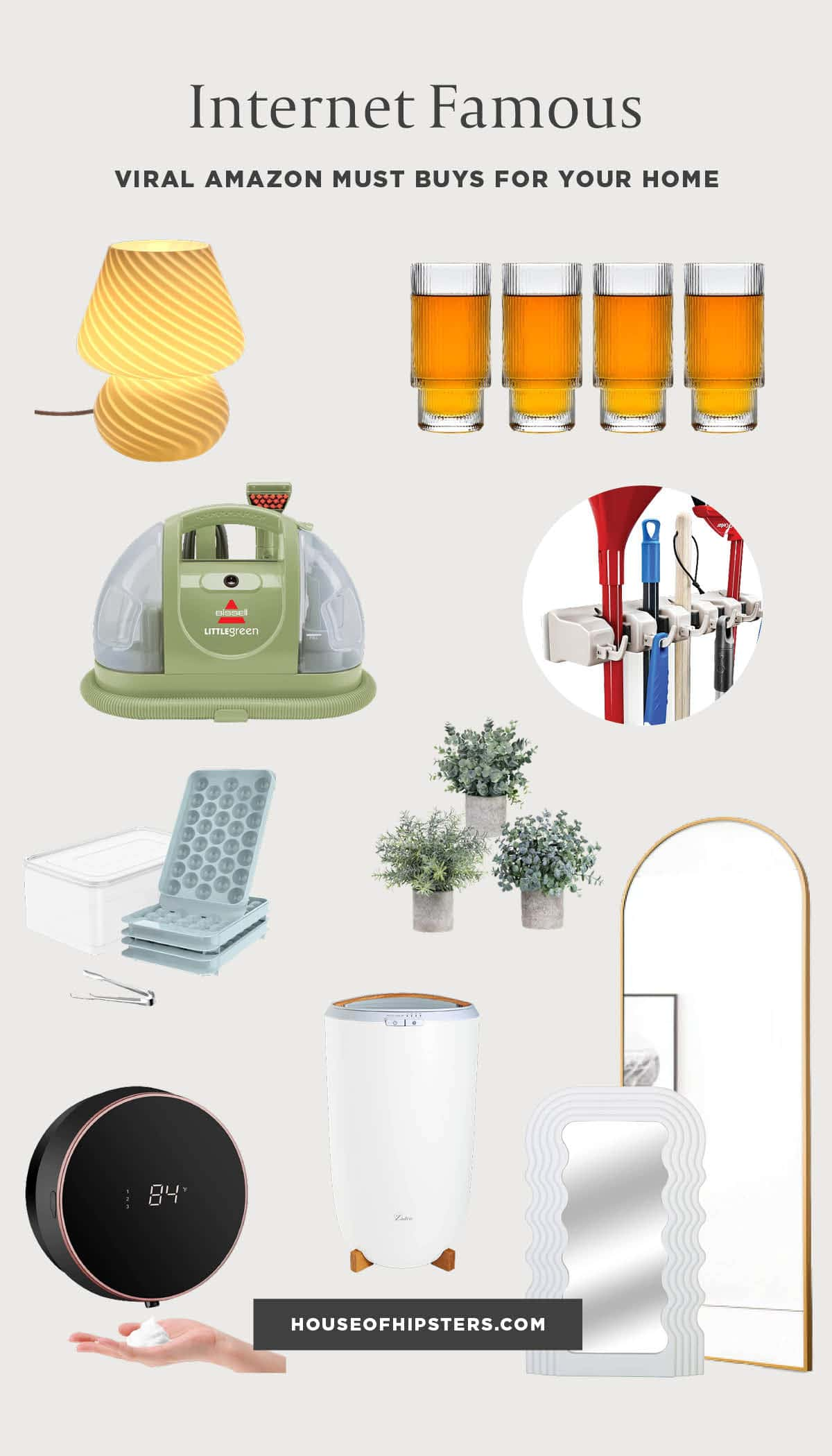 Amazon Internet Famous Must Buys
Try this look-alike table lamp if you like the vintage Murano mushroom lamps but don't want to pay big bucks for the real deal. The swirly stripes and soft glow will give you the same look for less. It's the perfect size for a nightstand.
This set of 4 ribbed drinking glasses has been in heavy rotation on my FYP, these speakeasy art deco coupe glasses (perfect for a glass of champagne), and these glass ribbed mugs have also been making the rounds. Perfect if you have open shelving in your kitchen.
You may have picked up a Little Green Machine if you shopped my Amazon Prime Day Deals. If you have kids or a pet, this handheld portable steam cleaner comes in clutch when dealing with stains on carpet and upholstery.
This broom organizer is in my Amazon cart and will soon be coming to my home. The closet by the garage needs a major rogering, which should help immensely. I love that it has small hooks for things like dustpans and hand-held dusters.
I have these faux plants scattered around the house. These cuties come as a set of three, and they're the perfect decor addition for a coffee table, side table, and bookshelf.
You know I'm a fan of the bougie nugget ice machine, but if you want to save your pennies, try this best-selling round ice tray as a fun alternative.
We have hard water, and the rings soap dispensers leave behind on the counters drive me bonkers. I saw this automatic soap dispenser that mounts to the wall, and I'm obsessed.
The first time I visited Europe, I fell in love with towel warmers. Amazon has both racks you can mount on the wall and a small warming basket (here's another option) which is the perfect bougie bathroom solution if you're a renter or there are no outlets near your shower.
This full-length arch mirror is modern and simple, perfect for selfies, and will look beautiful in pretty much any room setting. Also, I have a sneaking suspicion this mirror will start trending soon, and this mini wave mirror is also trending. If you like this, be sure to check out my affordable Anthropologie mirror dupe round up.
More Amazon and Budget-Friendly Home Decor
If you've been searching for the Best of Amazon Home Decor, look no further.
Design tips for Decorating On A Budget
Easy ways on How To Make Your Home Look Expensive
Refresh your room with my Favorite Spring Home Decor Ideas