Best Faux Fiddle Leaf Fig Trees
You've probably seen my faux olive tree round up, and yes, this artificial beauty is still trending hard, but one faux plant that is still searched heavily on HOH is the faux fiddle leaf fig tree. The interior design world has had an ongoing love affair with them for years, and it's still going strong. Today's post is about the best faux fiddle leaf fig tree – specifically, the best places to buy them online and I'm also sharing how to clean them at the bottom of this post.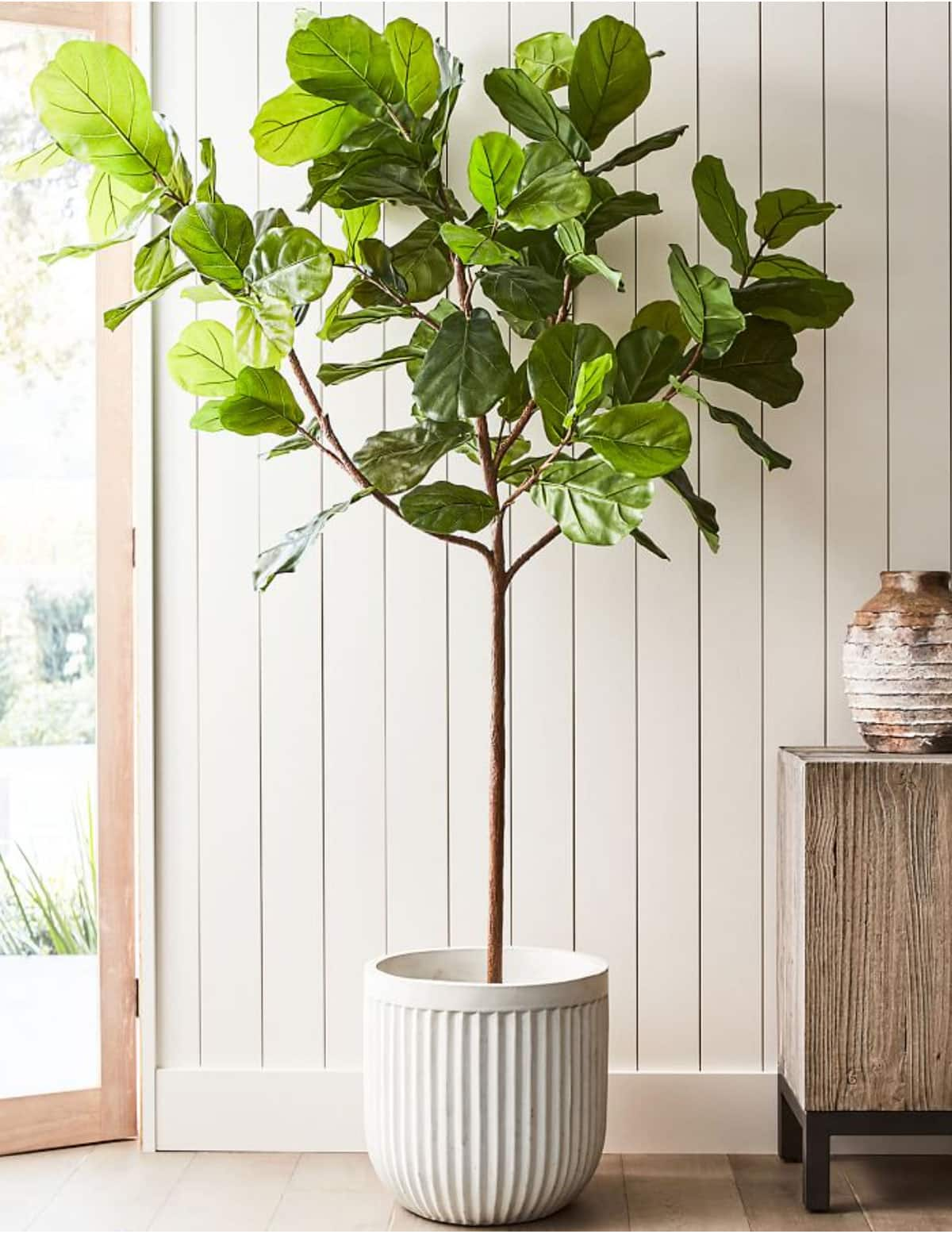 Artificial Tree with burlap wrapped base in Concrete Fluted Planter
Faux plants are a great way to bring a little bit of nature into your home, and they can be used in the bedroom, living room, or home office. And if you follow home decor influencers on Instagram, someone you follow probably owns at least one.
Where To Buy The Best Faux Fiddle Leaf Fig Trees Online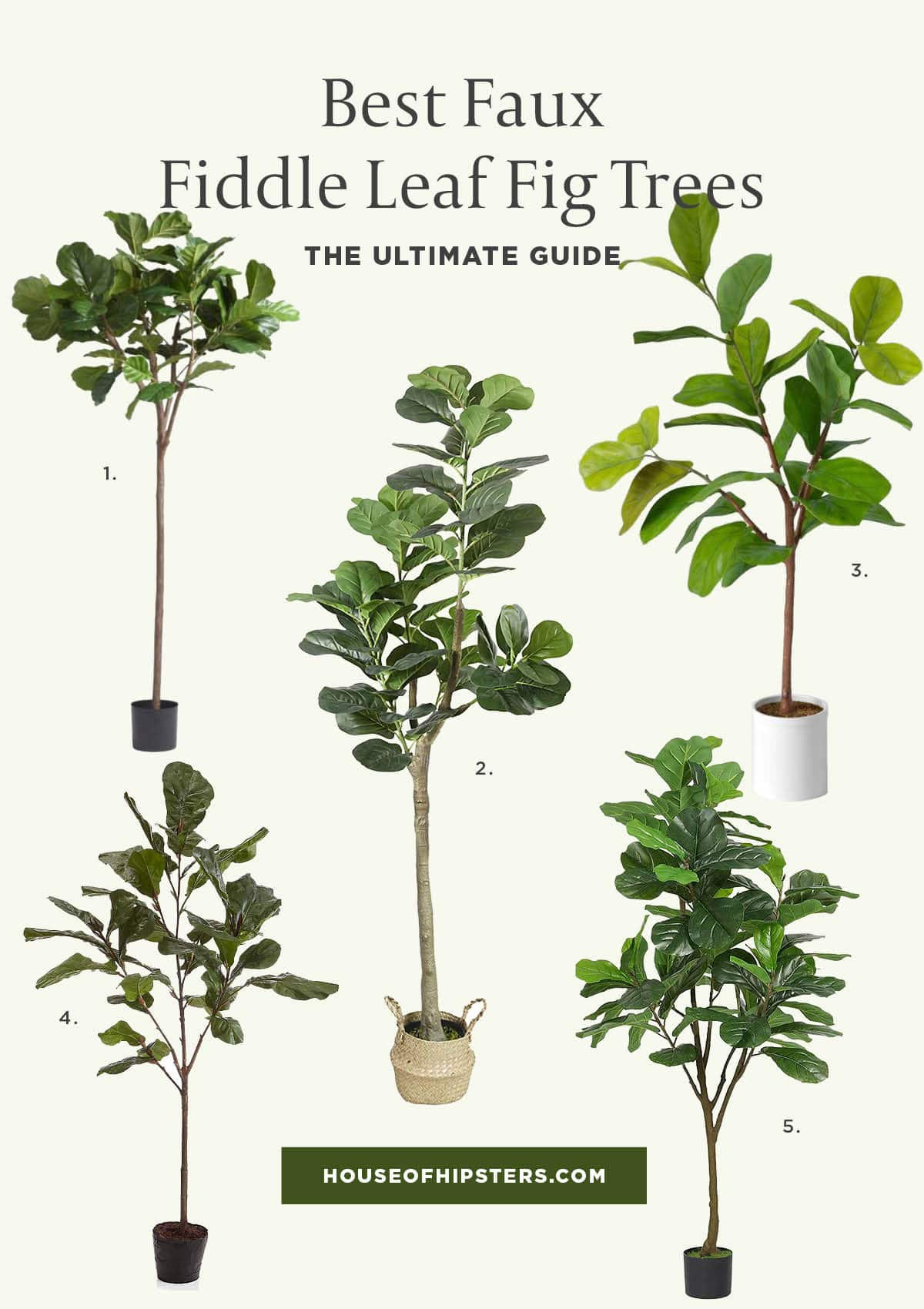 Gorgeous 72″ tall faux fiddle fig leaf tree – gorgeous, looks real and is priced under $200
Artificial fiddle leaf fig tree comes in 3 different sizes, is incredibly affordable, and it indoor and outdoor.
No longer available – You can count on Target's Threshold Line to have good greenery. This faux fiddle leaf fig tree is often out of stock, and if that's the case, sign up to be notified when it's restocked.
Run, don't walk because this 7′ faux fiddle leaf is presently on sale. Don't sleep on this deal.
6′ Tall Artificial Tree – I love the brand Viagdo on Amazon. Their artificial plants have a good realistic look and are budget-friendly.

6. The featured fake fiddle leaf fig tree above is in the 7′ size, but it comes in 3 different sizes. I love it styled in this concrete planter.
7. My secret sources for artificial plants. They legit carry everything your little heart desires when it comes to greenery.
8. Hello 77″ of awesomeness! All this fake fiddle leaf needs is a modern pot.
9. This faux fiddle leaf fig is pricier, but it made the cut because of its fullness.
10. This artificial fiddle leaf fig tree is more of a plant at 3′ tall, but it's a cutie. Note that it does not come in the pot.
More Faux Fiddle Leaf Fig Trees I'm Loving
Yup, there's even more! I made sure this is the ultimate guide to fiddle leaf figs.

11. To grow a real, mature fiddle leaf fig tree like this would take years, and it might be the tallest out of this complete guide. This price does reflect it, but it's still a winner. Shop it here.
12. Another best seller from PB but a different size than the one pictured above in the concrete planter. This is the 8′ tall faux fiddle leaf fig tree.
13. This is a 7′ tall faux fiddle leaf fig tree with a nice fat trunk. Love this one.
14. A cute 5′ potted faux fiddle leaf fig tree, and even though it's a bit smaller than the tree linked above it, I like the fullness of the leaves.
15. A smaller faux fiddle leaf fig tree comes in with a basket.
Here Comes A Whopper!
Before I wrap up, I just found an 8′ faux fiddle leaf fig tree! Yup, you read that right! 8 FOOT TALL! She's a big whopper!

What is the Best Way to Clean This Faux Plant?
I swear, every time I mention faux plants on TikTok or Instagram, there's at least one person who turns their nose up and says no thank you, too much dust. Seriously? How do you clean your real plants? And BTDubs, the real deal can come with mites, spiders, and other little creepy crawling critters. No, thank you. There are two ways to clean a faux plant:
1. You can use a vacuum cleaner or Swiffer Duster, obviously the most common way of cleaning faux plants. The fiddle leaf sig has large leaves, so the Swiffer is perfect.
2. You can use a damp cloth and wipe away any dirt or dust from the surface of your faux plant.
Best Way To Style Your Fake Plants
Most of the time, artificial plants will arrive unassembled, but they're fairly simple to pop the branches together. Once complete, you'll want to bend the leaves carefully, stems, and branches to give them a more natural, organic look. You're giving it a good fluff. The main thought is it doesn't need to be perfect. If you think about a real plant, it's not symmetrical.



Discover More Home Decor
9 Ideas for Decorating on a Budget – the perfect post for the DIY home enthusiast.
How to Make Your Home Look Expensive – learn where to put your money to pack a punch in your home decor.
This post is for you if coffee table styling has you down. Nail your design every time with these tips.
This post is an oldie but a goodie – How To Decorate With Plants.
Rounding up the best interior design books – if you're looking for gift idea inspiration for a home decor obsessed loved one, this post is for you!
Thinking about joining a country club? Before doing so, read my review of the Biltmore Country Club. You may rethink that decision.
Last Updated on January 19, 2023 by Kyla Herbes