Best Faux Fiddle Leaf Fig Trees That Beautify Your Decor
Last Updated on May 8, 2023
You've probably seen my round-up of faux olive trees, and yes, this artificial beauty is still trending hard, but one faux plant that is still searched heavily on HOH is the faux fiddle leaf fig tree. The interior design world has had an ongoing love affair with them for years, and it's still going strong. Today's post is about the best faux fiddle leaf figs that look like the real thing – from some of the best places like West Elm to World Market to Home Depot. And if you want to know how to clean your artificial plants, skip to the bottom of this post.
Where To Buy The Best Faux Fiddle Leaf Fig Trees Online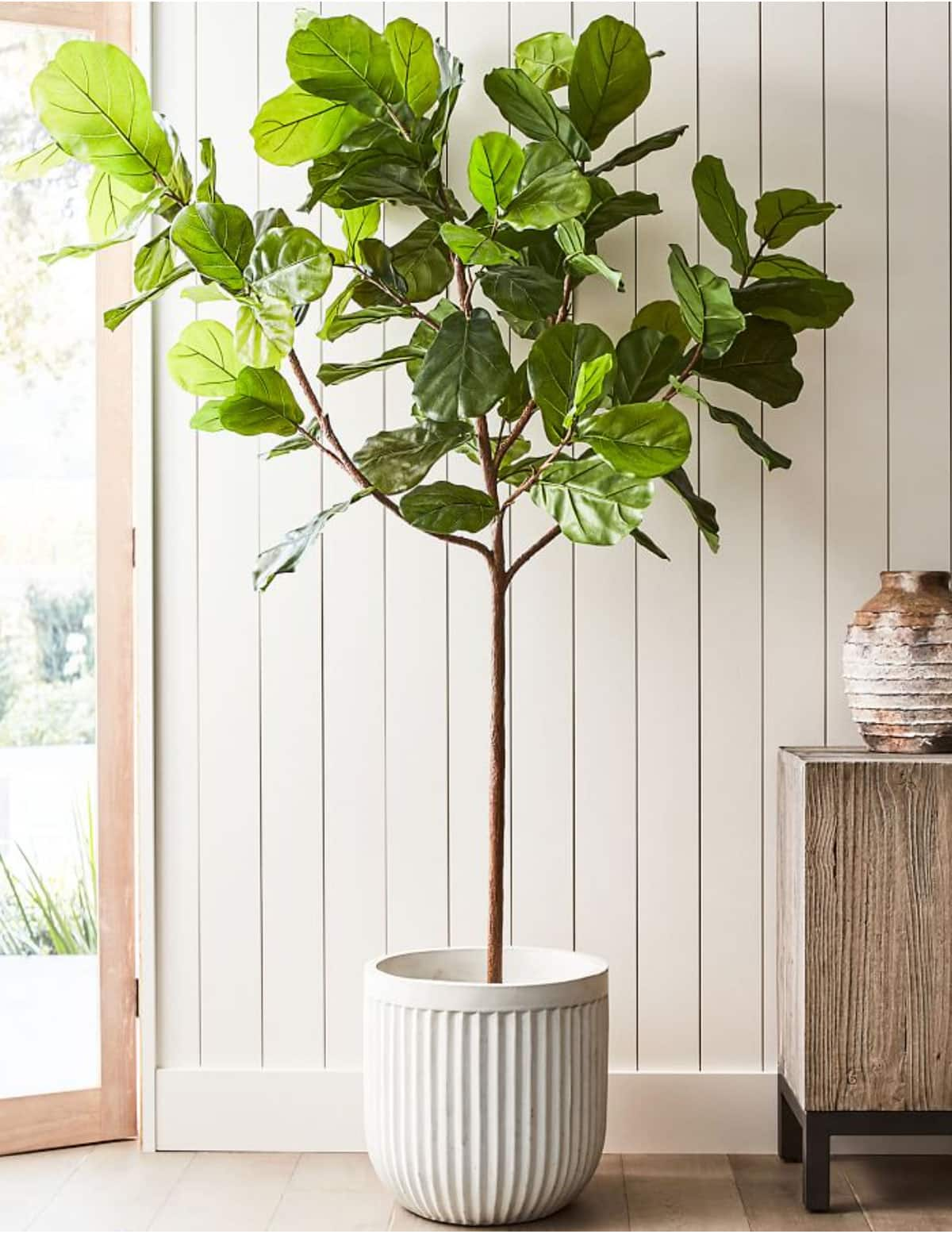 Artificial Faux Fiddle Leaf Fig Trees with burlap-wrapped weighted base in Concrete Fluted Planter
Faux fig trees are a great way to bring a little bit of nature into your home when you're missing a green thumb, and they're the perfect plant for an empty corner in the bedroom, living room, or home office. If you follow home decor influencers on Instagram, chances are one of those accounts you follow probably owns one of these decor classics.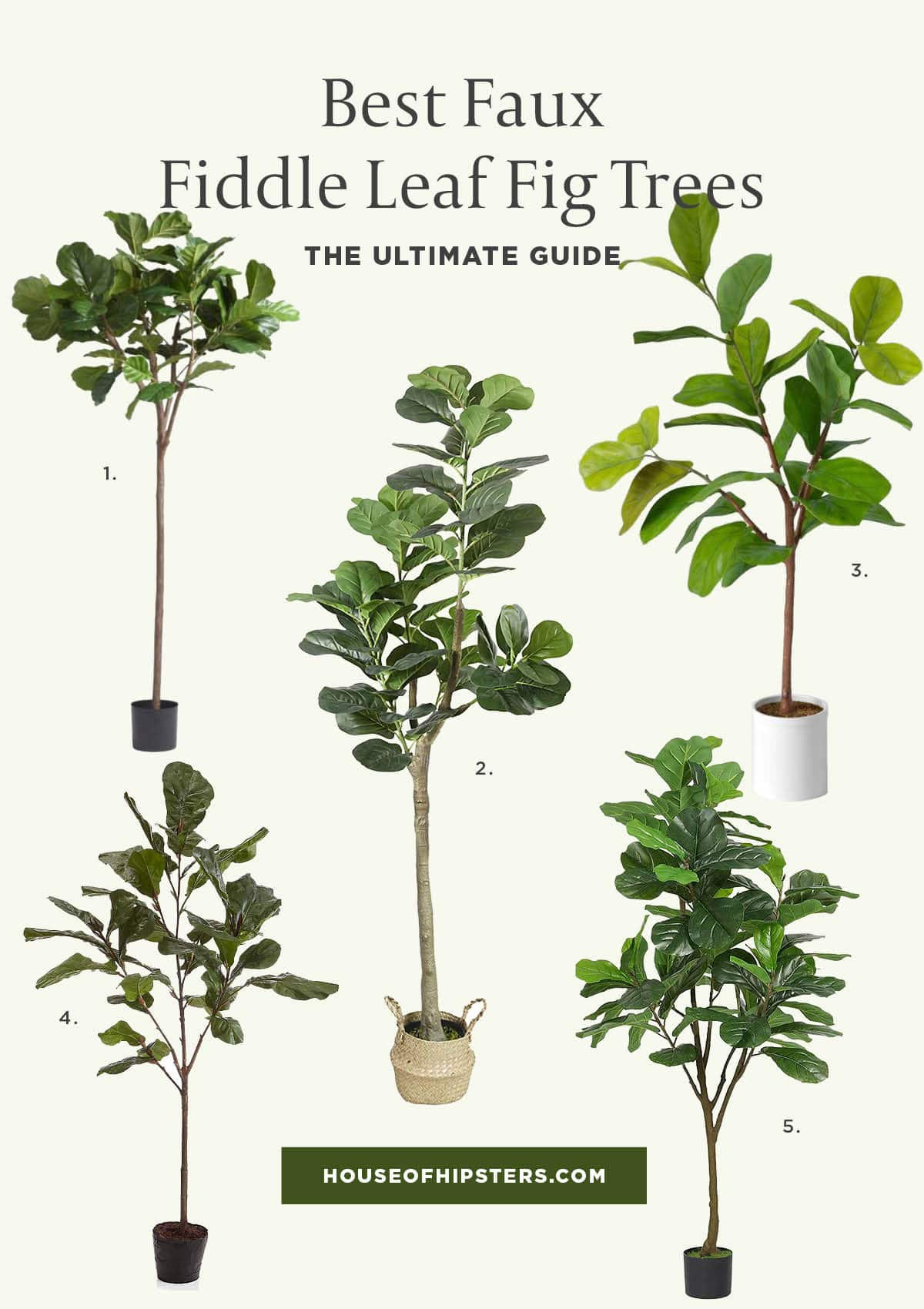 SCROLL THE THUMBNAILS TO SHOP THE POST


MORE WAYS TO DECORATE YOUR HOME: If your ceiling has a boob light, check out these alternatives.

6. The featured fake fiddle leaf fig tree pictured above is the 7-foot tall version, but it comes in 3 different sizes. I love it styled in this decorative concrete planter.
7. 54" Fiddle Leaf Artificial Tree (Real Touch) – Nearly Natural is my secret source for artificial plants. They legit carry everything your little heart desires when it comes to lush faux greenery.
8. 77″ Faux Fiddle Leaf Fig Tree – Hello lover! All this fake fiddle leaf needs is a modern pot.
9. Faux Fiddle Leaf Fig Tree This is a pricier version, but it made the cut because of its luscious fullness. It comes with the basket topped with Spanish moss.
10. 3.33 Ft Fiddle Leaf Fig Plant This faux plant is a cutie, but please note that it does not come in the pot. You must purchase a decorative planter separately.
SCROLL THE THUMBNAILS TO SHOP THE POST


More Faux Fiddle Leaf Fig Trees I'm Loving
Yup, there's even more! I made sure this is the ultimate guide to faux fiddle leaf figs.

11. 7-Foot Artificial Fiddle Leaf Fig Tree in Pot To grow real fiddle-leaf fig trees like this would take years, and this faux version might be the fullest out of this entire guide. It's on the pricier side of good quality fake fiddles, but it's still a winner and found at Home Depot stores.
12. Faux Fiddle Leaf Fig Trees, another bestseller from Pottery Barn but a different size than the one pictured above in the decorative planter. This is the 8-foot-tall faux fiddle leaf fig tree. Holy momma, she's a big gal.
13. 7-Foot Potted Faux Fiddle Leaf Fig – this artificial tree has a nice fat trunk. I love this one.
14. 5-Foot Potted Faux Fiddle Leaf Fig Tree – This cutie (like the one linked above) is from CB2 but is a bit smaller. I like the fullness of the leaves and the white modern planter.
15. 36" Faux Fiddle Leaf Fig Plant in Rattan Basket is a smaller faux fiddle leaf fig plant that comes in with the basket and Spanish moss. It's presently on sale for $93.
SCROLL THE THUMBNAILS TO SHOP THE POST


STYLE TIP: Add a bit of sparkle to that faux plant! When styling near a window, pop a disco ball on the floor for instant magic. Perfect way to add a little sparkle.
Here Comes A Whopper!
Before I wrap up, I found an 8-foot faux fiddle leaf fig tree! Yup, you read that right! 8 FOOT TALL! She's a whopper and one of the best options if you're looking for an extremely tall faux fiddle-leaf fig plant.

SHOP THE POST


What is the Best Way to Clean A Faux Tree?
I swear, every time I mention my black thumb and faux plants on social media, at least one person turns their nose up and says no, thank you, too much dust. Seriously? How do you clean your real deal plants? And BTDubs, the real plant can come with mites, spiders, and other little creepy crawling critters. No, thank you. Here are two ways to clean your faux fiddle-leaf fig tree:
1. You can use a vacuum cleaner, microfiber cloth, or Swiffer Duster, obviously the most common way of cleaning faux plants. The fiddle leaf fig has large leaves, so the Swiffer is usually the best option.
2. You can use a damp cloth and wipe away any dirt or dust from the surface of your faux plant.
RELATED: Get all my tried and true favorite cleaning products – from robotic vacuums to stainless steel cleaner.
What Is The Best Way To Style Your Fake Plants For A More Realistic Look?
Artificial plants will usually arrive unassembled, but they're fairly simple to pop the branches together. Once complete, you'll want to bend the leaves carefully, stems, and branches to give them a more natural, organic look. You're giving it a good fluff. The main thought is it doesn't need to be perfect. If you think about a real plant, it's not symmetrical.
RELATED: What more ideas on how to decorate with artificial plants? Click that link for my faux real expert tips.



Discover More Modern Eclectic Home Decor Ideas
9 Ideas for Decorating on a Budget – the perfect post for the DIY home enthusiast.
How to Make Your Home Look Expensive – learn where to put your money to pack a punch in your home decor.
This post is for you if coffee table styling has you down. Nail your design every time with these tips.
This post is an oldie but a goodie – How To Decorate With Plants.
Rounding up the best interior design books – if you're looking for gift idea inspiration for a home decor obsessed loved one, this post is for you!
Thinking about joining a country club? Before doing so, read my review of the Biltmore Country Club. You may rethink that decision.
Here's a throwback post that is guaranteed to make you laugh. Read how I make Emily Henderson cry.
If the Anthro Primrose mirror is out of your price range, check out this round-up for an affordable Anthropologie mirror dupe in your budget,
Get five different layout options and learn how to arrange your living room with a fireplace and TV on the opposite wall.