I Make Emily Henderson Cry
Last Updated on December 8, 2022
Over my break, I kinda stepped back from the old bloggety blog and took one of the views from 40,000 feet. Yikes, I sound so corporate. But I did, and something very noticeable stood out to me. House Of Hipsters took a weird turn from home decor to being more DIY-driven. Wait, what??? How did that happen? Don't get me wrong, I love the DIYs, cocktails, and recipes, but I need to get a bit more home decor back into the loop.
If you were one of my original readers, you may remember a little series I started called, "I Make Emily Henderson Cry". If you don't, you can read more here, here, and here. I've explained in the past that there are several nooks of perfection in my home, and then there are nooks of utter and complete horror. I picture Emily knowing these nooks exist, and she sits in a beautifully organized, colorful closet, crying sweet salty tears of sadness. Somewhere in Hollywood, this poor woman is in disarray and has no idea why. Maybe it's because Orlando left her for Homepolish. Maybe it's because Charlie Hendo smeared his cute baby hands over her white leather poufs. Maybe it's because she lost a button on her favorite floral blouse. No, my dear, it's not. Alas sweet kitten, it's because I can't for the life of me figure out how to style my nooks of disaster.
The evidence is pictured here. In my living room. It screams, "Don't look at me! I'm hideous!" So what did I do about it? Well, I can tell you one thing, I've been sitting here for the past 4 months asking myself that same question.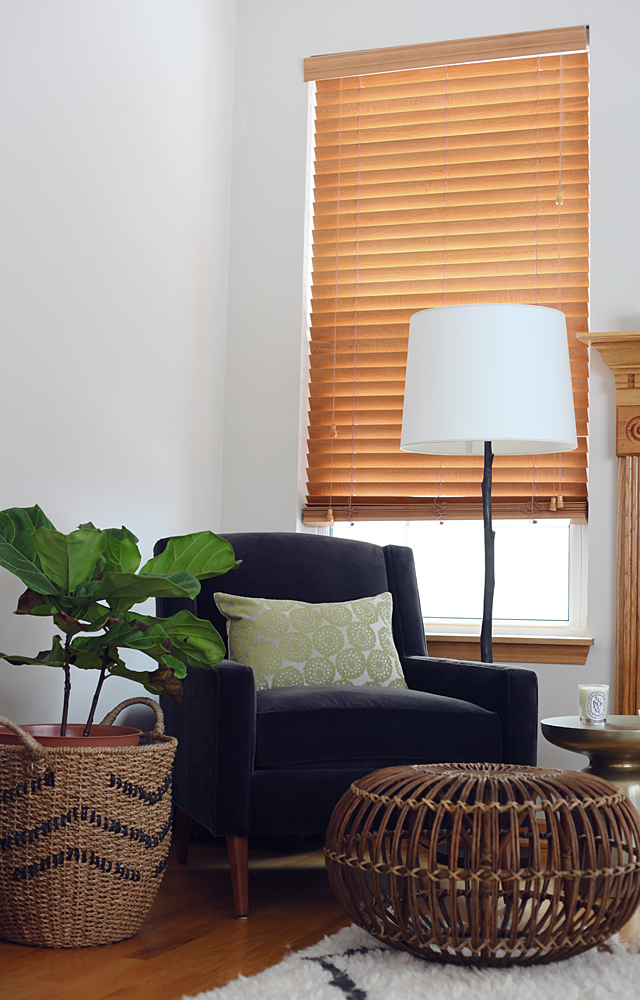 Don't get me wrong. All the elements are here for the perfect nook; it's just taken me some time to figure it out what exactly was wrong with it. Styling is everything, and that is evident here. I started by first placing the chair in the corner with a muted floral pillow. OK, it's a start. It's a great Mid-Century Modern chair in velvet navy (no longer available). I would get a smile and a cute nudge in the shoulder from Em Hen. Good choice! Approving smile and nod.
The floor lamp is orphaned lighting that keeps moving around the house. It hasn't quite found its home, and even though I kept it in the nook, I still don't think it's quite right. It's rubbed bronze and looks like a tree branch up close. The West Elm brass side table is a piece Emily Henderson uses quite often in her room decor, so I knew I couldn't go wrong. I added that too. See, like I said, all the elements are here. There's a solid foundation, but something was missing.
It sat like that for a long time. That is until I pulled the trigger and snapped up a fabulous Franco Albini rattan ottoman. Thank you eBay! Again, I took a step back and contemplated some more. Hmmm. Maybe some greenery would help? I could finally buy that fiddle fig tree I've always wanted! Shazam! Everything looks better with a fiddle fig tree, right? WRONG! One, it silently screams for its life every time I near it. It's lost half its leaves (that are brown), and I just can't quite seem to make it happy. Its real name should be a fickle fig tree. I did however put it in a pretty chevron planter from Terrain (no longer available). Hopefully, I receive some bonus points to offset whatever mistakes I'm making with this poor little guy.
I finally decided to sit in the perfect navy velvet chair to channel Emily. Surrounded by all the pieces she has suggested, I concentrated on all the episodes of Secrets From A Stylist. The answer was there, I just needed to focus on her words. A voice whispered in my ear, "This space needs height." My mind raced. A bookshelf? Floating shelves? A white campaign-style dresser? Nope, nope, nope. Artwork? Maybe, but how much. This is the same wall my TV hangs from, and The Boy's OCD would kick into high gear with a large gallery wall surrounding his precious. Since I was planning to purchase the Souk Rug from West Elm, I knew I couldn't go crazy with artwork. Budget was key, so I started to shop the house.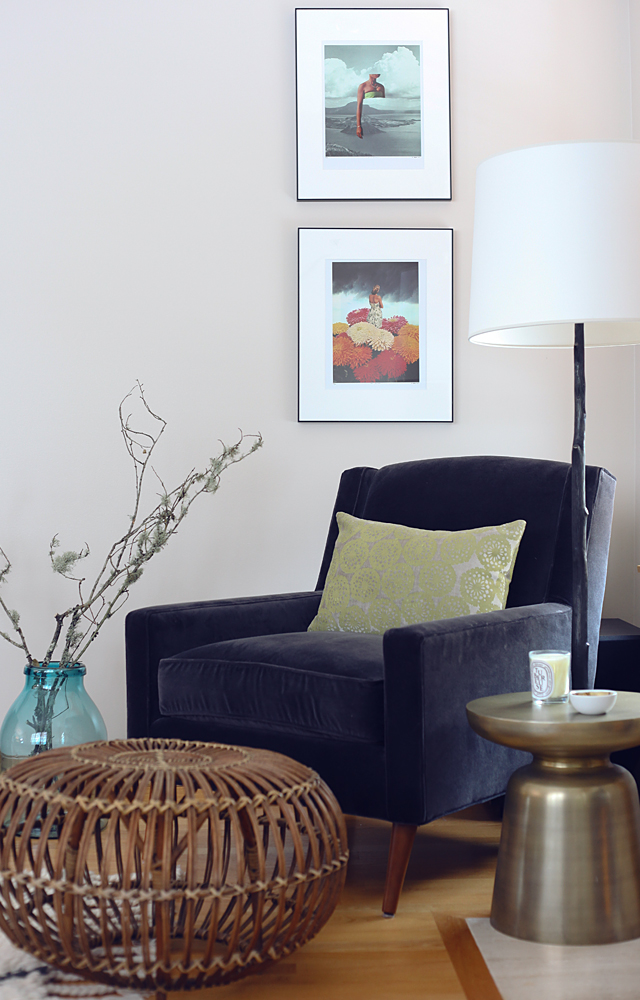 These two pieces by Beth Hoeckle are used by my girl crush quite often, and they were hanging in my office. I asked The Boy ever so sweetly to rehang them for me in my sad nook. He suggested a bit further left from the wall, but I didn't listen. In hindsight, I should have. They need to be moved out another foot or so to the left. If you are reading this honey, you know what to do! And you can also do the "I Told You So" song and dance. I deserve it.
I removed the sad fiddle fig tree to a different corner of dispair with hopefully a bit more light and replaced it with an oversized turquoise glass vessel from Crate and Barrel. To keep the eye going up, I added in a few branches from Terrain. I think this look is much "lighter" than the fig tree. I still don't know if the lamp is quite right. We thought about moving it to the other side, but it blocks the artwork. It'll do for now until I find something a bit more perfect.
So what do you guys think? Do you like it? Have any suggestions to make it better? Have any floor lamps that you think might be better? Let me know in the comment section! I'd love to hear from you.