Gallery Wall Ideas For A Blank Wall In Your Home
Last Updated on September 27, 2023
Statement art has been trending over the last five years, but the gallery wall is coming in hot today. If you've ever wondered what to do with that blank wall in the living room or dining room, then today's post, sponsored by Desenio, is for you.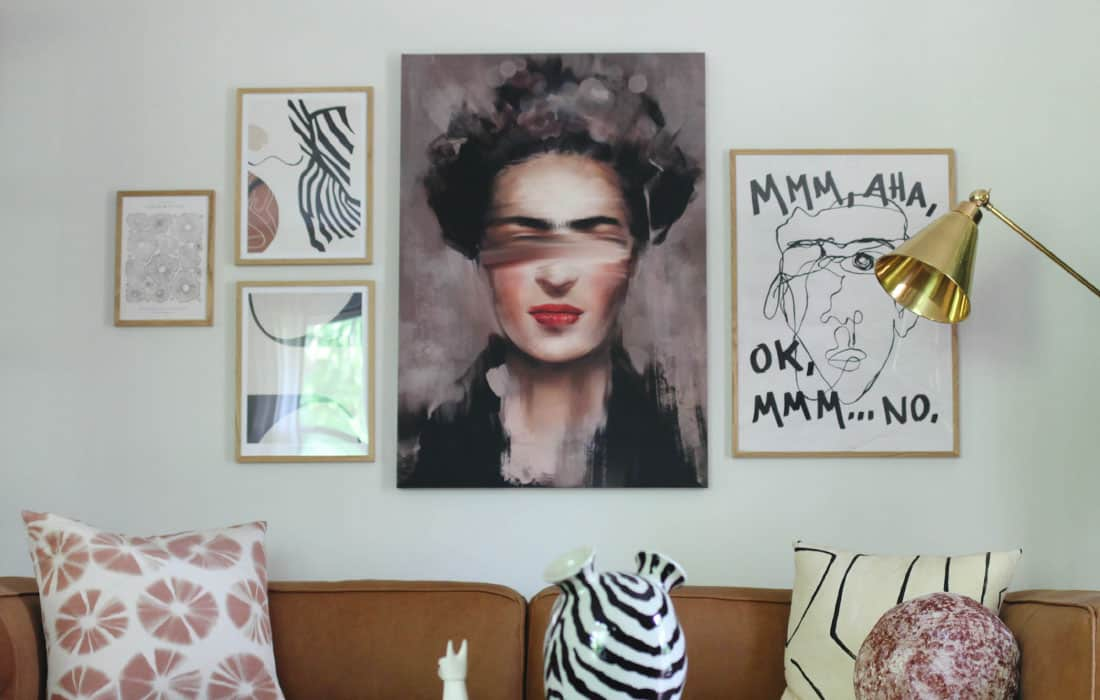 If you're new to Desenio, allow me to enlighten you. They are an online shop that offers stylish wall art in multiple sizes at an affordable price, and not only can you purchase prints, but you can also order the frame as well. Everything is delivered to your door, so creating the perfect gallery wall is incredibly convenient.
5 Tips To Nailing The Perfect Gallery Wall Layout
Here's the deal, the gallery wall game is not that hard. If you've never created one, it may feel intimidating, but trust me…and I'm assuming you trust me if you're here…gallery wall designs are easy to dream up if you know the rules and how to break them. Once you've finished reading this post, be sure to hop over to get my seven expert picture hanging hacks. There are some genius tricks you don't want to miss. 
1. Choose A Concept Or Theme
A common theme might pop up when dreaming up a gallery wall design idea. For example, say you want to incorporate family photos from a recent beach vacation with art. Some of the best gallery wall ideas are the ones that are personal to you. Your home decor is telling a story. Gather your favorite photos from vacation, convert them to black and white, and mix in a few beachy landscape paintings by searching Desenio by beach art. The gallery wall I created has more of a funky abstract vibe.
2. Stick To A Color Palette
You want to stick to a color scheme to keep your gallery wall cohesive. To achieve this, I like to gather all the art I want to use and weed out the pieces that feel don't belong. If you're curating your art using an online shop like Desenio, put all the art choices into your cart or pin them to a Pinterest board so you can visualize them together and not lose them.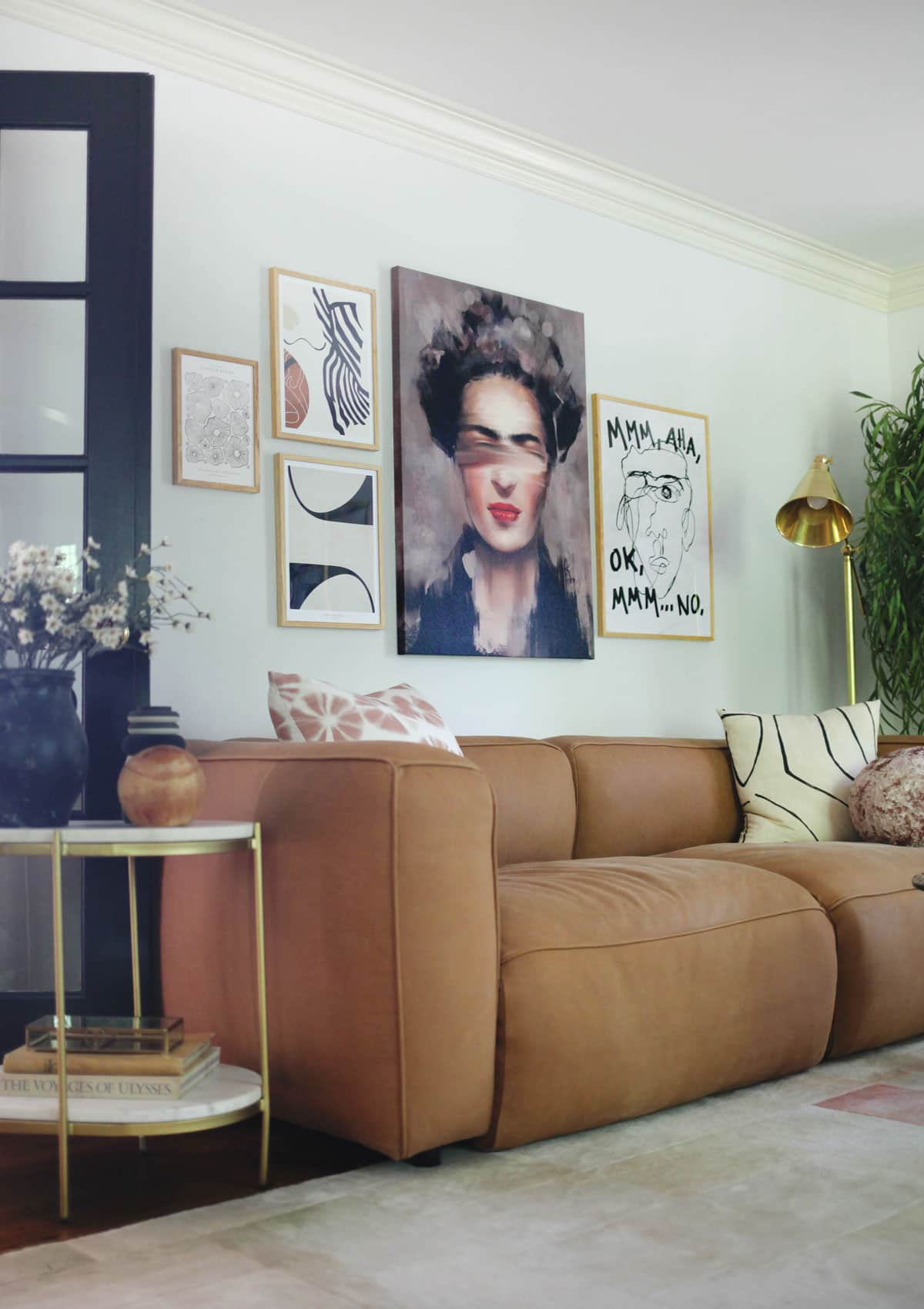 Linocut Exhibition Poster: This was the first piece of art from Desenio that caught my eye. I knew it needed to be included. But if you want a perfect mate for the piece above, swap this one out for Black and Beige Centerpiece No. 2.
Female Inspired 02 Poster: this art print is by Sylvia Takken—one of Desenio's featured artists. 
It's Composition III: I had an alternative picked for this one: abstract black and white floral. This piece is also available in canvas form. 
Kahlo In Beige Canvas: All the colors in my palette are used in this piece. She is also available as a frameable art print and in an additional colorway. 
Portrait Sketch No. 1: when I saw this funky line art portrait, I knew I had to include it in this gallery wall.
Because this gallery wall will be hung in the living room (with warm tones) above my brown leather sofa, I wanted to stick with a color palette of black, brown, ivory, and a bit of blush to pick up the rug's color. I chose these pieces since I'm drawn to art with a more modern abstract look and feel. The most difficult process here was narrowing my choices down to these five pieces.
3. Mix and Match
While you don't need to mix and match, doing so gives you the opportunity to experiment with a more eclectic gallery wall—and you know I like to keep my decor weird. Just keep in mind that if you mix and match frame styles, reign it in. Your gallery wall should still feel streamlined and cohesive. I purchased my frames in the same light oak wood for the art prints but chose the canvas format for the Freida portrait. You'll also notice that I used different sizes.

With an asymmetrical layout like mine, the large piece of art acts as the anchor, while the smaller pieces surround it for support. The Freida portrait is my largest piece, the anchor, and the focal point. She's a hard-working gal.
You can mix objects with your art for an even more eclectic look. Throwing in a three-dimensional object like a mirror or sculptural piece and mixing the art mediums like watercolors with photography with an acrylic painting is an easy way to shake things up. This is a creative way to give your gallery wall more depth and visual interest. Another way to mix and match is to change up your mounting options. Maybe your favorite family photos are matted while the art print fills the entire frame. Desenio offers many mat board options; just be sure to size up to the correct size frame for the matting. 

HOT TIP: When varying your frame style, use restraint and stick three or fewer styles for a gallery wall of the size I'm hanging here. Mix the widths with different finishes like metal or wood frames. 
4. Consider Scale and Proportions
When arranging your collection of photos and art, pay close attention to scale and proportion. Larger pieces serve as anchors, while smaller ones can be grouped around them. Distribute the visual weight evenly across the display to ensure a balanced composition.
Remember to leave enough space between each piece to create breathing room and prevent the wall from feeling cluttered. A good rule of thumb is a 3-inch spacing (tops 4 inches). Also, each art piece doesn't have to be perfectly spaced. Close enough is good enough as long as their level.
Use the same picture frames in different shapes and orientations for a more casual yet cohesive look. Mix horizontal and vertical rectangles with square framed art. 
HOT TIP: The best way to give your wall gallery a modern look is to stick with a thin frame. A good rule of thumb is 1 inch or thinner for modern and thicker for a more traditional look. This grid gallery wall I hung in the hallway is made up of vintage charcoal nudes, but I gave it a fresh vibe by using ultra-thin modern metal frames. The result is a beautiful gallery wall with a funky juxtaposition between old and new.

5. Plan Your Layout
Before getting out your hammer and nails, it's a good idea to lay your art pieces on the floor to play with the layout. Start by mapping out the available wall space with painter's tape on the floor, and consider the overall shape you want to create. You can opt for a symmetrical arrangement, a grid pattern, or a more organic and eclectic layout.

Now comes the fun part. Play around by moving the art (and frames) until you have a layout you like. If you are incorporating a mirror or wall scone, be sure to include it in the layout or mark the area with painter's tape. Once you feel good about the layout, I like to take craft paper (old wrapping paper works, too) and cut out templates that fit each frame. 
If the gallery wall layout process intimidates you, Desenio has a virtual layout gallery wall tool with ten pre-selected gallery wall layout styles (hurray for structured design help). Once you've chosen the background and picture wall grid template, click on a frame to add a piece of art. This is a great way to nail your gallery wall design idea every single time.

Helpful Tips For Creating A Gallery Wall That Works For Your Walls
Let's take a final look at my Desenio gallery wall and study it. What do we have, and why does it work? 

A cohesive color palette: Black, brown, tan, cream, and blush make up all the colors I used in the art for this modern gallery wall. The Freida portrait, which is the largest piece, speaks to all the colors used.
Stick to a concept or theme: The collection of art I chose is full of abstracts. It's a vibe. Think back to the description of family photos from the vacation with landscape art. It's a beachy vibe (and you don't need word art that says, "beach." The style of art will depict the vibe.
There is an anchor piece: Having an anchor piece is so important when designing an eclectic gallery wall. Don't be afraid of mixing up small frames with larger pieces.
Mix and match: The portrait combined with the abstract painting, linotype poster, and line art keep the gallery wall from feeling too matchy-matchy. The goal was to keep it casual and fill up a bare wall.
Different frames: This is subtle because the frames used are identical, but Frieda is a canvas. Did you even notice that she has no frame? This is what I mean by reigning it in. The frame style I chose is under 1 inch in width, which helps give the grouping that modern look and feel.
The spacing is close but not exact: Don't stress over the spacing. It's okay to eyeball it, but a good rule of thumb is to space your art 3-4 inches apart. Repeat after me, "It doesn't need to be exact."
Start hanging with the anchor piece: The easiest method I've found is to begin hanging your gallery wall with the largest piece. A rough frame of reference (see what I did there, HA!) is to hang the largest piece 57 inches from the center to ensure the gallery wall is not hung too high. If you want to learn how to determine the best art height from floor, click that link for my recommendations (measuring tape is necessary).
Mark the nail placement: Whether you've cut craft paper templates, you're frames came with a cheat sheet, or you're winging it, you'll want to mark where the nail hangs on the frame. A sawtooth is in the center, while two D-hooks sit on either side of the frame. Desenio makes it easy with their picture hooks. I still need a laser level, but my formerly bare walls will not look like swiss cheese from wall anchors—way less damage.
HOT TIP: Use paper templates or virtual layout tools to experiment with different arrangements until you find the one that appeals to you.

More Great Wall Decor Ideas
If you love to change out your art and are hesitant to put more holes in your walls, opt for picture ledges. The gallery wall ideas are endless when you use a photo ledge, and if you return from your favorite flea market with a new painting, swap it out (or layer it).

If you've hung a gallery wall in your living room, but the opposite wall is blank, you have a couple of options. One, hang a large piece of statement art on the bare wall. If you have a small room and feel like that is too much art, use a tall piece of furniture like a bookshelf or artificial olive tree to add height instead. The added height will keep the eye moving about the room. 
For a simple gallery wall, use the same frame with the same size and orientation in a grid format. Consistency is key; this is the perfect way to create minimalist gallery walls. If you want a more modern look, stick with thin frames. 
When choosing sculptural objects to incorporate, it's a great idea to pull your favorite things into the layout process. It's the easiest way to add personality to a blank space.



Discover More Modern Eclectic Home Decor Ideas
If you're looking for affordable original art, here are my super secret sources. Read now and tell no one.
When I style my coffee table and bookshelves, I have an abundance of decorative coffee table books on hand. Check out my list of go-tos.
If you're struggling to arrange your living room layout with a fireplace, here are five furniture layout options with expert interior design tips.
Check out these top affordable home decor picks from Amazon, Walmart, and Target to spruce up your room.
If you're on a tight budget, check out these cheap outdoor furniture and decor picks to jazz up your backyard.
Wanna know how to make your home look expensive? Get my top 8 tips!