Secret Sources For Affordable Original Art
Last Updated on August 25, 2023
One question I'm asked over and over again is, where do you find your fantastic art? Lots of places, I guess, and if it speaks to me, I buy it. But when you know where to buy it, it's easy to find affordable original art for the home. In today's post, I'm sharing all my tips and tricks on finding killer artwork, from vintage portraits to affordable abstract art to sculptures.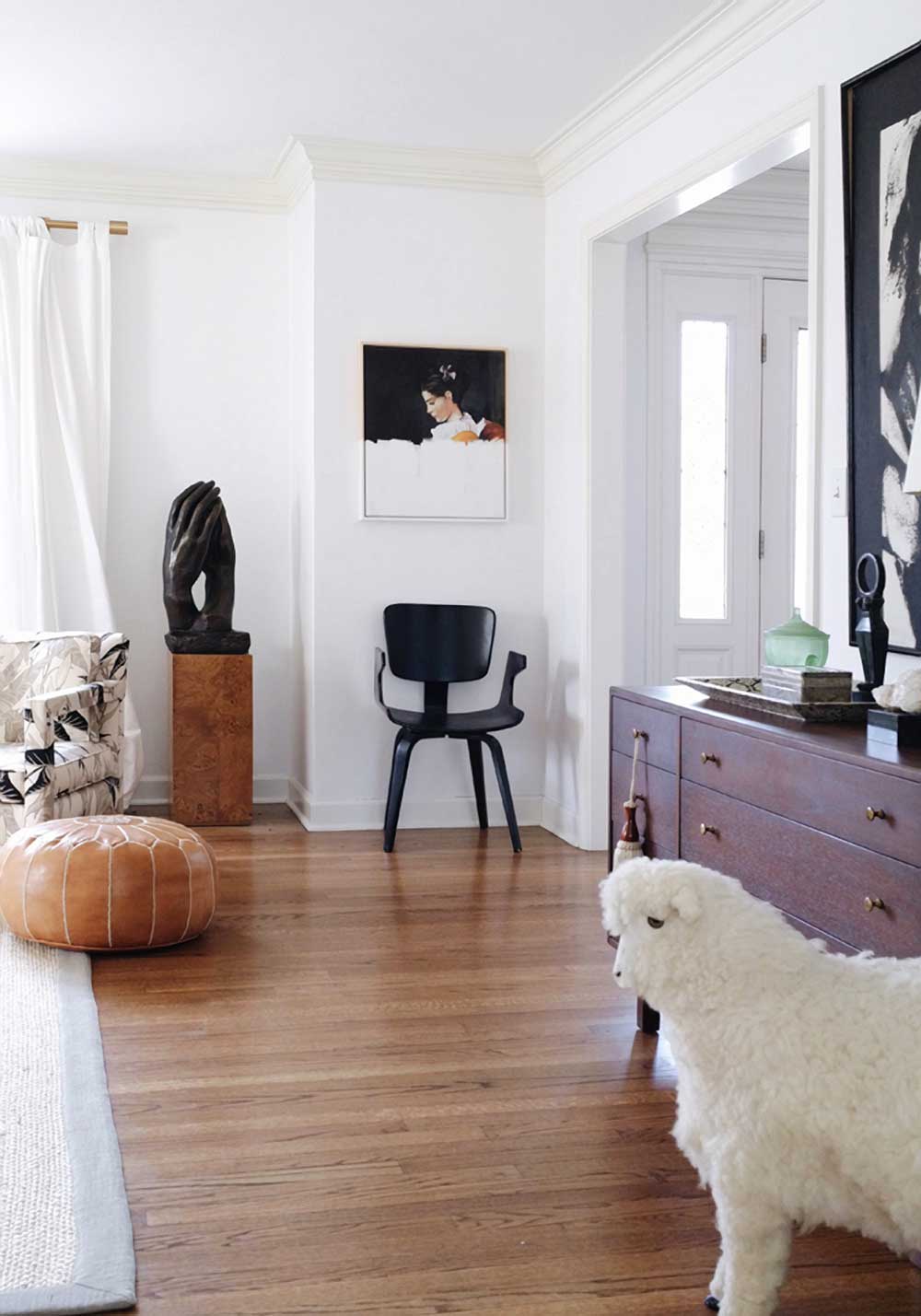 It's pretty darn rare that I spend a lot of money on the original art I procure, but every once in a while, I will plunk down some coinage. And hardly ever is it purchased with an exact wall in mind, nor am I looking for art at that particular moment. I guess, in a way, art finds me.
RELATED: Ever wondered how to hang a picture? Here are 7 genius ways to hang art easily!
Oddly enough, when I started the blog, I didn't own much art. Most everything on the walls in the old house was photos of the kiddos. My art collection has been amassed over the last 3 years.
It began with a collection of vintage mug shots and these graffiti artist portraits photographed by Lani Lee. These three guys were my first real purchase in the art world.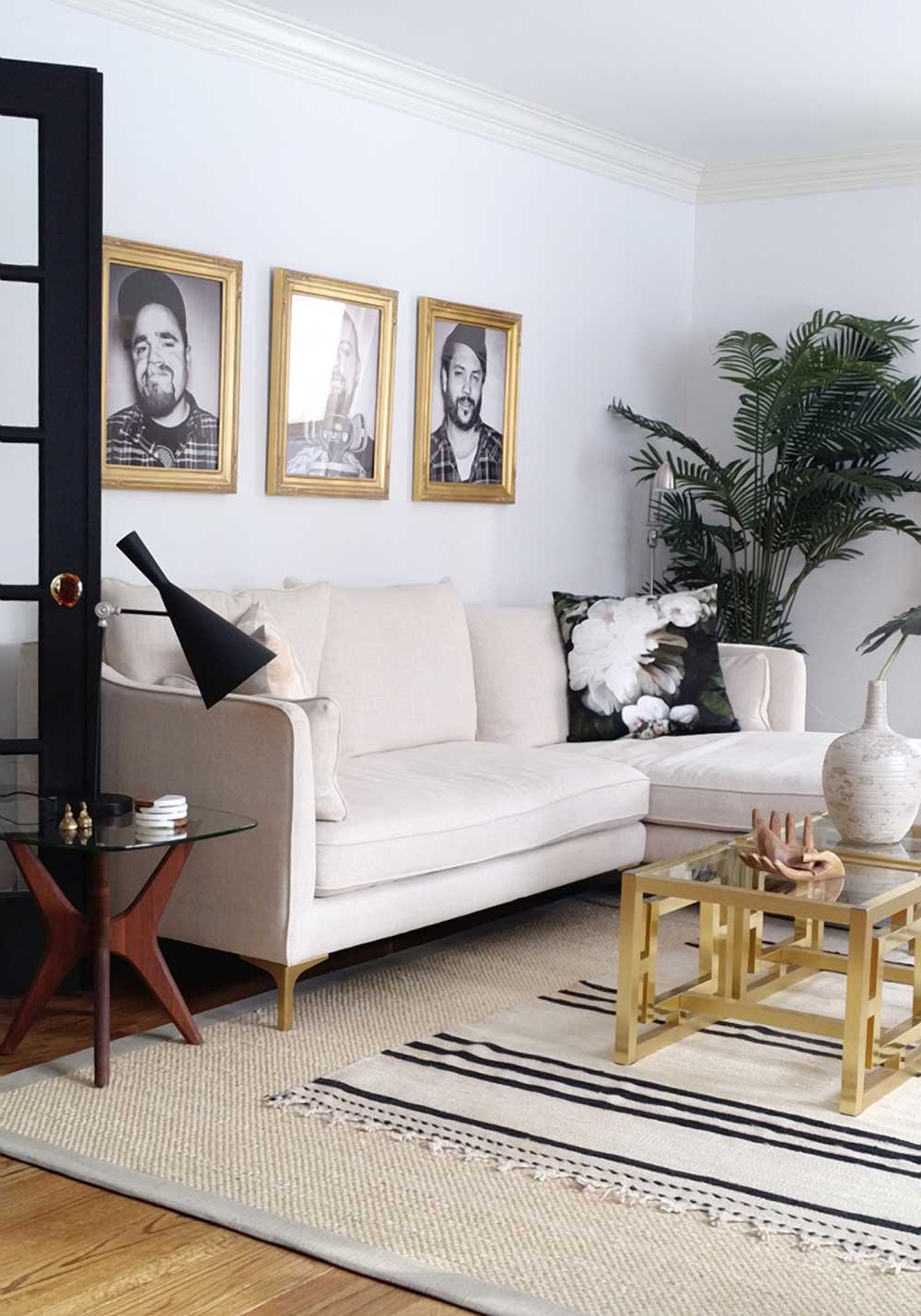 Where To Buy Affordable Original Art
So what do I look for, and where do I find it? Is there a sign that reads, "abstract art paintings for sale"? Ah, I wish. Here are a few of my shopping tips for affordable original art.
Budget-Friendly Original Art At Estate Sales
The main goal of an estate sale is to clear the home out in 3 days. Everything must go. If you're looking for art at a fraction of the cost, be first in line, be persistent, or place a bid.

The first in line is obvi, but what do I mean by persistence? Well, to start, if the piece is out of your price range, ask the best price. Are they firm? Would they consider an offer? If it's still higher than your budget, walk away and return 20 minutes later. If they notice your return, start small talk and tell them where you're thinking of hanging it…now you've now made it personal.
RELATED: If you've ever wondered how to find estate sales near you, check out this post.
If they're attached to a piece, they know you're going to hug it and love it and call it George. Sometimes the estate company has been told by the family the price is firm, but if it's the final day of the sale, ask if they can run an offer or bid by the homeowner. Don't lowball because that's insulting (I know, I used to own a vintage shop), and no one wants to sell to an asshole, so give them your lowest but fairest offer.
Here are a few of my favorite art purchases from estate sales.

When shopping at an estate sale, think outside the box and look in drawers and cabinets. The charcoal nudes above were in a sketch pad, folded and tucked away in a cabinet. Displayed together, they have a curated look and feel. Simple yet stunning.

While wandering around a complete stranger's home, look for pieces large and small, and most importantly, if you think it might be something special, research the artist's signature.
The painting above was advertised on Facebook Marketplace. When I saw this abstract acrylic painting, my heart skipped a beat. I had no idea who the artist was, but the girl in her rocking chair drew me in and the color palette was incredible. She spoke to me, and what she silently told me was drop everything you're doing and buy me. I messaged the seller and said I'll take it.
RELATED: I've got a full round up of unique art prints and original paintings here.
Once I got her home, I unloaded her from the truck, hung her, and fell even more deeply in love. After flipping through pictures of the sale again, I returned the following day. There was another black and white piece that caught my eye…it had been hanging next to rocking chair girl, but I was too distracted by her beauty to notice this one…hmmmm, it had some damage, but my gut told me to buy it…even if I turn around and sold it…just buy it.

Most people think I spent a small fortune on these 2 pieces. Fact is, I spent more on the sketch pad of nudes than I did on the two paintings combined. The 2 abstract acrylic paintings were $75 for both…and I found a couple of months later, are by famed artist Gino Hollander.
Affordable Original Art — Shop Vintage
Original Art At The Flea Market
When I visited LA a couple of months back, Erica took me to the PCC flea in Pasadena…Los Angeles, you are the Mecca for killer, inexpensive abstracts and portraits. Oh, how I wish I lived closer.
RELATED: Get the best flea market shopping tips from an expert vintage shopper.
We talked about how there's a method when shopping a flea for paintings. First and foremost, always look down…you may find it hiding, propped up against the leg of a folding table. Look in baskets and under other items like books or vases. Also, walk towards the back if you're allowed. Many times you'll find art propped up against the vendor's car.

If there's one piece you're drawn to, there's usually more. More often than not, buyers of art are drawn to the same style. Ask the vendor if they have additional works similar to what you've already found.
Look on the backside. Cash-strapped art students use both the front and backside of the canvas. Sometimes the back is even more beautiful than the front.

Poke around outside the booth. Art is pretty much impossible to hang from a tent, so it might be hung outside the dealer's booth. I walked past both of these pieces below and found them when I was leaving the booth. Keep your eyes peeled cuz you never know where you'll find affordable original art.


Neither piece has been hung, but you better believe I bought them immediately.
Instagram Is A Treasure Trove For Original Art
Instagram is the stomping ground for independent, up-and-coming, and incredibly talented artists. If you're looking for affordable original art get on the prowl. See a piece you love on your Instagram feed? Is the artist tagged? Go find them. Seek out their gallery. A few of my favorites are:
If you like the artist, get slightly stalkerish. Look to see who they follow and read the comments. Artists tend to follow and support other artists.
Instagram is also the perfect source for vintage art as well, and it's like Christmas Day when a package arrives on my doorstep from these two lovely ladies.


See something you like in a photo and know they sell vintage? Ask them, hey, is this for sale. 9 times outta 10 they will DM you with a price and are willing to ship.
There's Always Affordable Original Art On Etsy
Etsy is full of one-of-a-kind pieces and overflowing with affordable original art that I'm constantly perusing. I have a running list of all my Etsy favorites here…and not just art…we're talking vintage tees, mid-century pottery, and jewelry…but a few of my favorite art shops are:

This is not an original — it's a print — but it's rad and only $26!
I'm also obsessing over BorianaM's abstract art and Christina Ross's continuous line art. What's great about Etsy, is that once you start searching and favoriting, it learns your style and offers excellent suggestions.
Phew! Long haulers! You made it. Now, this is my most important question. Did I miss anything? Where do you find affordable original art?



Discover More Eclectic Home Decor Ideas
Looking for new bedding? I've got a full round of the ultimate guide to the best sheets for hot sleepers, summer sheets, winter sheets, linen, sateen, and more!
Looking to decorate on a budget? Check out these clever ideas.
Ever second guess yourself on what rug size to buy for a living room? Here lie the answers you desire.
Rounding up the best interior design books – if you're looking for gift idea inspiration for a home decor obsessed loved one, this post is for you!
The Primrose mirror is still trending hard, but the price tag crushes my soul. Here's a round-up of Anthropologie mirror dupes that don't break the break.
Find affordable velvet curtains to cozy up your space and soften your windows.
Love plants as decor but have a black thumb? No worries! I have a rounds ups of the best faux olive trees, my favorite faux fiddle leaf fig trees, and a huge round-up of faux plants that look real.
Wanna make your home look expensive when you don't have the luxury of a high budget? Try this!
On a tighter budget but want to refresh your room decor? Shop these Affordable Modern Home Decor picks!