Beautiful Distractions No. 9
Last Updated on January 14, 2022
Ooooph. Was this week as weird for you as it was for me? Tuesday was an exceptionally difficult day that began with puking, no internet, and heaps of drama. It was so bad that I thought for sure Mercury was in retrograde…ummmm, it wasn't…I checked…it just happened to be a shit sandwich day that required a helmet.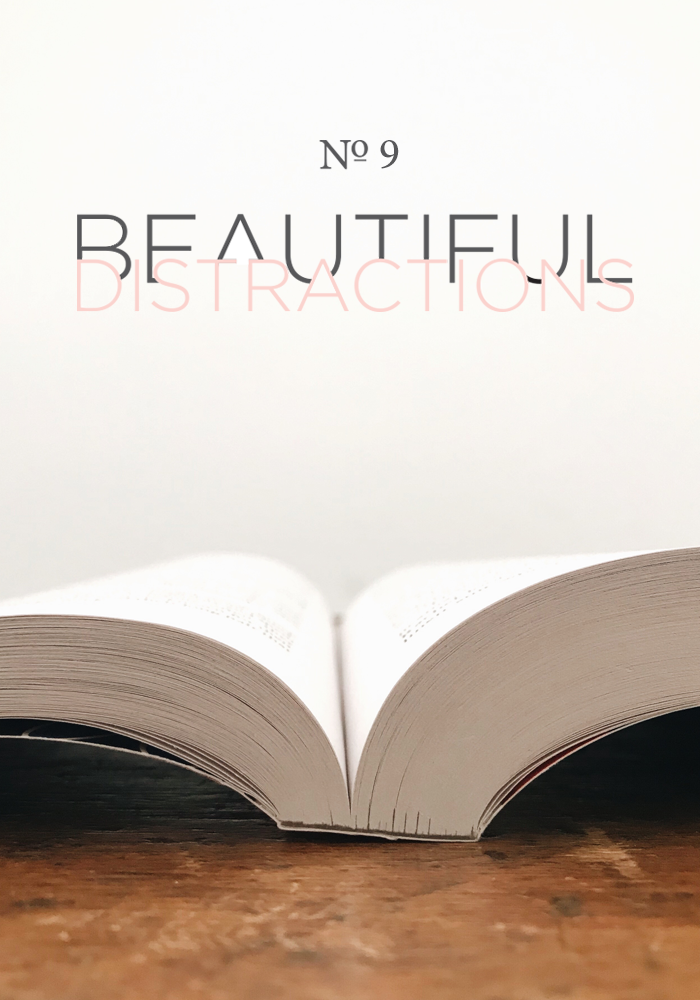 To brighten today, I decided to share with you a few of the things that caught my eye this week. Here's what I've been obsessed with.
Floral print kimonos are all the rage right now, and this one (no longer available) not only comes with cute AF tassels, but it also is under $30…yep, you read that right. However, I actually like this one better (no longer available) but it's in the juniors section and no longer available in a large. Bummer. If vintage is your jam, there's this little number over on Etsy…yes it's a bit pricier, but it's silk and apparently came from a collection of old Hollywood movie costumes…who knows, maybe Greta Garbo wore it?
While at the San Fran airport last week, I picked up the book Crazy Rich Asians, and it might be one of the best reads all year. To sum it up — if you want to shut off your brain and be entertained poolside or bedside this book is for you. A few chapters in, I was like damn, this needs to become a movie…low and behold someone read my mind.
I highly suggest you read it before it hits the big screen…I mean, the book is always better, right? And while you're at it, complete the trilogy by popping China Rich Girlfriend and Rich People Problems into your cart.
June 23rd is National Pink Day, and I'm totally behind on @ihavethisthingwithpink Got any ideas for me? Part of me says to do something with a big splash.
Don't judge me, but I was driving and monkeying with my phone…I accidentally hit the podcast app on my phone…and whadda ya know, it started streaming over the speakers in my car! Hot damn! I started listening to the podcast Out Of Line with Caroline Lee. A while back, I found Caroline thru Instagram and was lucky enough to meet her in person a few months ago while I was out visiting LA. She interviews online personalities about their less known day-to-day lives. One of the latest interviews with Anne Sage had me laughing, eyes filled with tears, and my jaw on the floor.
Now that I've ordered a new sofa for the living room, I'm on the search for a rug…a modern rug. No vintage Persian. No Turkish kilim. No colorful, intricate Lilihan. I'm bucking the system and going full force abstract modern. This is my dream rug (no longer available), but it's so not in my budget…I guess you could say it's Crazy Rich Asians' budget. The cream with smokey gray accent colors is exactly what I'm searching for. If you know of something similar, send it my way.
If you haven't heard already Beyoncé and Jay Z just released a new album together called The Carters. Since I don't have a subscription to Tidal, I'm impatiently waiting until it hits the Apple Store. While I count down the days to sing it at the top of my lungs in my car, I shall be watching Apeshit on repeat.
Why do they start planners in April or August now? It's seriously confusing. Anyhoo, now that I'm unemployed, I'm busier than ever and my life is run by a Google calendar. There's a part of me though that wants a paper planner, and Amy Tangerine gave me some incredible inspo at the In The Making Pinterest conference. I've always been partial to these planners, but she clued me in on the hobonichi planner (no longer available). Watch below how Amy uses her hobonichi. Also, at the very end, she mentions Crazy Rich Asians and said she loves it too…so there are 2 thumbs up!
Well, if you've made it this far and still haven't found anything interesting in this post, fear not this next one is for you. Buzzfeed swoops in to save the day with the Build A Smoothie Bowl And We'll Reveal Your Personality Type quiz. I got The Activist. Apparently, I'm outspoken and stand up for what I believe in. What are you?