9 Best Sheets And Bedding Of 2023 For A Good Night's Sleep
Last Updated on May 2, 2023
Choosing the best sheets and bedding can be difficult, but choosing the best material is essential. You spend most of your time in the bedroom. Every night your crawl under the blankets and sleep for hours, recharging your body for the next day. And because you spend so much time between the sheets, I've created the ultimate guide to the 9 best sheets to make your bed cozy and give you a good night's sleep in 2023. Let's dig into this sheet set and bedding round-up.
The 9 Best Sheets For A Comfortable Night's Sleep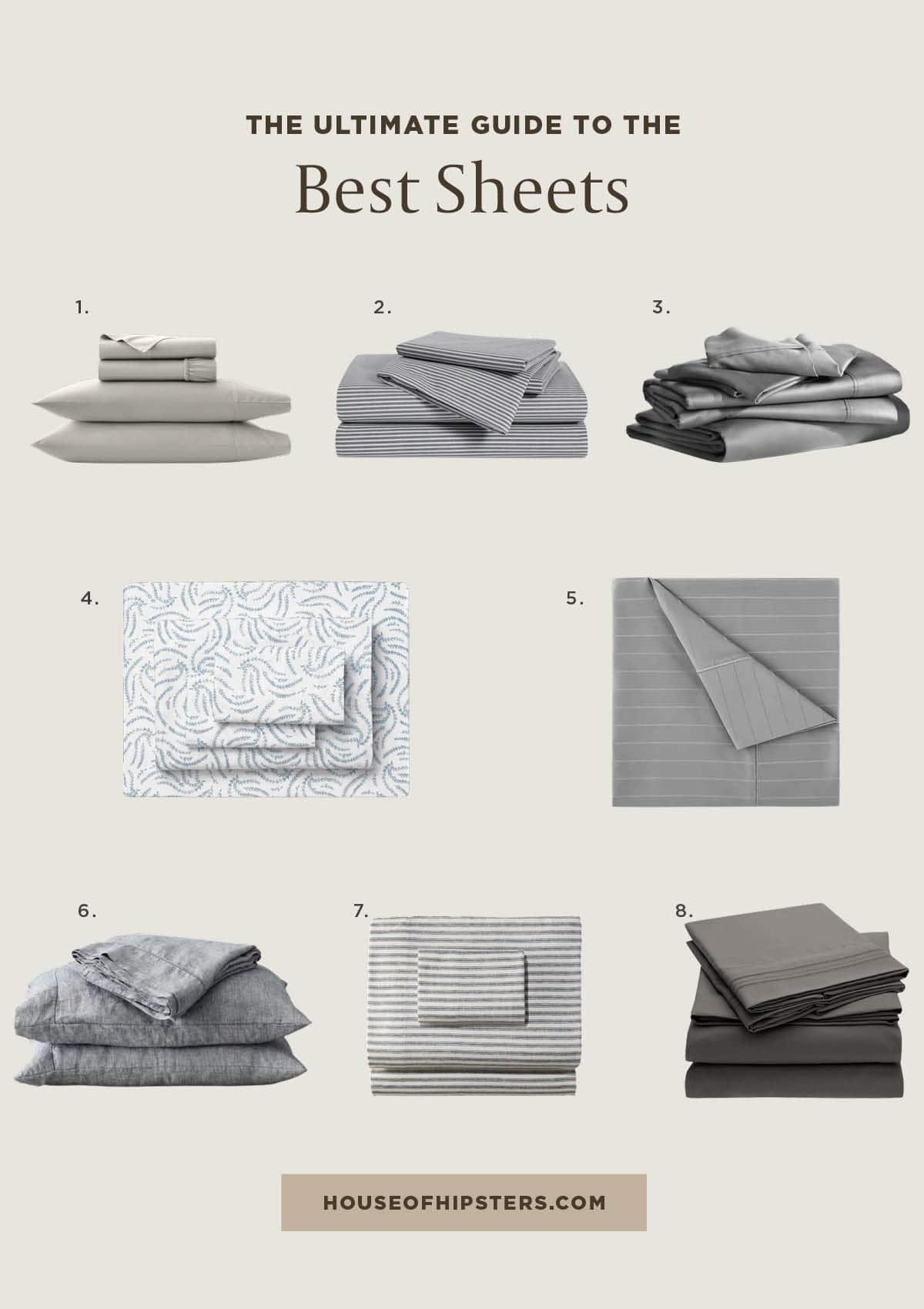 1. Overall Best Bed Sheets Of 2023
Hands down, my favorite sheets right now are from Boll & Branch because they keep you cool. I received them for a sponsored post last year, and before reviewing them, I wanted to thoroughly test them out before handing out the HOH Stamp Of Approval. But now, after all this time, I can say without a doubt that Boll & Branch organic sheets are exceptionally high-quality, and yes, they are worth the extra money. They are Incredibly soft and made from long-staple 100% organic cotton. No rips. No threads. No slipping off the mattress. No fading. Perfect if you are a hot sleeper because they are woven to be a cooling sheet.
The bed sheet sets come in all mattress sizes, including Twin XL, California king, and split king, in 6 different colors. Since not everyone loves a flat sheet, you can shop for a single fitted sheet, and they also offer a matching duvet cover.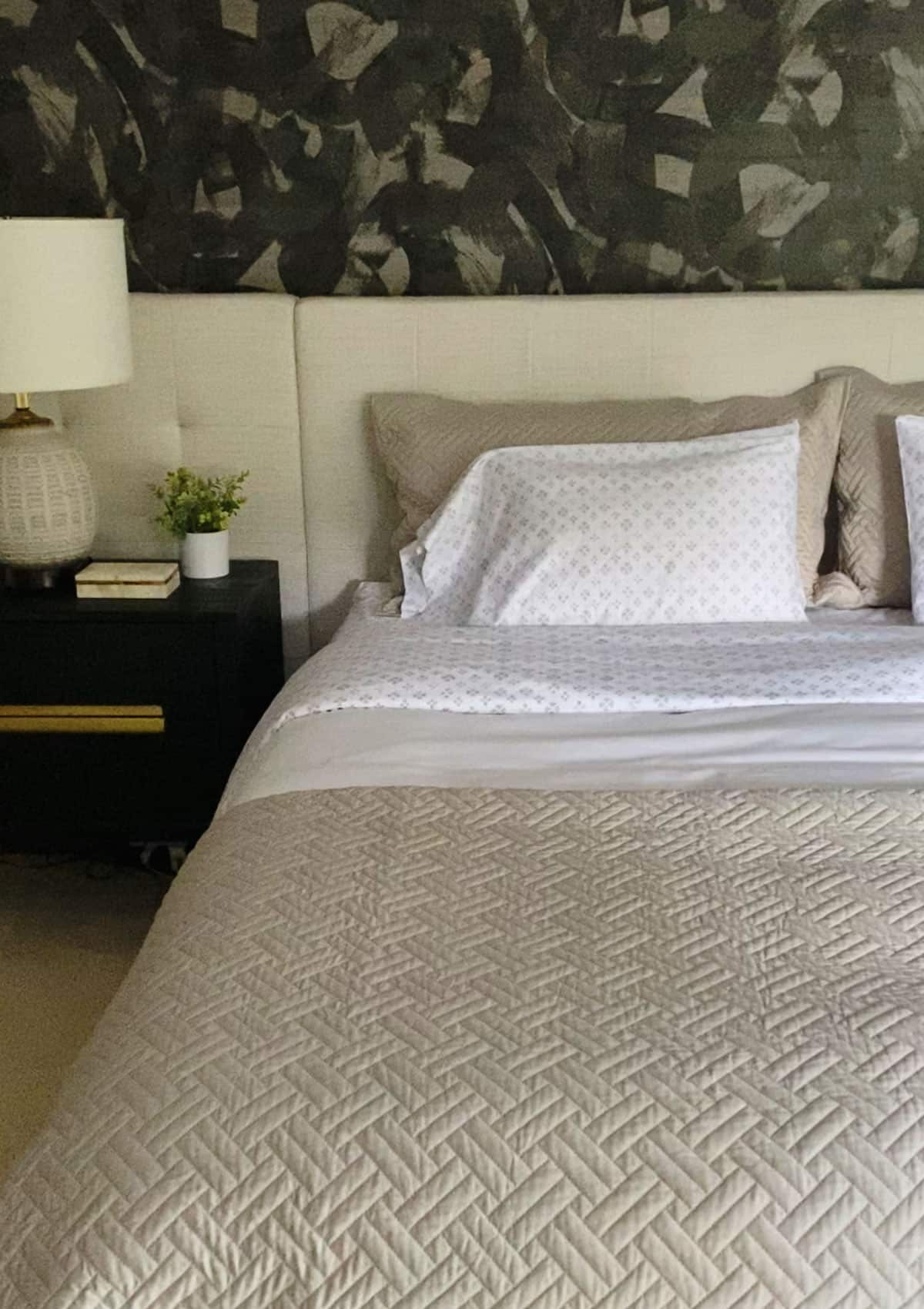 2. Best Sheets For Hot Sleepers – Best Cooling Sheets
Last year I got new sheets from Brooklinen – the classic percale cotton sheets. These 100% long-staple cotton sheets offer a 270 thread count, which doesn't mean they aren't high quality. Instead, this means they have more of a lightweight feel that's also breathable – making them ideal sheets for hot sleepers. The look is crisp and tailored, so if you're looking for that hotel bed look and feel, these are perfect. Mine have not ripped or faded, plus they have softened up with every wash over time. Oh, and no pilling!
These bed sheets come in most mattress sizes, including California king, in different colors and patterns. You can build a bundle or shop for a single fitted or flat sheet, and Brooklinen also offers a matching duvet cover.

3. For A Fitted Sheet That Doesn't Slip Off Your Mattress
I can't say enough good things about these 100% cotton sheets from Target. While the price is right, there are two features I love most about this bedding. First, there is a top and bottom label on the inside of the fitted sheet — srsly, why don't all sheet sets come standard with a top and bottom tag? It's genius, and the employee who suggested these simple tags deserves a raise. But what makes these sheets not slip is the extra elastic at the corners. The fitted sheet fits a mattress up to 18″ with full perimeter elastic and stays secure. A set of sheets with deep pockets that stay in place and have a good fit are my jam. Oh, and an added bonus, they have a buttery soft feel. 

4. Environmentally-Friendly Sheets
This Welhome by Welspun 100% cotton percale sheets set has that crisp hotel bed look and a low price point. The king-size four-piece set ($42) has a deep pocket fitted sheet that fits a mattress up to 18′. The 300 thread count is breathable, similar to the Brooklinen, but without the hefty price tag, and perfect if you are a hot sleeper. Besides being affordable, they are OEKO-TEX Certified and Made In Green by OEKO-TEX, meaning they were made with a sustainable and environmentally friendly process. My only wish is that they were a smidge softer to the touch, but at this price point, they're fantastic sheets. For Prime fans, this bedding is also available on Amazon, which means free shipping.

RELATED: Give your guests a comfortable stay with my tips to decorating a cozy bedroom.
5. Best Wrinkle-Free Sateen Bed Sheets
JCPenney tends to be one of those sleeper home brands (see what I did there). My brain immediately thinks of clothing. But JCP comes in clutch with their wrinkle-free sateen sheets. My favorite thing about these 600-thread count cotton sateen bed sheet set by Liz Clairborne is the subtle stripe design. Not only does it add a more tailored look to your bed, but the pattern also helps you immediately recognize the top and bottom of your fitted sheet. The comfy feel is a silky sateen material, so they have a smooth and lustrous sheen. 

6. Softest Linen Sheets
When it comes to linen sheets, I have an overall favorite, but premium materials like linen are always a bit pricier. This stonewashed linen bedding is incredibly soft and woven in the oldest family-run linen mill in Portugal. Available in multiple colors, but I personally love the look of the Graphite Thin Stripe. The delicate lines give them that effortless, french girl chic look. I loved that lived-in look that is oh so Pinterest perfect. These sheets are breathable and moisture-wicking, perfect for anyone who is a hot sleeper or has night sweats. BTDubs, if you're a menopausal woman, definitely check these out.

Why You Should Read The Laundry Instructions: Linen sheets are a bit fussy regarding care and washing instructions. More often than not, you'll want to wash them on a gentle cycle with mild detergent in cold water. I also use wool dryer balls versus dryer sheets because fabric softeners weaken the fibers and coat the linen with a thin layer of wax, hindering its moisture-wicking ability. Also, stonewashed linen is already at its maximum softness, so a fabric softener is unnecessary. Even though linen is a bit high maintenance, I love them because they look incredibly beautiful and last forever.
7. Best Flannel Sheets To Keep You Cozy All Night Long
Even though it's 80º today, Chicago weather can turn instantly during the fall months, and that's when I pull out the cozy bedding for a deep sleep. The Ultrasoft Comfort Flannel sheets from LL Bean are my top pick when it comes to comfy flannel bed sheets. They are super soft and don't pill like other flannel bedding — they are also resistant to shrinking and fading. Although I've never used them during summer, I've been told these are perfect for year-round use.  They come in 8 colors and a couple of different patterns, but I'm partial to the ticking stripe found here.

8. Best Budget Bedding Trending On Amazon
With over 300,000 reviews, most being 5 stars, you can't deny that Mellanni has something good going on. This soft polyester microfiber bedding is affordable (synthetic material), comes in many colors, and keeps moisture away, keeping you comfortable all night. They feature deep pockets and are fade, stain, shrink, and wrinkle-resistant. Because they have an 1800 thread count, they are incredibly soft and smooth. Kinda like the bedding at grandma's house that has been washed a million times and feel oh-so-wonderful. However, if you're looking for a crisp hotel bed look, these are not the right sheets for you. 

RELATED: If you're looking for more home decor on Amazon, oh have I got a treasure trove of posts for you! And ecause who doesn't love a good deal, here's a round-up of affordable home decor favorites.
9. Best Luxury Sheet Set For A Dreamy Sleep
Thanks to TikTok, I was recently introduced to Bedside Manor, a local Chicago shop, but they ship, so you don't have to fly here to buy here. This decor shop carries bedding and sheet sets outside my price point, but if you want the best luxury bedding, this is where you want to go. With satellite shops in Lake Forest and Winnetka, you know this place is high-end, fancy frou-frou. It's the premier source of luxury bedding. I'm eyeing the 100% staple cotton sheet set – Fern Cuff Percale Bedding from Peacock Alley. The pattern design has a fun traditional meets modern mix that is oh so my vibe.

Do High Thread Count Sheets Mean High Quality?
I've talked a lot about budget-friendly decor and where to find cheap curtains when decorating, but sometimes it's worth investing money into your home goods. If you're not sleeping on soft, comfortable sheets, it will impact your sleep quality. And as mentioned above, if you're a hot sleeper or have night sweats, you want to keep your body at an optimal temperature. Waking up multiple times a night because you're hot doesn't need to happen. BTDubs, since I mentioned curtains, if you're looking for affordable velvet curtains, check that post!
It should also be said that a higher thread count doesn't necessarily mean higher quality. My favorite bedding listed first in this post is only a 240-thread count. Rather than looking at thread count, look at the material itself. Cotton and linen will breathe, whereas polyester microfiber sheets may not.
What Does OEKO-TEX Certified Mean?
If you want to shop responsibly and sustainably, look for bedding with an OEKO-TEX Certified label. These textiles have been tested against a list of 350 toxic chemicals, and the safety label is worldwide. Additionally, when a product is stamped Made In Green by OEKO-TEX, you know it has been tested against harmful substances and made in an environmentally friendly facility. When shopping for bedding, knowing your body is not lying in toxic chemicals for hours on end should give you peace of mind.



More Eclectic Home Decor Ideas and Interior Design Tips
Level up your coffee table decor with these easy tricks.
Learn how to choose the best bedroom lighting and layer like a pro.
If you're looking to replace your ceiling lights, here are a few boob light alternatives.
Looking to decorate on a budget? Check out these clever ideas.
If you want to spruce your backyard, check out this round-up of the best outdoor patio furniture, and if you're on a budget, don't miss this affordable outdoor furniture round-up.
Ever second guess yourself on what rug size to buy for a living room? Here lie the answers you desire.
Tips, tricks, and some of the best cleaning products thanks to TikTok.
Love plants as decor but have a black thumb? No worries! I have a rounds ups of the best faux olive trees and my favorite faux fiddle leaf fig trees.
If you want to make your home a bit smarter, check out the best smart home devices I've tested and my post about smart lighting for your home.
Here are seven genius ways to hang a picture, including hanging art with two hooks, hanging a gallery wall with no tools, and hanging a picture without damaging wallpaper.
A fun little holiday DIY Gift Idea made with my Cricut Mug Press and don't miss this DIY dish towel. It's also an easy Cricut project!