Easter Table Decor Idea
A few weeks back, JCPenney challenged me to create a tablescape for Easter that was not overly bunny-themed. I shared it on Instagram and people went bananas for the bunny napkin folding tutorial. Don't worry, I uploaded the full video to my YouTube channel and embedded it below in this post. By using my everyday dinnerware and jazzing it up with some spring flair, this Easter table decor idea was incredibly affordable to create.
Creating An Easter Concept Vs. An Easter Theme
Concept versus theme is a design mistake I see time and time again. Let's take a beach house for example. Just because it's nautical, doesn't mean you have to decorate with sailboats, let's go to the beach signs, anchors, and conch shells. Don't be so literal. Rather bring in the color of the beach – beige for the sand, blues for the water. Add texture like jute for the rope. You get the idea. Now let's parlay that into the Easter Bunny table decor.
Remove the bunny itself and think of Easter and Spring in a more abstract way. Pastel colors, tulips, greenery, yellow, wild field florals. Are you with me? Now let's take those design elements and turn them into Easter table decor.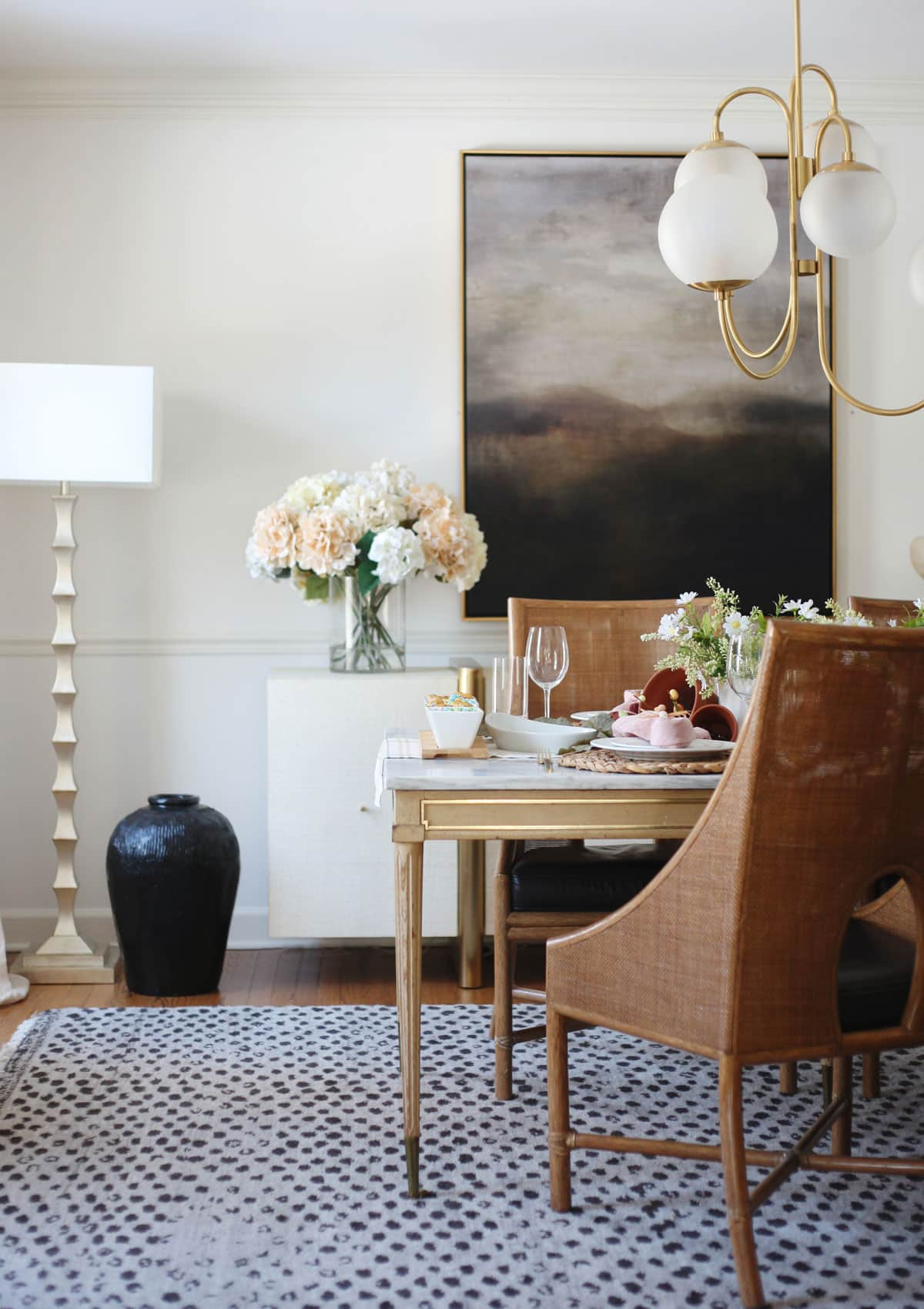 (Artwork from Kelly Hopter Interiors)
I didn't change too much in my existing dining room decor, but I did pop in those hydrangeas (pastels) (BTDubs, here's the tutorial on how I made that DIY faux flower arrangement), daisies in the centerpiece (wild field flowers), and pink napkins – those are my abstract bunnies. Let's take a closer look!
Supplies Needed For This Easter Table Decor Idea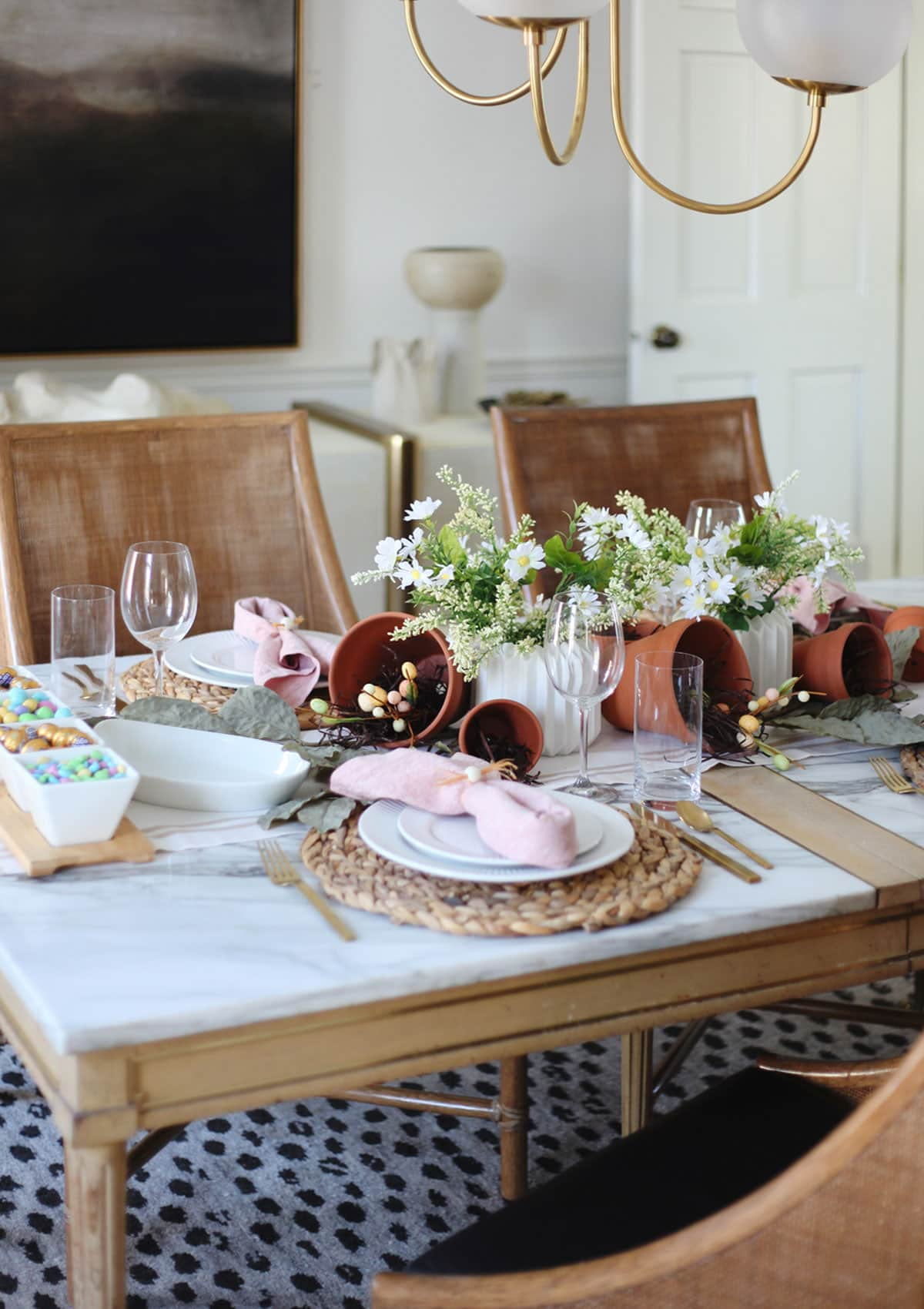 Do you see Easter eggs, bunnies, and spring? Look close because they are in there! Here's a list of everything I used.
Raffia – both dark brown and light brown
Faux Field Florals – arrange in any vases you have lying around.
Appetizer Server (I used mine for candies)
Lay down the runner (always iron it first) and place your chargers, faux leaves, and glasses to define the area you'll be decorating. Also, place your vases for the field florals.
Next, grab your terra cotta pots and add a bit of the dark raffia into each – don't do this on the table itself or you'll have fake dirt all over the tabletop and that is unacceptable. To have a playful look, tip the pots on their sides with the raffia spilling out.

If you want a spring tabletop, stop here, but if you want to add that Easter vibe, grab a couple of egg branches and pop them into the raffia.
How To Fold A Bunny Napkin Tutorial
This easy tutorial is a great way to add an Easter bunny to your tabletop decor without being overly bunny-like. I'm popping in the Instagram video (it's on the 3rd slide and also on my YouTube channel) below for an added visual.
You'll need a cloth napkin, small wooden beads, light brown raffia, and scissors.
Fold the napkin into a triangle – corner to corner.
Roll from the top of the triangle to the base.
Fold in half.
Grab some raffia and tie it in the center creating bunny ears.
String the wooden bead through each end of the raffia. No need to tie again.
Trim the raffia at a good whisker length and snip the edges to fray.
Voila! Easter bunny napkin!
View this post on Instagram
Discover More Home Decor Inspiration
I've been playing around with some living room design concepts. Check out the latest mood board I came up with.
This Spring, add some texture to your decor with these rattan and cane lighting choices.
One of my favorite plants to use in my room decor is the faux olive tree. You don't want to miss that round up.
We adopted a dog about a year ago and have since found the glory of affordable washable rugs.
Learn to layer lighting like a pro with this guide to the best bedroom lighting.