Designing with Texture
Last Updated on May 27, 2022
When I gave my guest bedroom a makeover, I went out of my comfort zone and decided to go for a more white and neutral space. Zero color. Something earthy. I had to put a lot of trust into my interior designer, Ashley Redmond, because, for me, this was foreign waters. I was slightly nervous it would turn into a very sterile-looking space.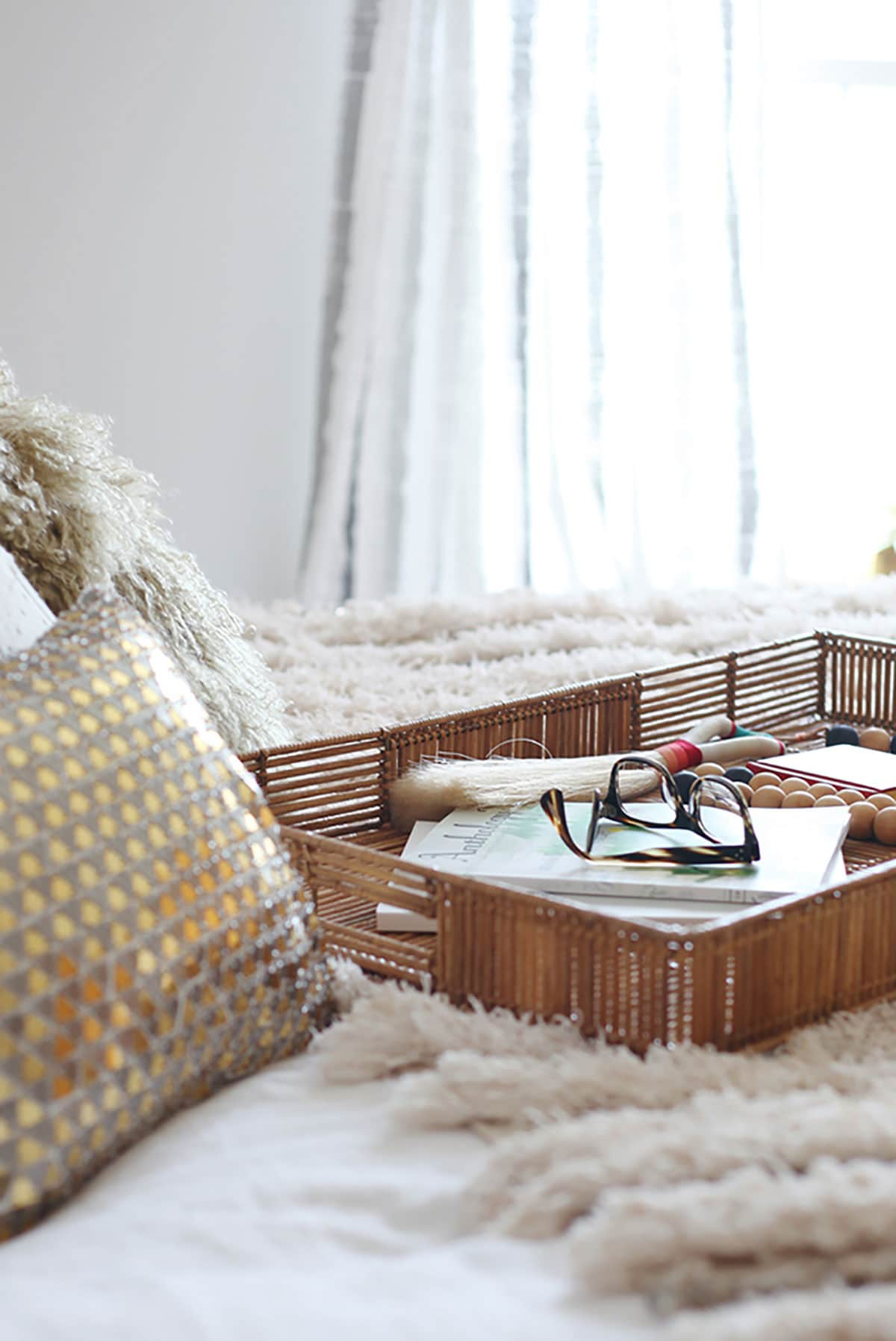 Ashley pulled in linen bedding and incorporated sheets with a pebbled pattern. I added in a vintage wedding blanket that weighs a ton! I also gathered up every white and neutral blanket I could find and threw them in a woven basket. She kept a very neutral palette with zero color, yet the room pops. The eye is continuously on the move. Jute, rattan, cane furniture, leather, linen, wood, and combo that with brass. It's a knock-it-out-the-park, she gone, home run. All sorts of awesome. Dear Decorist and Ashley, I'm neutrally yours…forever. Thank you so much!
I know you are probably dying to see the final space and I promise, it's coming! If you missed the sneak peek, you can check the makeover progress here. Now that it is finally painted, I can finally shoot the grand finale! Before I wrap up this post, here's a more neutral inspiration that'll make you want to start designing with texture stat.
Design With Texture Inspiration
Designing with texture is the key to keeping the space feeling cozy and warm, and transformed my space and took it to another level. I've started referring to it as French Girl Decorating. Minimally put together perfectly. BTDubs, I'm not sure how french girls do it, but they can make a gray sweatshirt and jeans look like runway material. Do you know what I mean?

photo via My Scandinavian Home

photo via Amber Interiors
Since I've been pinning away more and more neutral spaces, I've become fascinated with the sophistication and coziness. I've also realized I've been missing out on some super cool throws, rugs, pillows, juju hats, blankets, chairs…yes, the list just keeps going on and on. I've always tried to add pattern and color over texture.
Find More Home Decorating Ideas
Redesigning The Redesign check out the new living room makeover mood board
Check out the Living Room Mood Board reveal
Spring decor collection from Studio Mcgee For Target
Let's chat about Cheugy Home Decor and what that even means