3D Rendering Living Room Design
Last Updated on September 24, 2023
You wanna know who's dripping with talent? Ashley Redmond from Decorist, that's who. This interior design superhero crushed the 3D renderings of the living room project. Jojotastic, you're going down girl. BTDubs, check out my review on this 3D home design software. It's pretty cool, and you don't have to be a professional interior designer to use it!
Living Room Makeover Mood Board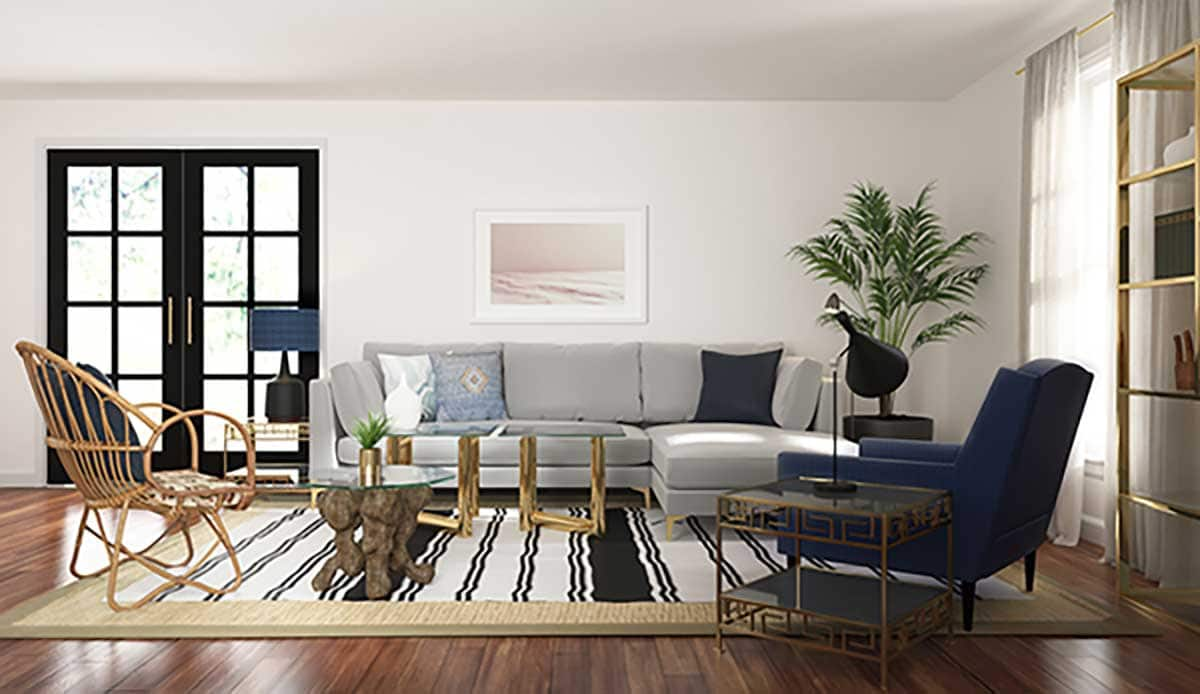 Quick recap, you were asked to choose which mood board design I should move forward with. You commented, emailed, direct message…I think I even saw a few smoke signals…and for quite a while the boards were neck and neck. Neutral Glam was ahead then it was Eclectic Vintage. I want to thank you all for weighing in. It's been so exciting to watch it all unfold…have you been keeping up?
Design Off Mood Boards | Design Off Living Room Progress Report Part 1 | Design Off Progress Report Part 2
Don't worry, I'll wait right here for you to catch up…I'll just be standing here, dancing…come on, click on the jump for the mood board reveal…seriously, I have ants in my pants.
3D Renderings Living Room Design
Let's get one thing straight. These 3D rendering mood boards were the shizzz. We can all agree on that, am I right? I'm convinced that if I didn't have you to choose which design to move forward with, I'd still be staring at both…trying to make a decision. And I don't know why I'm dragging this out anymore because you've probably already scrolled down to peek cheaters.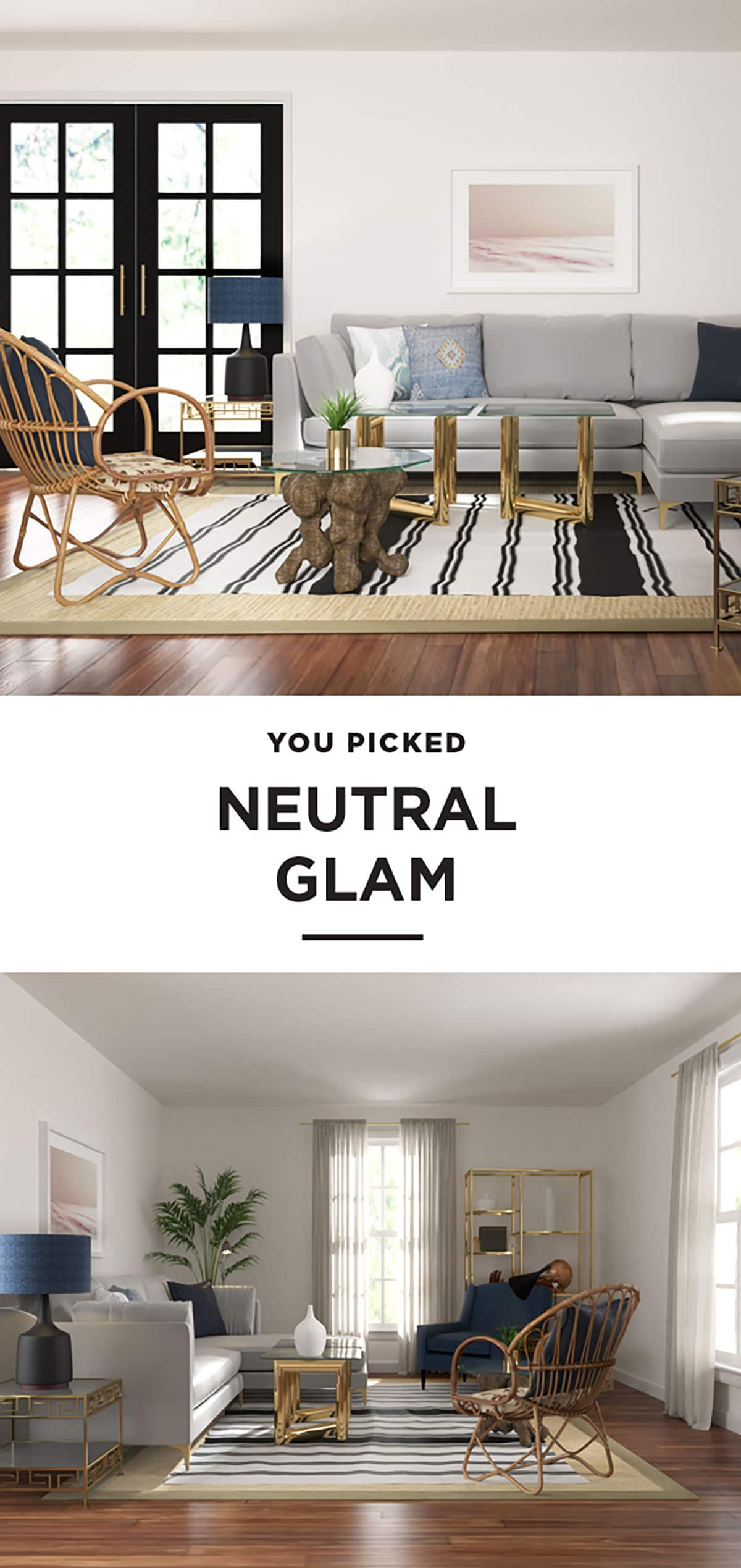 Once we knew Neutral Glam was the clear winner, Decorist sent off my room specs, shopping list, and mood board design to their 3D Rendering department. Can you guys believe this is not my REAL ROOM!?!?!?!?!?! Saaay wut? Somewhere down the road, I hope it looks this good, but yes, this is a rendering of what the living room should look like when it's all said and done. It's not real! But it looks sooooo real! How do they do that!?!?!

When I look at these 3D renderings, I swear it's like a genie crept into my living room and put everything together, snapped a picture, dismantled it, and ran away. Cuz let me tell you, my room in no way shape or form looks anything like this, but the room itself looks like this. It's incredible! Shazam!
Did you notice a few things are slightly different from the original mood board? That sofa is the Interior Define sofa. A few of you asked if the modern sofa from Vintage Eclectic could be swapped out for the Neutral Glam sofa…and I thought to myself, "Woah! Now that's a brilliant idea!" Not that I didn't like the other sofa, but because did you see those brass legs on Caitlin??? Va va voom! Get in my room! Holy heart eyes, it was love at first sight.
The artwork over the modern sofa in the original mood board was swapped out for this incredible capture  Lani Trock. The soft blush was just too gorgeous to pass up and brought a touch of girlie-girl to the space. Besides, I've lusted after this piece for so long…I had to have it. You might have caught a glimpse of it in my Instagram story last night.

LOOK AT THAT BRASS SHELF! When I saw it in the mood board I reached out to my vintage buddy to source one. Her answer was, "Girl I got you covered! I have 4!" Phew!
So now what Kyla? Do you have to travel near and far to buy all this stuff? NOPE! Decorist emails you a link, and you can buy everything in one easy checkout. They get you the best prices and access to wholesale deals you can't find anywhere else. Three words, "totally worth it." It's fast, easy, and everything is delivered to your door, hassle-free. You can also finance your purchases…which is new.
I was lucky enough to have a few of these pieces in my possession and was thankful Ashley was able to incorporate them. The brass shell I picked up from The Savoy Flea, and the navy chair I've had for years.
Well, I don't know about you, but I'm dying to see what room design you chose for Joanna. Have you been over there already? Am I going to win this challenge? Seriously, tell me…I mean, I know hers is going to be good, but mine is better, right? Tee hee!



Find More Home Decor Inspiration and Interior Design Ideas
If you have an awkward living room layout with a fireplace, you'll want to check out these 5 layout options to try in your space.
The faux olive tree has been trending in the interior design world, and there's no stopping it! Find the best option for your home with this round-up that fits any budget.
Spruce up your deck with these cheap outdoor furniture picks curated by an interior designer. I've scoured Amazon, Target, and Walmart to find the top look for less.
Refresh your closet with the best 2023 fashion trends that I spied during NYFW. Find everything from the best layering gold necklace to pops of red to a leather top.
Be prepared to be shocked! I've rounded up the best cleaning products that I use in my home. These are my tried and tested favorites that I can't live without.
Struggling to figure out the best living room rug size? Look no further than this epic measurement guide.