Decorist DesignOff – Part 1
Last Updated on September 28, 2022
Moving day officially arrived last Friday. It feels like it took forever, but it finally happened, and it only took 1 semi-truck plus 1 large package truck and 8 burly men to get us out of one space and into another. Oy! It was a crazy hot day without air conditioning on the hottest day of the year (that's a whole nuther story)…but we made it! As I was moving chairs and sofas from room to room, the space just felt like home. It didn't feel new but instead felt warm and cozy…like we had lived there for years. I guess that's probably how it's supposed to feel. However, you know how I like to shake it up…itching for something new, so I reached out to Decorist for some virtual online design fun because this one can't hold still for long. Welcome to The DesignOff.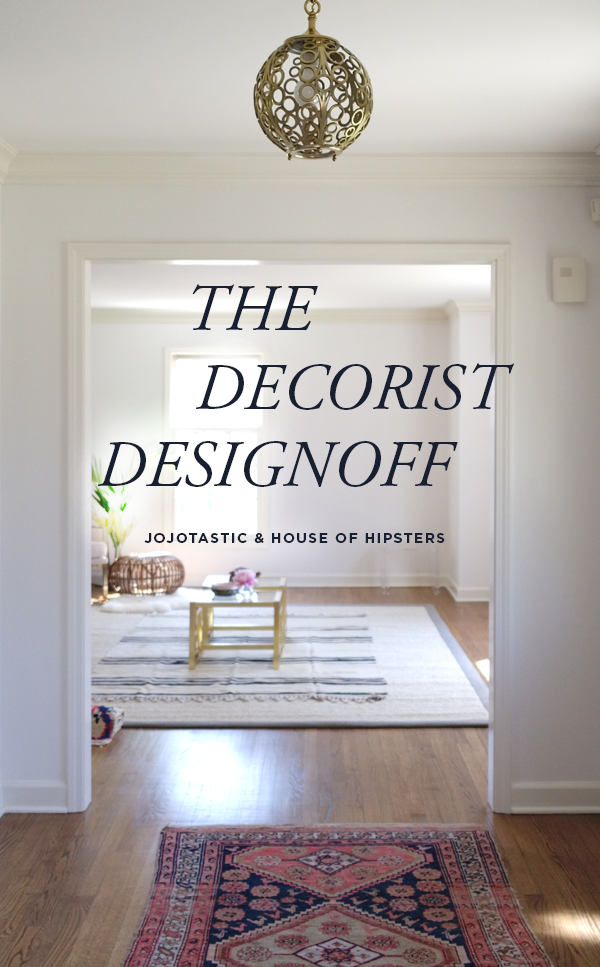 Living Room Before Photo
If you remember, back in February. I flew out to Washington and toured the Seattle Showhouse…a home where the interior design project was completed virtually by Decorist designers. That weekend, I also managed to squeeze in some quality time with my girl Joanna from Jojotastic…we knew each other before…virtually and via text, but we finally got to meet each other in person. After hello hugs and chatting, we were joking around saying Joanna and I should have a Decorist DesignOff. Kinda like a bake-off or chili competition only with pretty vases, chairs, and hopefully some brass.
Silliness and giggles suddenly became reality. Wait a second, I mean seriously, how much fun would this be?!?!? A Decorist DesignOff between HOH and Jojotastic…just like the World Market Patio Makeover we have been having. Ummmm, yes please. Where do I sign? This gal is always game for a bit of competition…but the kicker is you (my dear sweat reader…yes, I'm buttering you up) you are going to make some major decisions in The Decorist DesignOff…cuz we like to keep it sporty.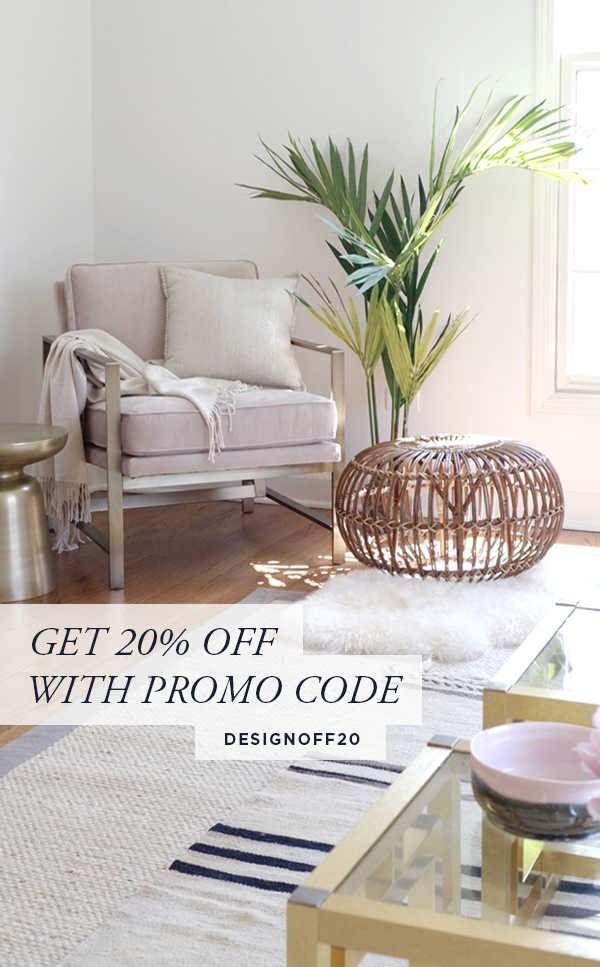 Before Decorist DesignOff
So here's the dealio, Decorist is going to provide 2 sets of mood boards to each blogger. 1 set for the HOH living room and 1 set for Jojotastic's living room. I'll post mine to the HOH blog, Joanna to hers, and YOU get to vote on which you like best…and THAT BOARD WILL BE THE CHOSEN DESIGN! Yikes! You're in control of this, so you best be pickin' a good one. I mean, I know Decorist is going to knock it out of the park-like always, but I can't help but be slightly nervous about losing all control over the new house. Eeeep! On top of that, both rooms will be covered by Rue Magazine with some extra behind the scenes you won't see anywhere else. Double eeeep!
Before The Decorist DesignOff Begins

Some of My Favorite Decor Pieces
Joanna and I have pretty similar tastes, yet completely opposite lifestyles. Me: 1 husband, 2 devil horned monsters with sticky hands kids, and 5 bedrooms set in a wooded suburb of Chicago. Joanna: 1 boyfriend, 2 wiener dogs, Edith, 1 sailboat, and 1 tiny bungalow set in the Ballard neighborhood of Seattle. Since the Seattle Showhouse, we've both closed on our new homes and are ready to make them our own.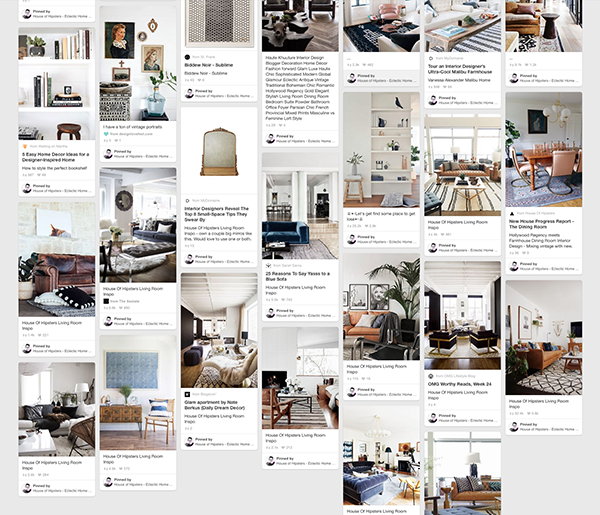 Pinspiration Pin Board
I would say Joanna is a bit boho with some mid-century funk, and last Friday I defined my style as a neurotic mix of hollywood regency meets farmhouse chic meets mid-century boho Check out the summer home tour here. Decorist said that is definitely a thing. They're so sweet to me. LOL, I digress, so let's get started, shall we? No time to dilly dally with mindless banter. Time's a tickin', so let's get crackin'.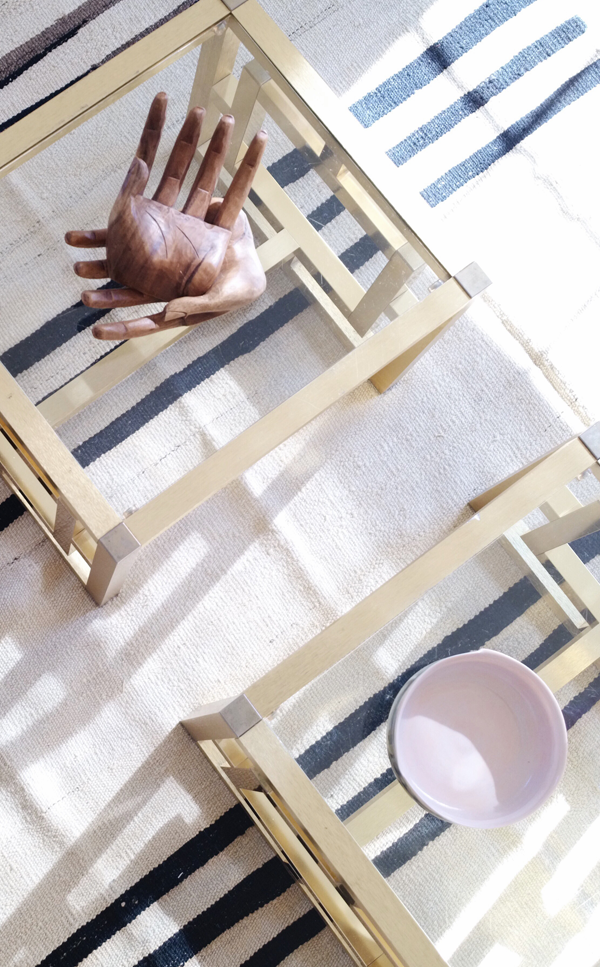 I Just Bought This Striped Turkish Rug for the New House…Hoping It's Used (similar here)
I immediately signed up for the Decorist Classic Design and requested Ashley Redmond to be my interior designer. (BTDubs, if you're unsure which designer best fits your style, Decorist will find you a perfect match based on your answers from their makeover questionnaire…and, be sure to use the promo code DesignOff20 to receive 20% off your own Decorist design project.) I knew Ashley from last year when we worked together on the guest bedroom in the old house. She nailed my style and the space, so I knew I wanted to work with her again.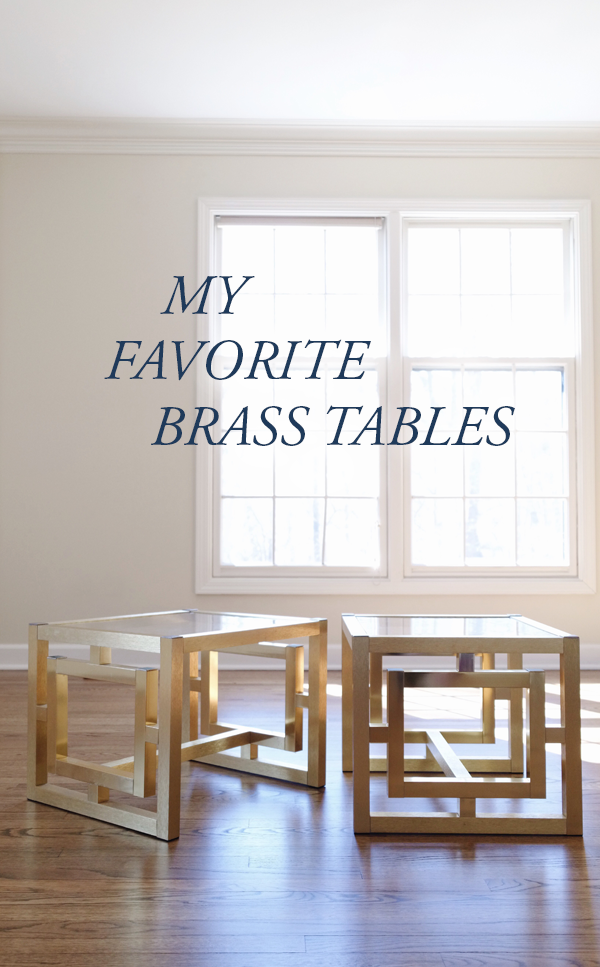 My Favorite Brass Tables…Will Ashley Use Them? Fingers Crossed! (found similar tables here)
I filled out the online questionnaire providing details on my likes and dislikes, budget, and the space itself, and of course, uploaded pictures of my room and a boatload of inspirational photos. Speaking of, I don't think you've been privy to the ultimate before shot…you ready for this?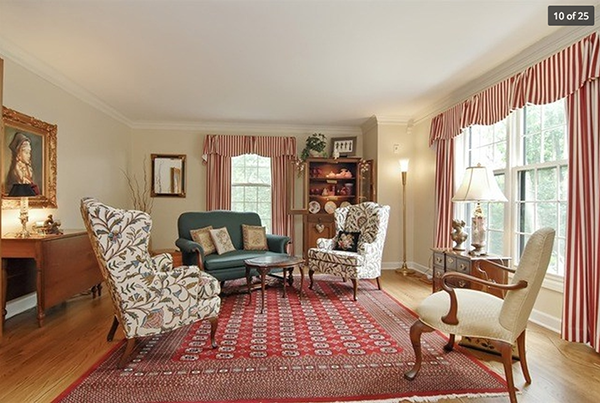 Yowza! This is what the space looked like when we made our initial offer. Definitely not my style, but so much potential. So, are you as excited about this as I am? I really hope so. As soon as I get mood boards from Ashley, I'll upload them, and then it's your turn to decide! I can't wait to see what you pick.
Watch This Living Room Makeover Come Together
Let's start moving furniture! Living Room Mood Boards Revealed
Honest review of the Interior Define Caitlyn Sofa – does it stand the test of time?
Living Room Design Concepts it's time to make some changes in this space.
New Rug For The Living Room it's crazy how a rug can completely change your space.
The room is finished! Take a look at the Modern Boho Living Room Final Reveal