BSHT Summer Blogger Home Tour
Last Updated on August 25, 2023
How crazy am I to sign up for a summer home tour on moving day? Ummmm, very; and I'm hoping this post doesn't turn out to be a dud because there is a lot of blank slate below compared to all the other home tours. The only pieces I've hauled over in Layla (the lifted vintage monster truck) are my favorite pieces. The pieces that are most precious to me.
Even though the new house is fairly empty and unfinished, I thought I could take you through what I've done and what might be happening soon. Hopefully, you'll also have some ideas, input, inspo, or thoughts on certain rooms that you can share in the comment section, cuz opinions and ideas are always welcome here.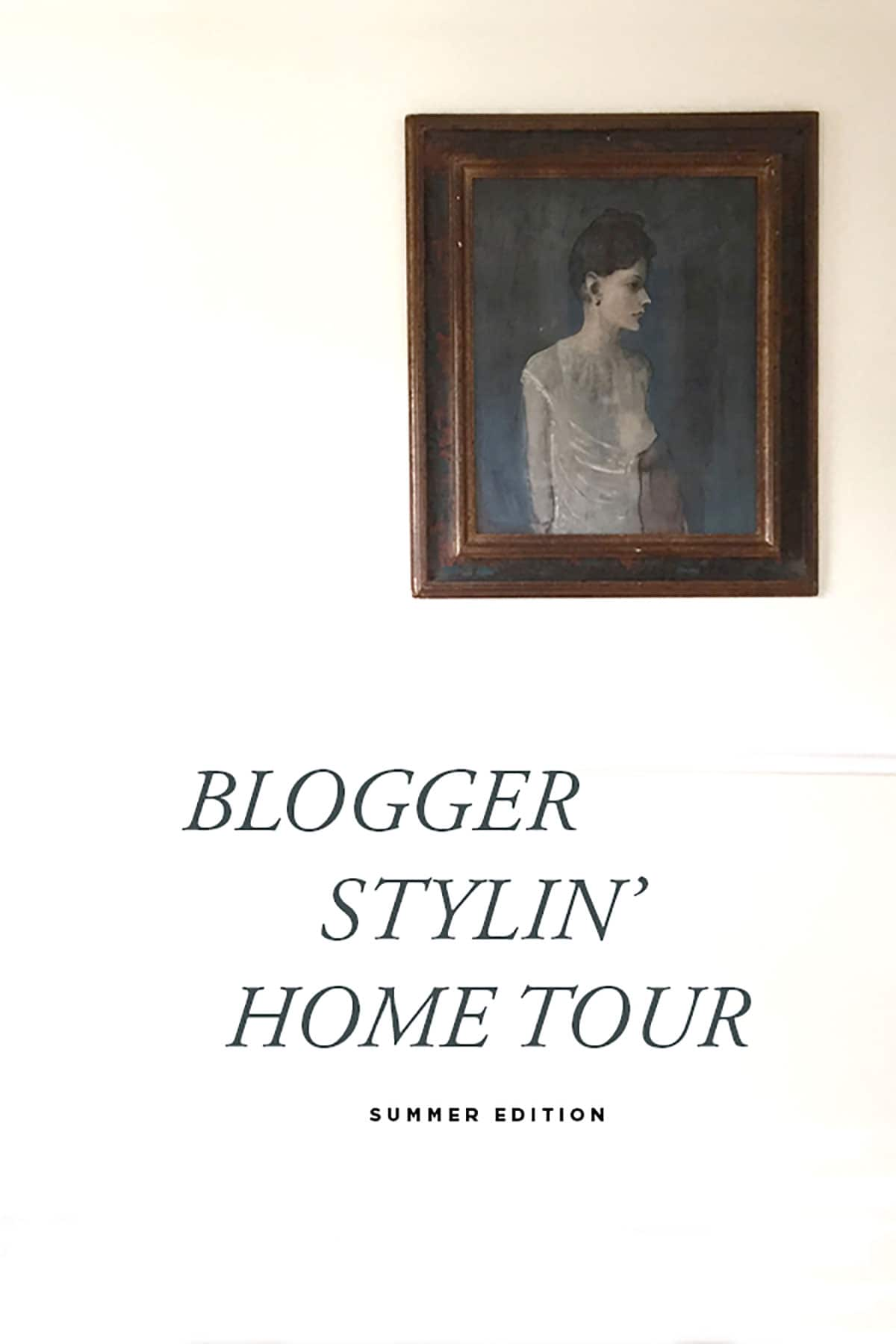 If you saw yesterday's Snapchats (HouseOf Hipsters), you know my photo booth got hauled out of the basement and into the new digs. That booth is a beastly old girl, and she put up a fight…god bless the guys from A&A Studios. There were moments that we thought it was mission impossible, but as I'm writing this, I'm sitting here in my white kitchen listening to it hum. It's running. It's working. It's in. Phew! One less thing to worry about…trust me, that booth has been a stress factory for the old noggin'. I'm glad that part of the move is done.
When we bought the old house, I had just been introduced to Emily Henderson's show Secrets From A Stylist. Obsessed with mid-century modern decor, I had a guide to teach me how to style this eclectic look and where to find vintage pieces. 6-7 years ago, MCM was way more difficult to find.
But this new house felt different. There were no screams for clean lines. It's a colonial-style home, and as I walked through the front door she whispered to me, "I may be traditional, but I want to be vintage modern, and glam." What I've been leaning towards is a bit more Hollywood Regency meets farmhouse chic meets mid-century boho. Is that even a thing? Now that I've written it out, I think I sound neurotic.
A Tour Of The Dining Room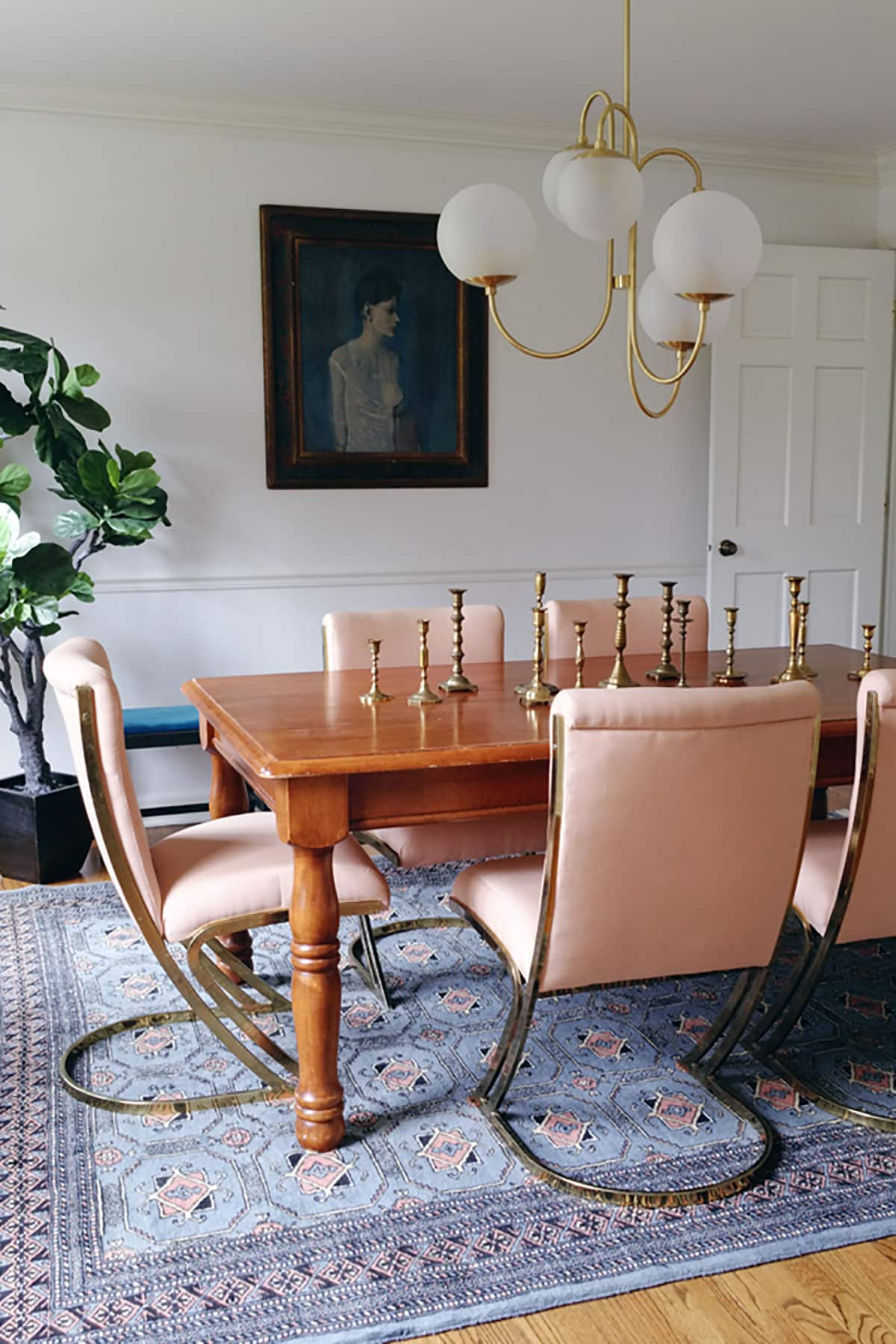 Oddly, the first room I decided to tackle was the formal dining room. I've never had one before, nor had I ever designed one, so this was a fun room to tackle. With a little help from The Savoy Flea, the dining room is now the gem of the house, and I'm not sure how any other room could possibly look prettier. You can read more about the design process of the dining room here. It's far from completion, but I'm loving everything thus far.

If you're interested here is where you can find an instant collection of vintage brass candlesticks.
Tour The New Living Room
The next room up is the front living room. I'm teaming up with Decorist again and getting ready for another DesignOff with my girl Jojotastic. Be on the lookout, cuz there's tons of inspo on this to come. The space will be the room for morning coffee and evening chit-chat. A room with no TV or distractions. What you see here below may stay??? Or it may all go??? It's as much of a mystery to me too. I can't wait to see what Ashley Redmond has in store for me. And don't worry, I'll share the mood boards with you. Rumor is they will be created from a new 3D home design software. Super excited to see how realistic they look.

That big brass pendant light in the foyer is from The Beau Ideal, and I adore it so.  The pink and navy rug is vintage, and I'm always asked about the Franco Albini rattan ottoman. It's vintage as well, but they tend to pop up on Etsy as well. I found a couple here.

Throw | Faux Plant | Pillow | Jute Rug | Vintage Brass Side Table (dupe found here)
These two side tables were some of the first pieces in the house. If one could marry tables, I'd totally get hitched to this greek key goodness.

And then there is the brass Sarreid style chest dilemma. This one was supposed to be all brass, but upon opening the package…whomp, whomp…silver drawers. So I bought a new one at the flea market and posted it on Snapchat. An instant debate started. The world is torn between the two. For right now, the mixed metals are staying put.

Lamp (no longer available)
The main room off the kitchen will be the TV room. This is the room that sold me on the house. Seriously, I mean, come on. Those built-ins are like a stylist playground begging to be zhushed.

And zhushed they have been. So much so that The Boy is ready to host an intervention. He estimates that I've spent 50+ hours perfecting this shelving. He's probably right. My fingers are bleeding, as proof. During the latest trip to flea market I was all about decorating these suckas. Vases, lights, baskets, decorative boxes, glass knots, heads…you know, the important things you need to stock up on when uprooting your entire family. I know where my priorities lie.

The Kitchen Tour
The kitchen was gutted and made over by the previous owners. There's a lot that I would have done differently, but I really can't argue with a white kitchen. I added a white tulip table and mixed in some vintage chairs. The lighting is not staying. Whatcha thinking? Any ideas? Got some beautiful ceiling lights you wanna share?

And of course, I have the bar cart all set up; however, no booze…it's still packed in a box. Whoopsies. But it sure does look purdy.

Shall we head upstairs? This is where things get pretty bare and blank slate-ish.

My New Work From Home Office

The French doors lead to what used to be the master, but the former owners added an addition for a new primary bedroom. Does that make sense, or did I lose you? Anyhoo, my office at the old house was in the basement. I made the best out of it with the One Room Challenge design last fall; however, this time, I'm the big winner of "Offices That Rock." The new space has natural light for days, and those doors are what dreams are made of. Clutch the pearls.
RELATED: Fast forward to 2020, check out ther work from home office and gym makeover!

This vintage brass bench was also scored from Randolph Street Market a couple of weekends ago and sat at the end of the hallway. If you were watching my Instagram, you know I asked what should be hung above it. Juju hats and mirrors and abstract art, oh my! SOOOOOOO many good ideas! Have any more you want to shout out?
The Master Bathroom Needs Some Work
I didn't take photos of the new master bedroom. Mainly because, at the moment, it's just a boring white room with windows, but, I did snap a couple of pictures of the master bath. It was so not love at first sight. I called it the room of opulence. A hot mess of pillars and dark wood and travertine awfulness. Insert emoji monkey covering its eyes. But Marianne from The Savoy Flea stopped by and suggested we paint the dark wood white. She's a magical unicorn. Shazam! What a difference some paint makes, eh?

The new brassy hardware is on its way, and the sconces need to be replaced…someday…when I can afford to shop again.

The pillars and yuck seem to just fade away. A room I hated transformed into a pretty spectacular, clean, white space.
Outdoor Patio Decor
That's about it for upstairs, so how 'bout we head outside? This is pretty magical. I teamed up with World Market for a patio makeover DesignOff with Jojotastic to create this space, and am super jazzed with the end result.

The blue bistro chairs are oh so francais. They make me want to drink wine, wear bright red lipstick and big sunnies.
RELATED: Don't miss my round up of affordable outdoor patio furniture including my favorites from Walmart, Target, and favorites from Amazon Home.

I'm totally digging the subtle boho vibe that is going on out here. Plus the pops of pink on the navy are making my heart sing.
RELATED: Check out this guide to the most comfortable outdoor patio furniture that you've probably never heard of!

Want to see more of the outdoor space, deets on the DesignOff, and how it was created? Check out the patio makeover challenge post. Now, before The Boy has figured out I've gone missing and am found hiding in a closet, messing around with my bloggery buddies, I best get back to work. I've got tons of vintage treasures to unpack and zhush. But before you jet and stop screwing around at work, go check out the other bloggers participating in this blogger home tour! I've listed them all below. Each and every home is a killer. My jaw has dropped over and over and over again! And a huge thank you to Lindsey at The White Buffalo Styling Co. for organizing this parade of homes. You rock girl!
Summer Blogger Home Tour Participants
Monday:
The White Buffalo Styling Co.
Cuckoo for Design
Bliss at Home
Eclectically Vintage
Dimples and Tangles
A Designer at Home
Julie Blanner
Tuesday:
Nesting with Grace
Place of My Taste
Our Storied Home
The Chronicles of Home
Life on Virginia Street
Simple Stylings
Wednesday:
Inspired by Charm
Hunted Interior
Sarah M. Dorsey
Swoon Worthy
HI Sugarplum
Burlap & Lace
Thursday:
My Sweet Savannah
Jennifer Rizzo
Circa '34
StyleMutt Home
SG Style
Bright Green Door

Friday:
Craftberry Bush
The House of Silver Lining
The Makerista
withHEART
Iron & Twine




Discover More On House Of Hipsters Interior Design Blog
If you're looking for affordable home decor you must check out this round-up of favorites from Amazon, Target, and Walmart.
As an ode to Cyberexboyfriend's video on Millenial Mommy Blogger Music, I put together an epic mom rock music playlist that you must hear.
Artificial plants are trending in the interior design world, so I put together a list of the best faux olive trees for your living room and bedroom decor.
Spruce up your hallway decor with this boob light replacement ideas because boring lighting is a design crime.
Are skinny jeans out? Yes, according to TikTok, they are. Here is the trending denim you should replace them with.