Do you remember my seriously sad patio? Bare, cold, and blah about sums it up. If you've been watching my Instagram and Snapchat ( houseofhipsters ), then you've already seen sneak peeks and some smack talking to my DesignOff challenger Jojotastic (aka Joanna). Her and I are in this knock down drag out fight…errr, ya no, it's really more like a friendly little Boho Patio DesignOff Challenge, sponsored by World Market. BTDubs, they're having one sweet sale right now…the deets are at the bottom of this post.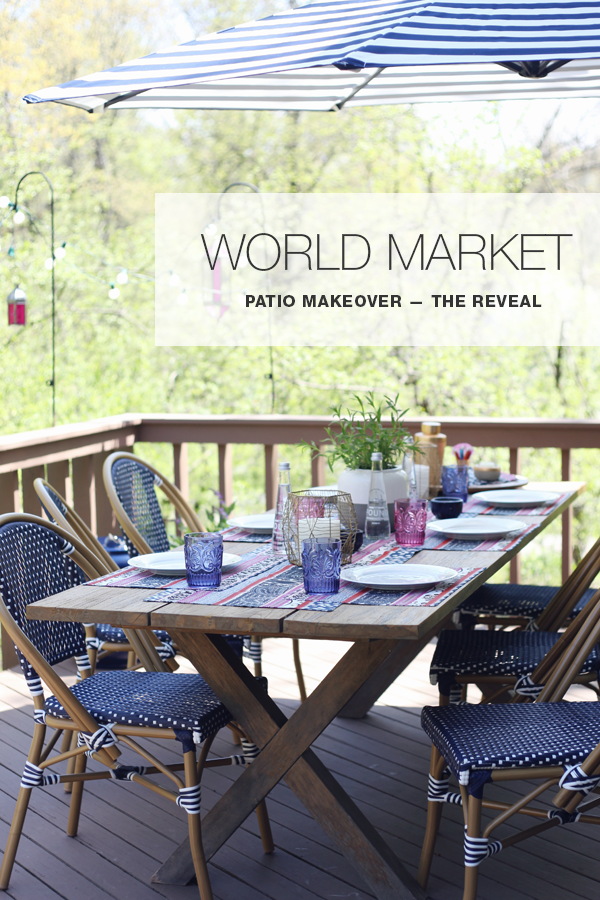 MORE AFTER THE JUMP…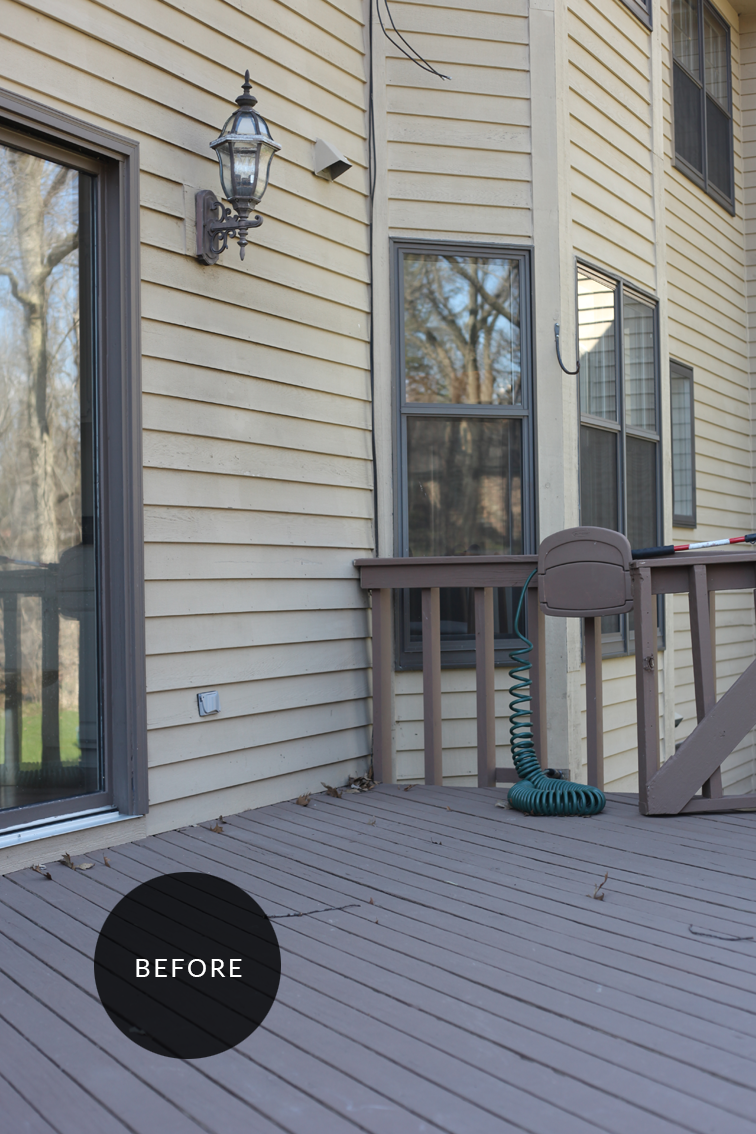 When Joanna and I bought our new homes, we teamed up with World Market to DesignOff and transform our sad looking outdoor living areas into Pinterest perfection. Could it be done? I sure hoped so. After spending hours pinning basically everything on the World Market site, I knew I had to narrow down my choices. Lemme tell ya, not an easy task.
Before finalizing my mood board, I made the mistake of looking at Joanna's picks. Talk about wanting to scrap everything and start over. Argh! Her patio was going to be amazing! Brilliant pops of turquoise, blues, greens, and navy.  Combined with a gorgeous rug, teak furniture with clean ivory cushions…ugh, I loved it all. My confidence was rattled a bit, but not defeated. I channelled my girl Taylor Swift, and I shook it off.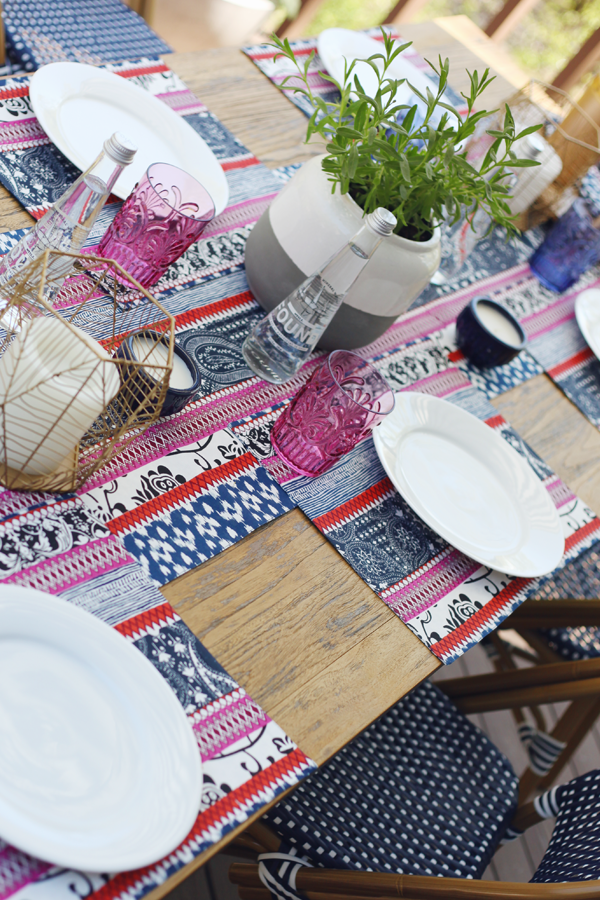 After sitting back and looking at my board, I managed to pushed that panicky feeling aside. This was going to be a winner. I knew it, deep down in my bones. Rich navy with saturated pops of pink and just the right touch of boho…everything was right up my alley. Hits of gold, blue French bistro chairs, navy and white striped umbrella. There was no way I'd change a thing. Even though I loved Joanna's mood board, my boho patio DesignOff makeover was just right for me. I don't think it could've fit my style any better. I even managed to work in my vintage brass bar accessories, and check out those adorable drink umbrellas…shazam! Mai Tai anyone?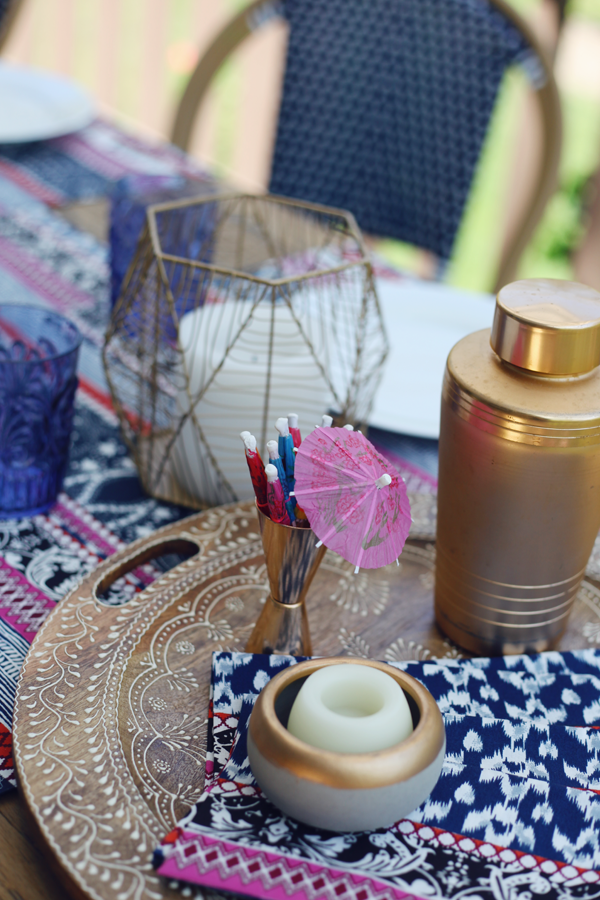 After raining every weekend for like a month straight (seriously you guys, Monday – Friday it was 80° and sunny, Saturdays and Sundays were 50° and rainy…Chicago, you're killin' me smalls). However, this past Sunday I managed to catch a break. Spring had finally sprung, and the sun came out to play – it was time to enjoy the patio.
I potted a couple peonies and a bunch of salvia and lavender. Both attract hummingbirds, and the perennial lavender detracts my biggest nemesis…the dreaded midwest mosquito…as do these citronella candles. How about that cute little navy garden stool (similar) for extra seating? And a big thank you to my friend Beth from South Loop Loft. The lovely orchid she gave me looks gorgeous in this cozy nook.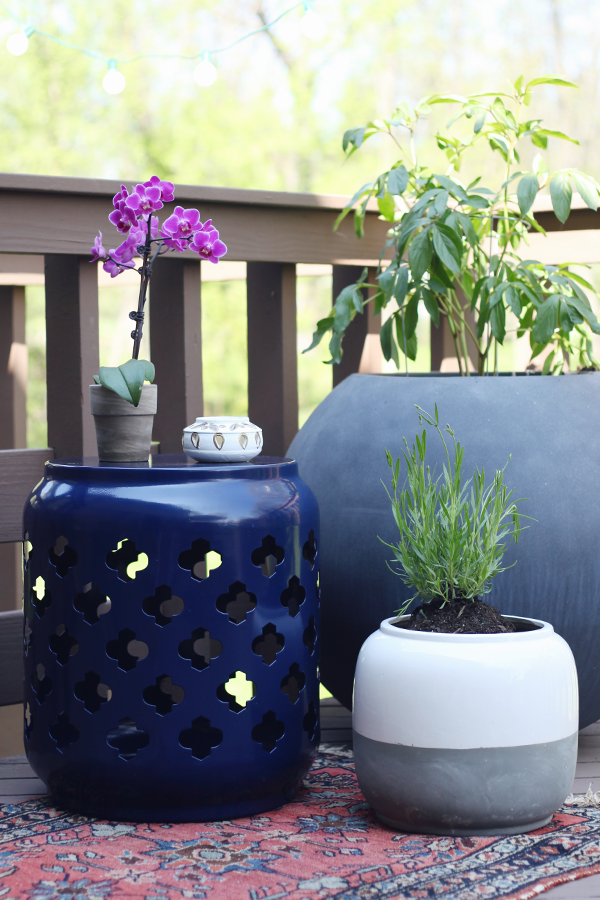 Word to the wise, these gorgeous lanterns are totally beautiful, but hang them after you ask your husband to  fill the planters with rocks. I was setting the table and kept hearing, "Ouch! Ouch! What the…OUCH!!!!!" I totally did not giggle when I turned around to see The Boy giving this guy the stink eye. Apparently it was poking him in the back repetitively…pretty, yet pointy little sucker. And these large hooks came in really handy for hanging everything.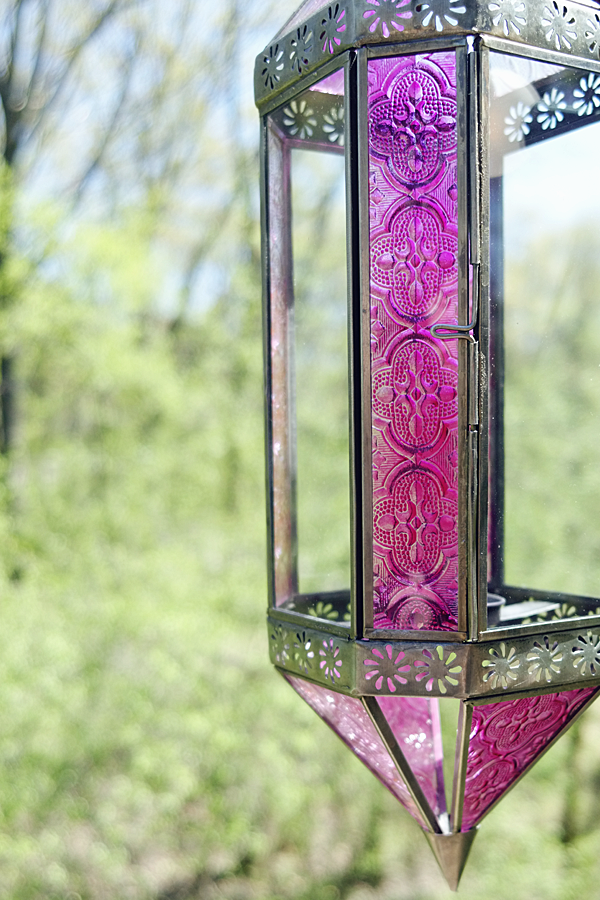 The arching umbrella throws a ton of shade. It's huge, and I adore it. In fact, it might be my most favorite piece (besides the festive string lights). Since this one arches, I do suggest purchasing the extra weighted base. It stays in place just fine without it, but my kids are hell on wheels…4 foot demon monsters. I know it's not going anywhere even when The Death Star is under attack and mini Darth and Leia are light sabering under it. Yes, this is my life.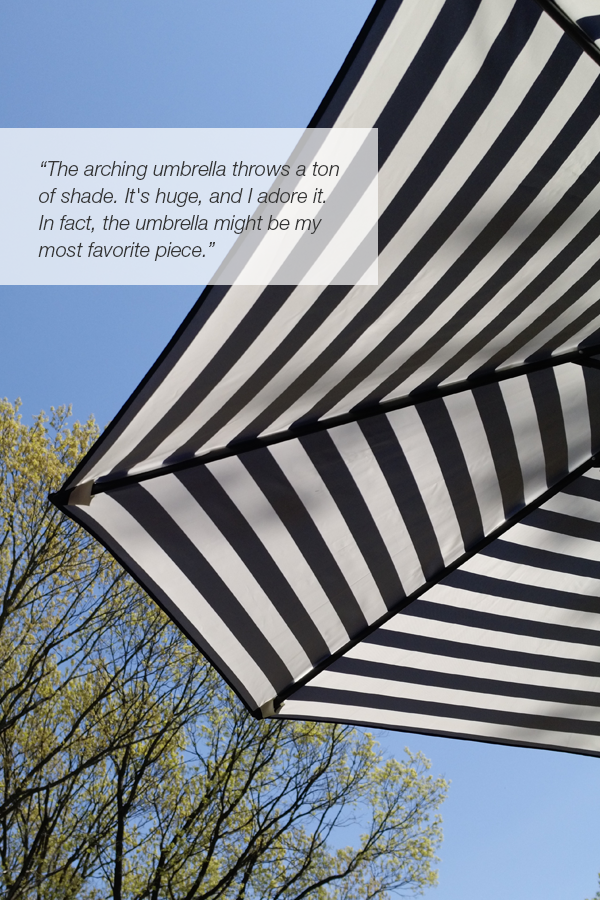 I also found these water bottles of Found water. Always a sucker for pretty packaging, so of course I had to pick these up.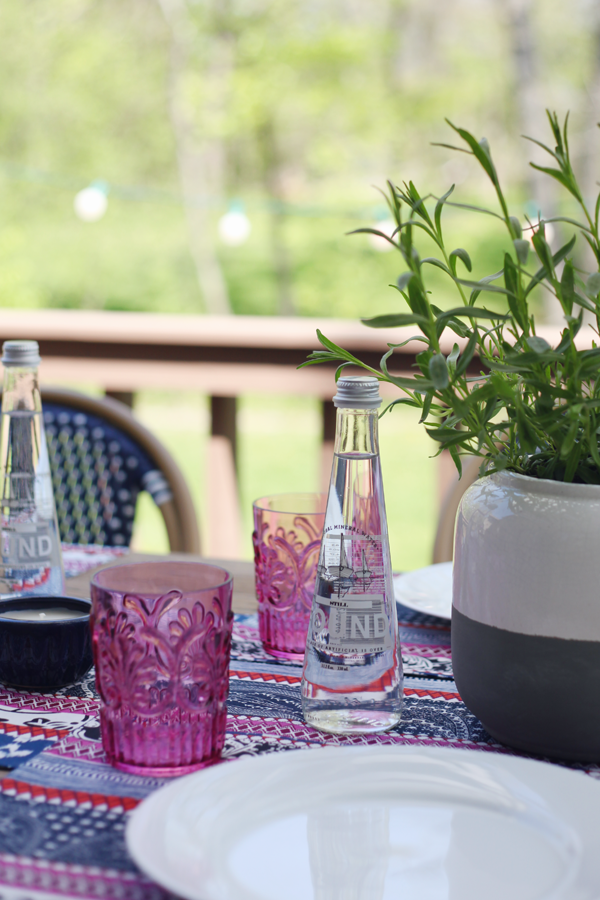 Okay, can we just pause and admire these blue bistro chairs for a moment. I gotta tell ya, I've yearned for these dreamy chairs for years, but the price tag was always so extreme. I'm happy to report these blue beauties from World Market are sold by the pair and are incredibly reasonable. Personally, I was shocked…in a good way. I could afford them. In case you missed my Instagram post, they look just as good inside as they do outside.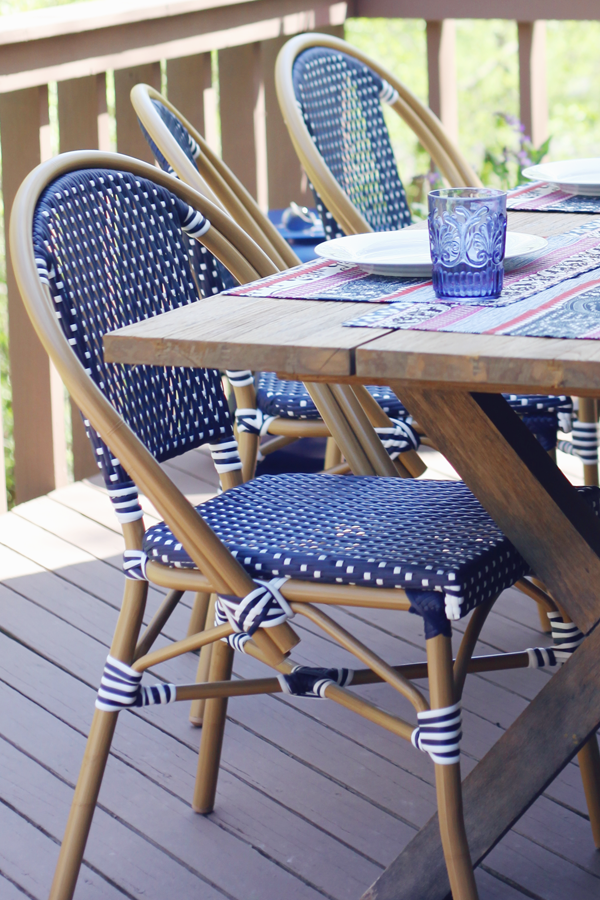 Be sure to head on over to check out Jojotastic's DesignOff makeover. Then come back here and comment below to let me know who won. We're letting you settle the score since we're both a bit bias. Do you have a favorite?
Oh, and don't forget to head over to World Market for some great outdoor deals and up to 25% off on select items plus free shipping (ummm, can't be sayin' no to that). Hurry, this sale won't last long.


For this post I received products to review from World Market. All opinions are my own and always will be. Thanks for supporting the content that keeps House Of Hipsters going.