New House Progress Report – The Dining Room
Last Updated on September 27, 2023
If you've been watching my Snapchat or paying attention to my Instagram you've seen quite a few sneak peeks of the new house…especially the dining room. What on Earth ever possessed me to begin designing that particular room is beyond me. Maybe it's because it was different? Something new? I mean, I've never had a formal dining room before. Maybe it's because I saw some blush and brass chairs and had to find a way to make them mine? Hee-hee. I don't know. But whatever the reason, there's one thing I know for sure. This dining room is the tits. There. I said it. Pardon my language, but it's been like watching Caitlin Jenner's transformation. Clutch the pearls! Shut the door and mouth on the floor! This dining room is the bees' knees.
Diving Into The Dining Room Design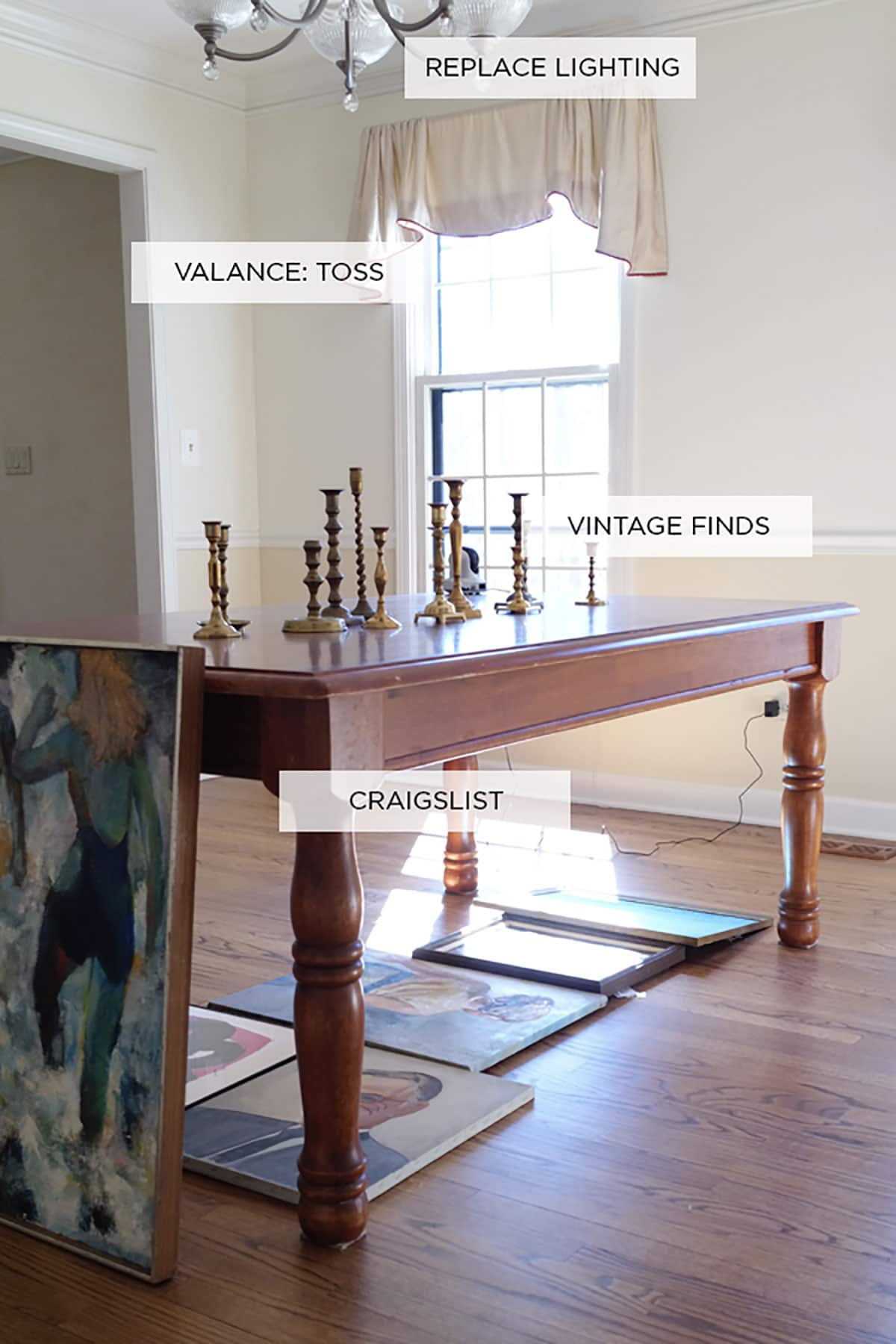 RELATED: I replaced the wooden farm table you see here with a vintage marble table that I found by accident. It was the best Facebook Marketplace find ever!
Okay, so maybe it's not totally rad here, but trust me…keep reading. You won't be disappointed when you see what happens.
Y'all know I have a thing for mixing vintage with new, and I have a spot in my heart for all things Mid-Century Modern. But this house, well, I don't know. Something about it tells me to go easy on the MCM. Something that says more glam think Hollywood Regency. Mix it up. So, I started a secret Pinterest board for inspo.
The dining room design was inspired by a painting I bought from my friend Marianne. I call her (the portrait lady, not Marianne) The Blue Lady, but apparently, its proper name is Girl in a Chemise, and of course, it is not a real Picasso. The day we closed on the house, I snatched the keys from my relator's hand, marched thru the front door, and hung her in the dining room. It's been her home ever since.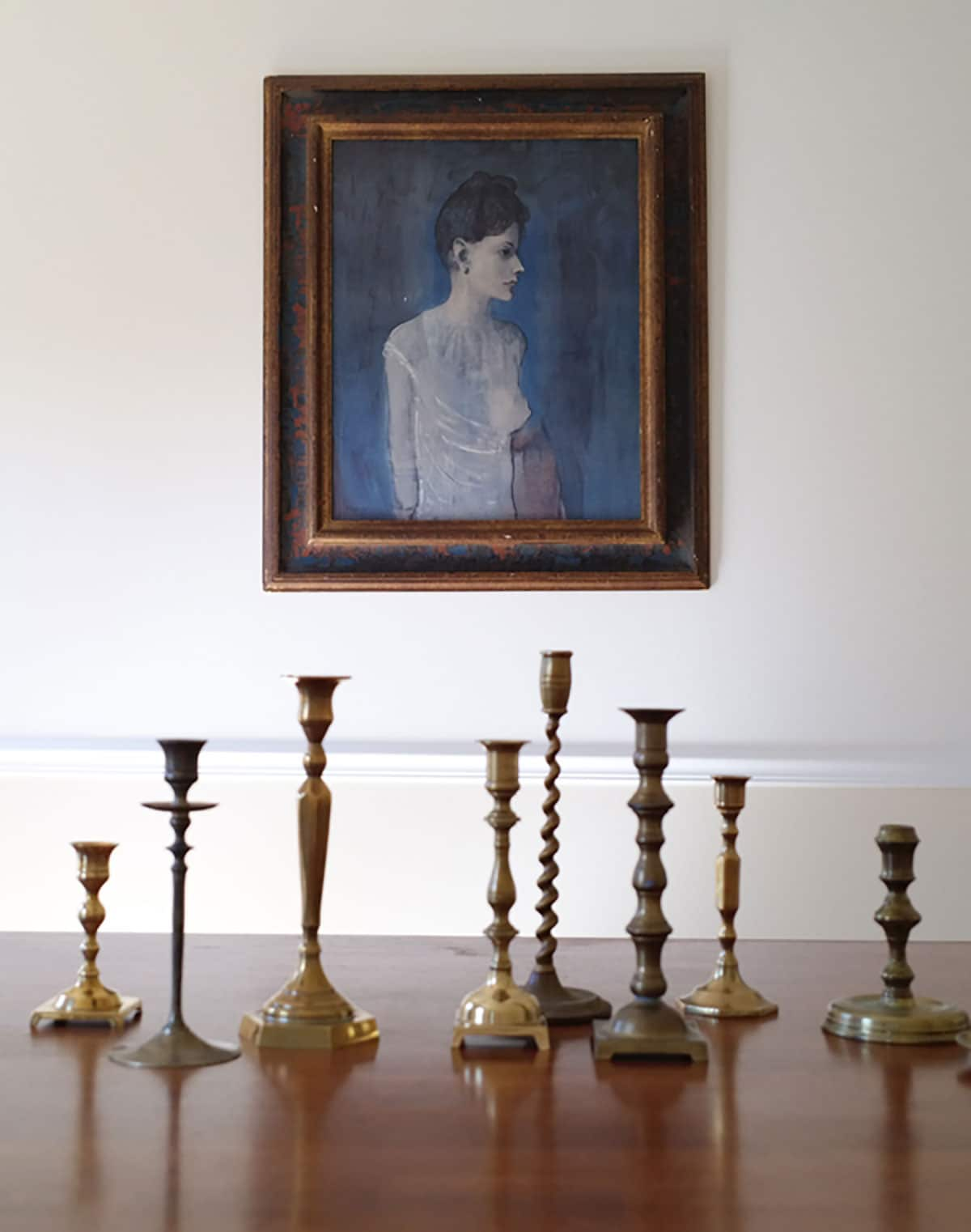 Between my secret pinboard and a text sesh with Beth from South Loop Loft Vintage the space came together quite quickly. I told her I was looking for an old farm table. A white-washed beauty but not overly shabby chic…that ain't my thang. Beth and Marianne are really awesome about keeping an eye out for vintage pieces, and let me tell you; it's nice to have an extra set of eyes—someone who understands your style and what you are trying to accomplish.

Anyhoo, I sent Beth some inspo on the table, and her first reaction was to pair that puppy with brass swivel chairs…I believe I followed up with velvet blush swivel chairs. We both decided that popping the top off the farm table and replacing it was a piece of marble would be bonkers cool and completely necessary. She also exclaimed I have the most perfect rug for you when she laid eyes on The Blue Lady. It was one of her first vintage purchases, and I was pretty honored to purchase the blue and pink beauty.

(Oh, and FYI, that brass lamp beauty is from The Beau Ideal…great vintage finds. I bought this through his Instagram.)
The search was on for seating. It was Beth who texted me one morning with sheer excitement, "BRASS CHAIRS!" She found a set of 6 black and brass beauties on Craigslist. Beth negotiated the deal for me, and I hauled them back to the suburbs in Layla. Except I wasn't totally sold on the shape, so before spending any more money on upholstery, I kept searching…BTDubs, I'll be posting the black and brass beauties for sale soon, so if you're interested, holla at me.
I found 6 pink Pierre Cardin chairs on Etsy a month prior, and much to The Boy's dismay, 6 more chairs were suddenly on their way to the house…BTDubs, which made for a total of 58 chairs…under one roof. And before you judge, count all your chairs first..and know that 22 were dining room chairs. (6 original chairs that I'll be selling with my old kitchen table, 6 black and brass that will also be sold, 6 blush and brass, and 4 vintage chairs for eating at the tulip table in the kitchen.) Hello, my name is Kyla, and I'm a chairaholic. I love chairs, and I'm not ashamed to say it.

The greenery is a faux fiddle leaf fig tree, and if you're looking to purchase one, check out that link for the complete roundup.
So now that we all know I'm a total chair hoarder, and I'm feeling like I have vomit of the mouth, I'm going to wrap this post up. As you can see, the dining room is far from done, but after finding new pieces and working on them every Saturday and Sunday, I love it more and more. But before I go, here is where the space sits now….far from dunzo, but I'm thrilled. BTDubs, remember when I was searching for a brass lamp…I finally caved.

If you want to see more behind-the-scenes sneak peeks, check me out on Snapchat by searching HouseOfHipsters. But Kyla, what will I see? Is it worth it? Well, I think so, but you be the judge. Last week I showed you my latest estate sale finds, The Boy installing the dining room chandie plus the inaugural lighting ceremony complete with music by Hall & Oats, shelfie progression on the built-ins, an incredibly cool new piece that I found on deep discount, and how the delivery guy was hating life and that 80 lbs package of awesome (oh my, what was it? so not telling right now), and a whole lot more. Holy FOMO. Don't fret. I've got you covered on Instagram and Snapchat. See you there…and as always, here too.



Discover More On House Of Hipsters Interior Design Blog
If you love that fiddle leaf fig tree above, check out my faux olive tree round-up. It's trending in interior design right now.
I recently attended a favorite things party and had so much fun. If you're looking for favorite things gift ideas be sure to check out this post for some goodies!
If you're looking for the most comfortable outdoor furniture, I've got you boo! These top picks will make sure you'll never leave your deck.
Give your hallway the old razzle dazzle with these boob light replacements. Guaranteed to jazz up the most boring hallway.
I'm from Wisconsin, so of course I love a brandy old fashioned sweet, and since I was a bartender back in my college years, I can make a mean one. Here's the best recipe on the internet.