Modern Dining Room Design Ideas
Last Updated on September 24, 2023
This Covid Coop Up has mind dreaming of fun new spaces. The other day, I found myself wandering from room to room, contemplating, "Do I like you? Could you be better? How can I change you?" The dining room became my first victim…I suddenly had big and bold modern dining room design ideas!
Yes, you read that right…THE DINING ROOM! The room that everyone loves. Imma monkey around with it and hope I don't break it.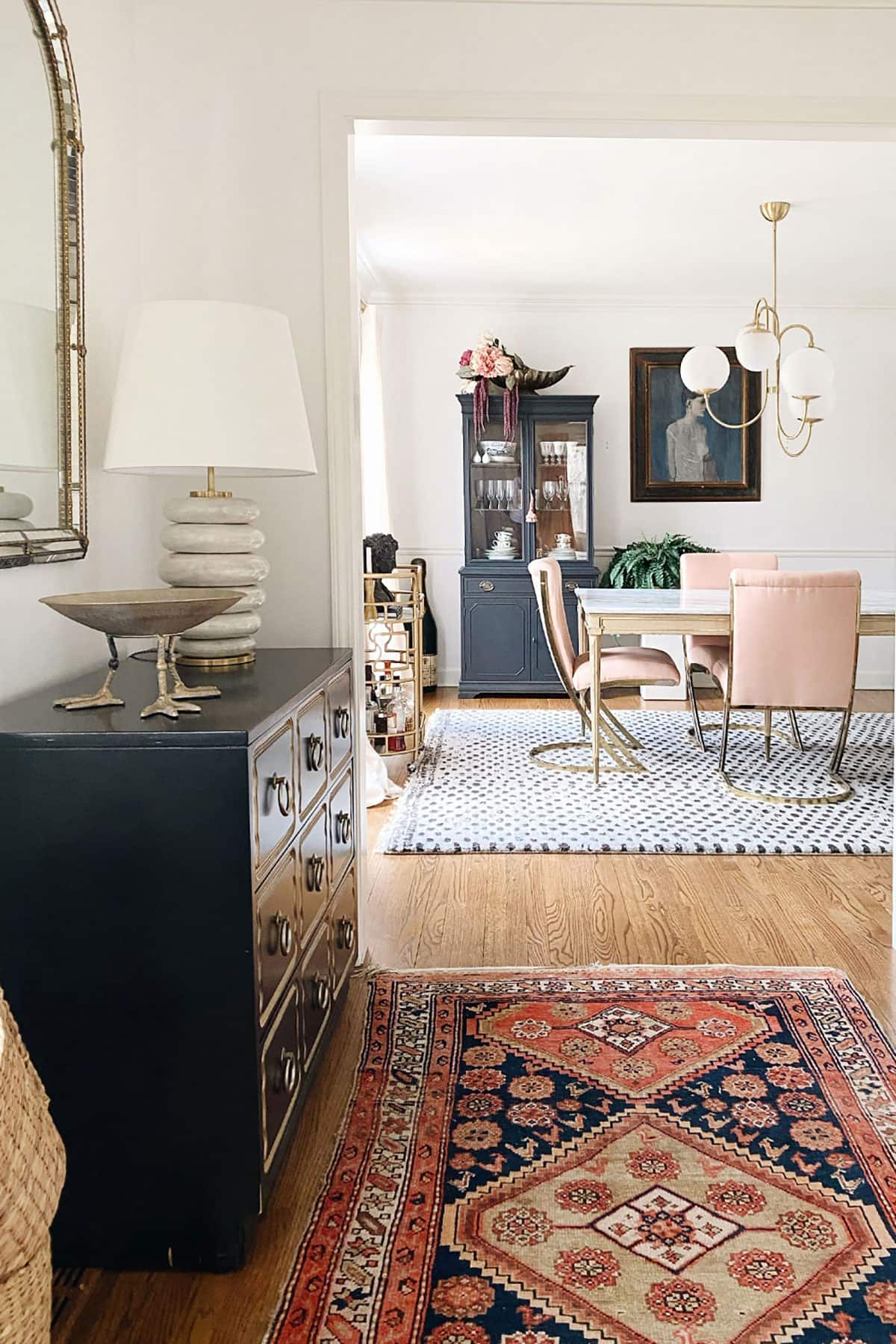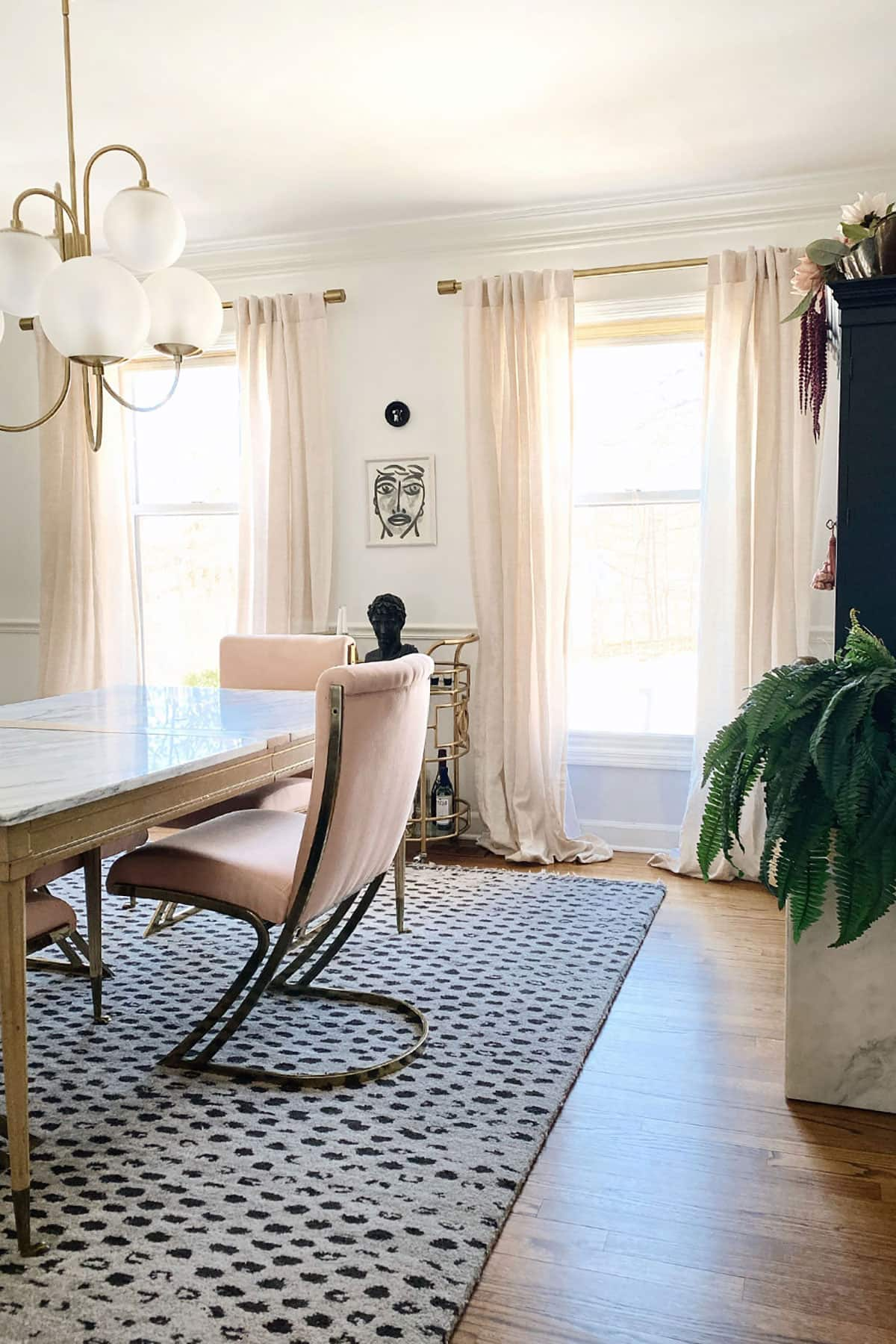 If you've been here before, you're probably familiar with this space. The vintage pink Pierre Cardin brass cantilever chairs broke the internet four years ago. Originally, I paired them with a blue bokhara rug and the blue lady painting by Picasso. Over the years, the wood table from Craigslist was swapped out for a 1950s French pastry table with a marble top. The blue rug was swapped out for this beauty, and I painted my grandmother's china cabinet black. Other than that, the decor that remains unscathed has been the chairs and the Snowbound white walls. But what if I flipped the switch?

I've been toying with reupholstering the chairs. I mean, I dig the pink, and they photograph nicely, but the fabric up close and personal is filthy…not by my doing. When I purchased them online, the seller did not show close-ups. If I knew just how bad they were, I would never have purchased them. They look like they went to war in a chocolate factory against toddlers.
RELATED: Don't miss this round up of Amazon must haves filled with items I own, have tested, and cannot live without.
With the help of Photoshop and a little creativity, I've been playing around and visualizing what would happen if I monkeyed around with color in the dining room. Mind you, the last time I experimented here, I broke it with the Purple Pig. Remember that? I proved publicly that I suck at color. It was a complete and utter disaster. I believe I compared myself to Alfred from Hitch…you know, when Will Smith is like none of this…stay in your box.
Being slightly overwhelmed by all the color options, I threw my reupholstery pipe dream out to Instagram. Color favorites were emerald, navy, fuchsia, rusty cognac, peacock blue, mossy green, saffron yellow, and chocolatey brown…I got hit with some serious color FOMO and decided to dust off my photoshop skills… here are the dining room design ideas that transpired.
Dining Room Design Ideas




Wallpaper From Divine Savages
ERMERGED!!!! Navy and rust and green, oh my! I have to say, I'm not sure if I have the guts actually to commit to this much color, but clearly, I'm loving a few of these mood boards. A little dash of wallpaper, a pinch of paint, whisk in some fabric, and voila, a recipe for possible disaster. Feeling more confident, I hit it with a little bit of this.
Dining Room Design Idea I Hated

Ummmm, nope…too far. I hate this. Pull it back, Kyla.
After staring at these for about a week, I've been more and more drawn to the green. Still, I think my grandmother's painted china cabinet is too dark and found this beauty by Nina Magon for Universal Furniture (no longer available). Those arches are delicious, and I love the idea of three pushed together. But the quarantine gods have me under a strict budget, so that purchase will have to wait.

How are you feeling about this change? I'm nervous but will sit, stare and contemplate for a bit longer. Maybe order a swatch of that Divine Savages Forbidden Bloom. What about the blue lady? Do you like her with wallpaper? Does she still work, or does she need a rest? Do you have any dining room idea suggestions for me?



Discover More On House Of Hipsters Interior Design Blog
If you are struggling with arranging your living room with a fireplace and TV check out these five layout options.
If you're looking for fake plants that look real, you've come to the right place. Check out the ultimate guide.
The outdated brick fireplace makeover before and after went viral! Some love it, while others hate it. What do you think?
Faux plants are my jam, and the faux olive tree is at the top of my list when it comes to decor! Here are my favorites.
I recently attended a favorite things party, and now I can't wait to host my own. Here is a round down of how to host one with the best favorite things party gift ideas under $25.