Favorite Things Party Gift Ideas Under $25
Last Updated on September 13, 2023
Recently I was invited to a favorite things party, and let me tell you, it was so much fun! Similar to a white elephant party, yet different because guests only bring their favorite things. Today I thought I'd give you some inspiration by pulling together a gift guide filled with favorite things party gift ideas under $25. These also make great gifts for stocking stuffers and hostess gifts.
If you're unfamiliar, the concept is simple. Guests are invited to bring their favorite thing, and usually, there's a gift limit of $25. Sometimes the host asks their guests to bring 2 or 3 of the same favorite thing but lowers the gift limit to $10 – this way, guests go home with multiple gifts, and the party stays affordable.
Favorite Things Gift Ideas Under $25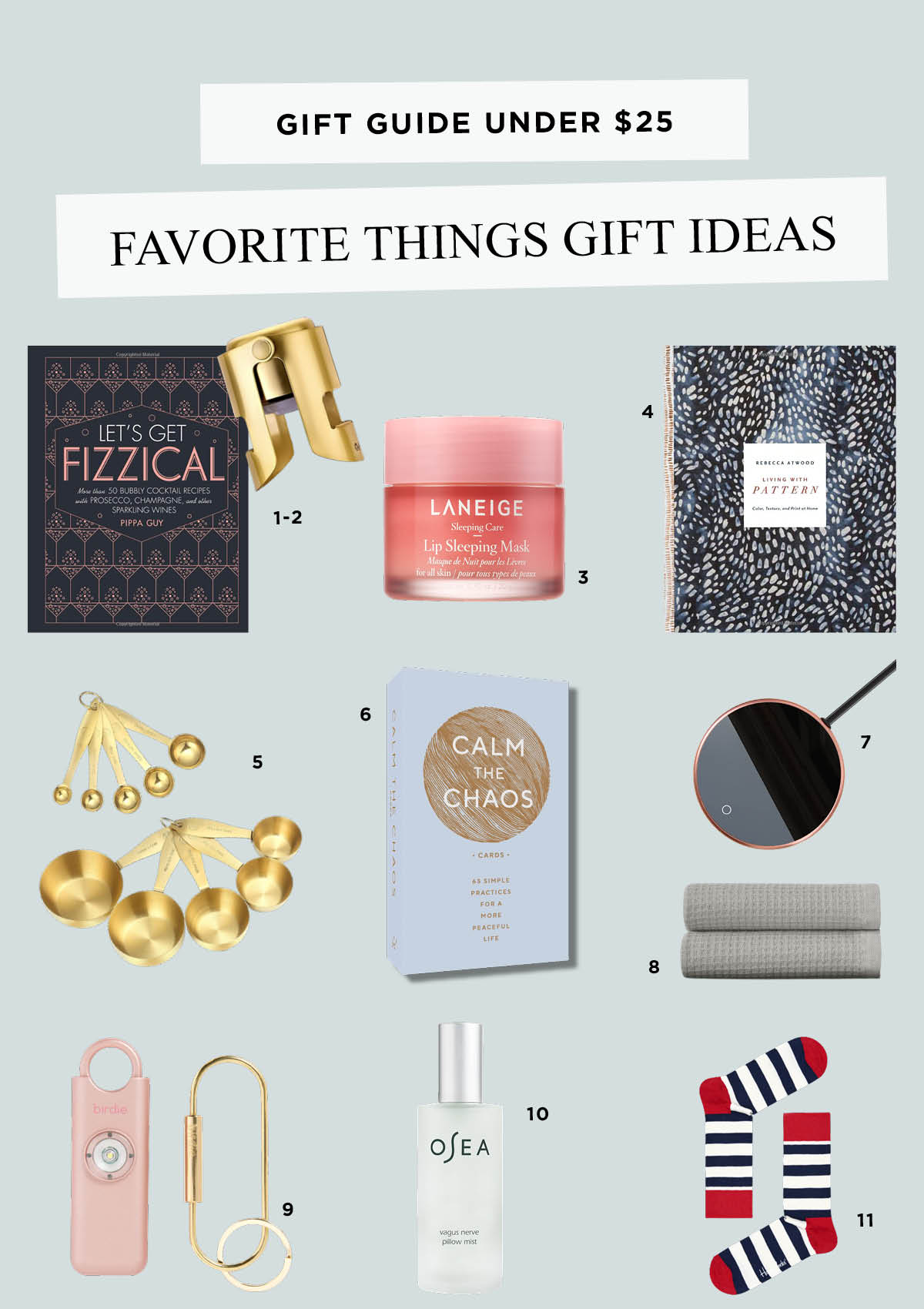 When each guest arrives, they will write their name on a slip of paper and place them in a bowl — if they bring 3 gifts, they write their name on 3 slips of paper and have 3 separate bowls. The number of slips of paper and bowls should be equal to the number of favorite things gifts the guest is required to bring. Once it's gift-giving time, each guest will pull a name out of the bowl — if they pull the same name, replace and pull a new name. As the gifts are passed out, your guests will explain why that item is their favorite thing.
11 Favorite Things Party Gift Ideas Under $25
Let's Get Fizzical: More than 50 Bubbly Cocktail Recipes with Prosecco, Champagne, and Other Sparkling Wines – a book of inspiring cocktail recipes made will my drink of choice, bubbles. You'll also learn shaking techniques, presentation ideas, and more.
Gold Champagne Stopper – I like to combine this with the Fizzical book because the stopper is $9, and the book is $12.
LANEIGE Lip Sleeping Mask – a leave-on overnight lip mask that moisturizes your lips like no other. This comes in multiple flavors, so if this is your favorite things gift, buy 3 different kinds.
Living with Pattern: Color, Texture, and Print at Home – this is one of my go-to interior design books. I'm also a big fan of Living In Color, which is by the same author, Rebecca Atwood. Also, be sure to check out the best coffee table books post.
Gold Measuring Cups and Spoons – pretty to look at and dishwasher safe. Technically these are $26, but if you read 5 words that describe me, you know I'm all in when it comes to breaking the rules.
Calm The Chaos Cards – I shared these in last year's gift guide as a favorite thing. I pull a card every morning to set the day's intention and focus. If you want to lean in on the cosmos, check out this astrology deck.
Mug Warmer – an electric coffee mug warmer for your desk.
Waffle Terry Washcloths – If you read my ultimate guide to the best sheets, you already know my love of Boll & Branch. The waffle texture is light and springy and is always part of my skincare routine. They also come in a few different colors.
She's Birdie Personal Alarm – today's world is far from perfect, but you can feel safer with this incredibly loud alarm that should deter a would-be attacker.
OSEA Vagus Nerve Pillow Spray – last summer, I began working on my bedroom routine to get a better night's sleep, and who knows, maybe it's a placebo mist, but I feel less stressed and fall asleep faster when I spritz my pillow.
Happy Socks – I'm sorry, but who wouldn't love banana socks? If you saw last week's unique gifts for her gift guide, then you saw a couple of other sock options.
RELATED: For more gift giving ideas, check out all the gift guides.
More Favorite Things Party Gift Ideas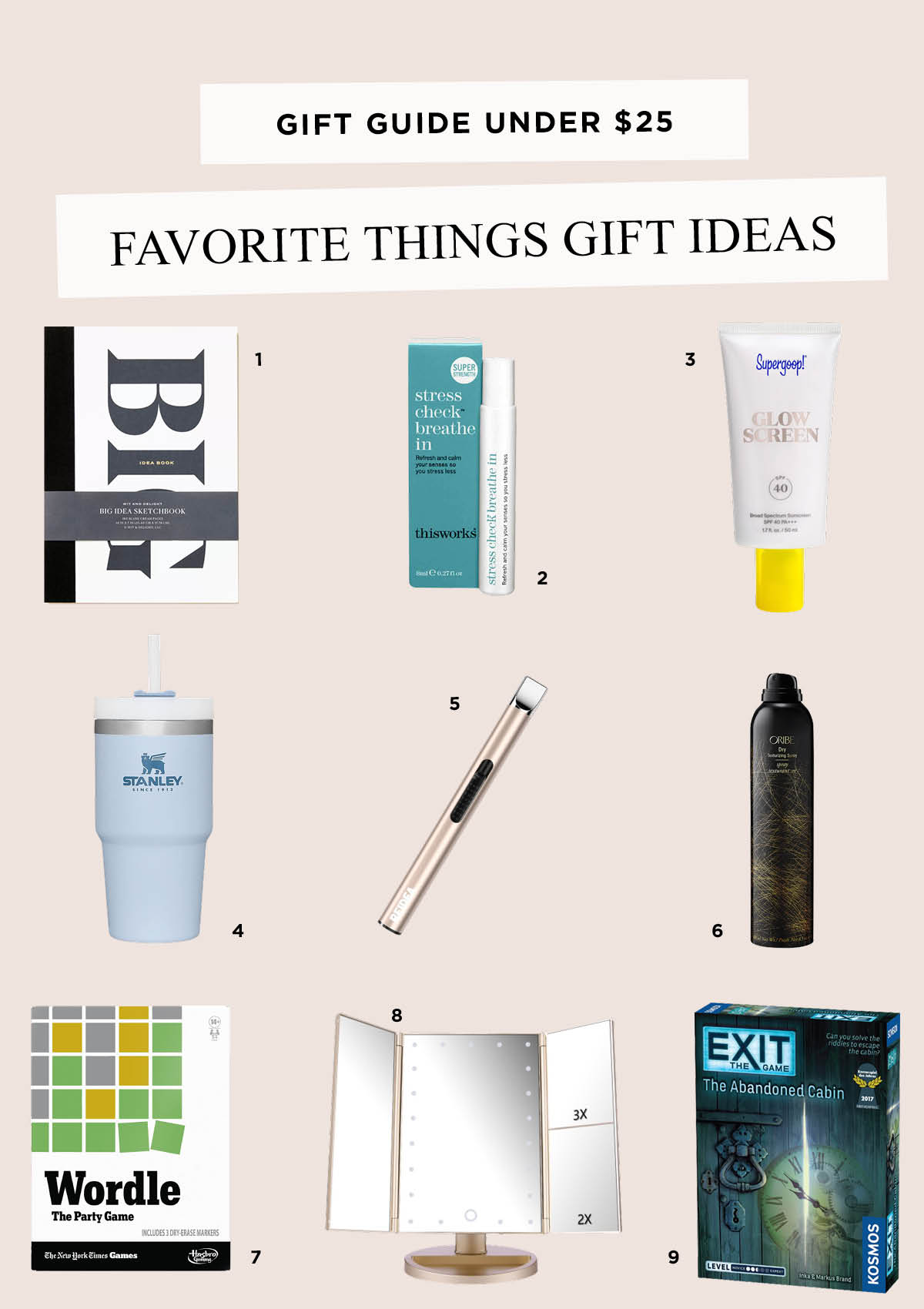 That wraps up my favorite things gift ideas under $25 gift guide! But before I bid you adieu, I must state for the record, if you're going to host a favorite things party, will you please invite me? Also, before you get on with your day, be sure to check out my Holiday Gift Guide For Home Decor Lovers, Holiday Gift Guide For Her, Holiday Gift Ideas For Him, and don't miss my round-up of 27 best decorative boxes and the last trend, cute mushroom decor round up!


Discover More Home Decor Ideas and Interior Design Tips
I shared a complete round-up of all my favorite affordable velvet curtains, including the gold velvet curtains I have in my bedroom.
These are my favorites when it comes to the Amazon Prime Sale! This year it happened twice, so definitely bookmark this page for the future.
The first thing I do when decorating a room is source new lighting. Here is a round-up of ceiling lights, boob light alternatives as I like to call them, to spruce up your space. If you want more ceiling light fixtures, click on that link.
If that special someone is hard to buy for, check out these unique Valentine's Day gift ideas for her.
A carefully curated gift guide full of unique gifts for her! You don't want to miss it.