How High Should You Hang A TV? Perfect Height To Mount A TV
Last Updated on September 6, 2023
I've been perusing Reddit lately and joined a sub called TVTooHigh, and I'm shocked by how many folks do not know how high they should hang a TV on the wall. Chiropractors must be making back on all this neck craning. And it's not just homeowners; it's hotels too! The TVs are hung entirely too high. So I'm taking it upon myself to educate the world and answer all the burning questions on how high you should hang a TV in your living room and avoid wearing neck strain.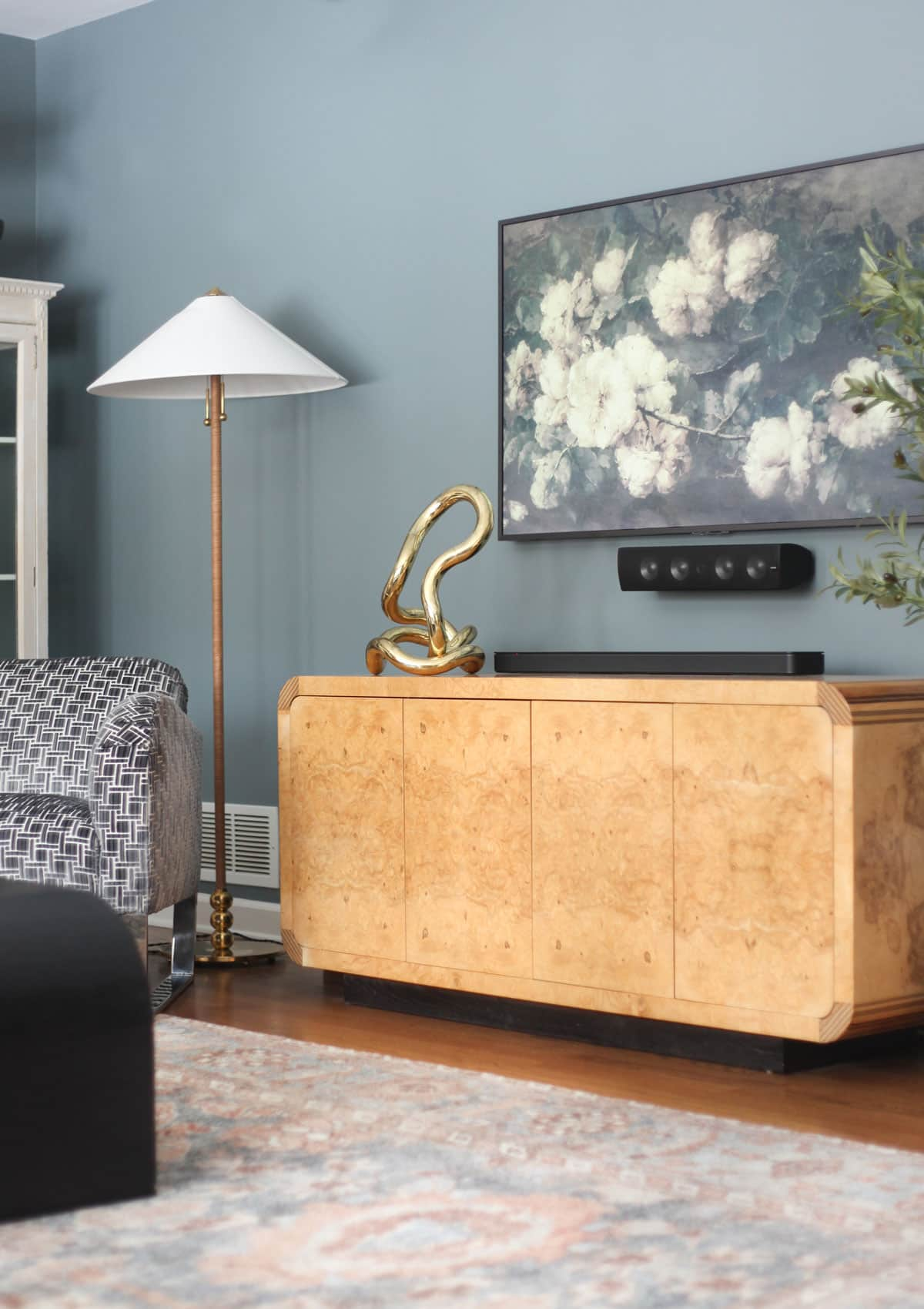 General Rule Of Thumb For Mounting A TV On The Wall At The Right Height
If you're presently in the process of hanging your TV, you may just be saying, Kyla, give me the meat and potatoes of this post. Don't tell me a story. I just wanna watch the game at the ideal height. Ya, I can respect that.
1. General Height For A 42″ Screen Size Television
If you're hanging a 42″ tv, you'll want to hang it 57″ from the center of the screen. Meaning the center of the TV should be 57″ from the floor. Why the odd number? Well, because it is the average person's eye level height. It may seem low when you first hang it but trust me. There's a reason why every art gallery hangs its art at this level. It truly is the perfect height. 
2. General Height For A 55″ Screen Size Television
If you have a larger TV (or art), you must accommodate that increase with added height. A 55″ television should be hung 61″ from the center of the screen. This will ensure you're hanging your TV at the proper height. 
3. General Height For 65″ and 70″ Televisions
I'm just gonna group these last two together. A 65″ television should be hung 65″ from the center of your TV screen, and a 70″ TV size should be 67″ inches from the center. This will center your mounted television at eye level and help avoid neck strain.
RELATED: Check out my post on how to hang art like a pro and nail the right height every single time. Plus, 7 genius picture hanging hacks.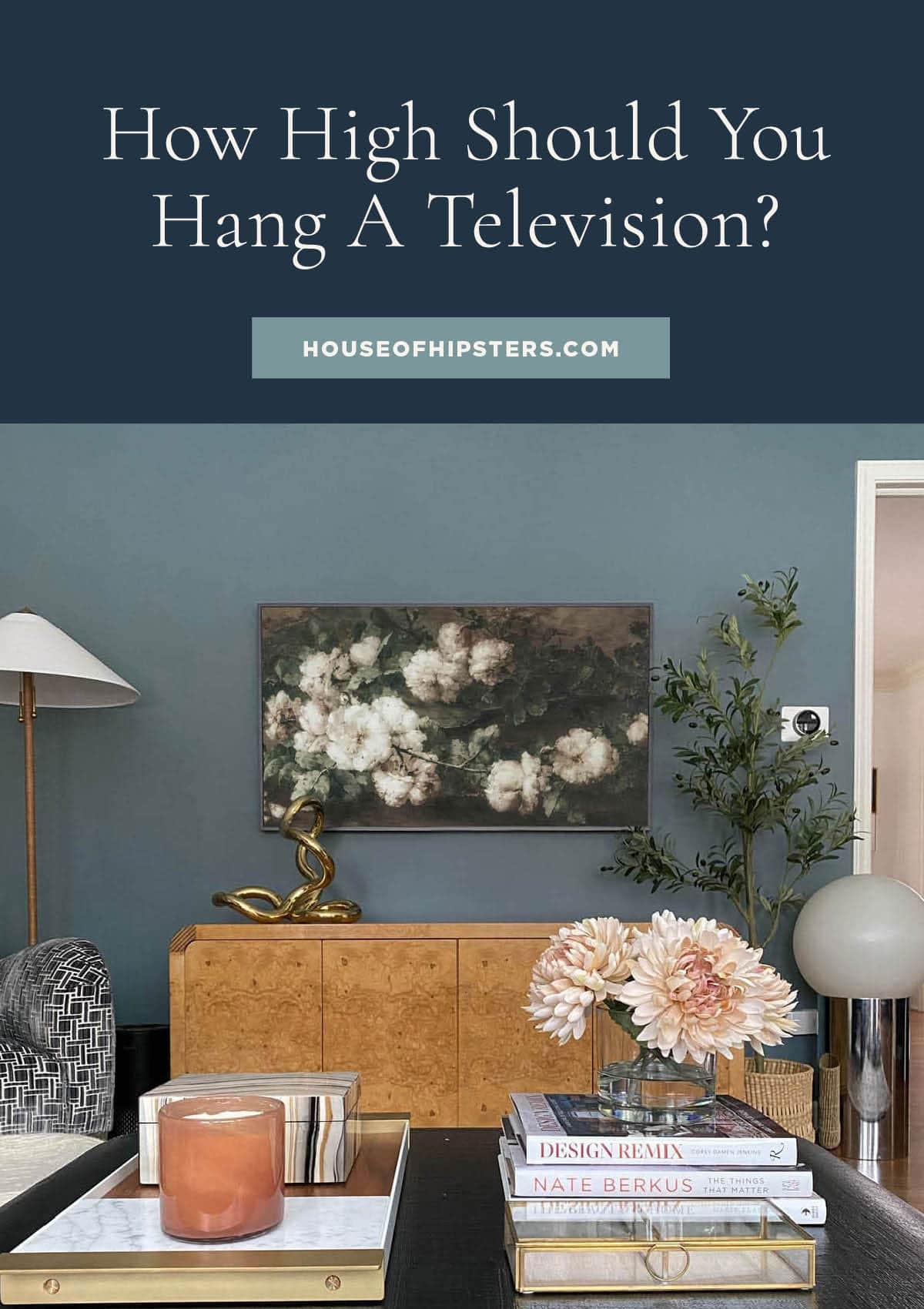 Accommodating A Wall Mounted TV Over Awkward Furniture
So you have an entertainment center that doesn't accommodate the general rule of thumb. That's okay; you can tweak it because we all know once you know the rules, you can break them. (BTDubs, yes, you should have a TV stand under your television.)

I purchased a low-profile sideboard at our old home, and if I were to hang a 42″ television 57″ from center, the TV would have looked super dinky. The scale would have been off. To accommodate the low profile, I went larger on the TV and lowered it a couple of inches from the general rule of thumb height.
To ground the TV and keep it from looking like it was floating, I wanted it to hang it 6″-8″ above the furniture. 

Same thought process for a higher sideboard or credenza. Unless the furniture is extra wide, consider downsizing the TV to accommodate scale and, again, hang the TV approximately 6″-8″ above the furniture. A good example of this is in the bedroom. If your TV is mounted above a highboy dresser, you do not want to hang a 70″ television above it. Purchase a smaller size, but mount it at an ideal viewing distance for a comfortable viewing experience.
Hanging A TV On A Bedroom Wall
This is another one of those you must learn the rules to break the rules situations. When hanging a TV on a bedroom wall, consider how you'll be watching your favorite shows. If you're lying down for the most part, consider lowering the height to accommodate eye level. If it looks too low visually, keep it at the general rule of thumb height, but tilt the screen down slightly. Just be sure you hang it at an optimal viewing distance to avoid eye strain.
Hanging A Television Over A Fireplace
My personal preference is to avoid hanging a flat-screen TV over a fireplace at all costs, but sometimes, there are no other options. Since most families want a TV in the living room, there are a few things to remember to achieve optimal height and stay within safety standards.

The firebox, unless lit, will be a big black square, and the television, another big black rectangle, will be mounted above the mantel. Those two big black holes will dominate the entire room. To avoid TV domination, there is an easy solution.
First and foremost, if you must hang a TV over the fireplace and your budget allows it, invest in the Samsung Frame TV. This snazzy and smart art TV acts as artwork and will eliminate one giant black hole. It comes with a free library of art, but you can also upload family photos. For other display options, check out my round-up of beautiful tv art and my post with a free tv art download.

But the real question is how high you should hang a television over a fireplace. If you can, follow the general rule of thumb listed above based on the size of your television. If adjustments need to be made, you'll want the bottom of the television 4″-12″ above the mantel and tilt the flat screen TV down a bit until you reach the perfect viewing angle. This will allow you to achieve the best height and avoid neck pain.
If you have a wood-burning fireplace, I highly suggest finding a different wall to mount your television. The smoke and heat will ruin it. If you have no choice, hang it the full 12″ above the mantel. I will also caution you on drilling holes into your brick.
RELATED: A reader requested mantel decor ideas and styling tips. You'll find one idea specifically using the Frame TV.
How To Hide Cords On A Wall-Mounted TV
You're probably hanging a TV on the wall because you want a cleaner, more elevated design look, right? So why would you have pesky cords dangling from it? To avoid the frat house look and keep cords out of sight, there are a couple of solutions for hiding cords on a wall-mounted TV. The best way requires a drill and cord kit, but if you're a renter, there is another option.
This In Wall Cord Management Kit is available on Amazon and is perfect for hiding low-voltage cords. They claim it can be done in 30 minutes if you have a drill (they even include the saw attachment in this particular kit.)

If you're a renter and drilling pilot holes in drywall is frowned upon, check out these flat molding covers. They snap on and require very little damage to drywall. You can also paint the cover to help it blend.
Do You Need Furniture Under A Television?
When I first began designing my home, I didn't think furniture was needed, but ideally, yes, you'll want a piece of furniture under a wall-mounted television to ground it no matter the size of your TV. As you can see in the Reddit example below, the homeowner tried to use the wood paneling to ground the television, which just does not work. 

Personally, I'm not a fan of bulky entertainment centers. Instead, I'd opt for a vintage credenza or sideboard (readily available at an estate sale near you). Mine (pictured above in the blue DeNimes living room) is hung over a vintage Henrendon burl wood credenza. To ensure the electronics don't overheat, we cut a hole in the backside.
It should be noted that the TV hung in my living room is a smidge too high, but that is what can happen when you're at work and leave it up to the audio installers. They hung my speakers for optimal theater sound versus the optimal TV height. Needless to say, I was not thrilled when I arrived home from work that day, and my screen height was way too high.




Discover More Eclectic Home Decor Ideas And DIY Interior Design Tips
If you want to spruce your backyard, check out this round-up of the best outdoor patio furniture.
Ever second guess yourself on what rug size to buy for a living room? Here lie the answers you desire.
Rounding up the best home decorating books – if you're looking for gift idea inspiration for a home decor obsessed loved one, this post is for you! And don't miss the round-up of best coffee table books as well!
If you're struggling with your living room layout, check out the five options and start rearranging!
Love plants as decor but have a black thumb? No worries! I have a round-up of the best faux olive trees and my favorite faux fiddle leaf fig trees.
I recently gave my 80s brick fireplace a makeover, and now that we've finished the renovation, I've whipped up a few mantel decor ideas you can try.
Looking for something out of the ordinary? Check out these unique modern vases that add a touch of artistry and elegance to your home decor.
Check out this round-up of best cleaning products for your home. These are my ride or die tips!