Free TV Art Download – Samsung Frame
Last Updated on July 2, 2023
A couple of months ago, I shared my favorite TV art for the Samsung Frame, but today I'm one-upping myself and giving you a free art download (well, 5 actually) for the Samsung Frame TV. And yes, the downloads are free. No strings attached. My neighbor Stacey owns Sweet E's Flowers, a local Barrington, IL business. The other day she gave me a small bouquet of poppies that she had grown. Have you ever seen poppies in real life? They're super funky, strange, and so cool. Of course, I had to photograph them.
Free Art Download – Samsung Frame TV
Since Stacey gave me these flowers, I wanted to pay it forward. You can choose from 5 different images…or download all 5 if you're feeling frisky…there's no limit.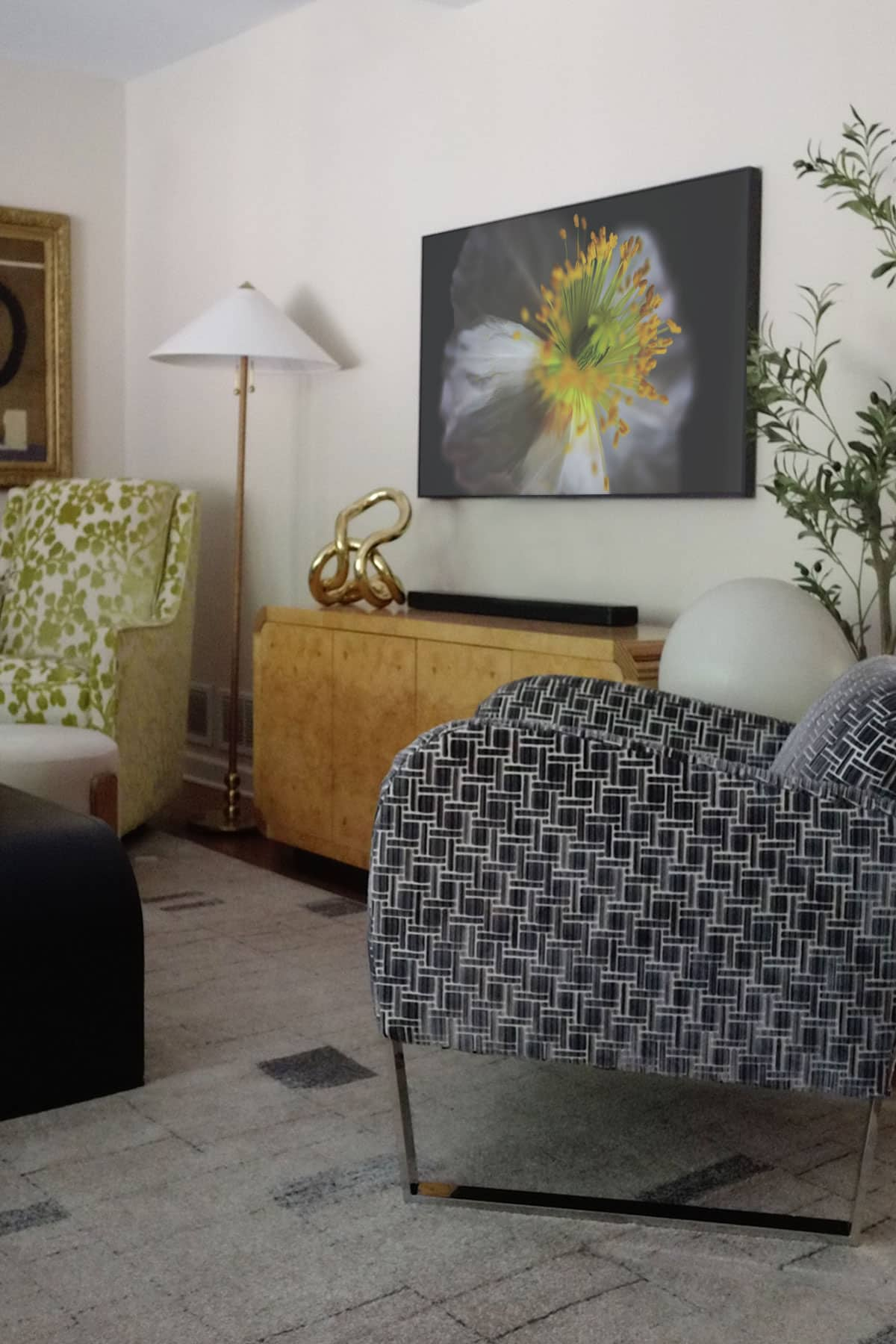 Free Flower Art Samsung Frame Poppies #1
RELATED: Check out this epic DIY and create your own artificial flower arrangement in resin.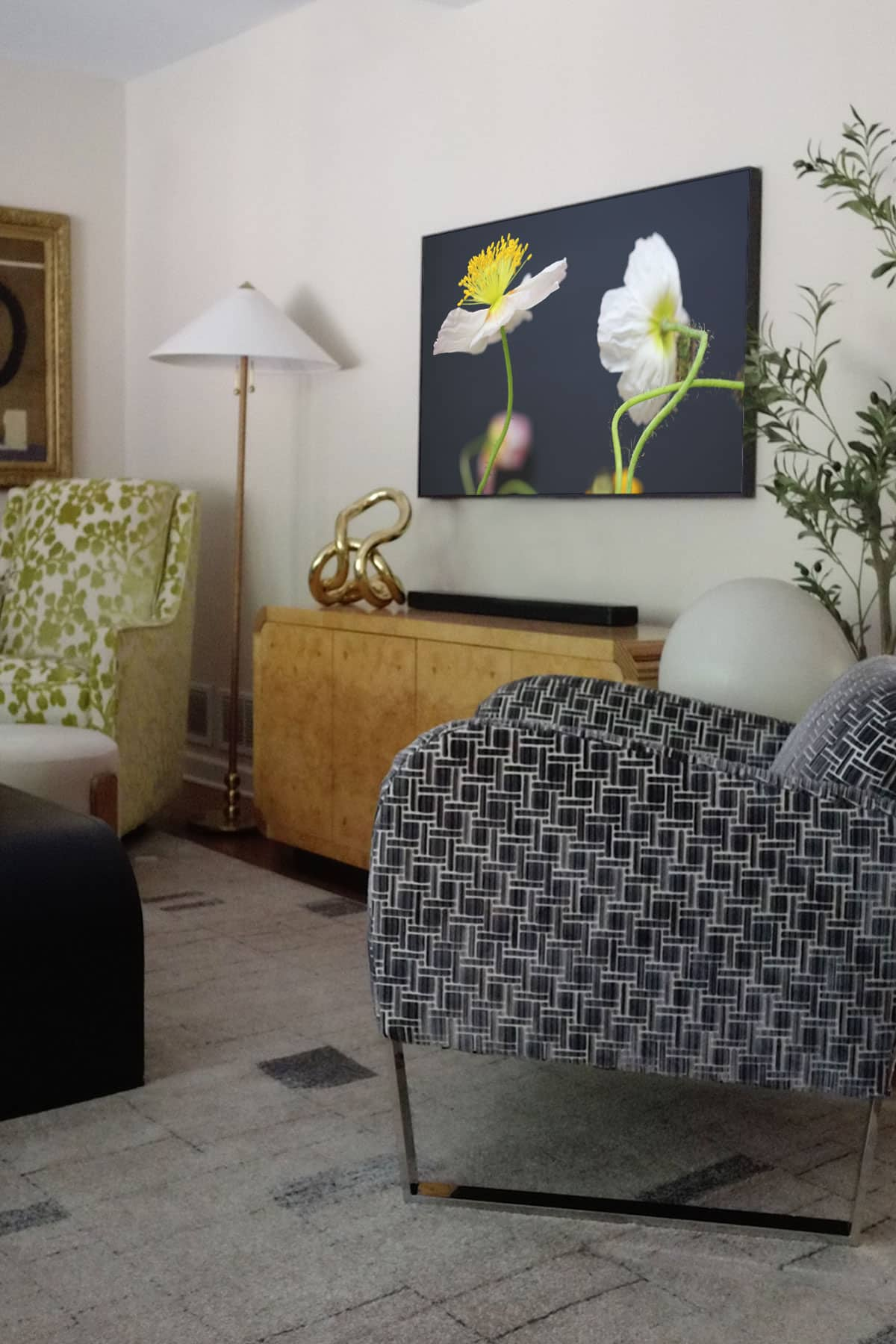 Free Art TV Download Samsung Frame Poppies #2
RELATED: Discover more Frame TV art in this round up of affordable downloads.

Free TV Art Samsung Frame Download Poppies #3
RELATED: Ever wonder how high to hang tv? Get my expert design tips to nail it every time.

Free Art Samsung Frame TV Poppies #4
RELATED: Get my picture hanging hacks of 7 ways to hang art like a pro.

Free Art Download Samsung Frame TV Poppies #5
Don't have a Frame and wondering if this art television is worth the hype? Here's my full review of the Samsung Frame TV.
RELATED: Here are instructions on how to upload art to the Samsung Frame and how to find the matting options.
Support Sweet E's Flowers
If you want to purchase locally grown fresh-cut florals from Sweet E's Flowers check out their weekly subscriptions and flowers by the bunch shop. Also, be sure to give them a follow on Instagram.


Discover More Modern Home Decorating Ideas
Every month some posts trend a bit higher than others. Folks are searching for the best interior design books, and I'm sharing my must-reads.
Have you seen the Zillow Gone Wild home for sale on Brandon Ave, Celina, OH? Go see why it's going viral.
My friend Erica stopped by to share her top 5 small space design rules you must break.
I'm not a professional interior designer; chances are, you aren't either. Here are my top tips on how to make your home look more expensive.
Over the last few months, I've been making my home smarter with technology I can control from my phone. Here is a round of the best smart home devices and a few interesting ways to easily add smarting lighting to your home.
This is the round-up for you if you're looking for an Anthropologie mirror dupe. I have 15 of my vintage-inspired gold mirror favorites for you.
Rounding up the best faux olive trees that look real. I also have a full post dedicated to faux fiddle leaf fig trees and more faux plants that will fool just about anyone!
I'm at it again! I've created a few mood boards of modern living room ideas for our TV room. Vote on which design you like best!
Got a big blank wall? Here are a few affordable gallery wall ideas for your home.
Here are a few expert interior design tips to help you decorate with art.