Beautiful Distractions No. 40
Last Updated on August 25, 2023
Hi! How are you? I fell a bit out of sorts with this new schedule and installing the new luxury vinyl flooring. Summer is in full swing over here, driving kids to swim lessons and gymnastics camp, but I am beginning to figure out this new schedule. Slowly but surely. If you're ready to take a few minutes of chill time (I know I am), here are a few things that caught my attention over the past few days.
Viral Real Estate Listing
This house in Celina, OH has gone viral. Only 2 days on Zillow and it has over 150,000 views because yes, there is something peculiar about it. The exterior is a bit space-age…but after looking at it from the backside, maybe it's just 3 double wides that were stacked on top of a ranch? Oh, and this isn't the weird part. Keep scrolling.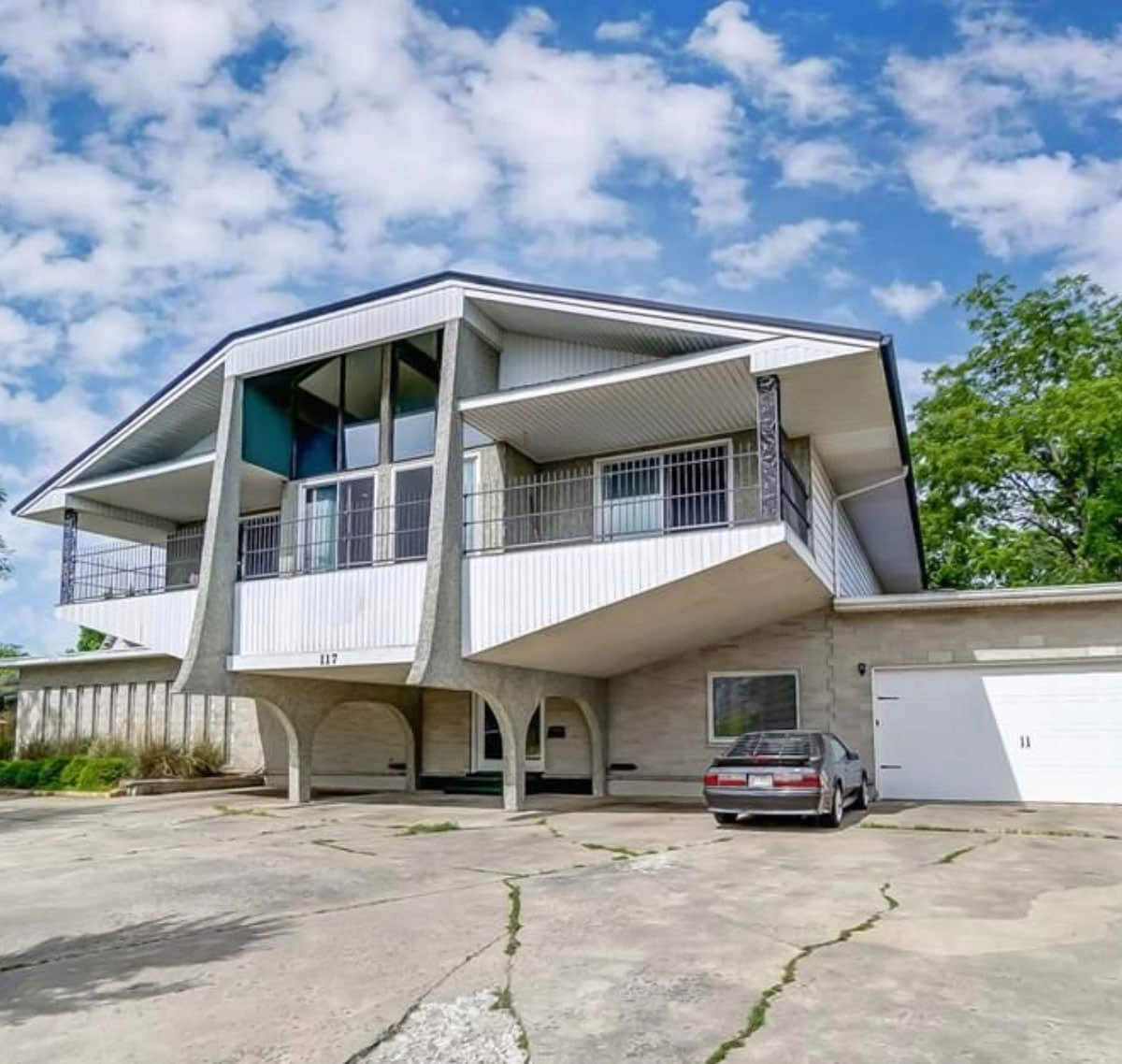 The living room looks a bit like a frat house collided with an old library, but it's what's around the corner that made me question things.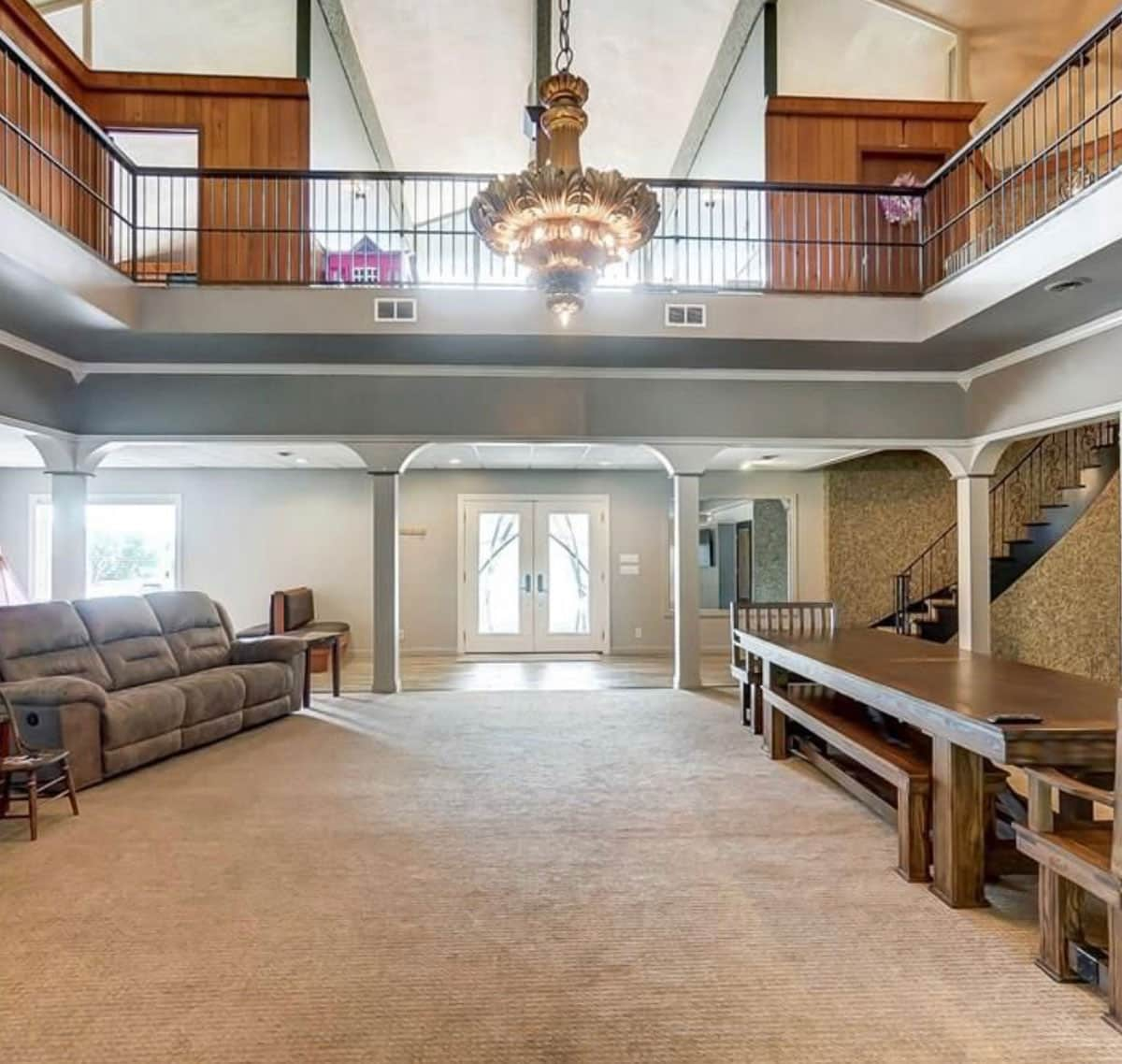 Yes, yes, that is a prison cell. In fact, not just one but two prison cells…complete with bunk beds and decorative ivy.

But wait, there's more. Is that a diner near the indoor pool? And yes, of course, the owner was inspired by Pinterest and installed sliding barn doors.


I feel like all they need is some shiplap for this home would hit the trifecta. What do you think? Would you live here?
Affordable Decor Pick Of The Day
With a recession looming overhead, I've been trying to source more budget-friend decor finds. Yes, I know $110 for a side table is not 100% affordable for everyone, but this table gives me all the Lulu & Georgia vibes without the $600 price tag. And in case you missed it, I shared my top tips on how to make your home look expensive while on a budget. That is a must-read post.

RELATED: Find more affordable home decor and decorting inspiration.
My Closet Purge Is Live On Poshmark
If you've been paying attention to what's been happening over here at House Of Hipsters, then you know that I've been renovating the walk-in closet. Before the clothes get put away, I'm sorting through EVERYTHING. I can't tell you how many times I have told my husband I have nothing to wear, but this pile isn't even half of it.

RELATED: The final reveal is live! Checkout the before and after bedroom closet remodel.
What I'm finally learning at age 47 is that the reason I can't find anything to wear is that I have too much stuff. Clothes I no longer wore were taking up room. Clutter. But because they were expensive, I held onto them. So once a week, I'm taking a day to load up my Poshmark Closet, and re-homing things I love and show very little wear. There are some gems coming up, so keep your eyes peeled and follow along.

The Balloon Chair
While flipping through Architectural Digest the other night, I spied this pink balloon chair created by Seungjin Yang.

It legit stopped me in my tracks so of course, I had to search it up. This is from the Blowing Series and his intention was to transform the look of a balloon into a sculpture of his own. Each part is made of resin, dipped in paint, and hung to dry. But since I don't have $10k lying around to spend on a chair that looks like a balloon, yes, it is $10,000, I shall admire it online only. Maybe someday I'll win the lottery.

This Tote Bag Is Trending
Did you happen to see that the LL Bean Boat and Tote Bag is trending on TikTok? Fashion fanatics are taking advantage of the embroidery feature and using it in the most excellent, ironic way.

Check out @ironicboatandtote on Instagram.
I'm personally a big fan of the HERMES, PRADA, and Birkin bags. They totally make me giggle. Also, the psycho bag cracks me up too. Would you rock one of these? I'm contemplating.
Meet My New Obsession – The Work Of Katie Stout
I recently discovered Katie Stout on Instagram. I don't really know how to describe her except that she is an artist extrodinaire. A ceramicist, sculpturist, textile, furniture maker? Her work is bananas, and she's definitely on my list of ones to watch.

And if you think that lamp is cool, check out the corn lamp she just posted to Instagram. I'm also coveting her vases.

New IKEA Collaboration with Swedish House Mafia
Milan Design Week was June 9, and IKEA debuted its new collab with Swedish House Mafia. The DJs redesigned the iconic FRATKA bags, and they are giving me all the Balenciaga vibes. It's meant to hold 100 vinyl albums, which for me equates to a lot of vintage at the flea market.

And they also gave us a glimpse at a new sleek black chair, desk, and record player. The collection will drop this fall and there will be over 20 pieces of furniture and smart home furnishings that will focus on, "exploring the topic of music and creativity at home to make the everyday life easier."
Looking to add more pizazz to your room without breaking the bank…check out this round up of the Best Ceiling Medallions.
The closet in the guest room was only storing junk, so we cleaned it out and created a DIY Closet Reading Nook.
The coat closet in the foyer has a secret surprise…when you open the door, it's lined with fun pink wallpaper. Lots of people questioned my sanity, but this is why I wallpapered a closet.