20 Best Ceiling Medallions 2023 – A Decorative Accent
Last Updated on September 27, 2023
For whatever reason, my tutorial on how to install a ceiling medallion went viral on Pinterest. With it trending hard, I'm being bombarded with questions like where do I buy ceiling medallions and what are your favorite ones – particularly the one in my bedroom (no longer available.) So, I thought ceiling medallions deserved a dedicated round-up. Let's dig into the ones I believe will match pretty much any style!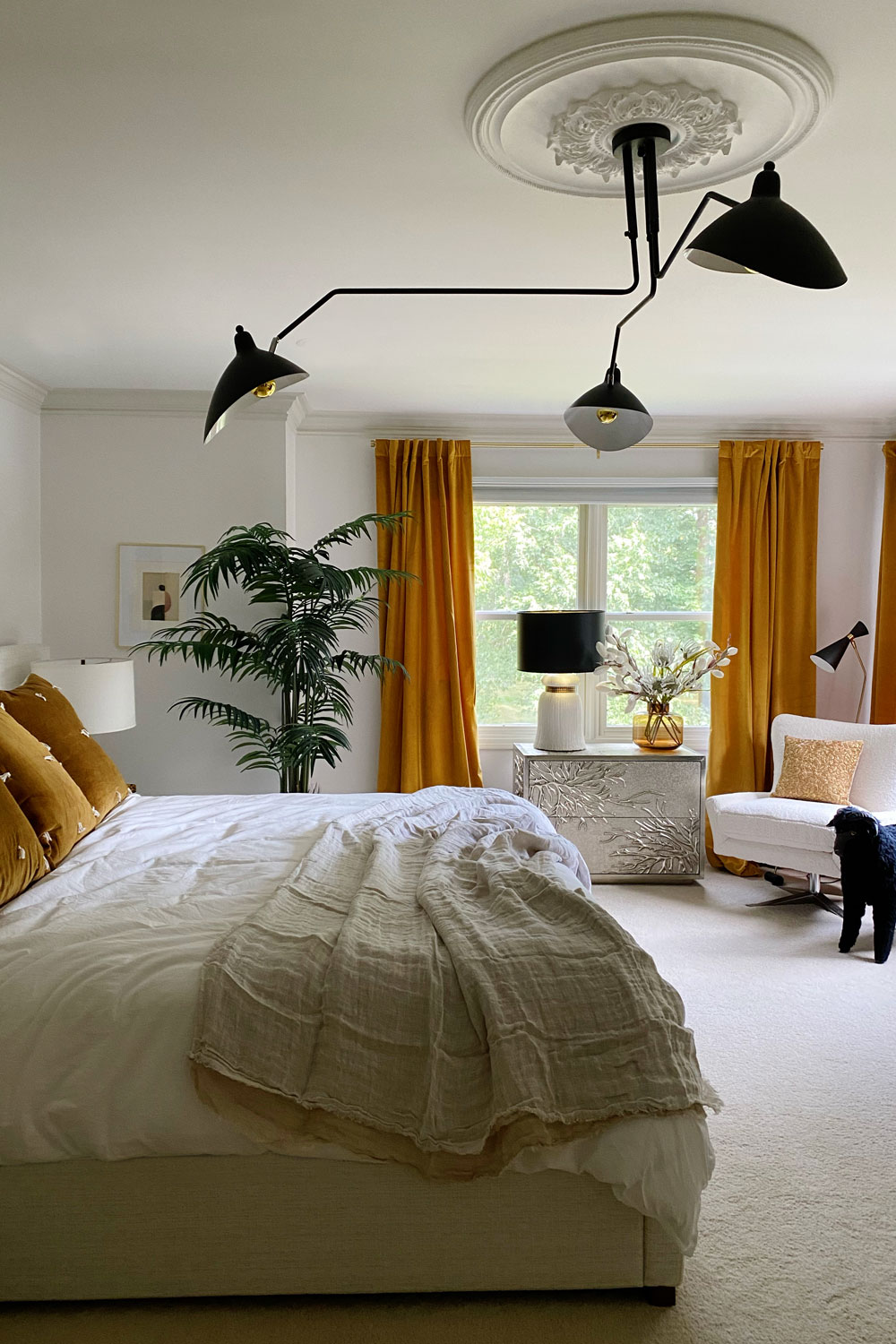 If you saw my post last week about the Phillip Jeffries black luxury wallpaper, you know this bedroom no longer looks like this. (If you haven't seen it yet, go back and look now. You do not want to miss it.) But, this before shot shows off how a ceiling medallion can become the focal point in a space. After purchasing ours, I dragged my feet on installing it because it felt daunting. I envisioned a lot of cursing, sweating, and seven trips to Home Depot. But what I thought would be a difficult DIY was a simple install. All it took was liquid nails, caulk, and some screws. If intimidation is the only thing holding you back, I say go for it!
RELATED: Don't miss my tutorial on installing ceiling medallion. It's easier than you might think!
Best Ceiling Medallions — Decorative Looks To Elevate Your Room
The look of a ceiling medallion elevates the room, and if you pair an ornate design with a modern ceiling light (links to the one above in my bedroom), the juxtaposition is quite striking. You can find another bedroom ceiling light round-up here. I find the look of fussy traditional mixed with modern sleek quite interesting. It gives your space that je ne sais pas, French girl chic look.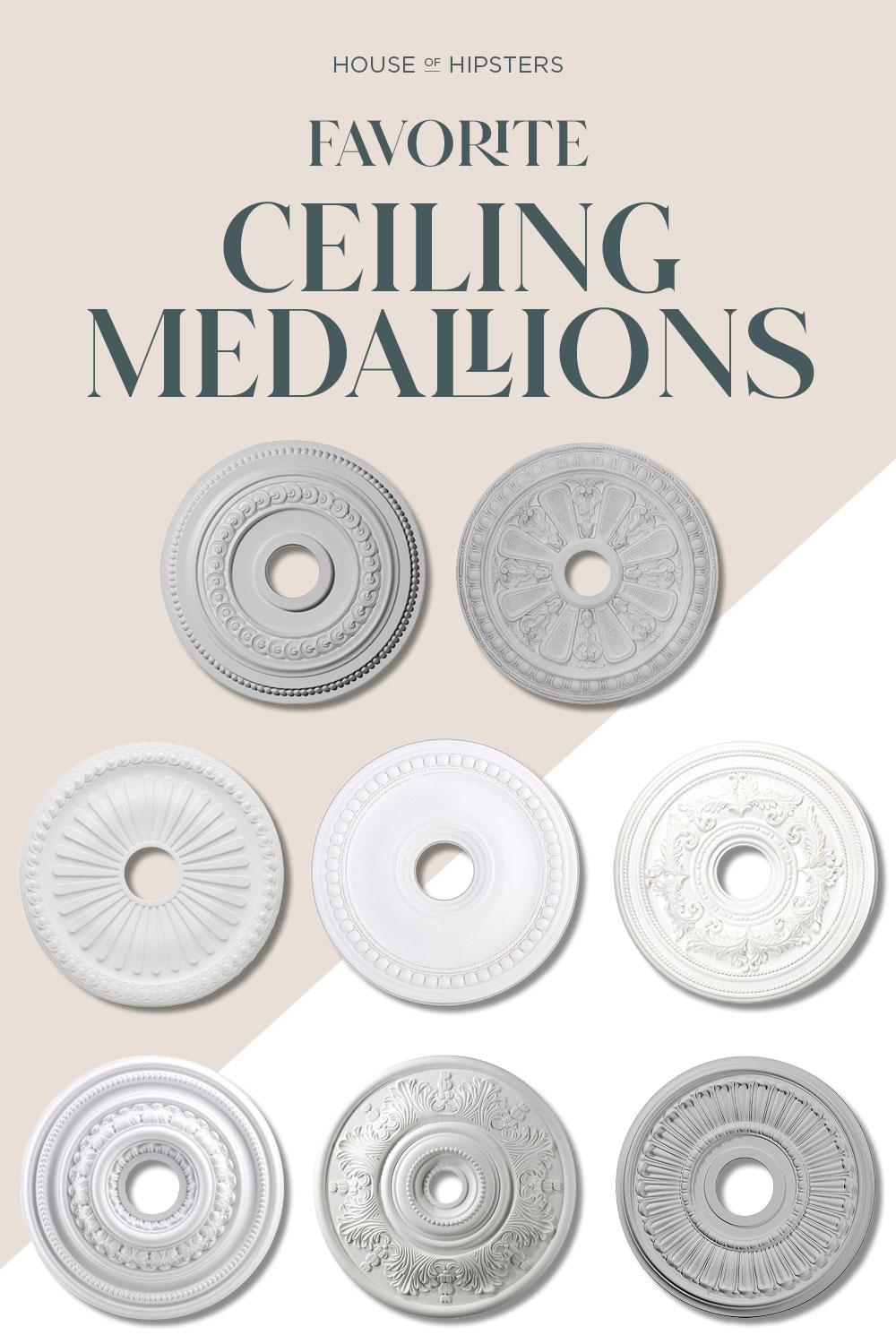 Ekena Millwork Oldham 18 Inch Primed Polyurethane Ceiling Medallion — from Lowe's and available in 8 different finishes (that bronze ceiling medallion finish is beautiful)
Ekena Millwork Bristol 23.5 Inch Primed Polyurethane Ceiling Medallion — from Lowe's and available in a multitude of colors and finishes.
Westinghouse Lighting 20 Inch White Soleil — a modern ceiling medallion with clean lines.
Wingate White 20 Inch Ceiling Medallion — a more simple design when it comes to decorative ceiling medallions.
Livex Lighting 22.5 Inch White Polyurethane – this light medallion fits canopies up to 6.5 in.
18 Inch Elk M1002WH Ceiling Medallion — also available in a larger 32 inch diameter.
no longer available
Ekena Millwork 16 Inch Melonie Ceiling Medallion — a high-end upgrade at an affordable price.


The Perfect Finishing Touch To Any Ceiling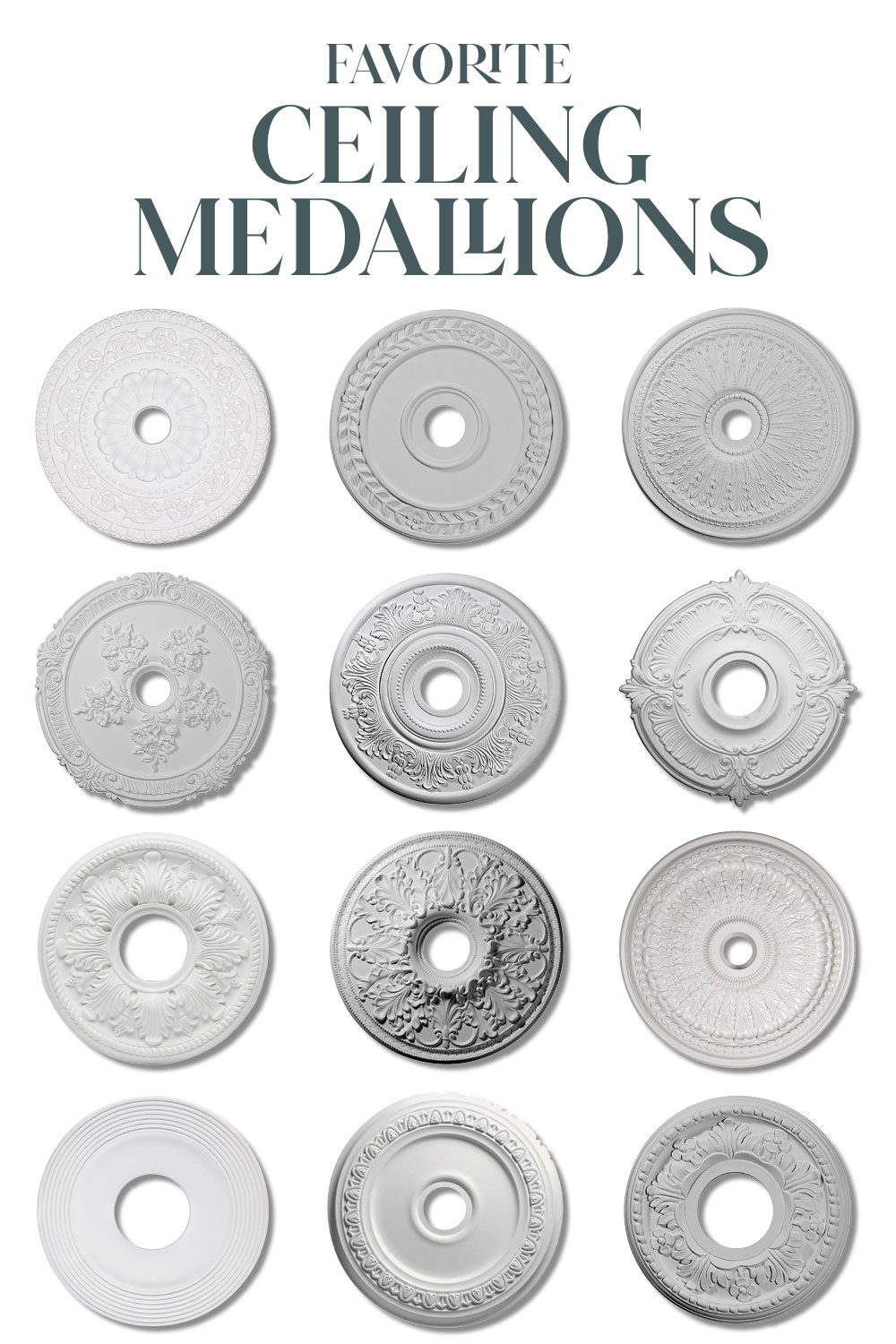 23.6 Inch Beaded Egg Dart Ceiling Medallion — the beading is an ornate element without being overly traditional.
21 Inch Simple Wreath Ceiling Medallion — fits canopies up to 6 inches and has more of a farmhouse, decorative look.
Ekena Millwork Oakleaf Ceiling Medallion — she's a big momma coming in at over 29 inches in diameter with a more traditional style.
Ekena Millwork Attica with Rose Ceiling Medallion – how fantastic would this 26 inch ceiling molding look with a large chandelier? For an eclectic juxtaposition, I'd pair this with a modern light fixture.
20 Inch Vienna Ceiling Medallion — this molding is from Overstock and is available in a multitude of colors and finishes.
Ekena Millwork 18 Inch Attica Urethane Ceiling Medallion — a beautiful floral pattern that fits canopies up to 5 inches, and the smaller size makes it perfect for a powder room or over a pool table.
Allen + Roth 15.88 Inch White Composite Ceiling Medallion — the perfect size if you want to jazz up a semi flush mount ceiling light or hall lantern.
Ekena Millwork 23-7/8 Inch Polyurethane Ashley Ceiling Medallion — this ceiling molding comes in 20 different finishes (shown in white) and is easy to install.
Allen + Roth 27 Inch White Composite Ceiling Medallion — with this overly traditional decorative medallion, I'd use a modern lighting fixture to make a statement.
no longer available
no longer available
12 Inch Ekena Millwork Helene Ceiling Medallion — I like to use smaller decorative medallions like this in unexpected places.


You may have noticed the ceiling medallion in my bedroom is not listed here. Hampton Bay made it but unfortunately no longer available. I tried my best to pick similar looks. Anyhoo, I hope this little round-up helps you find the perfect medallion for your ceiling. And if you have questions, don't forget to check out this installing a ceiling medallion tutorial. It's such an easy weekend project, and BTDubs, there's also a tip on how to fix a ceiling medallion that is not sitting flush with the ceiling.
How Do You Know What Size Medallion To Buy?
If you've checked out my post on boob light replacement ideas, you know my super secret trick to nailing the perfect size ceiling light, but I never shared how I calculate for the perfect size ceiling medallion. Here's how an interior designer will calculate the size and nail it every time:
Measure the width and length of the room in feet.
Multiply those two numbers for the square footage of the space.
Divide the square footage number by 5 for the perfect diameter ceiling medallion in inches. That's not a fixed size. You can always size up.
It's always a good idea to tape out the diameter calculated and double-check the canopy size (center hole) before adding to cart and definitely before you bust out the drywall screws. 
HOT TIP: Don't convert that square footage number from feet to inches, simply use the number. For example, if your room is 15 sq ft, the diameter you want to shop for is 15″.  
What Color Should You Paint A Ceiling Medallion?
When you purchase an unfinished ceiling medallion, you can paint it any color your little heart desires. It doesn't have to stay white. If you really want to make a statement with your ceiling lighting, think about a bold color like pink, emerald green, or turquoise. Another idea would be to paint the ceiling and the medallion in two different shades for a tone-on-tone look (I love this look in a dining room.) Another out-of-the-box idea would be to wallpaper the ceiling and pull a punchy color from the color palette to paint the medallion. Sky's the limit here.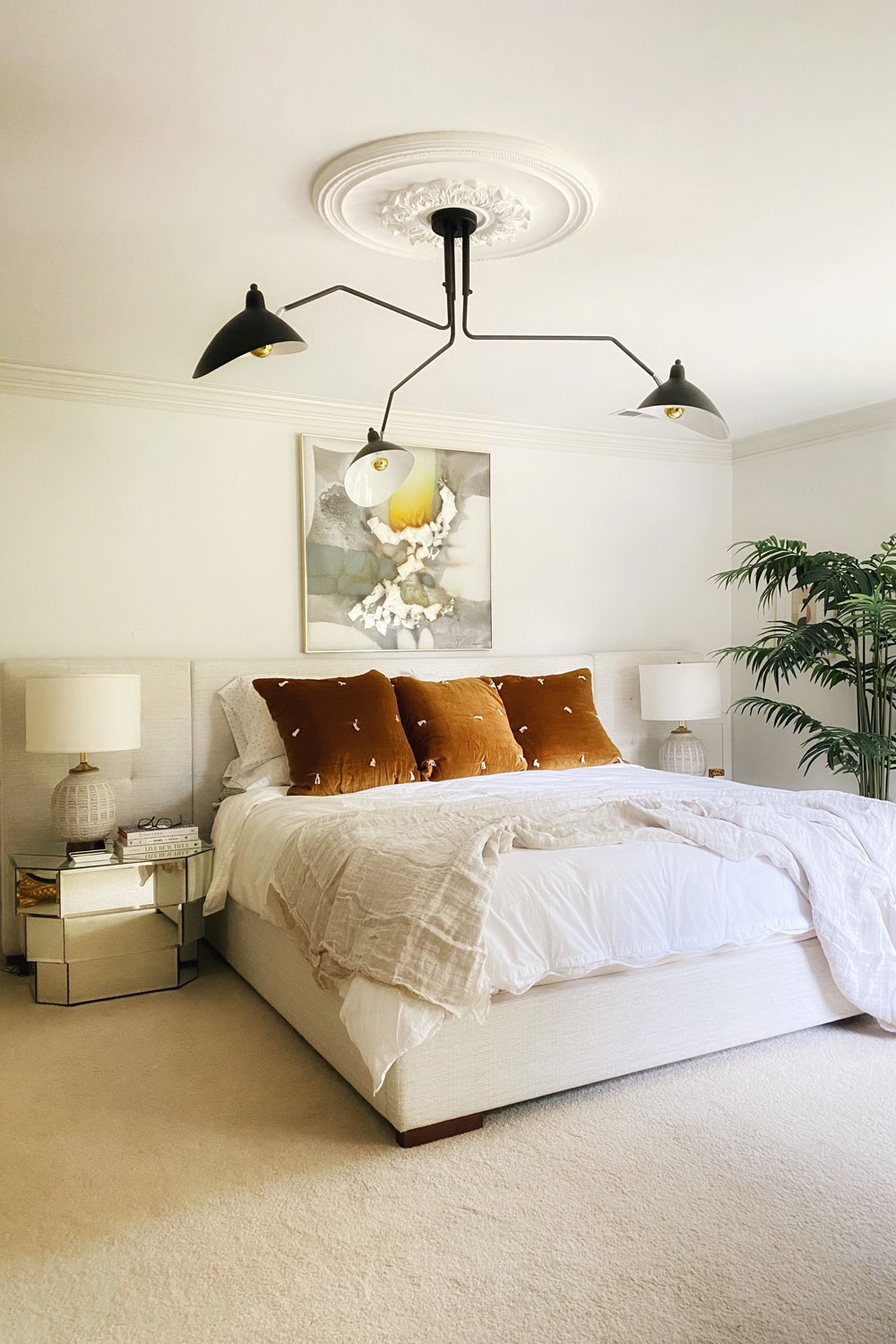 Another Creative Way To Use Ceiling Medallions
Last January, I took the kids to Naples to visit my parents, and we went to this pizza place covered in ceiling medallions, and I was awe-struck! They were hung in every shape and size, from the ceiling to the walls, and painted in the most beautiful shade of green. I'm not sure I would do this in my kitchen or living room, but I think it would be fantastic in a kid's bedroom. What do you think? 




Discover More Modern Home Decorating Ideas
Get my expert tips on how to decorate with art and check out my new secret source for original artwork.
Here are some clever decorating ideas for home decor on a budget.
When I style my coffee table and bookshelves, I have an abundance of decorative coffee table books on hand. Check out my list of go-tos.
Let's chat about fake plants that look real. Yup, fake is no longer a faux pas in the design world. Here are my favorites.
If you struggle to arrange your living room layout with fireplace, here are five furniture layout options with expert interior design tips.
Check out these top affordable home decor picks from Amazon, Walmart, and Target to spruce up your room.
If you're on a tight budget, check out these cheap outdoor furniture and decor picks to jazz up your backyard.
Wanna know how to make your home look expensive? I've got my top 8 tips on the blog; click that link!
Check out this round-up of Frame TV art at an affordable price without a monthly subscription.
If you're looking for affordable original art, here are my super secret sources. Read now and tell no one. 
Let's talk about ChatGPT interior design. Is it possible? Heck ya! Here's what happened when I asked ChatGPT to design a modern eclectic living room.