How To Decorate With Art In Your Home
Last Updated on August 25, 2023
An easy way to elevate design in your home decor is to decorate with art and lots of it. Adding artwork to your home lets you inject your unique style and personality into your room decor. Plus, blank walls get a splash of color. But it seems like many readers are lost when shopping for original art. I teamed up with Singulart to share where I shop for unique original art—everything from small artwork to larger pieces—and include creative ways to decorate with art.
6 Expert Design Tips To Decorate With Art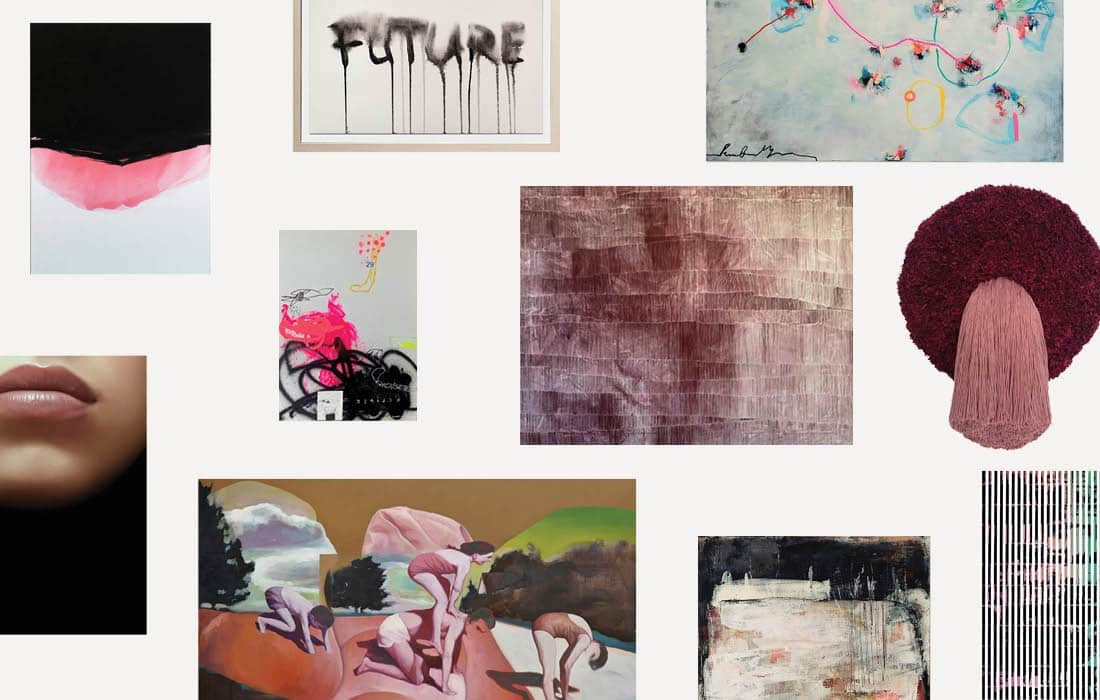 1. Take Your Time Finding The Perfect Piece Of Art
When I started decorating this house, every room had plain white walls. One day The Boy said, "These rooms feel cold. We need some artwork." Patience, dear sir. You must have patience. Finding the right piece takes time. I can't tell you what makes good art good, or bad art bad because it all depends on your personal style. However, that being said, I can lead you to a great source. I recently discovered Singulart, an online art gallery. They curate original artwork by price, color, medium, and style.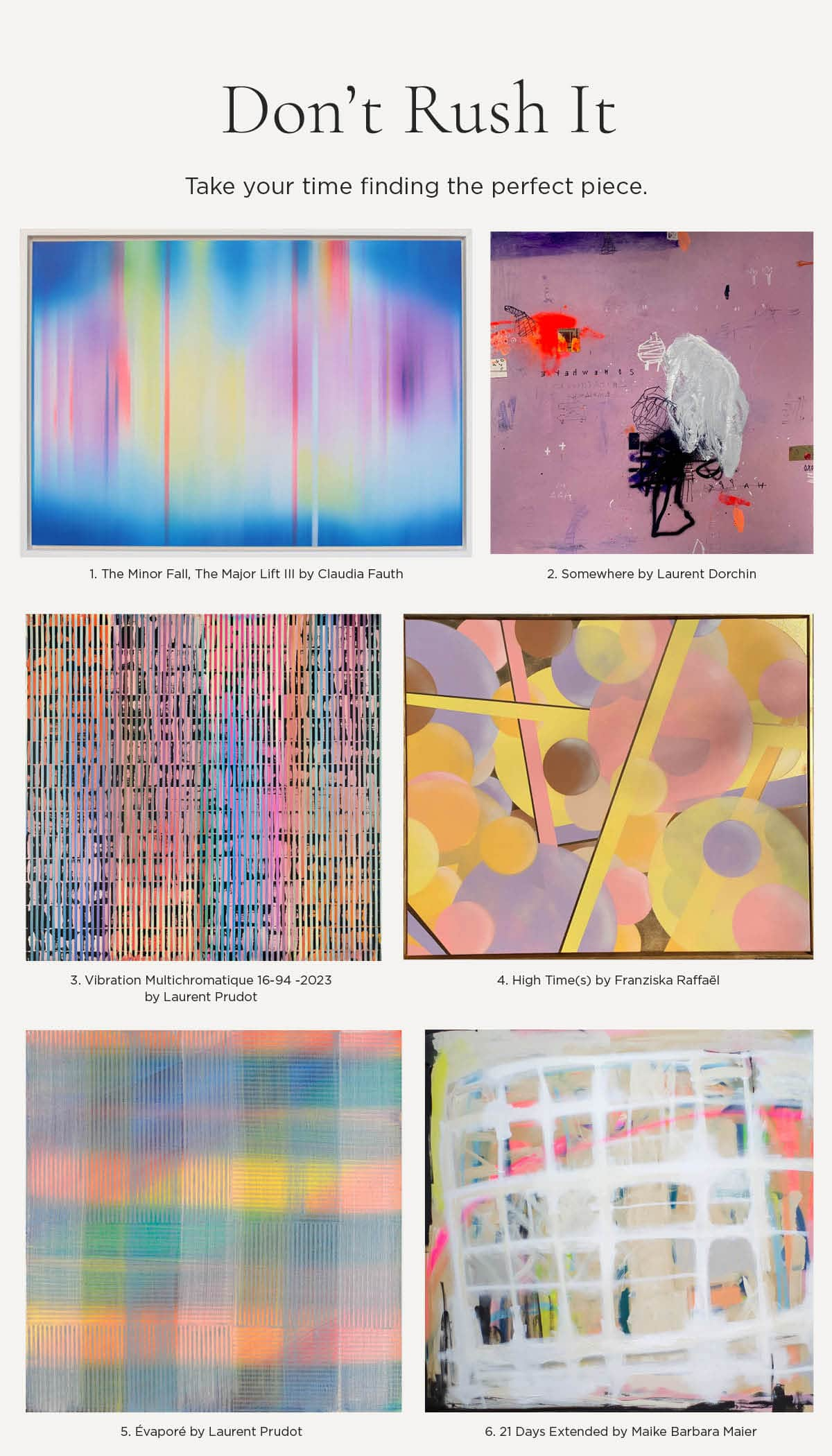 2. Choose Art That Speaks To You
One of the best ways to decorate with art is to trust your intuition. I rarely set out shopping for a new abstract painting, a large statement piece with bright colors, or small vintage pieces. If a piece captivates your attention, stirs your emotions, or sparks your imagination, that is a sign that it's speaking to you.

3. Art May Evoke An Emotion
Certain artwork might make you laugh, feel serene and calm, and even make you uncomfortable. Pay attention to the emotions, moods, and messages conveyed by different styles, and notice which ones captivate your attention and touch your soul. If you find that one piece, can't get it out of your mind, and it's in your budget, buy it. When you know, you know. The best part of purchasing art that reflects you is when a guest enters the room. Unique wall art is a great conversation starter.

4. Create A Cohesive Color Palette
When you decorate with art, stick to a cohesive color palette to avoid the busy fruit bowl effect, especially when creating a gallery wall. Sticking to a color palette should be fairly simple if you're starting fresh and purchasing new art for your room. But if you're mixing new pieces with existing art or sprinkling in vintage artwork, you'll want to pull everything together and weed out what doesn't work. An exception to this rule would be to stick to a style rather than a color.

Praise God by Emily Starck – a beautiful abstract painting that would look great in a living room or dining room. Wherever you hang it, it will pop on a blank wall.
Indian Red by LABB – same artists and the green, large art in #5. His pieces of art have almost a feeling of natural elements. Maybe it is the monochromatic color scheme or the etching?
Stesso Posto Stessa Ora by Maike Barbara Maier – you've probably noticed her original paintings in this roundup a few times. The perfect way to keep up with a particular artist is to follow them on Singulart or social media. It's easy to forget names in the art world.
Spring by Jan Beumelburg (no longer available) – I'm obsessed with this wall hanging! OBSESSED! And it works with this grouping because of the color palette.
Terre D'Ombre Verdâtre by LABB – same artist as #2. I wouldn't hang these two works of art next to each other—I don't think. But I love them both.
L'esperance Du Siecle Vierge by Frédéric Halbreich – I love the color scheme in this abstract artwork, and it would look great with any of the larger pieces here.
Remember when landscape art started trending? You could hang an entire wall space filled with original landscape art in every color of the rainbow, and it will look cohesive because you stuck to a theme. The same thing goes for abstract art or photography. You can break the color palette rule when you stick to a style.
5. Create A Focal Point With Statement Art To Jazz Up Bare Walls
A great way to make a big impact in a living room is by hanging one large piece of artwork. By creating a focal point, you're drawing the eye in. Be sure to ground it with a larger piece of furniture, like a sofa, to avoid the floating feeling. But keep in mind that when you switch out large art pieces, that decorative change can switch up the feel of a space.

Shop this geometric painting – Brunetta, by Maria Moretti (sold out)
RELATED: Should your art be hung at eye level or higher? Get all my expert tips on how to hang a picture and nail it like interior designers.
6. Creative Ways To Display Art
There are many different ways to display your artwork and wall decor, but a few of my favorite ways are out-of-the-box ways to decorate with art: lean it against a wall, layer it on a bookshelf behind a vase, or prop it up on the mantel. Mix large pieces with small pieces in a gallery wall display—don't be afraid to mix up the sizes. Think of other places to hang art, like the laundry room, foyer, hallway, or kitchen counter.


Shop this pairing – IANUA by Giovanni Morgese and Shadows by Annabel Andrews
You may have noticed I have art resting on my mantel like the above photo. Behind that drywall is brick, and I have to get creative with wall decor ideas. Leaning art is the perfect way to avoid holes in the wall and is also a good idea if you're a renter. I also tend to move my art around the house a lot. The best way to hang art without nails can be found here.
RELATED: Get more mantel decor ideas for your home.
What you've perused in this post is the tip of the iceberg. Singulart has so much more to discover in the online art gallery with hundreds of artists worldwide. If you're unsure where to start, check out the fresh picks—handpicked, curated art that is refreshed weekly.



Discover More Modern Eclectic Home Decor Ideas
If you're looking for affordable original art, here are my super secret sources. Read now and tell no one.
When I style my coffee table and bookshelves, I have an abundance of decorative coffee table books on hand. Check out my list of go-tos.
Let's chat about fake plants that look real. Yup, fake is no longer a faux pas in the design world. Here are my favorites.
If you struggle to arrange your living room layout with fireplace, here are five furniture layout options with expert interior design tips.
Check out these gallery wall ideas for a large blank wall in a living room.
Check out these top affordable home decor picks from Amazon, Walmart, and Target to spruce up your room.
If you're on a tight budget, check out these cheap outdoor furniture and decor picks to jazz up your backyard.
Wanna know how to make your home look expensive? I've got my top 8 tips on the blog; click that link!
Check out this round-up of Frame TV art at an affordable price without a monthly subscription.
Let's talk about ChatGPT interior design. Is it possible? Heck ya! Here's what happened when I asked ChatGPT to design a modern eclectic living room.