Modern Living Room Makeover Idea
Last Updated on July 3, 2023
My living room is in need of a makeover. Wait, let me rephrase that; it doesn't NEED a makeover, rather, I'm itching for a change, so I've been playing with a mood board for a modern living room makeover. Yes, I'm still a lover of all things neutral decor and layering texture into a room, but lately, color has crept its way into my home. The black textured wallpaper in my primary bedroom was a dramatic departure from the HOH white wall norm, and if you follow me on TikTok, you might have seen the guest bedroom get a major color splash.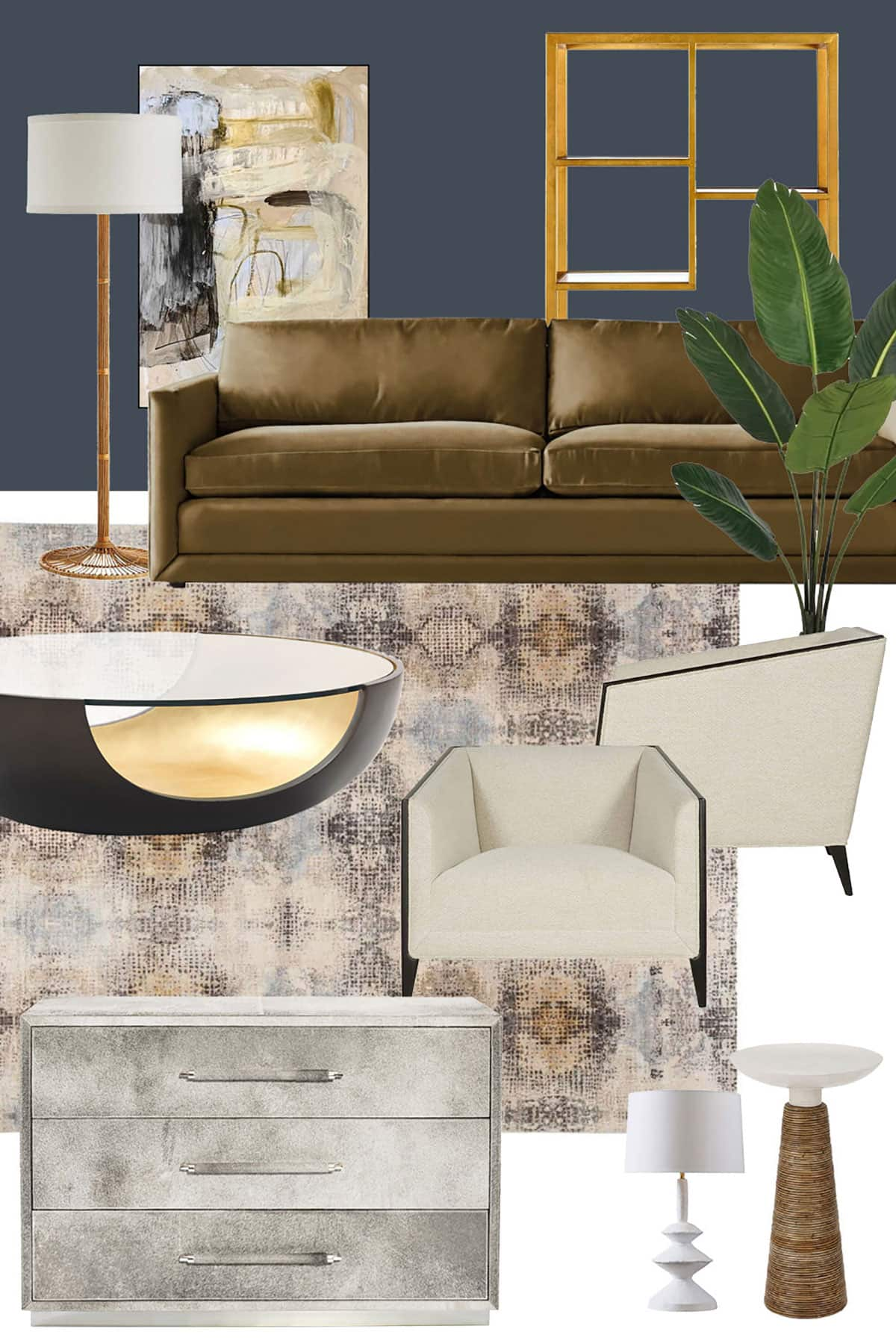 Holy 180 from my past room designs! I photoshopped a bunch of different paint colors into this mood board, but the dark navy is giving me all the moody vibes. And BTDubs, this is just design #1. More mood boards follow.
In case you don't remember, here is the state of the living room now.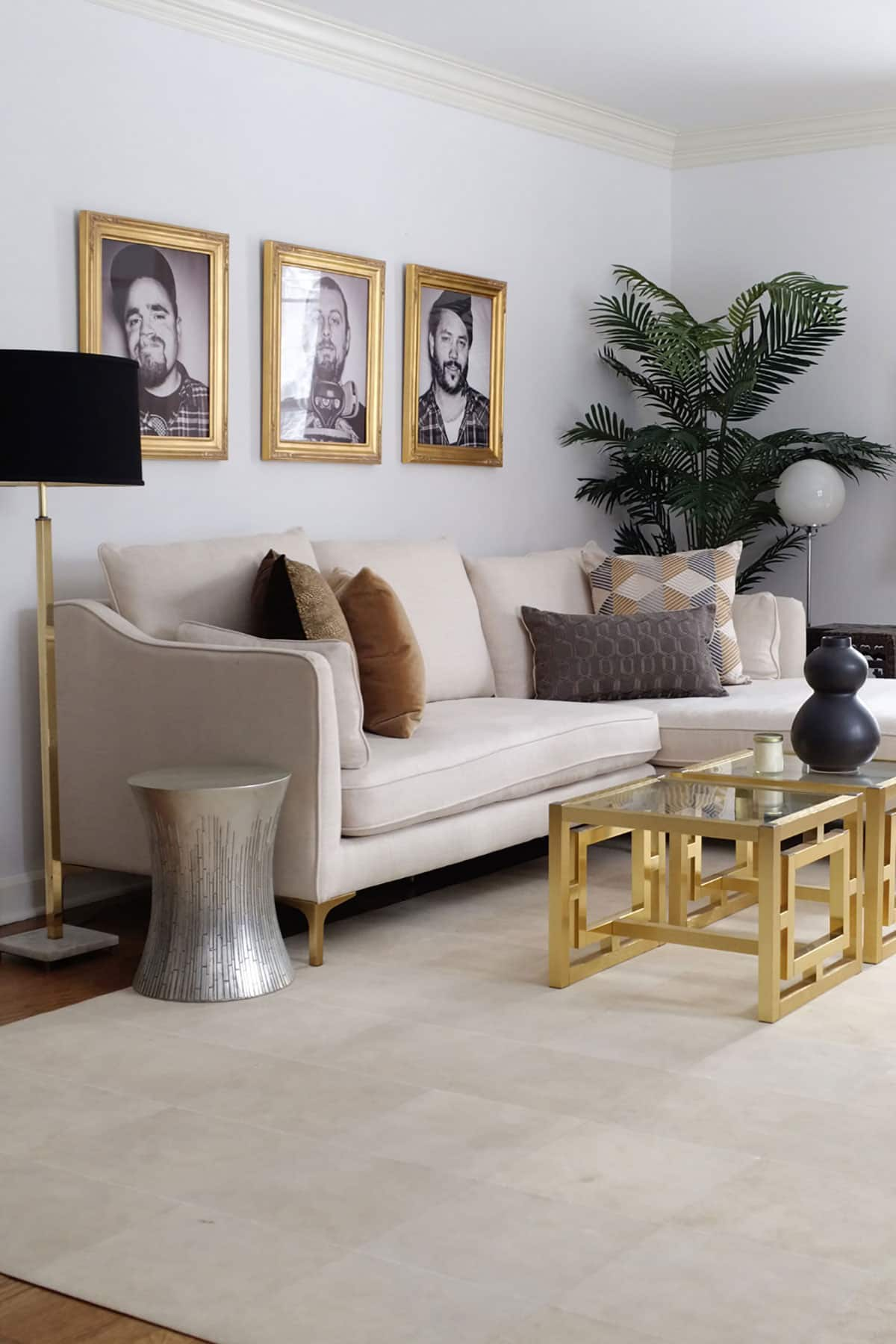 The two side tables that act as a coffee table have been living in this same exact spot for the last 6 plus years. I'm ready to change them out. The 3 guys may rotate out again…just for a while…don't worry, they always come back.

I do love the color of the gold velvet curtains, but I think I'd like to add even more color. I'd like to try a mushroom color iteration to baby step away from the white versus a giant leap to navy, but I'll save that for another post.
Let's dig into the changes. I've pretty much banished vintage from this space. The existing brass etagere is staying, but everything else would go bye-bye. Quarantine brought on serious changes over here. Let's get into the details.
Vintage Brass Etagere (similar)
Performance Fabric Velvet Sofa in Cider – see my roundup of modern sofas and couches I love for more options
Rattan Floor Lamp – NO LONGER AVAILABLE
Birds Of Paradise Faux Plant (if you love faux plants as I do, check out my round-up of faux olive trees and faux fiddle leaf fig trees)
The rug in the before photos is what started this modern living room makeover idea. We adopted a puppy at the beginning of the year, and that distressed suede rug has to go into hiding until we're confident he won't pee all over it. Lord, please tell me why I approved the dog.
Last year I visited Jaipur Living's booth at the Design Influencers Conference and fell in love. One of their Instagram posts popped up in my feed, so I checked out their Winter 2021 catalog. This modern geometric design gave me all the Kelly Wearstler feels. And this rug with the orange, rust, goldenrod, and teal is gorgeous.
Now here's a question for you. Have you sat on a Maiden Home sofa or really any of their furniture? I wanna hear from you! They keep popping up in my Instagram feed, and the Warren sofa (in the living room makeover mood board above) caught my eye. Total tangent, when you hear the name Warren, does your mind go straight to Warren from Empire Records? No? Only me?
Alrighty, so enough babbling. What do you think of this decor departure? Are you here for it? Do you have navy walls? Do you want to see another mood board? Do you think I'll actually turn this living room makeover idea into reality? Only time will tell!



Discover More Eclectic Home Decor Ideas
I'm at it again with a few modern living room decor ideas, but this time on a zero budget. Yup, that's right, I'm only using what I have in the house to refresh this space.
The Boy is doing a jig because we got a new brown leather couch with motion footrests!
If you're looking for an area rug, read my guide on how to choose the best size rug for the living room.
Playing pretend and creating some virtual designs for a living room makeover. Check out the dark, moody walls. Are you brave enough?
Cane and rattan are trending hard in the interior design world. Find the best cane furniture online shopping sources.
Discover the best outdoor rugs for your patio and deck that are also washable.
Ever wonder what the best size rug is for a living room? Click that link to answer all the burning questions.