Modern Living Room Decor Ideas
Last Updated on October 11, 2023
Over the weekend, I sold the black horseshoe lacquered linen coffee table from CB2 on Facebook Marketplace. It was a complete spur-of-the-moment design decision, and that means I need to whip up some modern living room decor ideas. Of course, I'm going to try to decorate on a budget. Here are a few virtual design mood boards that I'm working with.
Virtual Modern Living Room Decor Ideas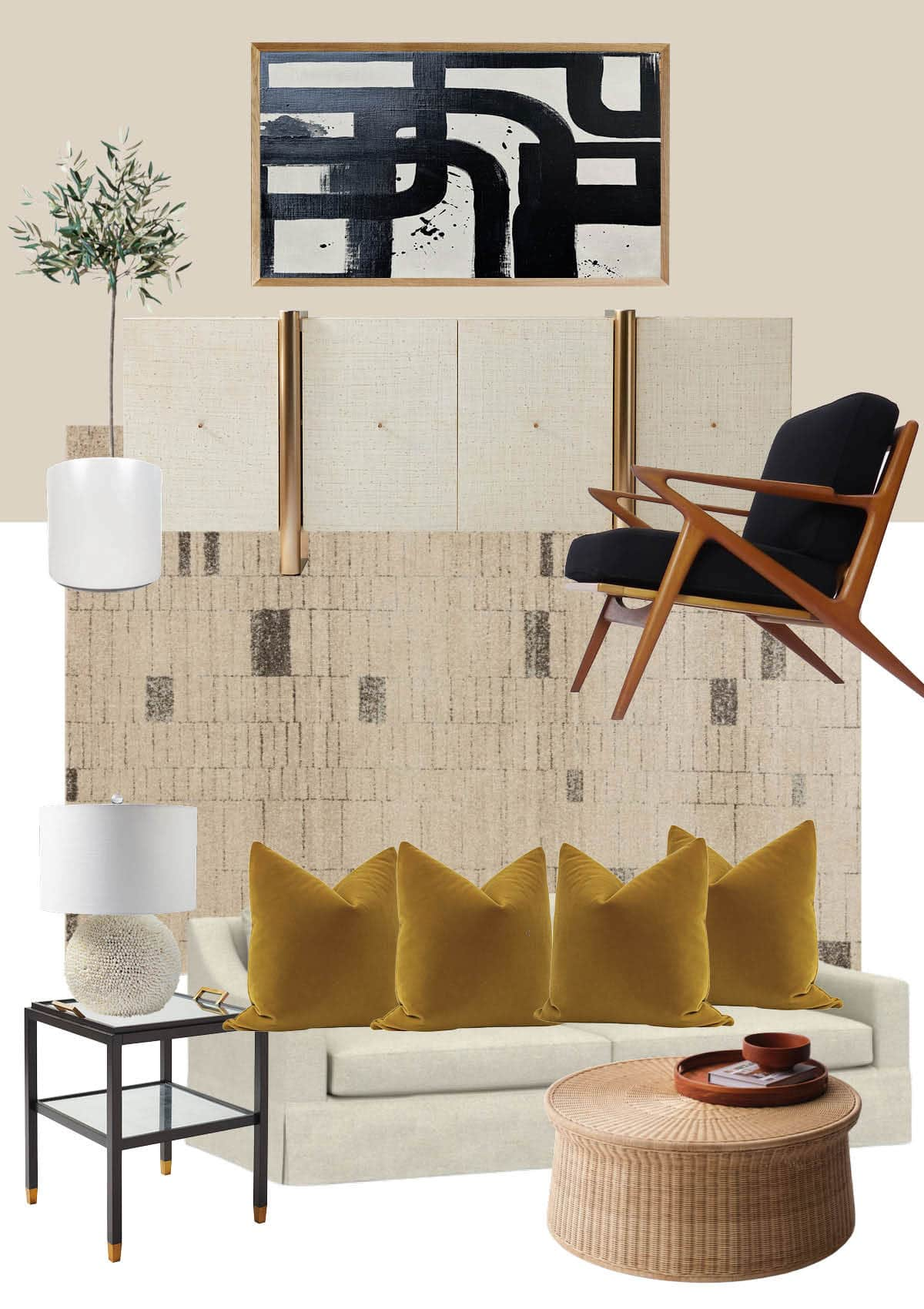 Here's the first virtual living room design I've come up with, and I own everything but the couch pillows. I would have to purchase those velvet beauties, but I have a few similar pillows I could use for placement. And the bezel frame I own for our Samsung Frame TV is black. I'd need to purchase or DIY a wood frame.
The Frame TV art I painted myself the other weekend and turned it into digital form (check out the poppies I photographed and turned into a free art download for the Samsung Frame).
Modern Living Room With Gold Accent Decor Mood Board
Ivory Couch – the sofa shown is from Pottery Barn; mine looks similar. If you're looking for a new couch, check out my round-up of modern sofas for your living room.
Loloi II Bowery Rug – this rug is the Slate and Taupe color and is a steal of a deal. The 9′ x 12′ is under $500 – which, yes, I understand is a lot but not when it comes to area rugs. Trust me.
I found the linen-wrapped credenza at the CB2 outlet, and it's been hiding in the dining room. Right now, we have the Henrendon burl wood credenza in the living room, but I fear that with the wicker coffee table and the wood MCM loungers the wood tones will start to fight.
The round wicker table you may have seen in my how-to style post of coffee table decor ideas. It was in the front room with the new brown leather couch, but it may work better in the living room.
The black accent table has been in this space with the shell lamp for the last few months. The table has a removable tray with brass handles and a mirror surface that is oh-so chic, and the lamp adds fabulous texture.
Then the ever-popular faux olive tree. I have a plethora of them in the house, but this particular one can be found here. In the mood board above, I have it sitting in a vintage Gainey white planter.
The MCM wood loungers from South Of Urban I've had for years – do you remember them? I had them in the front room. BTDubs, if you click on that link, it's a fun little room tour from 10 years ago. It's so interesting to see how personal decor style changes. Anyhoo, I bought them with navy blue upholstery, but I like the idea of reupholstering them in a charcoal mohair (which I just happen to have a bolt of fabric here that would work).
RELATED: I'm often asked where I bought my arched cabinets withthe glass doors in the living room. Find them here with a full round up of my favorites1
The wall color is Natural Linen by Sherwin Williams. And OMG, I just realized I completely forgot to tell you that I repainted the living room from DeNimes blue paint to this beige color with yellow undertones! I shared it on social media – did you catch it there? It matches the limestone fireplace so much better, and I no longer feel like I'm ensconced in cold prison walls.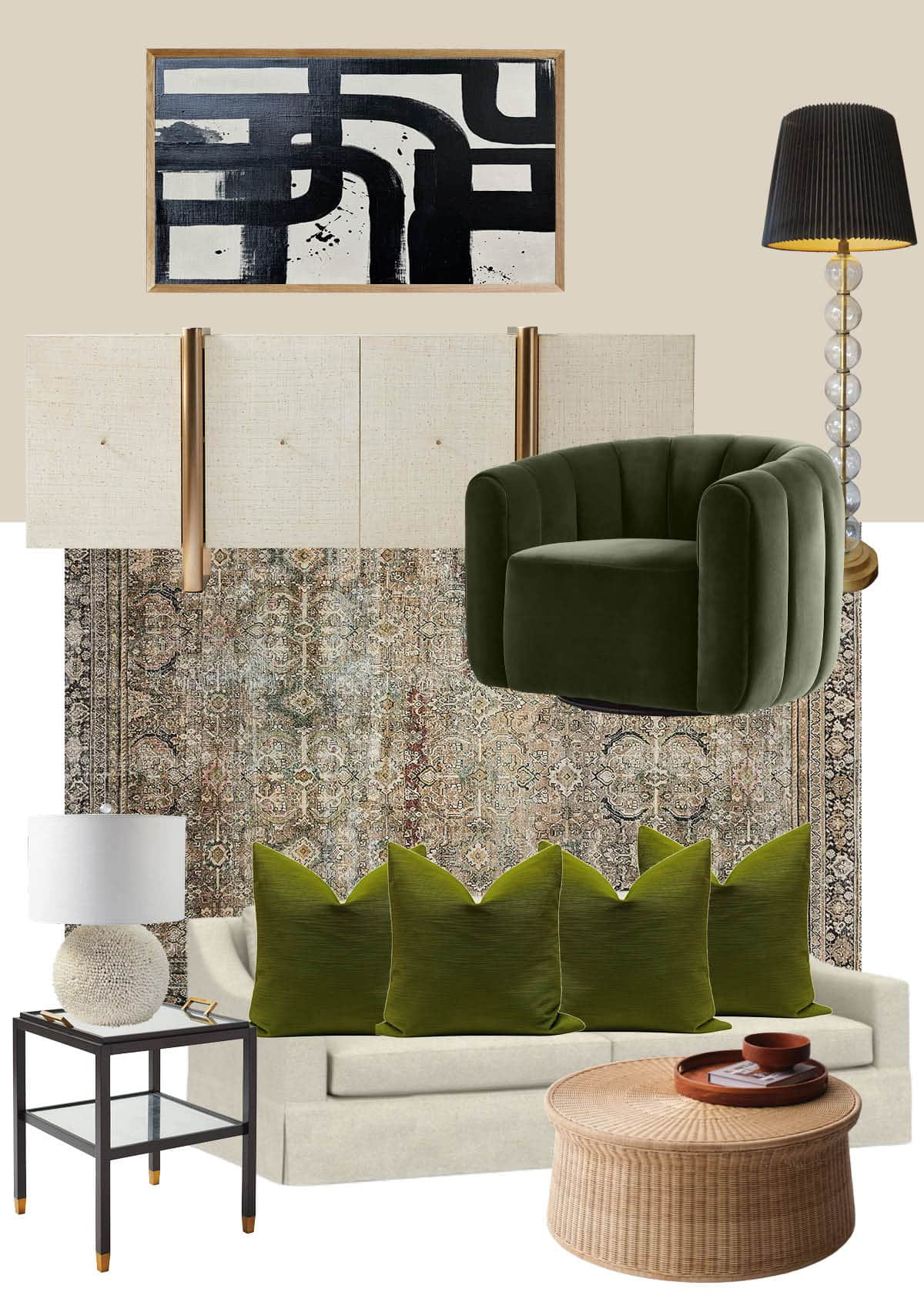 Shop This Eclectic Living Room Mood Board With Green Accent Color
Because I'm trying my best only to use what I have, everything is the same as above, minus the rug, chair, floor lamp, and pillows.
Loloi II Layla Rug – this rug is the Olive and Charcoal color and is also a steal of a deal. The 9′ x 12′ is on sale right now for $305. I have this one in the front room right now. You may have caught it in the post about the new brown leather couch.
Green Velvet Swivel Chair – this particular chair is from CB2, but I have two vintage shell back swivel chairs in storage that are pink. You may have caught them in a previous No Makeup Home Tour. These super comfy chairs would have to be reupholstered, and I'd have to source velvet fabric making this living room refresh a bit more expensive but still doable.
Vintage Blenko Stacked Glass Floor Lamp – I bought this at auction last year, but guess what? There's a dupe at Target. You can SHOP IT HERE.
Pillows – same shop at the goldenrod pillows listed above, just in green.

Shop This Blue Accent Living Room Mood Board
Again, everything is the same, minus the rug, chair, floor lamp, and pillows (same Etsy shop, different color).
Michie Area Rug – In person, this rug is less gray and a bit lighter. The 9′ x 12′ is currently on sale for under $450.
This vintage chair by Donghia was reupholstered last year, and although I love how it turned out, the charcoal color has a blue undertone. I thought maybe it would look nice paired with the Michie rug.
Gingko Leaf Floor Lamp – I bought this lamp without a specific home in mind…and guess what? It has wandered around the house looking for its spot to live. Maybe here?
So what do you think of these living room decor ideas? Are you drawn to mood board one, two, or three?
Here is the current state of the living room if you'd like to see it for comparison. The wood cabinets flanking on either side of the fireplace will stay…I think. But they could be painted – I'm not married to the wood.
Current State Of The Living Room

Should I paint the cabinets black? I think that Henrendon burl wood credenza makes this room overboard with brown wood. The rocking chair is super comfy, but it's just too big for this room.

I think I can get away with keeping the curtains as is. What do you think?




More Home Decor Ideas And Inspiration
Playing with dark and moody paint in this modern living room mood board.
Faux olive trees are trending in the interior design world. Check out the round-up of my favorites. I've also shared the best faux fiddle leaf fig trees and a bunch of faux plants that look real!
Spruce up your backyard with the best outdoor patio furniture. I'm ever sharing the more comfortable outdoor furniture brand that you've probably never heard of.
With a recession looming, I'm paying much more attention to the budget. Here are a few affordable modern decor finds that caught my eye.
When I went to High Point Furniture Market, cane and rattan were everywhere. Here's the cane furniture I love.
One of the most popular posts is my round-up of the best interior design books – it's especially hot during the holidays.
Love wallpaper, but you're afraid to commit…or maybe you rent and require something temporary. Check out my peel and stick wallpaper round-up