The Frame TV Is It Worth It?
Last Updated on December 28, 2022
Confession — there's a wall in my home you never see. The dreaded tv wall. A big black box eyesore that every home decor enthusiast tries to hide. Regular folks say, just deal with it. I get it, that's exactly what I've done. It's a part of life. Almost everyone owns at least one television, and in my home, there's no living without it. Function over form accepted — that is until now — meet The Frame TV by Samsung. and it's presently on sale here.
HOT TIP!: We loved this television so much, that we bought 2 more. One for our primary bedroom and another for the home gym. I love changing out the TV art for the Samsung Frame and rounded up some of my favorite downloads. Also, if you are looking for a free TV art download, check out that link. There are actually 5 digital downloads to choose from.
Is The Frame TV Worth The Money?

Interior designers and stylists have gone through extreme lengths to cope with the centerpiece for home entertainment. Remember watching Trading Spaces? Genevieve would have hunky Ty Pennington build some crazy cabinet contraption to hide it, while Hilde tried gluing hay to a wall to camouflage it. Oooph! Palm to forehead. Then there are the normal people who fully embrace the TV hanging on the wall.
When I first met The Boy, he had one of those gigantic projector-style televisions. You know, the monster TV every bro had to own back in the day. It was as tall as me and took up the entire wall. Then he added huge speakers to either side. Perfect for every man cave.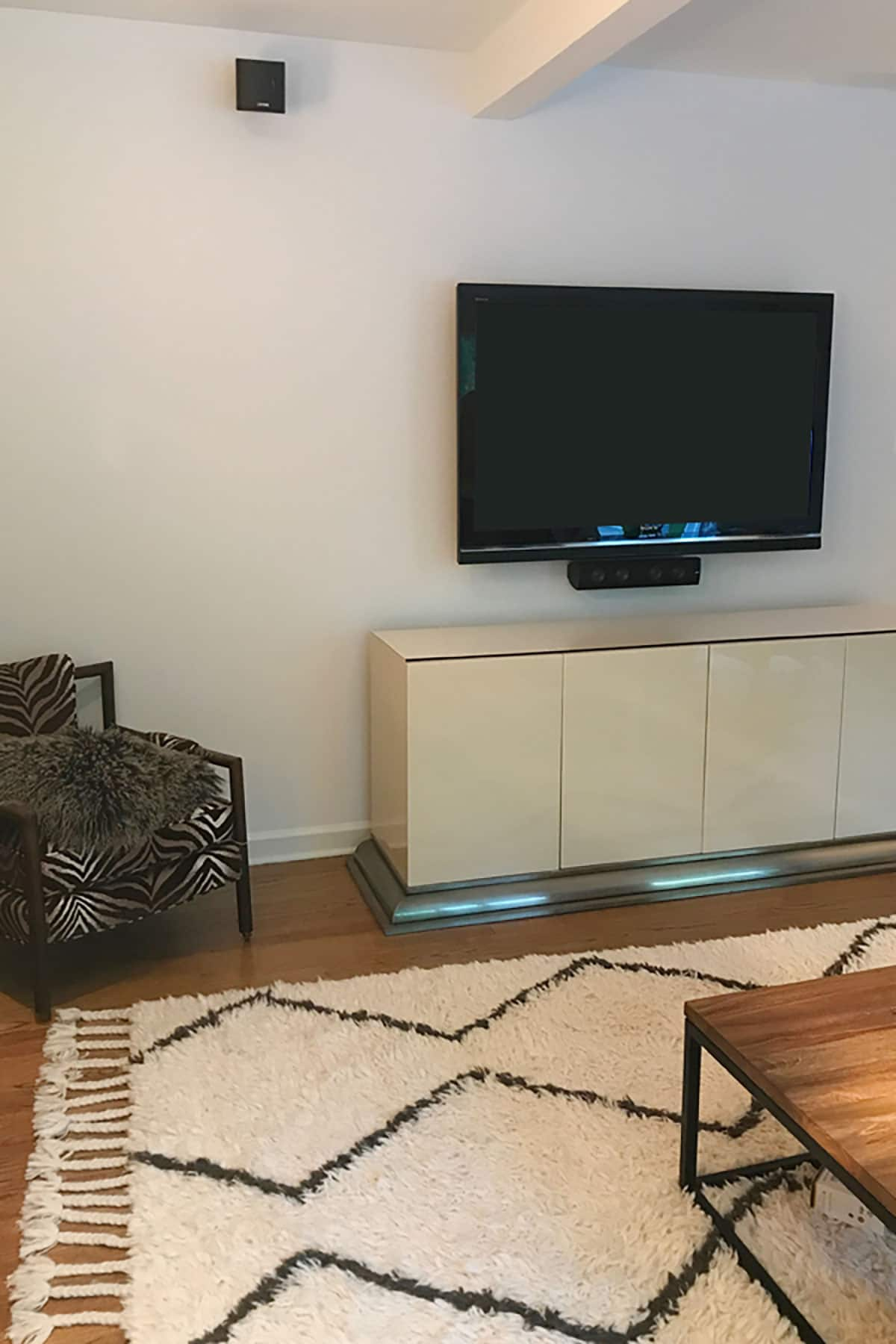 After we were engaged, I finally convinced him to replace that monster with a flat-screen tv and that has hung on our wall for the last 10 years. The components have been tucked away in a beautiful vintage Ello cabinet I've never photographed, and all the ugly wires are tucked away behind the drywall. As good as it gets, right? It was until The Frame debuted.
Santa arrived early and dropped off The Frame TV by Samsung. It chameleons itself into art when not in use. Wait, what the what? Yes home decor enthusiasts, you read that right. The geniuses at Samsung invented a slick new black box that when you're not watching TV, turns itself into wall art. Insert screaming emoji! I haven't been this excited since we installed the eero WiFi system. Yes, I geek out over smart home tech.
Installing The Frame TV
I was giddy and dancing with excitement when it arrived. We pulled it out of the box and my jaw was on the ground. More beautiful than I could have imagined. The Frame TV is as deep as a picture frame and lies flush to the wall thanks to the No-Gap Wall Mount. Suddenly my 10-year-old flat-screen TV looked as clunky as The Boy's old projection TV from back in the day.

The whole installation of this art frame tv took less than an hour, and the only setback we encountered was dealing with all the ductwork behind the wall. Once The FrameTV was hung, we turned it on, and shazam — let there be 4K smart home technology! Added bonus, things like WiFi and NetFlix are automatically installed with the phone app. It just found everything on its own. Gotta love it when technology is smarter than you.

Choosing Art For The Frame TV
Much to my family's dismay, the first thing I chose to do was peruse Art Mode. That fun lasted about 8 minutes because Zoe was trying to attach herself to my body as a permanent appendage. I gave in to watching Teen Titans Go.

Over the next month or so, I have a big decision to make. Do I blend The Frame TV into my decor as a picture within a gallery wall, or just showcase one large piece of digital art? I'm leaning towards keeping it minimal since I have the built-ins. I also need to figure out the surround sound speaker to make the look completely seamless. Any ideas out there? The Boy is bent on keeping that black rectangle on the wall.

My capture of the pink peony petals seems to be a favorite I return to, but it's fun to change it on the fly to a family picture of when my children — especially when they are acting like demons. See, they really do love each other.

I do think I'll be swapping out that black frame with one of the customizable bezels. I'm digging the light beige oak, but the interchangeable bezels are also available in White and Walnut wood.
One last feature that deserves a mention is the 4k resolution. The ultra-high definition takes some getting used to. On the first night, after the kiddos when night-night, we decided to watch the season finale of Curb Your Enthusiasm. While sitting on the sofa, I looked at The Boy giggling and said, "OMG, it looks like Larry David is actually in our living room!" It's so crisp, I really felt like I could just touch his face. Over and over we kept looking at each other and saying, I can't believe how real it looks!
For this post, I received The Frame TV to review from Samsung. All opinions are my own and always will be. Thanks for supporting the content that keeps House Of Hipsters going.


Discover More Eclectic Home Decor Ideas
Every month there are posts that trend a bit higher than others. People are looking for the best interior design books, and I'm sharing my must-reads.
My friend Erica stopped by to share her top 5 small space design rules you need to break.
I'm not a professional interior designer and chances are, you aren't either. Here are my top tips on how to make your home look more expensive.
Over the last few months, I've been making my home smarter with technology I can control from my phone. Here is a round of the best smart home devices and a few interesting ways to easily add smart lighting to your home.
This is the round-up for you if you're looking for an Anthropologie mirror dupe. I have 15 of my vintage-inspired gold mirror favorites for you.
Rounding up the best faux olive trees that look real. I also have a full post dedicated to faux fiddle leaf fig trees and more faux plants that will fool just about anyone!
I'm at it again! I've created a few mood boards of modern living room ideas for our TV room. Vote on which design you like best!
If you're looking for a new modern sofa for your living room, I have rounded up my 16 favorites!
We bought a new brown leather couch and The Boy is doing a jig because it has a footrest with motion!