Brrrrrrrrr It's Cold
Last Updated on July 26, 2023
Polar vortex. Bomb cyclone. Snow in Florida. Here in Chicago, we have had a "feels like" temperature of -15° since Christmas. I don't know about you, but I'm staying inside…under a few blankies…until this nonsense goes away. For entertainment, we've gone bowling, played Eucher, Yahzee, and Tri-Onomos, and watched a lot of television.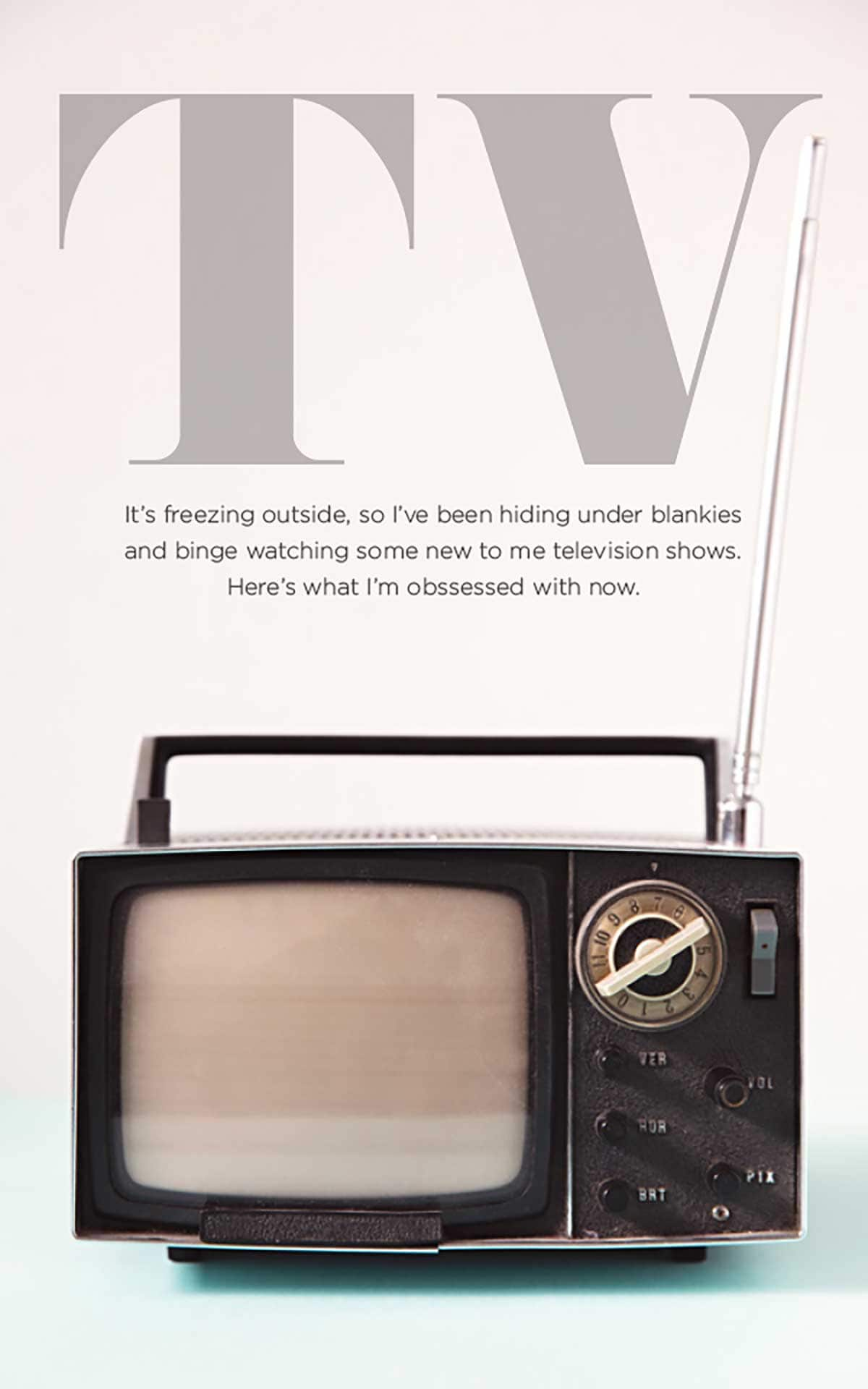 Until The Frame arrived, Netflix, Hulu, Firesticks, Chromecasting, Amazon Prime Videos…it was all foreign tech to me. None of that fanciness worked on our old TV. Most of the time, it was old reruns of Alf while scrolling through Instagram. But now, post Frame arrival, I've gotten up close and personal with binged watching full seasons and now understand why Netflix cheating can cause minor issues. Here's what The Boy and I have been watching and what's next on our list during the big chill.
What We Are Binge-Watching
Stranger Things
I first heard of Stranger Things while watching an episode of Ridiculousness on MTV. Gaten Matarazzo was the celebrity guest, and let me tell you, that kid was hilarious. He made me belly laugh so hard, I knew immediately that I had to check out the show. Not too long after, My friend Marianne said um, dude! How have you not watched this show? It's kids on bikes, Goonies, ET, and Poltergeist all wrapped up into one neat package.
After the first episode, we were hooked. The second night, I couldn't stop watching. The Boy went to bed and said, "Go ahead and watch another one. It's okay, I'll catch up." So I did…and then another one, and another one, and another one…oopsies! The next night, I had to rewatch it with him. We finished both seasons in under 2 weeks. Word of warning, when "scary" parts happen, the background music gets very loud. If you have small children wait for them to fall asleep or you will have a curly-haired 5-year-old standing in her bed screaming, "I WANT DADDY!!!!!"
The Crown
I started watching this shortly after Meghan Markle said yes. The Crown is a biographical story about the reign of Queen Elizabeth II, and it's chucked full of royal scandals, backstabbing, and betrayal that's completely fascinating. And don't even get me started on the beautiful set design.
The Marvelous Mrs. Maisel
I had no idea this show existed until 2 nights and ago, and since I've had it mentioned 2 more times. It's a comedy about a housewife in the 1950s who decides she wants to be a stand-up comedian. Foul-mouthed and empowering…right up my alley. Check it out on Amazon Prime.
If you love this show, check out my post The Marvelous Mrs. Maisel and Her Mid-Century Style where I break down all her decor. And oooh! There's also a post about how '50s fashion is trending.
Ozark
Anything staring Jason Bateman has me all in. He plays a financial planner who happens to be the top money launderer for a drug cartel in Mexico. Oh, and his business partner gets murdered. Yep, I'm hooked.
GLOW
If you were a child of the 80s, you might remember watching the Gorgeous Ladies Of Wrestling. GLOW is a look at how women were treated then (and now) in the entertainment industry. If the soundtrack is anything like Stranger Things, well, then it's gonna rock you like a hurricane.
Grace and Frankie
It's abundantly clear I'm a bit behind on this whole Netflix thing. I just discovered Grace and Frankie (BTDubs, it's in its 4th season) and boy does it look hilarious! Martin Sheen and Sam Waterson leave their wives, Lily Tomlin and Jan Fonda because they have decided they love each other and want to get married. Come on. This looks like a masterpiece with masters.
If you already have watched these, what's your favorite show? Please share in the comments…I'd love a few more suggestions.


More Home Decorating Ideas And Design Tips
Check out the ultimate guide to the best faux olive trees, according to an expert interior designer. And don't miss the round up of faux fiddle leaf fig trees too!
I'm couch shopping so here are 16 modern sofas I love
Check out this round-up of ride or die Amazon Must Haves 2023 that I have owned, tested, and loved.
What The World Needs Now – cuz ya, sometimes we all need a hug.
Can you describe yourself in 5 words or less? It's way more difficult than it sounds.
If you're planning a trip to Chicago or just looking for some good antique shops, be sure to check out my Guide To Vintage Shopping In Chicago.