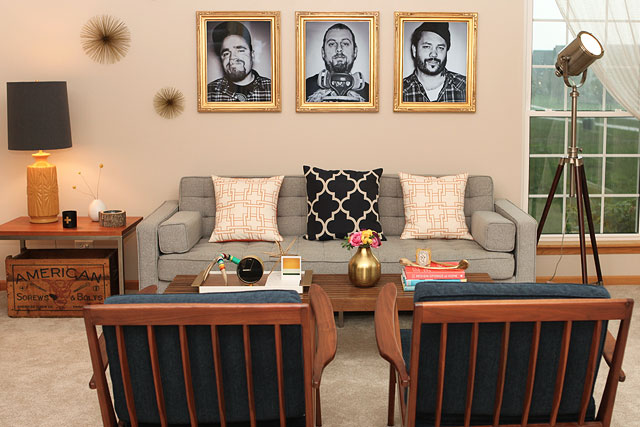 blank slates can be exciting and overwhelming to a person who is not a professional interior designer such as myself. when we first moved into our home three years ago, the entire house was every shade of pink: rose, salmon, fuchsia…it was ugly folks! in fact, we almost didn't look at it based off the way it showed online. thank god we did because now, i love our space. However, before moving, we knew that pink had to go. we hired a painter, picked a few random colors out of a swatch book and hoped for the best. the space we were moving into was much larger then our townhome, so it was rather empty on moving day. now, three years later, we finally feel we have a nicely edited space to call home that i'd like to share with you.
the artwork in the front room seems to be a revolving door, but i think we finally have something solid that we both love, love, love. i found these photos by lani lee at FAME Chicago's private opening. being a lover of all things mug shots, these photos really stood out for me. i had them framed at April's Seven in Wicker Park, and let me tell you, Martin (the shop's owner) did some really fantastic work. i was like a giddy little school girl when i first opened them up…oh, who am i kidding, i still am over the moon with this purchase! these puppies are seriously badass.
the sofa is made by gus modern, and get this, i got it off of craigslist. find of the century! the coffee table and wooden box are also both vintage craigslist finds. the sofa came with a chair, but that is in a different room slated for a different blog post. the chairs were probably the most difficult purchase for me, and if i had it my way, i'd have a redo. i wanted authentic mcm furniture, but finding 2 matching chairs that i loved was taking too much time for me. i went online to south of urban and ordered 2 chairs with custom fabric swatches. this process at the time was convenient, but i really wish i would have found some fabu find with a story to tell. the floor lamp is from pottery barn, while the table lamp is from mod pieces. the side table is from room and board.
after we moved in, i started watching hgtv like a mad woman. i fell in love with emily henderson's tv show secrets from a stylist. she is really great at breaking down a room and explaining how to create a well edited space. you may recall reading my nightstand post where i expressed my love for all things emily henderson. if we ever met, we would seriously be best friends forever and shopping buddies for life. the woman has great style, is a flea market guru, and cute as a button.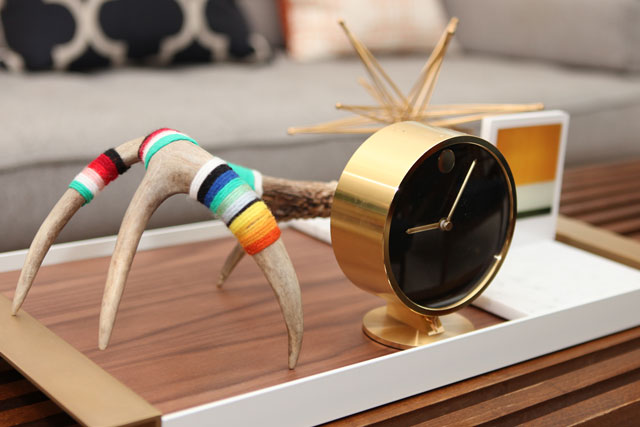 emily's show taught me to wrangle my coffee table items onto a tray. i chose this one. i like the brass accent handles, wood and marble. the antlers are from yarn bombed antlers and the clock is vintage.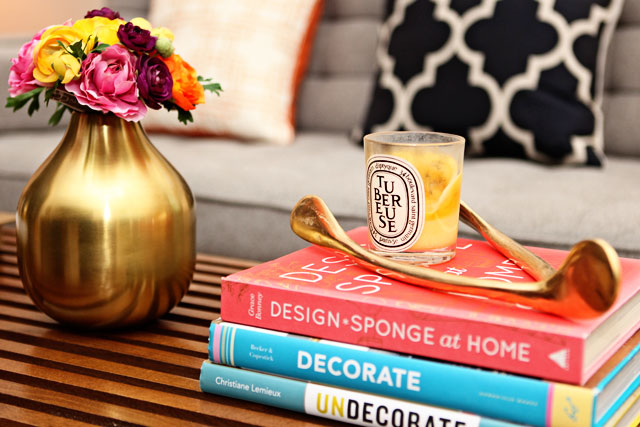 the vase is target by nate berkus that i randomly found on clearance for $4 while grocery shopping…total and complete score! and the wishbone is from jayson home and garden.
so what do you guys think? is it ready to be submitted to apartment therapy, or do i have a ways to go? i personally think it needs a bit more styling help, but i am just at a loss. maybe i just need to hire emily. all my styling problems will be solved and my bff dreams will come true.