Best Outdoor Patio Furniture 2023
Last Updated on November 7, 2023
Today's round-up is all about the best outdoor patio furniture and where you can buy it online. I'm sharing everything from high-end luxury to affordable outdoor furniture to the most comfortable patio chair and everything in between. The other weekend, Chicago almost hit 80º, which meant The Boy and I cleaned up our outdoor space. While he hosed down the garage, I was out back scrubbing the outdoor lounge area and dining set. This included the famous egg chair rounded up in my Spring Target Studio McGee outdoor collection round-up. My exterior decor is anything but snazzy. So while scrubbing away, I decided to really focus on decorating our outdoor living space.
RELATED: If you're looking specifically for affordable outdoor furniture and decor, don't worry, I got cha! Click that link for my favorites from Amazon, Walmart, and Target!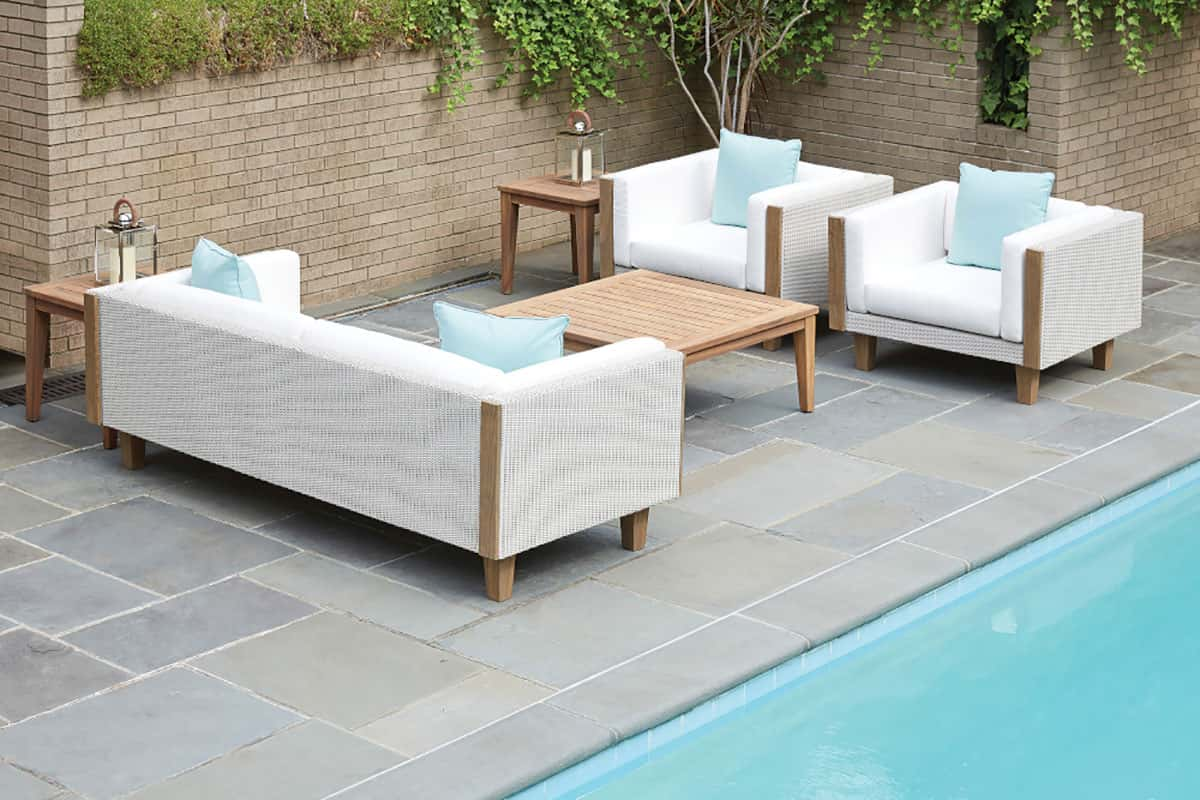 When we bought this house, I gave it a quick patio makeover. But because we had never use this outdoor space before, it wasn't as functional as I originally thought it would be. And after the whole Biltmore Country Club debacle, The Boy and I started researching in-ground pools…more to come on that topic. But that means additional outdoor seating – think patio lounge chairs, maybe some deep-seated swivel rocking chairs, a fire table, adirondack chairs, and an outdoor kitchen area. If we're really gonna do this, it's going to be done right this time. Let's dig into the outdoor decor that recently caught my eye.
Made In The Midwest – Best Outdoor Patio Furniture Collection
I discovered Lloyd Flanders' outdoor furniture about 5 years ago and have been a fan ever since. The price point is a bit higher, but what you receive is lifelong durability and craftsmanship. When it comes to outdoor living, furniture sets can take a beating, so quality means a lot, especially if you're investing in a patio couch. You want outdoor furniture that will last. They've been around for over 100 years, family-owned, and when your factory is located in the UP of Michigan, you know they understand the effects of cold climates. If you're on the prowl for modern outdoor furniture, I suggest starting with a couple of favorite patio sets – Catalina Collection, Elevation Collection (discontinued) (the rope wrap will add layers of texture to your outdoor decor), and the Fairview porch swing is a winner in my book.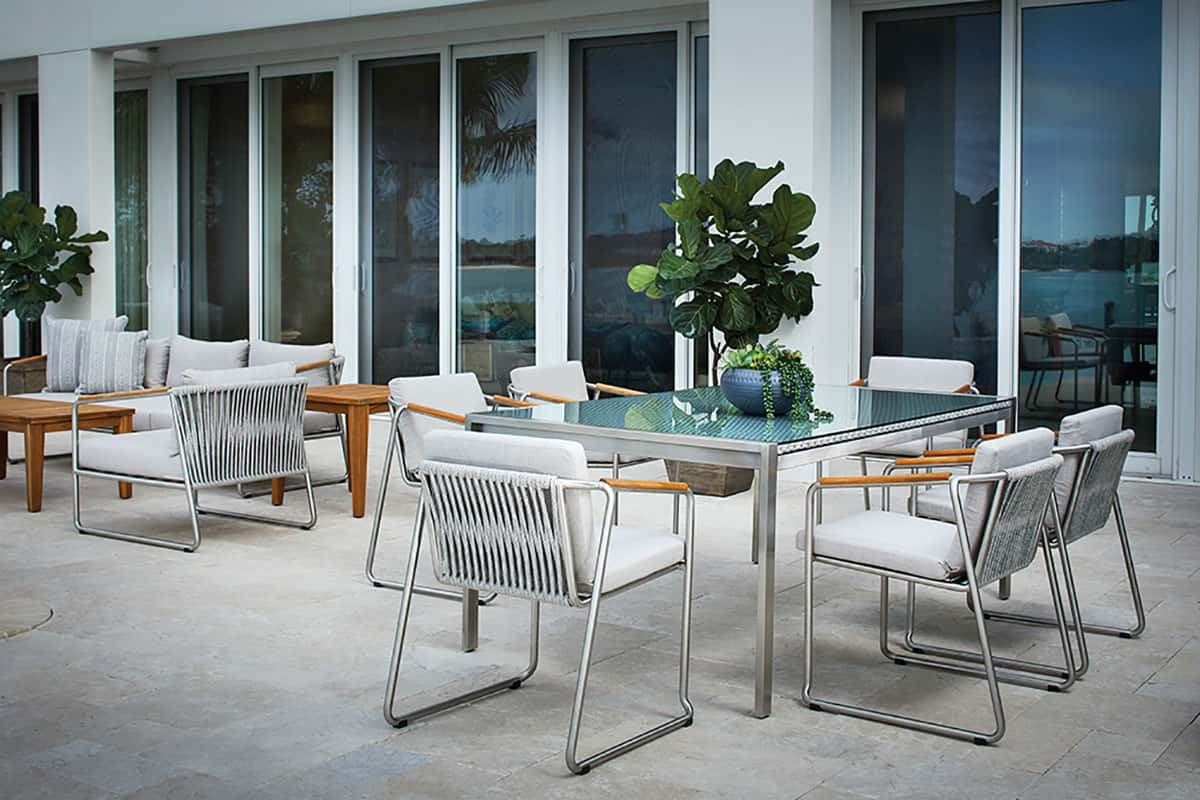 If you want that modern traditional decor mix, check out the Essence Collection.
RELATED: Check out my favorite outdoor rugs round-up… the best part, is they're all washable.
Best Innovative, Sustainable, Luxury Patio Furniture
Outer's outdoor furniture sets popped up in my TikTok feed, and it was love at first sight. The one thing I hate doing every night is covering the patio cushions. While the mosquitoes are eating me alive, I'm fighting with this oversized dirty tarp and hooking it under the legs of furniture. But unless you want dirty lounge cushions covered in morning dew, bird poo, and pollen, it's gotta be done.

Outer came up with their genius OuterShell Cover, where the cover is built into the furniture itself, and you literally pull it over the back cushion. Boom, done. Plus, the cover doubles as a carrying case for storage. Brilliant!
If you head over to their site, be sure to peep their outdoor fire pit table that you can also cook on and pick up a couple of bug shield blankets (yes, I'll be living under seven one of these blankies all summer long). Outdoor entertaining never looked so good.
Most Comfortable Outdoor Patio Furniture
Telescope is a new to me outdoor furniture company that I discovered at High Point Market. There is a courtyard lounge area and a swivel glider chair from the Leeward Furniture Collection was begging me to rest my weary feet. MOST COMFORTABLE OUTDOOR CHAIR EVER! I could have curled up like a cat and taken a nap for days. Like Lloyd Flanders, they too, are made in the US and have been in business for over 100 years and are family-owned.

The Larssen Collection outdoor couch also caught my eye with its curved back and modern, clean lines. If you're looking for furniture sets to sit poolside, how about these lay-flat outdoor loungers? Or three of these on a tanning ledge. Yes, please!

Be sure to check out the fabric swatches. While I was in Telescope's showroom in High Point, I spied some beautiful prints to make these chairs pop. Some of my favorite outdoor furniture collections were Novara Graphite, Climbing Vines, and Oarderly Lines Nautical – oh, and Agra Classic is a fun one, too (shown above). If you're customizing any indoor and outdoor cushions, be sure to invest in high performance fabric from a brand like Crypton or Sunbrella outdoor fabric. It's going to be the best material for outdoor pieces that stands the test of time.
RELATED: Check out the post about my favorite unique outdoor patio and garden decor.
Most Affordable Outdoor Patio Furniture Set
Of course, I won't leave you hanging without rounding up some affordable outdoor patio furniture sets.


Beautifully Designed Luxury Outdoor Patio Furniture Sets
I've been shopping at Frontgate for years, and their wide range of outdoor patio furniture never disappoints. They offer full outdoor collections to make decorating easy – the Seton 3-piece sofa set is definitely on my wishlist with its all-weather wicker body and all-weather cushions.

Create an outdoor oasis by pairing it with this coffee table. It pulls apart into three teardrop shapes, making it incredibly versatile and stylish. BTDubs, it looks like everything is presently 15% off, and there is free shipping on outdoor furniture pieces.
Affordable Outdoor Patio Dining Set
Affordable Woven Dining Chairs

Only $300 for 2 outdoor dining chairs.
Affordable, Cozy Outdoor Lounger

This cozy outdoor lounger is available in black, gray, and natural and free delivery for Prime Members.
Modern Outdoor Decorative Spheres

Choose from large or medium spheres – on sale now.


Don't miss this round-up of affordable outdoor furniture and decor. It's filled with hidden gems from Target, Walmart, and Amazon finds. Here's a sneak peek of what you'll find!

Discover More Decor Ideas On House Of Hipsters
This is why we installed luxury vinyl flooring in our walk-in closet renovation. Check out the progress we've made!
I've been shopping for ceiling lights, specifically boob light alternatives for the walk-in closet. Here's a full round-up of what caught my eye.
Storage bins and other organization ideas to keep your home clutter-free. From the pantry to the kitchen to the bathroom to drawers, I've got you covered! And check out the decorative boxes post if you're looking for ways to corral your remotes on your coffee table.
Learn to layer lighting like a pro with this guide to the best bedroom lighting.
Love plants as decor but have a black thumb? No worries! I have a rounds ups of the best faux olive trees, my favorite faux fiddle leaf fig trees, and a huge round-up of faux plants that look real.
Bobby Berk told me he has always invested in quality bedding. Here's the ultimate guide to the best sheets and bedding.
The Primrose mirror is still trending hard, but the price tag crushes my soul. If you're looking for an Anthropologie mirror dupe that doesn't break the break. This one is for you.
Rounding up the best interior design books – if you're looking for gift idea inspiration for a home decor obsessed loved one, this post is for you!
If you love wallpaper, but have a fear of commitment, check out this round-up of best peel and stick wallpaper – it even includes a couple of wall murals.